News
Alison Hammond This Morning: The TV Star's Most Iconic Moments
Alison Hammond This Morning: The TV Star's Most Iconic Moments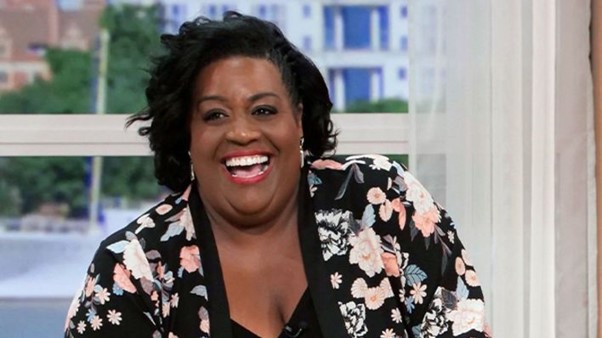 (Image/Source: itv.com)
There's a lot of love out there for This Morning presenter Alison Hammond, and it's not too difficult to see why!
The Big Brother contestant has given us plenty of laughs over the years, and she's now secured a permanent role presenting This Morning on Fridays with co-star Dermot O' Leary.
Whether Alison is playing Connect 4 with Beyonce or dancing with Britney Spears, it's safe to say that the TV star has dished up some seriously iconic TV moments.
There are almost too many to choose from, but let's take a look back at the presenter's best bits…
Alison Hammond This Morning
Alison's regularly jet setting around the globe, but it hasn't always been as glamourous as it sounds.
In June 2019, the TV star hosted a segment live from Pisa in Italy– and was nearly arrested.
Alison was chatting with presenters Holly Willoughby and Philip Schofield before the live broadcast was interrupted by the police for filming without a permit.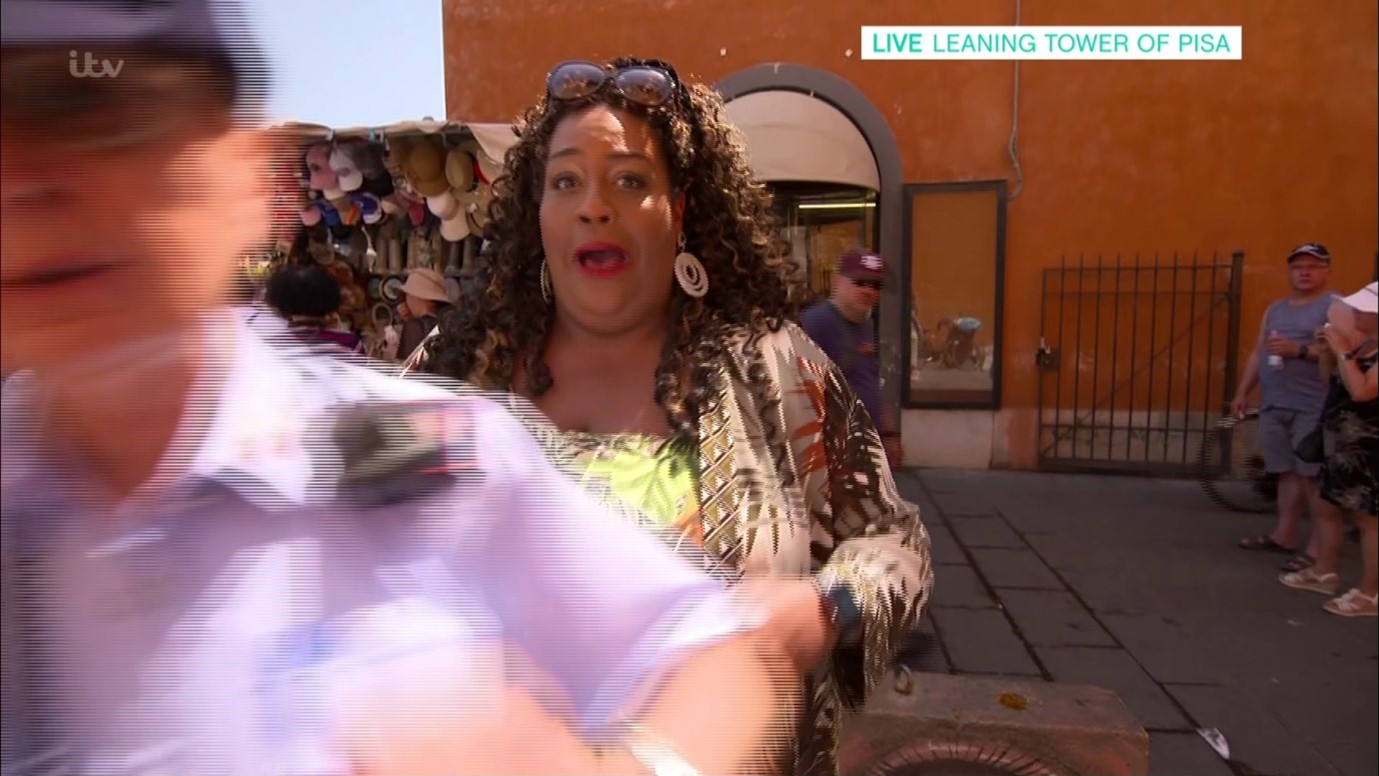 (Image/ Source: metro.co.uk)
Dermot O'Leary Wife: Who is his partner Dee Koppang?
But Alison seemed to find the whole thing hilarious, and continued with her piece to the camera before signing off like a pro.
The star has also landed herself in awkward situations while interviewing- most famously, when she didn't quite realise that Graham Norton's dog had died.
Earlier this year, TV presenter Alison was chatting with Graham on This Morning to promote his new Virgin Radio show. Alison was also very keen to get an update about Graham's beloved pet pooch.
Alison said:
"The last time I saw you, you were with your dog out and about. I've just been told I am going to get a four-legged friend… have you still got your dog?"
Graham bluntly replied: "Err no. Dead."
Looking shocked, Alison replied:
"Oh I'm gutted. I'm so sorry, I am absolutely devastated. That was the worst thing to say. I am so sorry."
Luckily, Graham took the whole thing in good humour!
Despite her mishaps, there have also been some hugely successful interviews for Alison over the years- including her chats with movie star Hugh Jackman.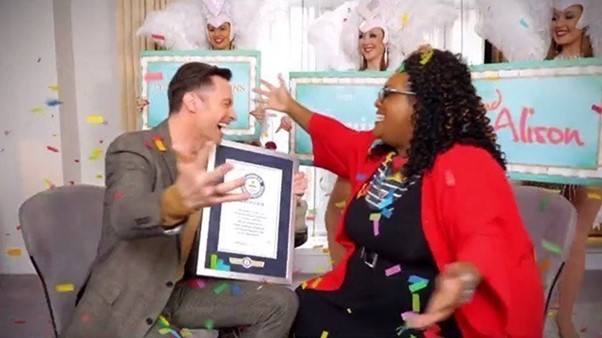 (Image/Source: itv.com)
Scott Disick: Who is the star currently dating?
After some top-notch researching, Alison found out that Hugh Jackman's childhood dream was to appear in the Guinness Book of World Records. So the TV presenter decided to make that happen.
After tucking into some of Alison's home-made banana bread, Hugh was presented with a Guinness World Record for the longest career as a live action Marvel superhero, along with Patrick Stewart.
Hugh was ecstatic when receiving his record, which was complete with confetti canons and go-go dancers.
Alison has spoken previously about her first interview with the star, and it was clear that she'd enjoyed her time with the Marvel actor.
She revealed:
"I do really like Hugh Jackman. Probably one of my first interviews with him we were singing, 'I've got chills, they're multiplying' and I was like, oh God he really can sing.
I don't think I'd researched him enough and didn't realise he was such a good singer, he's amazing!".
Making waves…literally
And when she's not hanging out with the Marvel cast, the star is doing what she does best- causing chaos on live TV!
In 2018, Alison was sent up to Liverpool to present a segment on the weather, using a giant floating version of the United Kingdom on Albert Dock.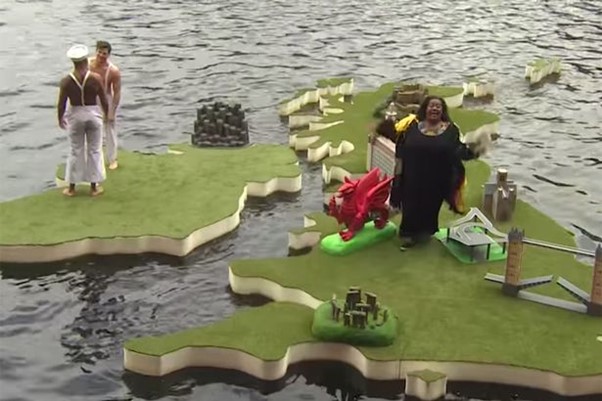 (Image/ Source: dailystar.co.uk)
Susanna Reid Husband: Who is the Good Morning Britain star's ex?
Things started off well enough, but as the TV presenter jumped across to Northern Ireland, she accidently knocked a buff sailor into the water.
While co-hosts Holly and Philip howled with laughter, Alison did her best to warm the sailor with her cardigan while offering numerous apologies.
She's also managed to do something that not many interviewers have managed over the years… get drunk with Harrison Ford and Ryan Gosling!
Her interview with Harrison and Ryan for the launch of Blade Runner 2049 quickly fell apart as all three of the stars got stuck into some whisky, which caused some serious outbreaks of giggling and cackling.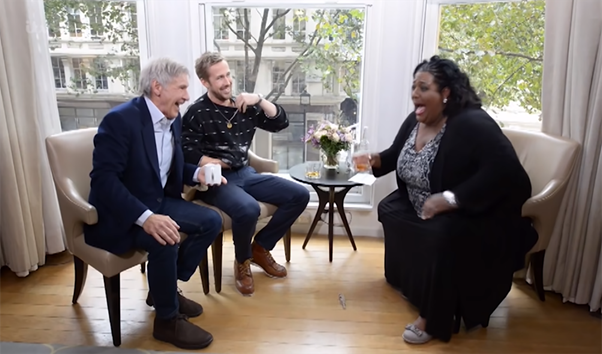 (Image/ Source: entertainmentdaily.co.uk)
Thanks to her unique humour, the star of This Morning is now estimated to be worth an impressive £1 million. And with her presenting and interviewing gigs showing no signs of slowing down, it seems like Alison's fortunes are set to increase.
We cannot wait to see what the star gets up to next!