Boris Johnson Net Worth: How Much The PM Is Worth In 2020
Boris Johnson, the British Prime Minister, won December's general election with the biggest Conservative majority in decades. But what is Boris Johnson's net worth? Read on to find out how the PM earned his cash and some other things you might not know about him.

Image Source/ The Financial Times
What Is Boris Johnson's Net Worth?
Boris Johnson's net worth is believed to be £1.6million, according to website Celebrity Net Worth. On top of that, Boris recently sold his former marital home for a tidy £3.7million. He then bought a mansion worth £1.3million with new girlfriend Carrie Symonds, a former political public relation specialist.
How Long Has Boris Been An MP?
Boris Johnson has been an MP for many years, first for Henley from 2001 and 2008. And he's been the MP for Uxbridge and South Ruislip since 2015.
His Career As A Journalist
Before starting his political career, Boris Johnson's net worth came from his career as a journalist. He got his start at The Times. He then worked at The Daily Telegraph where he was the newspaper's correspondent for Brussels. After that, Boris became the assistant editor of the Daily Telegraph for a further five years. And finally he was the editor of The Spectator for six years, until 2005.
Boris Johnson's Political Life
Showing his interest in politics, Boris first made a bid for a spot in Parliament in 2001, and was elected for Henley. He rose to national prominence when he was elected to be the new Mayor of London in 2008. He was London's mayor for eight years, being re-elected in 2012.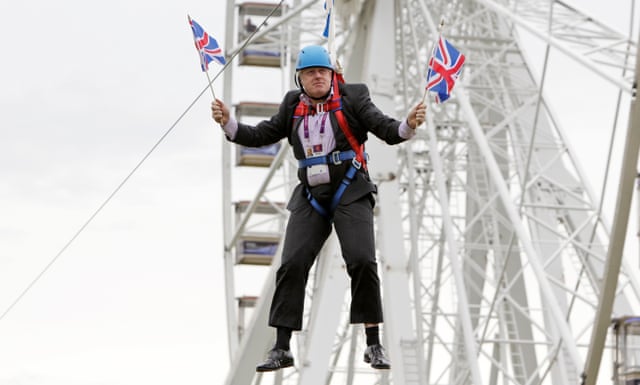 Image Source/ The Guardian
He became a public figure in the Brexit Vote Leave campaign, and was the Secretary of State for Foreign and Commonwealth Affairs. After Theresa May resigned, he made a successful bid for Prime Minister and then won the UK General Election in December 2019 with a huge majority.
Boris Johnson's Net Worth And Earnings
Boris Johnson's net worth doesn't just come from his MP salary. In July 2018, Boris returned part-time to The Daily Telegraph, where it was reported he was paid an annual salary of £275,000 for writing a weekly column. At the same time, he also received the basic salary for a member of parliament, which is £79,568, according to parliament.uk.
Boris Johnson's Net Worth: What Do MPs Get Paid?
MPs get paid a basic annual salary of is £79,568.  The UK average salary is less than half that – £35,423 in 2019. Interestingly, while MPs aren't required to sit in Parliament to get paid their salary, they don't qualify for any sick pay, maternity pay or holiday pay, which could explain why their salary is much higher than the average.
Where Was Boris Born And Educated?
Boris Johnson was born in New York to British parents in New York City. His father was studying Economics at Columbia University when he was born. Boris lived between both countries until he was five years old. He had both US and UK citizenship until he gave up his American citizenship in 2017. And he was educated at Eton College and Balliol College, Oxford.
He was part of the infamous Bullingdon Club while at University. The Bullingdon Club is an unofficial exclusive all-male dining club, known for having very rich members and also for being very destructive, and has reportedly trashed restaurants and bars all over Oxford. The members wore blue tailcoats and mustard yellow waistcoats.
Both Boris Johnson and former UK Prime Minister David Cameron were members of the club at the same time in 1987, and were even photographed together along with other club members.
Image Source/ The Times
BoJo was deaf as a child because of a condition known as glue ear – the ear canal becomes filled up with fluid that causes temporary hearing loss. He had to wear a grommet, a small tube surgically implanted in the eardrum to drain liquid as a child.
How BoJo Likes To Relax
In his spare time, Johnson likes to make models of buses and paints to relax after a stressful day in politics. He said to talkRADIO:
"I like to paint. I make things. I make models."

"I make models of buses. I get old wooden crates and I paint them, and they have to contain two wine bottles."

"And it will have a dividing thing. And I turn it into a bus and I put passengers… you really want to know this?"

"I paint the passengers enjoying themselves. On a wonderful bus."

"Low carbon of a kind that we brought to the streets of London that reduces CO2, reduces Nitrous Oxide, reducing pollution."
Image Source/ Wikipedia