Adam Peaty Girlfriend: Who Is Strictly Dancer's Girl Eiri Munro?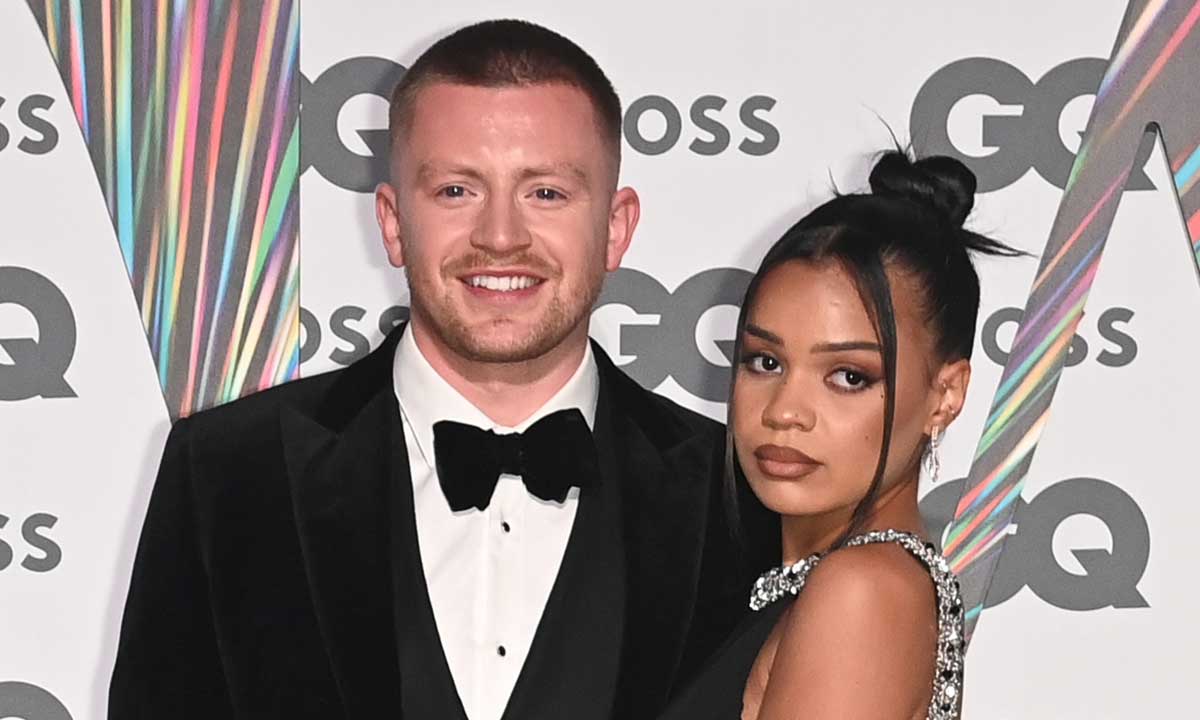 (Image/ Source: hellomagazine.com)
British swimmer Adam Peaty has lately swapped the pool for the ballroom floor. This year, he joined the cast of Strictly Come Dancing and has been impressing fans with his professional partner Katya Jones.
The Olympian was already topping sports headlines thanks to his impressive swimming career, but this is the first time he's been directly in the public eye.
With all eyes on the swimmer on the dance floor, many fans have heard the swimmer reference his girlfriend. The couple even has one son.
But who is Adam Peaty's girlfriend?
Who is Adam Peaty's Girlfriend?
Adam Peaty's girlfriend is actually Eirianedd Munro, also known as Eiri. The couple met while Adam was training at Loughborough University. He began training full-time at the university in 2017.
She studied Fine Art at Loughborough and has been working as a self-employed artist since 2018. Her most recent art has been on display at the Norman Rea Gallery in Yorkshire.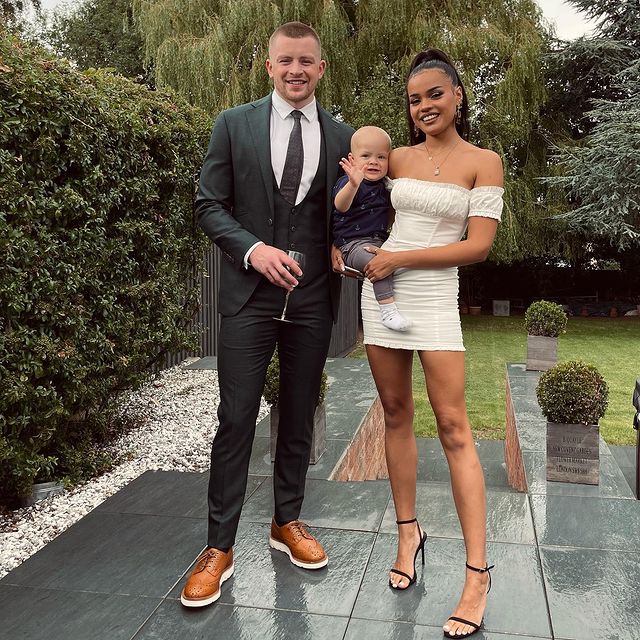 (Image/ Source: Instagram @adam_peaty)
Rocky Flintoff: How Many Children Does Cricket Star Freddie Have?
In 2020, the couple became parents for the first time. The 23-year-old gave birth to George-Anderson Adetola Peaty on the 11th of September 2020.
This year, they celebrated George's first birthday, with Eiri writing on Instagram:
"He is the most curious and joyful little boy. Passionate and adventurous, clever and sweet.
George, you are a brilliant and beautiful light that shines so so brightly. Bringing happiness to others is your destiny. I am so proud to be your mother. Happy 1st birthday."
However, George's party was held the day after his birthday, as Adam was caught up with Strictly filming and missed the celebration.
He said: "We wrapped at 10.30pm so I drove straight home, ready to celebrate it the next day. It didn't go down too well but that's the difficult thing when you do this, everyone has to understand."
Before meeting Eiri, Adam Peaty's girlfriend was Anna Zair.
The Olympian's Career
The 26-year-old British swimmer was born in Staffordshire, and actually had a fear of water as a child. However, by the age of nine, he had conquered his fear and joined a local swimming club. By the time Adam was 12, he was making swimming records.
He first hit the headlines at the 2016 Rio Olympics, where he won the 100m breaststroke with a record time of 57.13 seconds.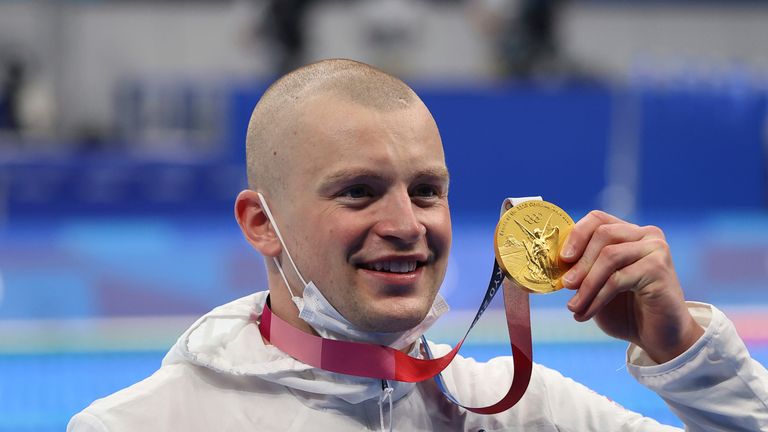 (Image/ Source: skysports.com)
Tom Fletcher Net Worth: How Much Does The McFly Man Make?
At the Tokyo Olympics, he defended his 100m breaststroke title, winning with a time of 57.37.
In total, Peaty is an eight-time World Champion, sixteen-time European and three-time Commonwealth Champion. The breaststroke swimmer also holds the top 20 times ever recorded for the 100m breaststroke.
Next year, he will be hoping to defend his Commonwealth Games title in Birmingham.
Responding to comments that he is arguably one of the greatest-ever swimmers, Adam said:
"Greatest of all-time? I don't know how much it exists.
Everyone has an opinion so for me it's about being respected in the sport – and that is to be the best I can be, push the limits that the human body can go to and hopefully be able to enjoy it and have a laugh along the way."
Strictly Come Dancing 2021
Training for next year's Commonwealth Games is on the backburner for now, though, as Adam takes part in the nineteenth series of Strictly Come Dancing.
He is partnered with Russian dancer Katya Jones. While many thought that Adam would have a natural advantage on the show thanks to his fitness levels, he's struggling with the training as much as anyone else.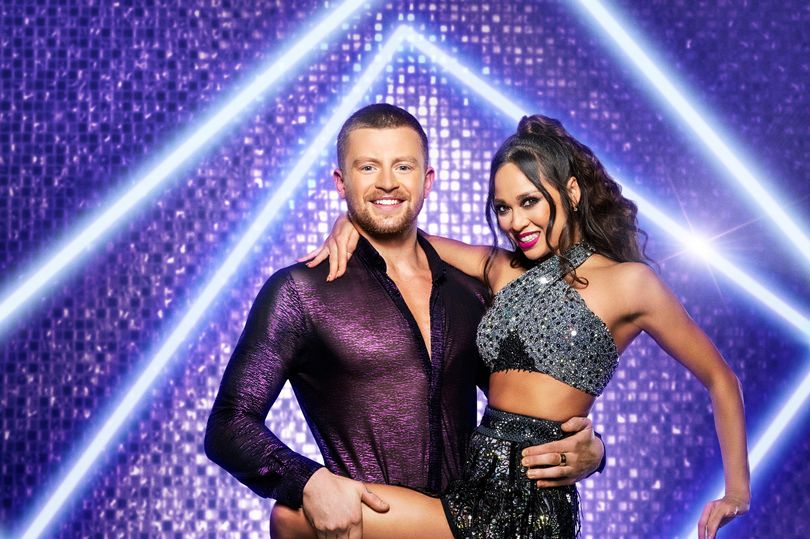 (Image/ Source: birminghammail.co.uk)

Emma Thompson Husband: Who Is The Actress Married To?
After his first week's performance, he told fans that training for his second week's quickstep routine was taking it out of him.
He admitted: "I don't think I can walk today, never mind dance. This is why my feet hurt so much, because I've got to change directions so quickly and I'm always on my tiptoes.
Literally 95kg going in my toes, so I can't walk, but we're nearly there."
Though he clocked an impressive first-week performance, scoring 30 and sitting at second on the leaderboard, his latest dance didn't go so well.
Dressed as an Avatar from the 2009 movie, he and Katya scored just 20 points and were left in the bottom two. Luckily, they were saved by fan votes.