Faryal Makhdoom Net Worth: How Rich Is Amir Khan's Wife?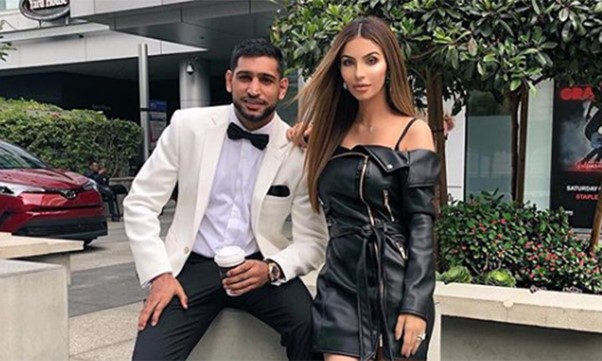 (Image/ Source: hellomagazine.com)
Faryal Makhdoom's marriage to boxer Amir Khan has skyrocketed her status in recent times, bringing the model and make up artist to wider fame.
She's now morphed into something of an influencer, and has amassed 955k followers on Instagram so far.
So how much money has the internet celeb got?
Faryal Makhdoom Net Worth
According to Spears, her current worth is £100,000.
After she graduated in New York, Faryal began a career in modelling and make up artistry. She now runs her own successful YouTube channel, which features everything from makeup tutorials to swanky shopping hauls.
While her marriage to Amir has seriously helped her net worth, Faryal has continued her own work projects too. She has her own lipstick range, and opened her first salon, FMK Beauty, in Amir's native Bolton.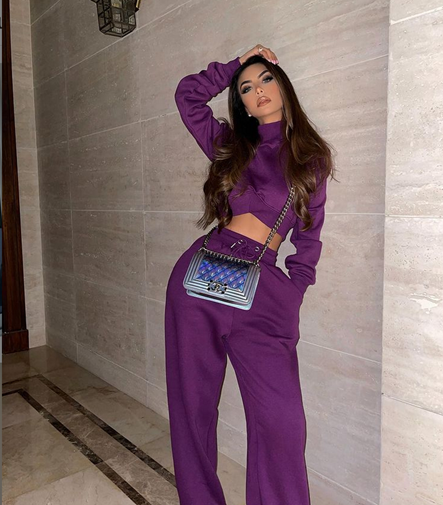 (Image/ Source: Faryal's Instagram, @faryalmahkdoom)
Anna Vakili: Where is the Love Island star now?
Faryal also enjoys plenty of cushy sponsorship deals on Instagram, and receives wads of cash from her very wealthy parents too…
When they found out about her engagement with Amir, Faryal's parents, who own a luxury home in Staten Island, NYC,  gifted her with a super cool BMW 750Li.
But despite their vast sums of money, Amir's family and the Makhdoom clan have clashed over the years…
Family Feuds
Both Amir and Faryal's family have had notorious fall outs in recent times, with some arguments lasting the course of years.
Faryal sensationally spoke out about the abuse she'd received from Amir's parents during her marriage- especially from the boxer's dad.
In an infamous Snapchat post and that interview on This Morning, Faryal Makhdoom said that her in-laws had called her "Michael Jackson", in an apparent reference to her plastic surgery enhancements.
She maintained that they had physically abused her by slapping her and throwing a TV remote at her, and went on to Photoshop her out of photos taken at a family wedding.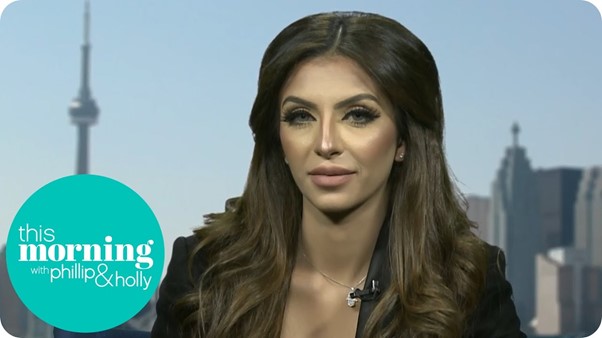 (Image/ Source: youtube.com)
Phillip Schofield Holly Willoughby: This Morning's best moments
Amir's dad also slammed their daughter-in-law for "adopting a dress code not acceptable in the Muslim faith" and branded Faryal a "bad Muslim" because of her dress sense and Insta selfies.
Faryal's mum was understandably heartbroken about the situation, and said:
"It was a very unpleasant thing to hear and it was very painful for me to find out that Amir's dad said this…
 I kept wondering how Amir's father could say that. And as a father, a father of daughters, to say that."
Amir Khan has done his best to stay quiet about the feuding, but he said that his parents and Faryal would "lose a son and a husband" if they don't keep a lid on the fighting.
Playing Away
While family feuds have continued to run rife, relations between Faryal and Amir haven't been great either…
The pair have been rocky throughout their entire marriage, but in 2017, Faryal and Amir actually split.
They reconciled after a few months, but the boxer was then hit with allegations of cheating.
Amir allegedly slept with beautician Sophia Hammani in May 2018 – just 17 days after his wife gave birth to their daughter Alayna.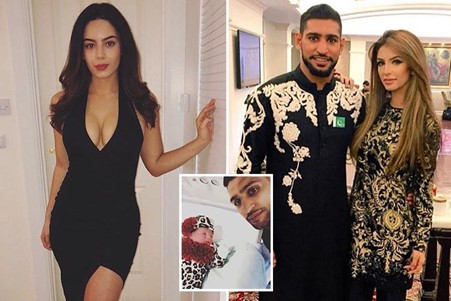 (Image/ Source: thesun.co.uk)
Jack Cockings: Who is Melanie Sykes' ex-husband?
Sophia claimed that she thought that Amir was already divorced from Faryal at this point, and was disgusted when she found out this wasn't the case.
Speaking with The Sun, Sophia said:
"He's disgusting. He slept with me and his wife had just given birth. I nearly threw up when I saw they were still together. I felt so used.
That must be every wife's nightmare. That poor woman.
She needs to bin him off once and for all".
This resulted in Faryal unfollowing the boxer on Instagram- but the couple ended up getting back together in the end.
So how long will the peace last between Faryal, Amir and their warring families?
Watch this space…