Conor McGregor Net Worth: How Much Money Does the Boxer Make?
By Sarah Jones
2 years ago
Conor McGregor Net Worth: How Much Money Does the Boxer Make?


(Image/ Source: inews.co.uk)
It's safe to say that Conor McGregor is something of a phenomenon.
The mixed martial artist and boxer has had a LOT of success over the years, and is a former UFC featherweight and lightweight double champion.
After a meteoric rise, the star now rakes in the cash as he takes part in glitzy boxing matches in Las Vegas- making him the biggest pay-per-view draw in boxing history.
So just how much is the champ worth?
Conor McGregor Net Worth
Conor McGregor's current net worth is thought to be a whopping $200 million dollars-
which equates to £144 million
. Blimey.
This makes Conor McGregor the most well paid athlete in the world in 2021.
The Irish fighter started pursuing his passion for boxing at the age of 12, and soon began to perfect his craft after meeting UFC fighter Tom Egan.
At this point, Conor had started his professional boxing career, and was already enjoying victories in both featherweight and lightweight matches.
In 2013 he was signed by UFC. Conor and pal Tom Egan were the only Irish fighters for UFC, and put the country on the map when it came to boxing accolades.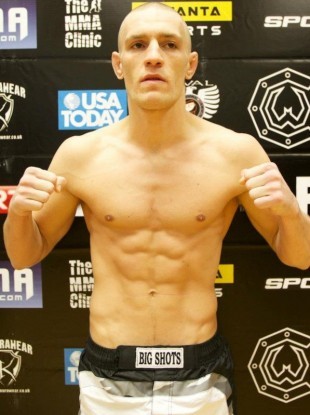 (Image/ Source: the42.ie)
Harry Kane Net Worth: How much money does the footballer make?
Conor McGregor was quickly renowned for his winning streaks, and won multiple "Performance of the Night" awards for his efforts in the ring.
He then became a dual champion for lightweight and featherweight categories- making the boxing champ a household name.
Conor McGregor: The Brand
At this point, Conor McGregor's net worth began to soar.
He was now fighting regularly in Las Vegas, and embarking on swanky world tours to promote each event.
Rather than being paid for his performance in the ring, the champ started receiving cash just for making appearances at boxing events.
His 2017 fight with Floyd Mayweather earned him a cool $100 million
, while his fight with Khabib Nurmagomedov a year later saw him rake in $50 million respectively.
But the boxing champ didn't just earn his fortunes through boxing- his own unique brand also came in handy when it came to promoting his own whisky company, Proper Twelve.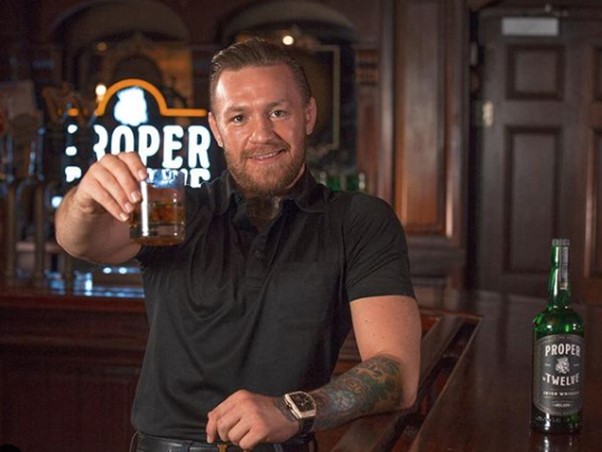 Image/ Source: independent.co.uk)
Alex Higgins Daughter: Who is the snooker legend's daughter Lauren?
The star launched Proper Twelve back in 2018, and
officially became the world's richest athlete when he sold it for $150 million
.
But the star claims that the deal will actually end up netting him a profit of up to $700 million. That's confidence for you!
Chatting with
News.com.au
, Conor McGregor revealed:
"I haven't touched the most delicious Irish whiskey on the planet Proper 12 at all this camp, I haven't actually touched it since we re-upped the deal.
It's upwards of $700m that deal is worth over the coming years and I haven't celebrated with a glass yet because I was in camp so I stayed focused."
This could end up pushing the boxing star to billionaire status over the next few years.
Family Life
But despite his eye-watering fortunes, it seems that Conor is still a family man at heart.
Conor McGregor and his fiancée Dee Devlin have been together for over nine years, and share three adorable children together; Conor Junior, daughter Croia, and baby Rian, who was born in May of this year.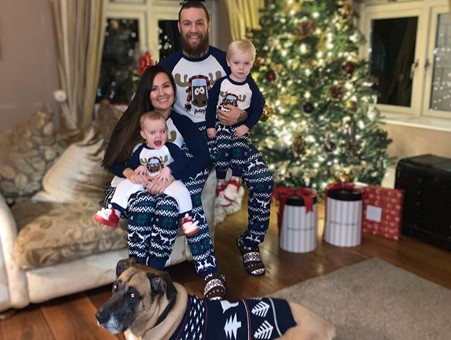 (Image/ Source: thesun.co.uk)
Kimberly Crew: Meet Joe Hart's feisty wife
Taking to
Instagram
, Conor McGregor wrote:
"The McGregor clan is now a family of 5. Healthy baby boy delivered!
Baby and Mammy Wonder Woman are doing great! God, I thank you for everything you gave to me and my family in this world."
The champ is currently taking some time out to recover from a broken foot, and he seems to be enjoying every minute resting up with his family in California.
And after all the injuries Conor's sustained lately, it's nice to see the star taking it easy for a change!