Sean Pratt: Who is the Outspoken Reality Star?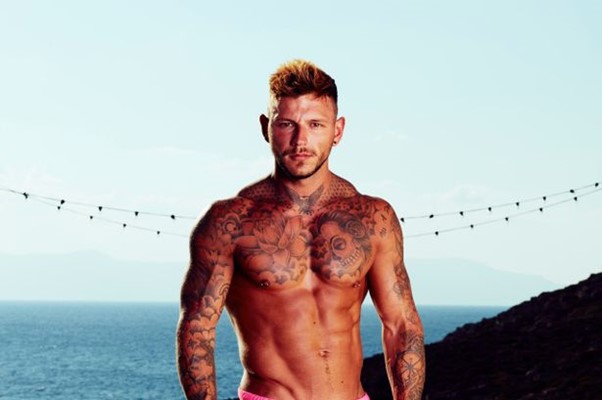 (Image/ Source: coventrytelegraph.net)
Sean Pratt originally hit our screens when he starred in Ex on the Beach back in 2017, and has since gone on to star in other reality shows such as Just Tattoo of Us.
While his relationship with Zahida Allen sky rocketed his fame, it seems like the star has also been making the headlines for a few more controversial reasons these days.
So what exactly has Sean Pratt been up to?
Finding fame
Sean was fairly unknown in reality TV circles before he made his appearance on Ex on the Beach.
Before he started his TV career, he was working as a stripper and naked butler.
Despite their rocky start on the show, Sean soon began to hit things off with co-star Zahida Allen.
An insider told The Sun Online:
"Sean and Zahida are really into each other. After they met during Ex On The Beach they've been inseparable.
Sean's even been talking about getting a tattoo of Zahida's name, that's how serious they've become."
The star did eventually go on to get a tattoo of Zahida's name on his hand, but this was later covered up with a newer girlfriend's name when the pair split.
While Sean and Zahida had even been discussing marriage, things started to fall apart between the pair.
The reality hunk had lost his temper on numerous occasions, but in 2017 he famously threw a drink in Zahida's face after he found out about her kiss with Ex on the Beach co-star Scotty T.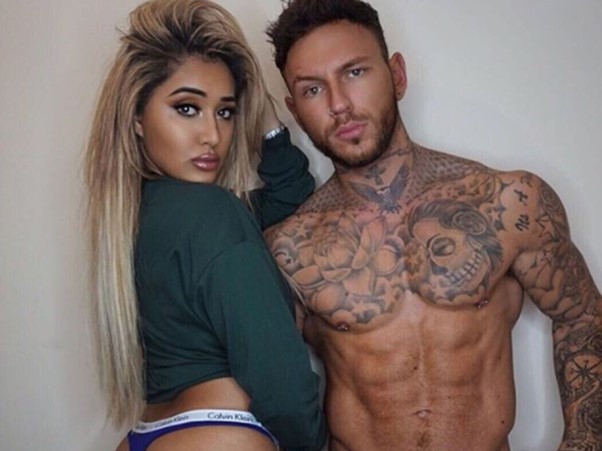 (Image/ Source: ok.co.uk)
Stephen Bear Net Worth: How rich is the controversial reality star?
The couple split when the Geordie Shore star found out that her boyfriend was in a strip club, and apparently left with 3 other girls.
Their break up played out on social media, with both stars becoming increasingly hostile to each other.
After the split, Sean said his ex-girlfriend had "literally destroyed me to the point where people are ignoring me".
Zahida responded by branding her ex "a bully".
Social media rants
Sean Pratt has been fairly vocal on social media channels as of late- and branded Britain a land full of "scummy idiots" in an outburst on Twitter.
This was apparently in response to an Italian journalist standing up to Brexit supporters.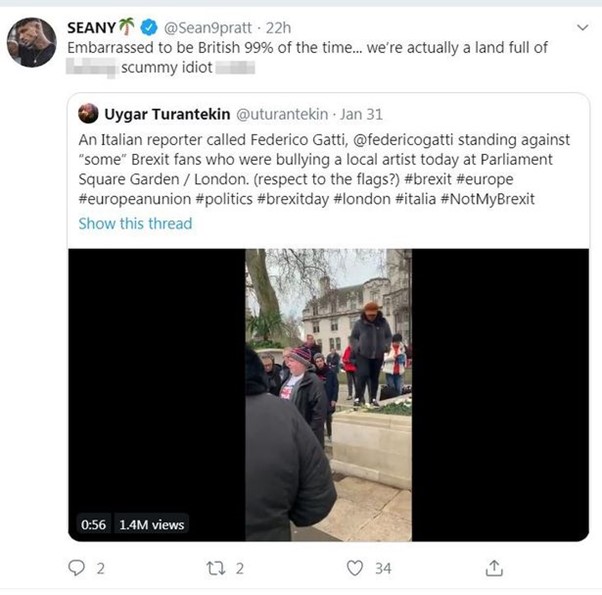 (Image/ Source: Sean Pratt's twitter page, @Sean9pratt)
Kyle Christie: Who is the Geordie Shore star's partner?
The reality star tweeted:
"Embarrassed to be British 99% of the time… we're actually a land full of f****** scummy idiot c****."
Sean's twitter account later disappeared.
The star has also been in trouble on Instagram, and his steamy photos have been banned on multiple occasions.
The social media site removed one of his most revealing images which saw the star wearing grey joggers that been pulled down below the waistband. Instagram said this image went against their community guidelines.
The star later complained that he couldn't "get his **** out online" and ranted:
" I will never understand why it's acceptable for girls to post near pornographic pics. Yet abit of **** outline and this happens… pathetic.""
The star continued to stir up controversy on Instagram during the course of the pandemic, and refused to wear a mask. He told his followers to "wake up and live without fear". He also spoke regularly about breaking lockdown rules- while filming himself when driving.
(Image/ Source: Sean's Instagram, @sean9pratt)
Frankie Sims: Who is the TOWIE starlet dating?
Trouble with the law
Last year, the reality star turned Instagram influencer was issued with a restraining order by courts after his girlfriend, Instagram model Katherine Morris, sought legal help after the couple's messy split.
Sean was given a non-molestation order after ex Katherine attended a court in Basingstoke.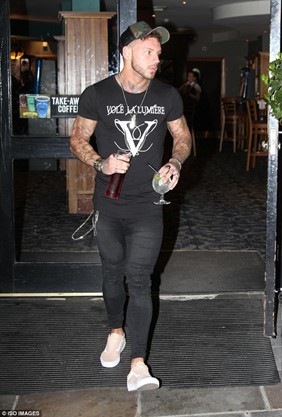 (Image/ Source: dailymail.co.uk/ ISO images)
A source told the Daily Star Online:
"Sean has been in a dark place for the last few weeks with the end of the relationship.
"The court order is the tip of the iceberg with countless disputes having taken place away from social media".
After initially keeping quiet on the court proceedings, Sean eventually took to his Instagram stories to vent his feelings.
Sean Pratt raged:
"I f***ing got this court order, restraining order. Restraining order mate. Yeah, f***ing right.
Like I say, evidence in court will prove me… prove me f***ing… it is all bull****.
I have evidence of lies. Lies galore."
The reality star had previously said Katherine was "like a cancer" during the course of their 18-month relationship.
The couple split back in 2018.