Argos Yoga Mats: The Best Yoga Mats For Your Practice From Argos
With lockdown continuing, there's never been a better time get into yoga – and whether you're a beginner or well on your way to becoming a fully fledged yogi, you can find the perfect mat for your practice from Argos' yoga mats range.
So much more than just exercise, yoga is the perfect way to look after your physical and mental health. No matter your fitness level, yoga is a great way to improve your flexibility, strengthen your body, and calm the mind too! And with Argos, you can find the right mat for your home space and practice style. Check out the best Argos yoga mats below, and take your practice to the next level!
The Best Picks For Beginners – From £7.99
If you've never tried yoga before, now is the perfect time to get into it. Yoga is an incredibly accessible form of exercise, and there's tonnes of great intro tutorials on Youtube and the web to get you started. While you can try out yoga without a mat, yoga mats help cushion your body while doing floor poses, and give a grippy surface for your feet for standing poses too. If you're just starting out, these mats are a great and affordable entry point.
This entry level mat is perfect for beginners, allowing you to try out yoga without breaking the bank! Providing a non slip surface for practicing poses, it's easy to roll up for storage or taking on the go. £7.99 From Argos' yoga mat range: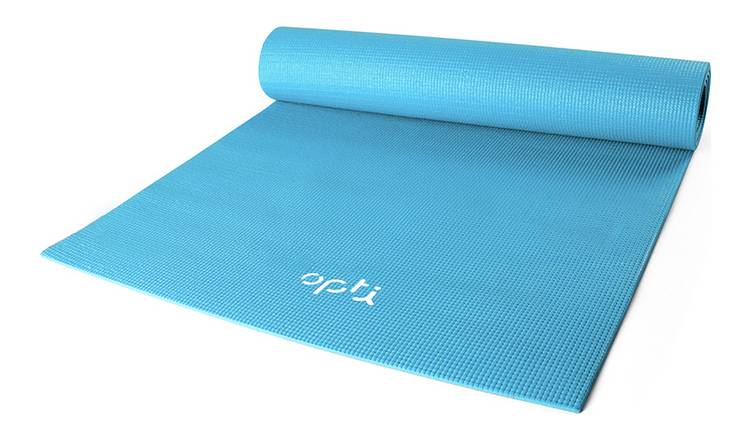 Image Source/ Argos
This Myga entry level yoga mat is ideal if you're just starting out, or if you want a spare mat for your yoga practice! Available in store or online, £11.99: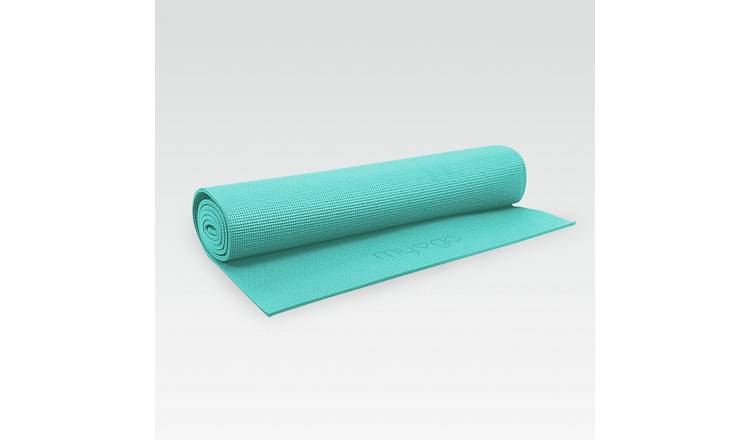 Image Source/ Argos
The Best Picks To Take Your Practice To The Next Level – From £25
For those with a bit more experience, a new mat can really transform your practice. Extra cushioning adds support for more complex and longer held poses, while increased grip helps you really stretch with confidence. So if you're looking to progress and invest in your activity, why not try one of these yoga mats for pros!
Designed with yoga in mind, this Adidas premium yoga mat is lightweight and easy to roll and store. The material gives added traction for stronger poses and grounding. £25 from Argos: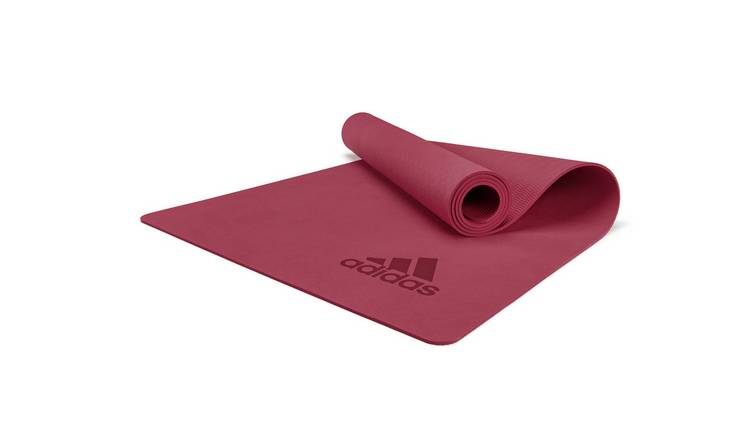 Image Source/ Argos
This high performance yoga mat has a polyurethane top layer that absorbs moisture and reduces slips, while the natural rubber base provides a luxurious cushioned and textured grip. It's even antimicrobial additive to help prevent mould and mildew! And it comes with a shoulder strap too. £59.99 from Argos' yoga mat range: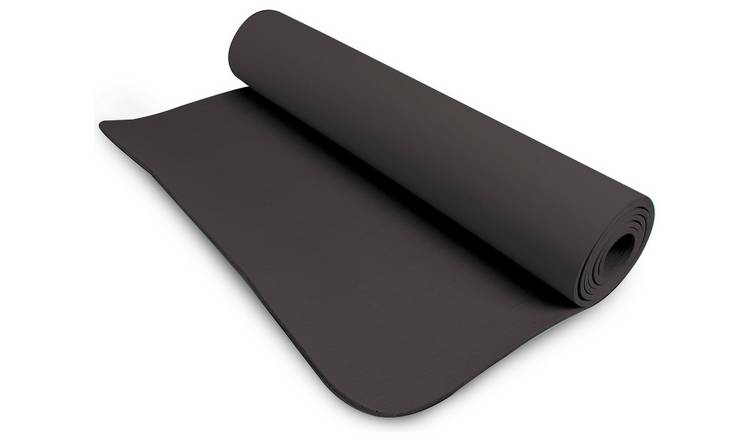 Image Source/ Argos
Yoga Mats That Stand Out From The Crowd – From £15.99
If you want a yoga mat that expresses who you are, then look no further than Argos! They have a great selection of patterned yoga mats that really stand out from the crowd, and would look great in your home so no need to tidy away after your practice is complete (unless you want to of course!). And they don't just look good – these mats are great quality, with a great non slip surface and cushioning support for easier poses.
This floral printed yoga mat looks so good, you won't want to roll it up after you're yoga session is done! The vivid purple and bold pattern are complemented by a great non slip surface, and it's easy to clean too. £15.99 from Argos' yoga mat range: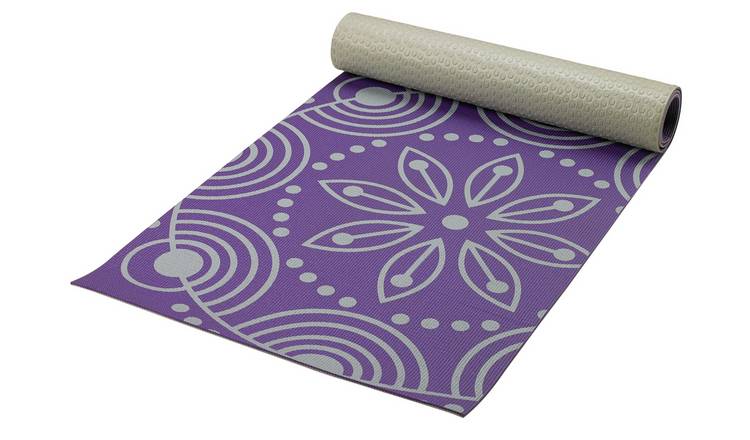 Image Source/ Argos
This dreamcatcher inspired yoga mat is gorgeous! With a super chill space vibe, you'll be feeling more zen in no time, and it's extra cushioned too. £22.99 from Argos: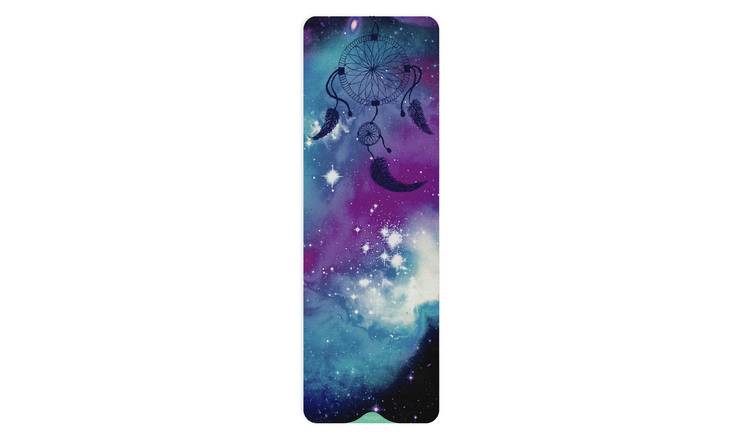 Image Source/ Argos
Up your spiritual connection with this beautiful mandala patterned Argos yoga mat! It's calming blue shade and peaceful design is too beautiful to hide away. £22.99 from Argos: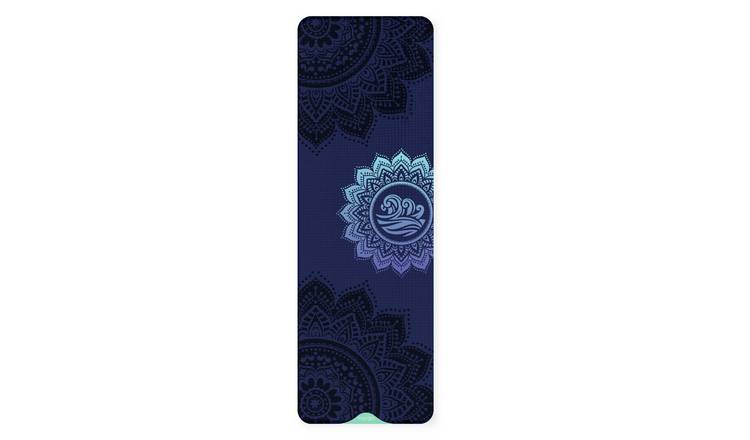 Image Source/ Argos
And this funky surfboard pattern will help you channel your inner surfer chick as well as yogi! And it's only £22.99 from Argos' yoga mat range: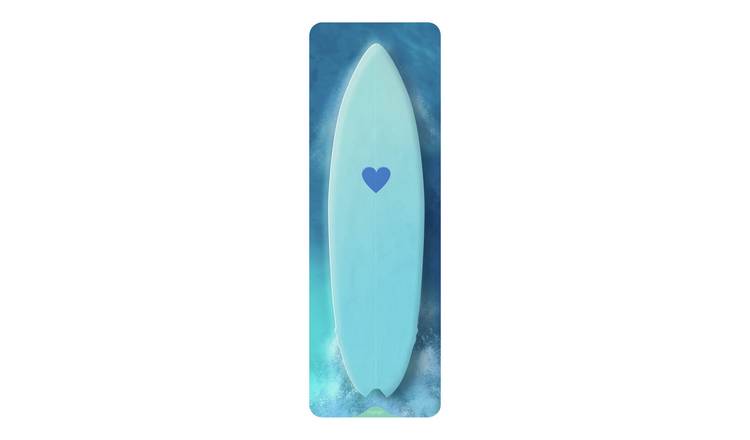 Image Source/ Argos
The Best Picks For Kids – From £19.99
Yoga is incredibly beneficial for kids! As well as helping their balance and flexibility develop, yoga is great for improving concentration and developing tools to help them cope with challenges in their daily lives. Now is the perfect time to get your little one into yoga, and there are so many great tutorials and online classes aimed at children. And their very own yoga mat is sure to get them interested, as well as helping their skills develop!
This dreamcatcher and unicorn printed yoga mat is sure to get your kid excited about yoga time! The vivid design is also reversible, with a handy print of yoga poses on the reverse. £19.99 from Argos' yoga mat range: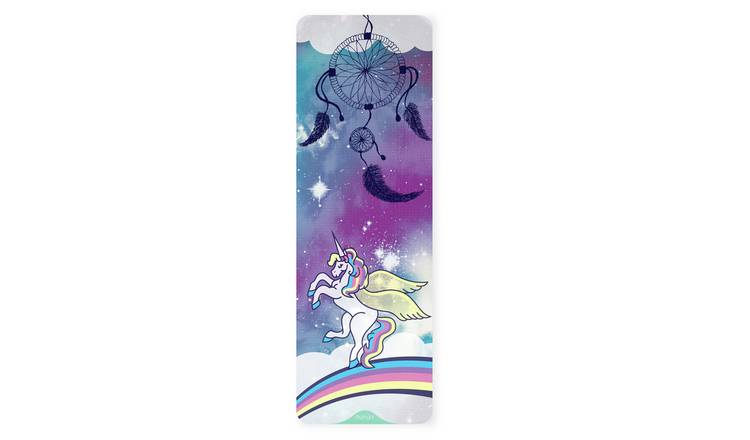 Image Source/ Argos
This dinosaur print yoga mat will put some roar into their yoga time! With a cool dino and leaf print in a vivid green, the mat also has a yoga pose guide printed on the reverse. And it's £19.99 from Argos:
Image Source/ Argos
And this surfboard patterned kid's yoga mat is perfect for getting them pumped about practice! And with a non slip surface and the right size for them to master any pose, it's just £19.99: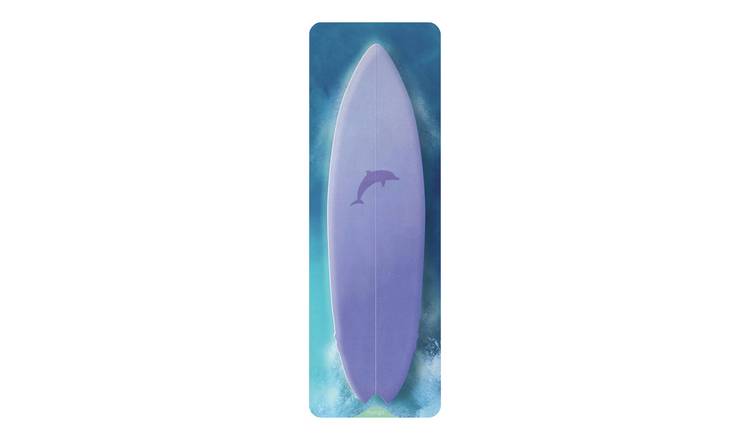 Image Source/ Argos
Whether you're just starting out on your yoga journey, or you've mastered advance poses, Argos have the right yoga mat for you! So why not treat yourself to a new yoga mat from Argos – they have a mat for everyone, no matter you're budget or skill level.