Next Home Rugs: Create Your Dream Home With The Perfect Rug
A great rug can completely effortlessly transform your home, showing off your style and revitalising your space! Next Home rugs have a huge selection, so you can create a welcoming home whatever your budget.
Rugs warm up a room, and change the look of your home without redecorating or replacing carpets or flooring. They also have practical benefits too – they help prevent furniture from slipping on a wood or tile floor, protect you and your family should they fall, reduce noise levels, and can even help to reduce dust allergies! And they're easy to clean too, so you can cut down on cleaning time. Whether you're looking for the perfect living room rug to tie your decoration together, a cosy rug to step onto when you get out of bed in the morning, or something special for the kids, Next Home rugs have got you covered!
Bright Geometrics For Your Home From £55 To £270
Geometric patterns are here to stay, and perfect for updating the look of your room! With clean lines and modern detailing, a geometric rug would be a great eye-catching feature for your living room, dining room or even bedroom! Next Home rugs have so many different options, so they will have just the thing for your colour scheme and decorating style.
Channel your inner Great Gatsby style with beautiful art deco style rug in charcoal grey, from £45: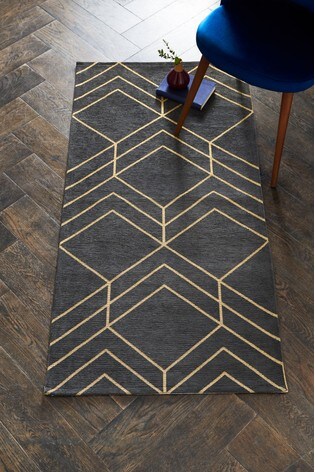 Image Source/ Next 
Be bold with this beautiful geo print rug, that's super soft too! From £95: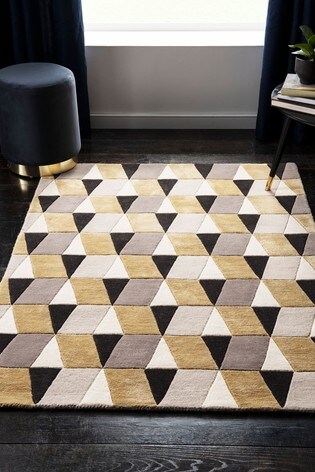 Image Source/ Next 
This optical geo print Next Home rug is just the thing for high traffic areas, as it can be easily cleaned with a sponge. From £55:
Image Source/ Next 
Pom Pom Detailing From £20 To £70
Make your home cosy with a super soft pom pom trim rug! Next have gorgeous rugs with pom poms running along the edge, in a range of colours. They are durable and stain resistant, and the synthetic fibres are easy to care for and clean if needed. Available in Duck Egg, Grey, Mauve, Ochre, and Pink, as well as a range of sizes from 60x90cm, 80x150cm and 120x170cm, there's the perfect size and colour for your bedroom or living room!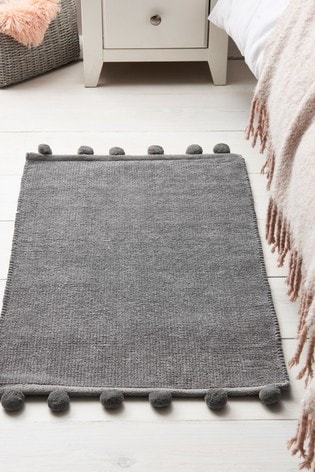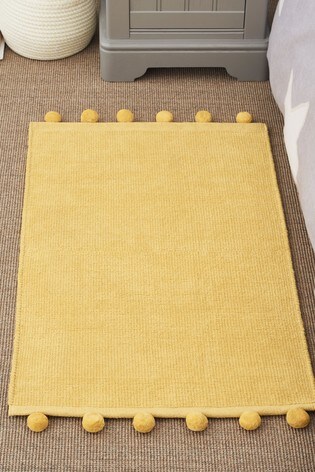 Image Sources/ Next 
Cosy Comfort With Next Home Rugs From £35 To £230
If you want to warm up your home, look no further than Next! A fluffy cosy rug will keep your toes nice and toasty, so it's perfect for rooms with wooden or laminate floors. Or why not invest in a rug to cover up carpet you're no longer happy with? Either way, these luxurious fluffy rugs will change the look and feel of any room, and there's so many colours to choose from. Available in a range of sizes from 67x130cm, 80x150cm, 120x170cm, 135×190 and 160x230cm, so whatever size you need for your perfect rug they have just the thing!
Image Sources/ Next 
Bold Prints To Liven Up Your Rooms From £75
A big bold print will take your room from drab to fab! Adding a splash of colour and pattern will liven up any space, and turn any room into the room of your dreams. Love florals? Next Home have beautiful patterns in a huge range of colours. If bold patterns are more your style, Next have so many beautiful options suitable for every room in your home.
Check out this gorgeous leaf pattern rug from £75 – perfect for the lounge:
Image Source/ Next 
This funky floral rug will be centre stage in any room! From £52:
Image Source/ Next 
This handcarved floral rug will add colour and texture, from £75:
Image Source/ Next 
This Nxt Home Rug with a bold leaf pattern is so chic, and it's high shine fabric will keep it looking it's best – from £12o:
Image Source/ Next 
If you're looking for a big pop of colour and style, check out this beautiful Next Home rug from £75:
Image Source/ Next 
This traditional Oriental rug is both classy and classic! From £50:
Image Source/ Next 
This woven star runner is perfect for the hallway – from £60:
Image Source/ Next 
Classic Stripes For Every Room With Next Home Rugs – From £65
Stripes are so classic, and can create the illusion of more space – so they're perfect if you want to make a room feel bigger! From timeless designs to a modern take on the trend, Next Home rugs have something for everyone.
This textured stripe rug is made of hand woven wool, and the soft grey and ochre shades will add a subtle pop of colour – from £85:
Image Source/ Next 
This distinctive stripe and wave pattern in real wool will coordinate with your decor beautifully – from £65:
Image Source/ Next 
Colour and stripes, what more could you ask for? From £75:
Image Source/ Next 
Circular Next Home Rugs From Next Home – From To
Round rugs create an interesting contrast with the floor surrounding them, so they really pop! Next Home rugs have a huge range of circular rugs, from cosy and fluffy, to textured and patterned. A circular rug would look great under a dining table, as the centrepiece in a living room or lounge, or in a bedroom for some extra luxury.
Colour and stripes to brighten up your living room – from £90:
Image Source/ Next 
Add some natural style with this jute round rug – from £95:
Image Source/ Next 
Relax and revitalise your space with this beautiful mandala pattern rug:
Image Source/ Next 
Faux Fur Luxury From £35 To £150
Is there anything more inviting than a faux fur rug? With their fluffy fabric and thick cushiony texture, faux fur rugs add both colour and luxury to any room. Perfect for cosy nights in, or to make your bedroom extra snuggly! There's nothing cosier than curling up in front of a faux fur rug, so why not check out what Next have to offer and bring some cosy chic to your home?
Step into luxury and comfort with these beautiful faux fur rugs! With a dense pile and super soft fabric, you won't want to step off! From £35, and available in a range of sizes as well as colours, you can find the perfect size and look to coordinate with your style without having to shell out.
Image Sources/ Next 
Liven Up Your Kid's Rooms From £14
Treat the kids and liven up their bedroom with a new rug from Next! Make their room their own, and more cosy too – what more could they ask for? Next have so many options, so no matter what your little one loves, they're sure to have something to make them smile without breaking the bank!
For your football mad kiddo, check out this football rug – £15: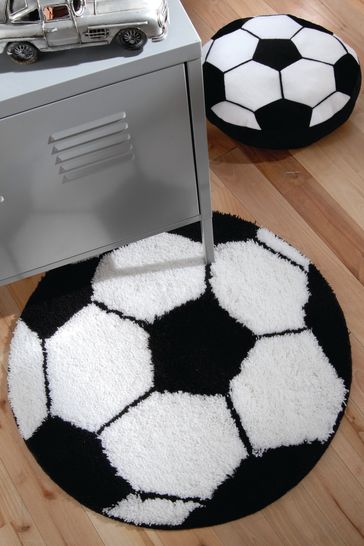 Image Source/ Next 
There's a new sheriff in town with this Toy Story Woody badge rug! Just £14:
Image Source/ Next 
For your dinosaur fanatic, Next have just the thing!
Image Source/ Next 
Add some colour to your kid's room with this super cute rainbow pom pom rug, just £14:
Image Source/ Next 
A new rug will absolutely transform your living space, so whether you want to update your bedroom, liven up your living room, or revamp your dining room, Next Home have a huge range of rugs with over 500 rugs available online! They also have a huge range in store, so why not head down to your local branch and find the rug of your dreams?