All About Eddie Hearn's Wife: Inside The Sports Promoter's Love Life
If you're wondering the answer to the question: Is Eddie Hearn married? We can confirm – he very much is!
And for Eddie Hearn's wife Chloe, life is pretty good.
Eddie, the famed sports promoter, 37, and his wife Chloe are sat firmly in the lap of luxury. As a result, they are traversing the Atlantic regularly as Eddie raises the profile of his company, Matchroom Sports.
So, who is Chloe Hearn?
Chloe Hearn's fame extends beyond being one half of a well-to-do Essex couple. Until recently, Chloe co-owned Chloe's Beauty Bar in Brentwood alongside Chloe Sims of TOWIE fame. Consequently, the bar became a regular setting on the popular show. Above all, she and Eddie are married and are the proud parents of two young daughters.
What is Eddie Hearn's net worth?
As one of the key power players in British boxing, Eddie Hearn's estimated net worth is anywhere from $20-25 million and possibly rising. Yet drive and love of family appear to have kept Eddie grounded and it for the long-haul with Chloe.
Some background on an Essex born-and-bred success story
If you're a wealthy kid, your life can follow a myriad of paths. Many come out the other end lacking the ambition or sense to forge their way in life.
Then there's Eddie Hearn, who is decidedly not of that ilk. And it stems from what put him in the position of privilege in the first place.
"That's one of the challenges for me, to take the business from this old geezer Barry Hearn who is a right wheeler dealer to a global business that has reputations in multiple territories. The trial for me is outperforming my dad. I've always been Barry Hearn's son.
The chip on his shoulder is bigger than fame and fortune. A public school educated lad from Essex who struggled with his GCSEs, Eddie Hearn is nevertheless the furthest thing from a legacy kid coasting on a trust fund. His success lies in a vision for the power of new digital platforms. These, in turn, have fuelled the Hearn family's enviable lifestyle.
One that has delivered a Bel-Air home as well as Hearn's net worth well into the eight-figure bracket.
What does Eddie Hearn actuallyh do?
In short, Eddie's achievements as Matchroom's managing director led to the decade's biggest fights – both UK and Worldwide. With a responsibility to the likes of the snooker players and the professional darts corporation, as well as fighters like Joshua, Amir Khan, Kell Brook, Tony Bellew, and Billy Joe Saunders, among many others.
To that end, here are just a few examples:
As reported in this space by Juliet Smith, Matchroom Sports and Eddie's progress as a key player in the boxing world has found a foothold through live sports events: 
In May, Eddie managed to negotiate boxing's first ever $1 billion deal (£750 million) as his company Matchroom and a relatively new streaming giant DAZN agreed to host sixteen 16 American shows, exclusively on the platform.

Revenue has continued to rise for Matchroom – in 2015 they raked in £34 million, increasing to £70.5 million the year after. In 2017, he reached the £100m milestone. That figure included a rise in annual profits from £7.2m to £11.1m.
How the Hearn family likes to unwind
WAt the office, Eddie sits at the head of the table. Managing acclaimed fighter Amir Khan one day might give way to another job the next. For example, sorting out a new opponent for Antony Joshua in a Madison Square Garden showdown.
Yet at home, it appears to be a different story. Compare that to his famous father Barry Hearn, who admits to missing Eddie's birth over the matter of a £50 snooker match. Eddie, on the other hand, hasn't let trans-Atlantic work eat into a commitment to family. No matter how tiring, as Eddie admits his schedule will certainly reduce him to "three to four hours sleep at night."
Who are Eddie Hearn's daughters?
From all reports, Eddie Hearn's wife Chloe and daughters Isabella and Sophia rule the roost. Consequently, Eddie is all in.
"My youngest Sophia is 6 today," he said in one Instagram post. "She has the ability to drive me crazy and break my heart all within seconds! My little inspiration – I love you with all my heart 💓."
Meanwhile, a look at why 2019 has been a mixed bag
It's clear that the family is in good shape. But 2019 has not been an endless parade of triumph and success for the Hearn clan.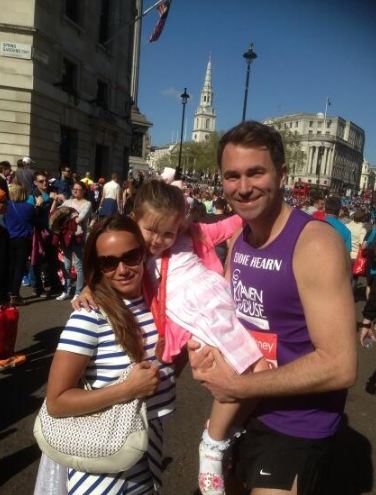 Wife Chloe and business partner/TOWIE star Chloe Sims announced in January that the renowned beauty shop would be closing. Often, the beauty shop was noteworthy for the show's fans, often serving as a setting for TOWIE episodes.
But it came to an end earlier this year. Sims announced via Instagram the co-owners could no longer devote the required 'energy or commitment' to keep the salon running. It officially closed in March, one of many TOWIE affiliated star businesses that have gone under.
As for Eddie, overseeing everything from boxing to basketball to fishing will create some tribulations. Above all, much (though not all) of Matchroom's premier boxing content relates to Joshua.
The heavyweight made his first foray into the US as a primary attraction for the Matchroom/DAZN broadcast streaming collaboration. Thus far, the campaign has not yielded the desired results.
First was a new opponent for Joshua. Jarrell Miller's third failed test for performance-enhancing drugs left him disqualified.
From there, things got worse. Joshua was shockingly knocked out in the seventh round by the eventual replacement fighter, Andy Ruiz, Jr.
Why Eddie Hearn's wife and family are looking forward
Joshua will attempt to rebound with a Ruiz rematch in Saudi Arabia this December. Moreover, Eddie is squaring up to the initial setback with a new level of boxing promotion resilience. Aside from verbal spats with Tyson Fury, the final three months of 2019 remain busy across all divisions for Matchroom fighters.
For example, the following bouts take place in the next three months alone.
Men's Middleweight: IBF World Title bout between Gennadiy Golovkin and Sergiy Derevyanchenko in New York 5th October.

Women's Super-Lightweight: WBO title match between Katie Taylor and Christina Linardatou 2nd November at the Manchester Arena.

A rematch of YouTube sensations KSI and Logan Paul in Los Angeles 9th November.

Heavyweight: The 12-round Joshua-Ruiz rematch for the World Heavyweight Crown.
The job will inherently take him worldwide – the jet-setter is forever jet-setting. Yet Eddie Hearn's wife Chloe and family help to keep things in perspective as a new decade looms.
Also worth a read: Megan McKenna Net Worth – Compared To The Other TOWIE Stars