The Best Next Dining Chairs: Dine In Style With Next
Whether you're moving or looking to redecorate, or your dining room furniture has reached the end of its life, Next dining chairs range has something for every home. New dining chairs can totally transform a room, giving it a fresh look – all while creating a comfortable space for home dining. Don't compromise on style over comfort – with Next, you can find the perfect combination of the two for your ideal dining room.
Next has a great range of dining chairs, with more than 160 different options available! So no matter your style, from al fresco dining to luxurious upholstered chairs, you can find your perfect dining room chairs at next!
Plush Upholstered Chairs To Brighten Up Your Dining Room – From £160
Upholstered chairs make for comfortable seating, and they can also liven up a dining space with a splash of colour. Next's dining chairs are all upholstered with hard wearing fabric, so they are easy to keep clean and looking fresh! Here are some of our favourite options.
These beautiful Moda dining chairs will class up your dining room! With a clean design and button detailing, they will complement your table and dining space. The wooden legs and comfortable seat will make for comfy mealtimes, and they are available in a range of colours too.
£160
from Next:
Image Source/ Next
These dining chairs are beautiful, with a woven fabric pattern for natural contrast. The sloping curved back will give you the ultimate support while eating, and the plush seat will keep you comfy too. They come in four shades, and the wooden legs make for a stable base too. And they are £160 for two at Next:
Image Source/ Next
These upholstered chairs are a modern twist on a classic style! The leather look covering and padded quilted seat and back are a fresh take on a more traditional design. The material is hard wearing and comfortable, and the black legs create a great design contrast. £200 for two from Next: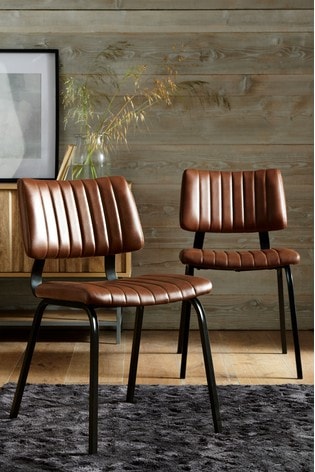 Image Source/ Next
These beautiful velvet chairs come in a range of vibrant colours, from teal to ochre, olive, terracotta and more! So no matter the shade you're after, there will be a colour scheme to suit your home. The plush velvet finish is super comfortable, and the walnut effect legs and a classic finishing touch. £180 for two:
Image Source/ Next
These luxurious animal print chairs are sure to wow you! The striking upholstery will be a real focal point in your dining space, adding some luxury to dinnertime. With black legs and a range of different prints and shades to choose from, these are the perfect chairs if you want to live on the wild side! £160 for two:
Image Source/ Next
Classic Wooden Next Dining Chairs From £160
You can't go wrong with the classic styling of wooden dining chairs! They complement a wooden table perfectly, but can also add a nice contrast with a cloth covered table too. They are hard wearing and easy to wipe clean, so perfect for family homes. Here are some of our favourite wooden Next dining chairs.
These beautiful wooden dining chairs will be the star of the show in your dining room. With a plush leather upholstered seat and curved back for support, you can while away the hours after dinner in comfort! £220 for two, and a matching table is available too:
Image Source/ Next
These beautiful cross backed dining chairs come in two shades, a darker tone and natural wood finish. The high back gives great support, and they would coordinate really well with a wooden or cloth covered table. And you could always add a cushion to the seat for a splash of colour too. £160 for two:
Image Source/ Next
Bring bistro styling into your own home with these gorgeous bistro style wooden chairs. The soft wood shade will lighten and brighten your dining space, and the intricate curved wood detailing will soften any room. Perfect for entertaining or home dining! £178 for two:
Image Source/ Next
And these wooden and perspex dining chairs are perfect if you want to add a modern accent to your dining room or kitchen! The clear curved back is supportive and easy to clean, while the wooden legs provide a solid base. They would look great at a breakfast table, or as part of a full set for dining. £340 for two:
Image Source/ Next
And if you want to branch out beyond chairs, why not consider seating benches instead? They are a great way to squeeze in an extra place setting or two, and add rustic charm to your dining space. This bench is made of 100% reclaimed and recycled timber, and hand finished by skilled craftsmen, keeping original nail holes and unique imperfections. £199:
Image Source/ Next
No matter your style, Next has something to suit your dining room space. So whether you're looking to create a homely family dining room for casual meal times, a formal space for entertaining, or a modern dining space for all to enjoy, Next have the perfect chairs for your style. So why not check out the entire range and find the ideal dining chairs for your home!