Greg Shepherd Instagram: All About Billie Faiers' Husband
Greg Shepherd got the spotlight after starting to date The Only Way Is Essex (TOWIE) reality star Billie Faiers.
Consequently, he has been on the radar of Billie Faiers and her sister, Sam Faiers fans and followers from 2011 till date. In fact, now he has his own fan base and admirers due to his TV appearance and him being a wonderful husband to Billie.
First, a dream-like proposal to Billie and then, a lavish wedding in the Maldives, naturally directed the spotlight on Greg as he went to a great extent to make both the occasions extravagant yet heartfelt.
More about Greg Shepherd's Instagram where he reveals what truly matters to him and his other ventures…
Who Is Greg Shepherd?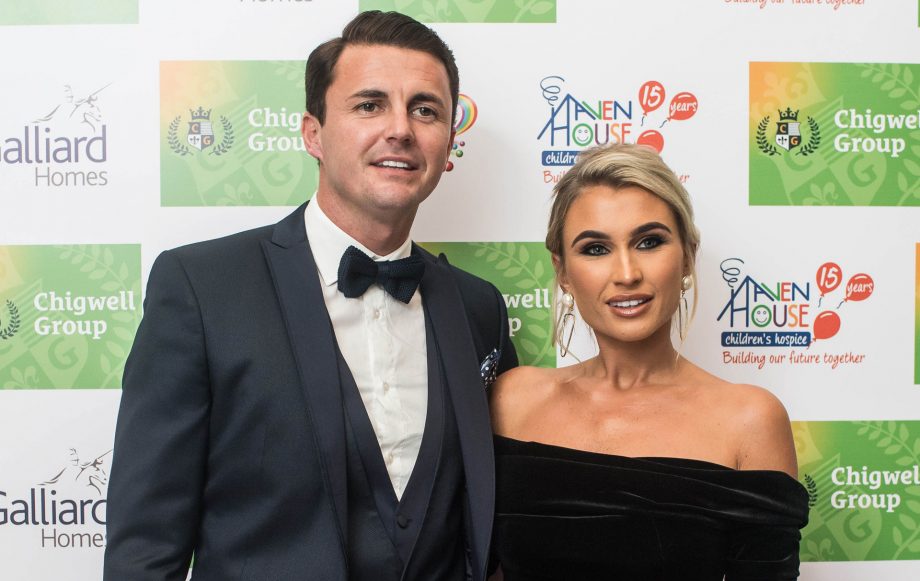 Image Source/GoodtoKnow
Greg hails from Essex and is now a 45-year-old high profile broker and businessman who keeps his TV appearances to a minimum. However, he is quite a regular in Sam and Billie's show, The Mummy Diaries that revolves around their lives as mothers.
Apart from that, Greg also manages a celebrity-managing agency named Touch Management and is highlighted in Greg Shepherd's Instagram bio. Reportedly, he manages Billie's and Sam's professional ventures.
Managing high profile celebrities must be highly lucrative and explains the luxurious wedding Bill and Greg had, their equally extravagant honeymoon, frequent high-end vacations and opulent lifestyle around the clock!
Otherwise, Greg is unpretentiously all about family and friends. Evidently, his Instagram profile revolves charmingly around those dear to his heart.
Moving On To Greg and Billie's Endearing Love Story!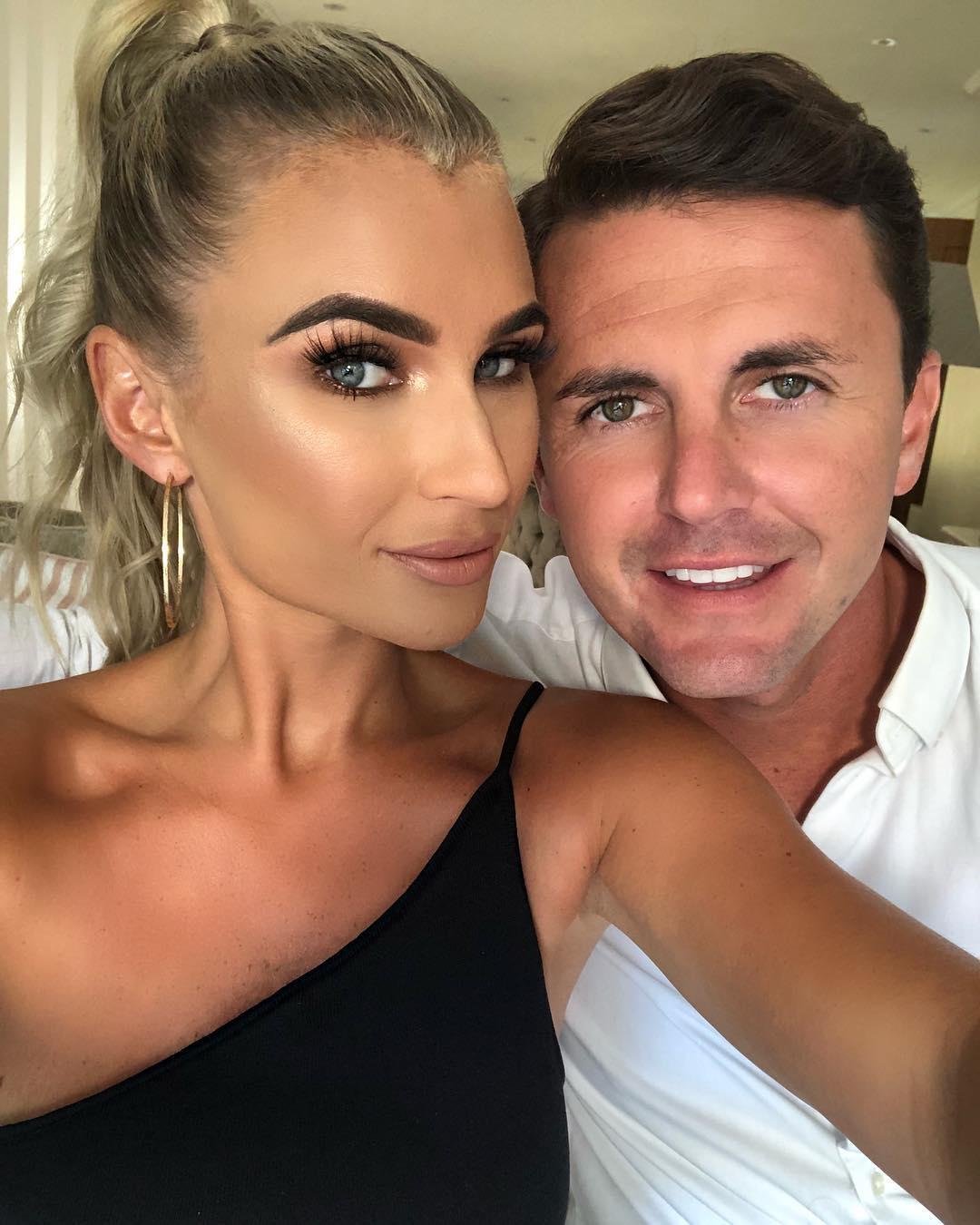 Image Source/The Sun
The couple first met in 2011 and dated for three years. In 2014, Greg finally proposed to Billie in a very private yet luxurious setting, complete with rose petals, beach, and bath.
Interestingly, the couple was pregnant with their first child during the proposal and Billie admitted that she had no clue until he whipped out the ring out of nowhere!
Greg made it all the more exclusive and exciting by proposing to Billie in the Maldives. Another sweet highlight of the proposal is the ring. Greg designed the ring for his beloved and scored extra brownie points right there!
View this post on Instagram

A post shared by Billie Shepherd (@billiefaiersofficial) on
As expected, Billie was very excited and happy about her special customised ring!
"He got it designed especially for me by a jeweller in Hatton Garden. The centre diamond is so big. It's a five-carat stone with two smaller diamonds either side of a platinum band."
Apart from a luxurious and personalised ring, Greg also made an impact with his choice of words during the proposal.
Delightfully recounting the magical moment, Billie said,
"He said 'I love you, I want to spend the rest of my life with you and I know our baby will be just as beautiful as you are. Will you marry me?'

"Then he started crying. It took awhile for it all to sink it and then ten minutes later, I got a bit tearful too."
Incredulously, The Couple Took Their Own Sweet Time To Get Married…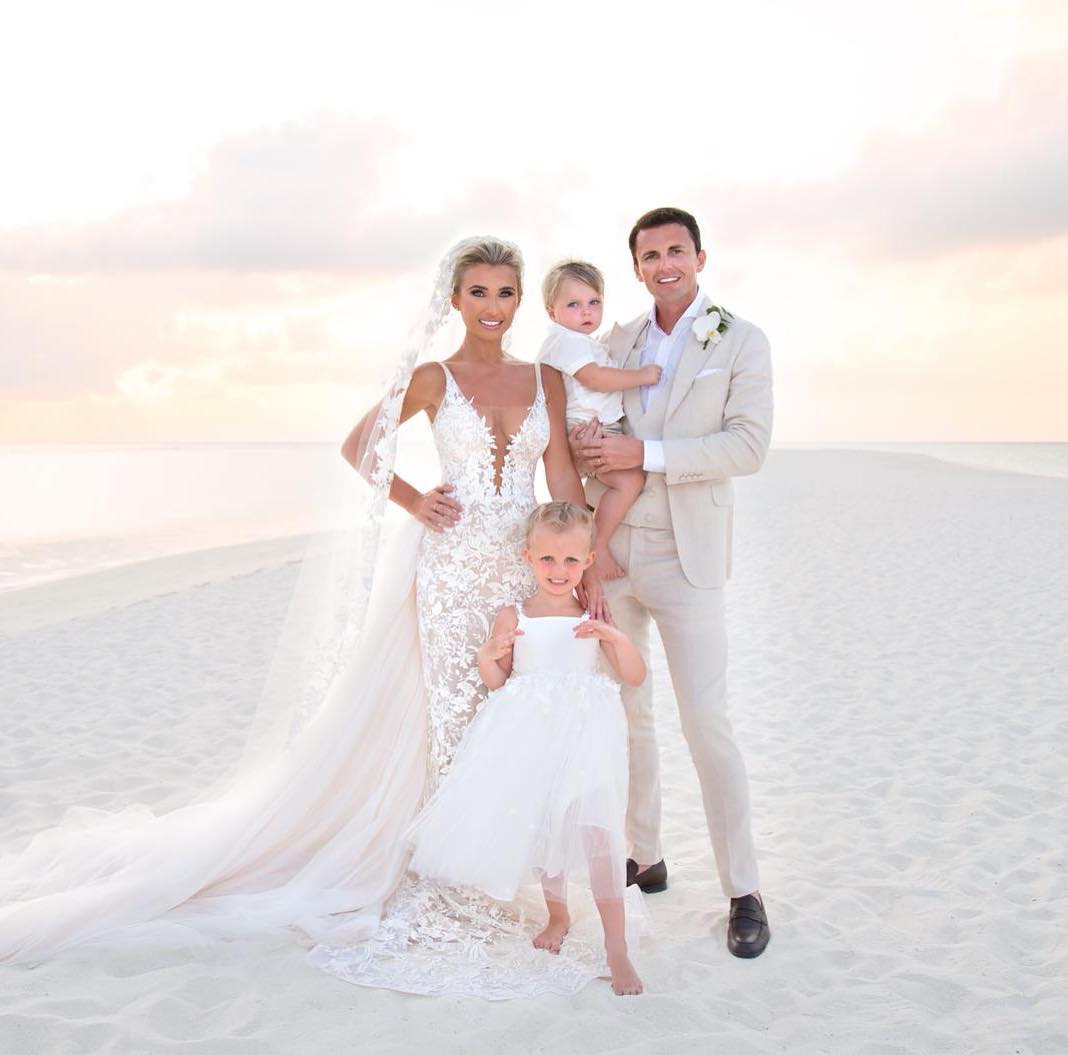 Image Source/London Evening Standard
After the extravagant and meticulously planned proposal, the couple took their time before taking the next crucial step in their lives. Although, both of their babies arrived in the span of five years and perhaps, they were just busy with life!
Now, the couple has two children, Nelly, who is five years old and Arthur, who is two years old.
After five whole years, the couple finally got around from being engaged to being married in March last year. What's more, they did it with so much style and elegance.
For one, Greg flabbergasted the guests by making a grand appearance by arriving to the wedding in a speedboat.
More interestingly, Greg and Billie's children attended their wedding with 95 other guests, all flown in by the couple.
A Perfect Wedding Day For Greg And Billie With Their Loved Ones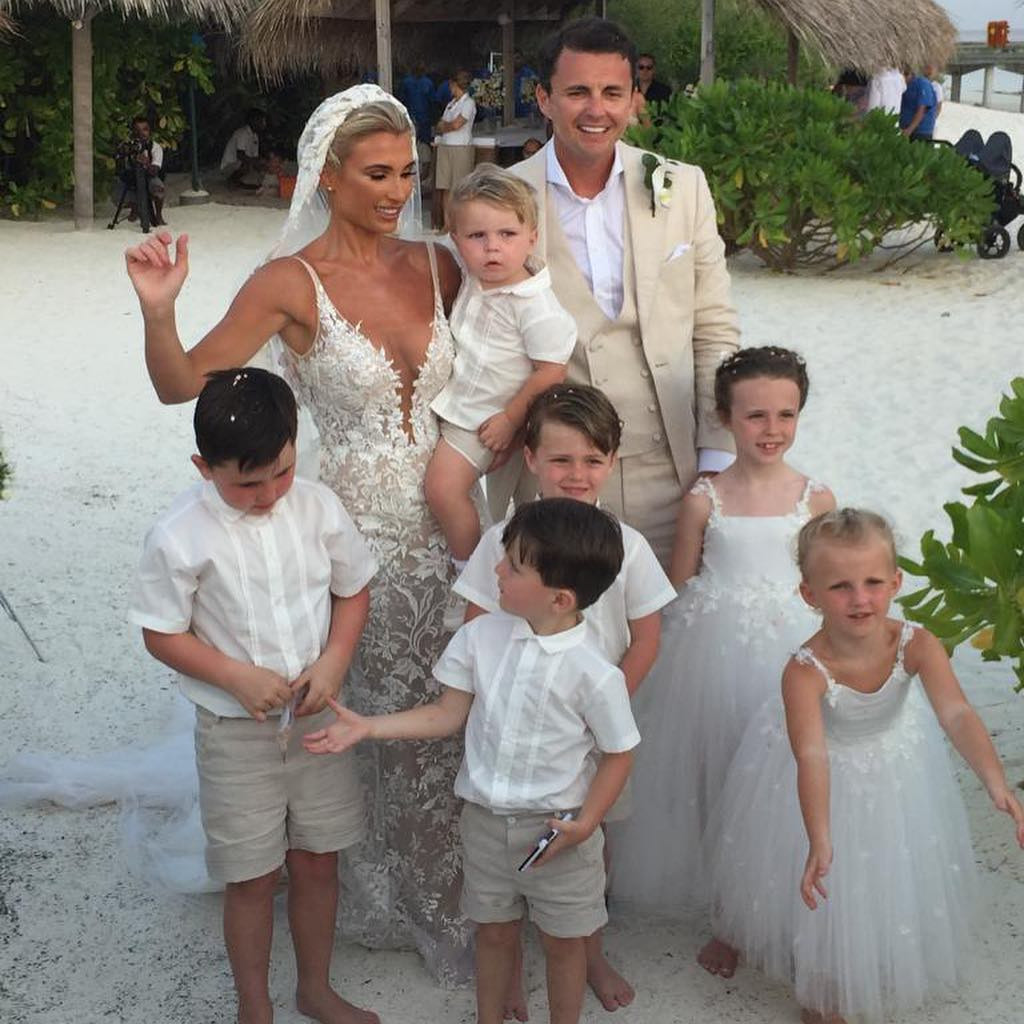 Image Source/The Sun
"Other than the days that Nelly and Arthur were born, it was the best day of my life. It was like a fairy tale – all the stress and tears were worth it."

"It's so lovely for me to finally be a Shepherd and share a surname with my children."
An emotional and happy bride means nothing but a happy wedding!
The maid of honour, Sam Faiers' made the whole wedding a lot more touching and sweet with her extraordinarily heartwarming toast for her newly-married sister and brother-in-law.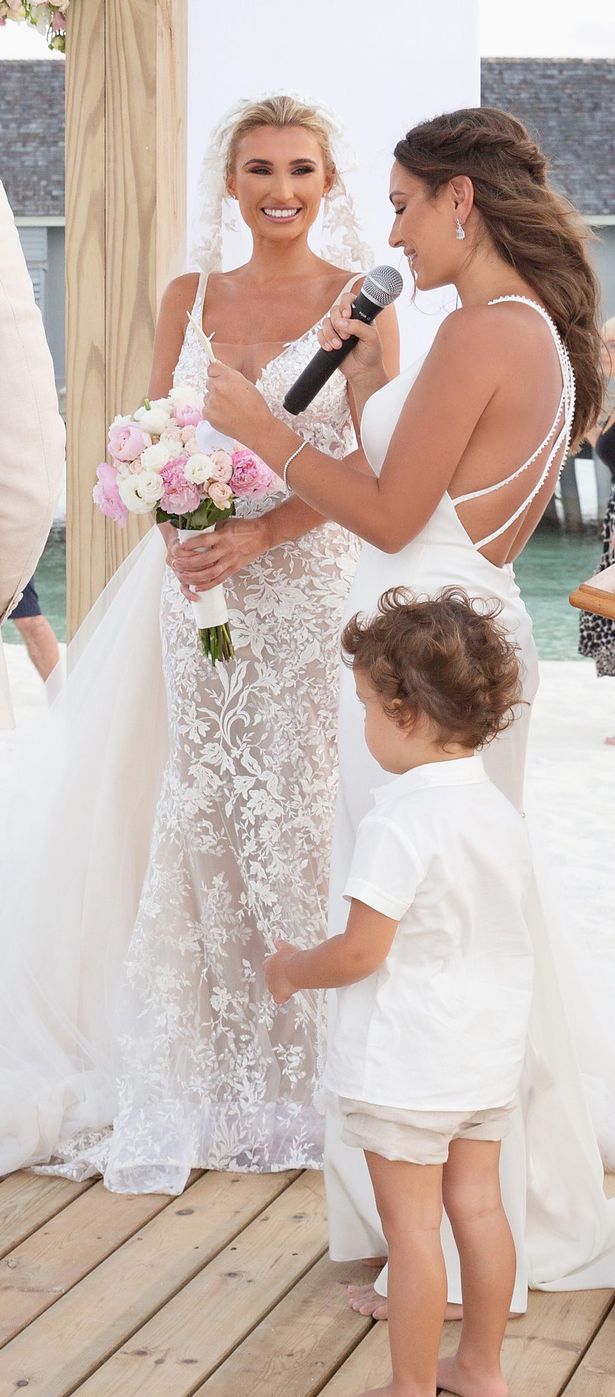 Image Source/OK! Magazine
"To my beautiful sister Billie and my brother-in-law Greg, it feels like just yesterday when we were standing in the sea in Ibiza.

"I was the annoying little sister who asked: 'You fancy my sister, don't you?'

"When Greg replied 'yes', I instantly told Billie and that's when the seed was planted. I am so happy that my big sister is marrying the man of her dreams.

"She may not tell you that Greg, but as her sister, I know she loves you unconditionally."
True enough, Greg Shepherd and Billie Faiers looked like they were made for each other after being together for around a decade and having two babies.
Greg And Billie's Wedding Had Its Fair Share Of Drama…
Is there a wedding without its own set of drama? Greg and Billie had to deal with some on their wedding day too.
The wedding officiant referred to Billie as Greg's husband during one of the most important moments of the wedding.
"Greg, do you take Billie to be your husband?"
Fortunately, it turned out to be more funny than dreadful and everyone laughed it out! Especially Billie and Greg had a wonderful time laughing it off more than anybody else.
The Lavish Wedding Got Into A Bit Of A Controversy…
Source/YouTube
The wedding had its extra dosage of sweetness, enough drama to make for a good story in the years to come, piling emotions and lastly, a controversy.
In an interview with This Morning's Phillip Schofield, Billie got into an awkward situation when the host questioned her about the cost of her wedding.
Obviously, the fact that the couple spent a fortune for their wedding was clear as crystal and naturally, did not escape anyone's attention. Especially, when social media went rampant with photos and hashtags from everyone who attended the wedding.
Apart from the logistics fare for around 100 people, the couple also forked out money for Billie's extravagant dress, Greg's smart suit, and the accommodation cost at the Maldives.
It's only natural that Phillip brought the question up.
Unfortunately, Billie Thought He Was Being Very Rude
"My God, you must be earning beautifully to be able to do this. This is the Kuramathi resort in the Maldives. So we had a look, if you were to stay there next Saturday it would be £650 a night.

"That would be £4,588 for a week for the superior beach villa. The whole week for 100 guests – £229,000. So you must have got a deal there."
After a bit of a tension in the air, Billie responded…
"No, because there was a large group of us, we had the beach houses but they split them in two, so we had two families in one beach house which helped us out with the rooms."
Greg Shepherd And Billie Faiers Are Committed To Each Other And Their Family…

After being together for almost a decade and parenting for almost half of those years, Greg and Billie have their priorities sorted and well-aligned with each other. Just like how Greg is smitten about his children, Billie is also putting her family first.
For instance, Billie's willingness to give up something she was thriving in.
After excellent and commendable presence in TOWIE from 2011 to 2016, Billie announced her exit from the show to concentrate on her family and wedding plans. According to a source:
"It's no secret that Billie has a lot on her plate with her young daughter and marriage plans and to top it off she also wants to expand her family at some point.

"She was a brilliant and very funny member of the TOWIE family and was a natural in front of the camera from day one – producers have told her that the door is always open to her should she change her mind."
Ultimately, both Billie and her husband Greg are putting family first at all times! The dedication they are showing when dealing with parenthood and their relationship definitely puts them up a notch.
Greg Shepherd Prioritises Charity…So Much So That He Shaved His Head For One!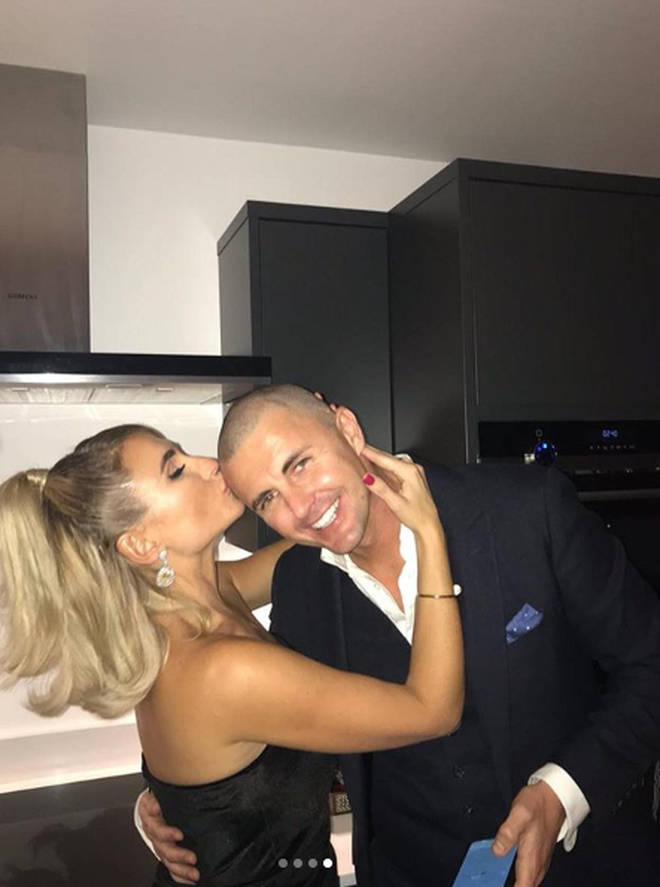 Image Source/Heart Radio
Greg Shepherd is a good Samaritan and he gives back to the community by investing time and energy as well as money in charities close to his heart.
Unbelievably, Greg Shepherd didn't mind shaving his head for Haven House Children's Hospice which provides care to life-limited children and their families. To his credit, he successfully raised a significant amount of £42,000!
Apart from Haven House Children's Hospice, Greg is also heartfully committed to Maggie's Centre which provides support for people with cancer.
View this post on Instagram
To show his support to the cause, Greg participated in a race to raise funds for Maggie's Centre. What's more, the race raised over £6,000.
Admirably, Greg also attended a fundraising event for Ava Adeli who was born prematurely with epilepsy and cerebral palsy.
Time and again, Greg proves himself to be a man who loves his family and is selfless and altruistic in helping the underprivileged. Evidently, Greg has his heart at the right place.
Fascinating Tidbits About Greg Shepherd And Greg Shepherd's Instagram
His hobbies are playing golf, football and shooting, as well as relaxing in his yacht and visiting the exotic beaches of the Maldives. It is no wonder that the couple chose the Maldives as the location of the biggest day of their lives.
He nicknamed himself 'The Big Shep', his daughter Nelly 'My Little Shep' and both his children 'The Little Sheps'.
With net worth is estimated to be US$6 million, Greg is quite a popular figure on Instagram with 443k followers and 54.3k followers on Twitter. With regular updates and relatable posts about his kids and their shenanigans, he keeps his followers hooked and anticipating more from him.
Greg seems to a mummy's boy as much as he is a doting husband and dedicated father. And what's truly remarkable is that to him, it doesn't matter if it is his own mum or his mother-in-law, he loves them all equally!
He takes his daddy responsibility quite seriously by helping his kids with their homework. He also adds a scoop of adventure in his parenting by encouraging his daughter to try extreme sports such as indoor skydiving.

Greg and Billie know how to throw in a little bit of crazy in the mix and be a goofy couple. When they are not gallivanting around the world or relaxing by the beach, the couple seems to enjoy their face masks at home.
Most importantly, they might be gearing up for baby number three! Chatting up in The Mummy Diaries, Billie and Sam who have a daughter and a son each, have talked openly about baby number three!