News
Tommy Robinson Net Worth: How Much Is He Actually Making?
Tommy Robinson Net Worth: How Much Is He Actually Making?
Tommy Robinson net worth total is proof in the pudding of his title 'Britain's best funded politician'; his tenacity and persistence fuels his presence which in turn fuels his fortune.
The far-right activist, born November 27 1982, brands himself as the 'voice of the forgotten people' and dedicates his life to preaching anti- Islam, spreading his message wide and far. Tommy, whose real name is Stephen Yaxley-Lennon, first became known when he joined the British National Party (BNP) back in 2004.
Just the year before he had been awarded a scholarship to study aircraft engineering at Luton Airport, but decided a different route was for him. He then went on to form the English Defence League (EDL), where he also worked as a spokesperson.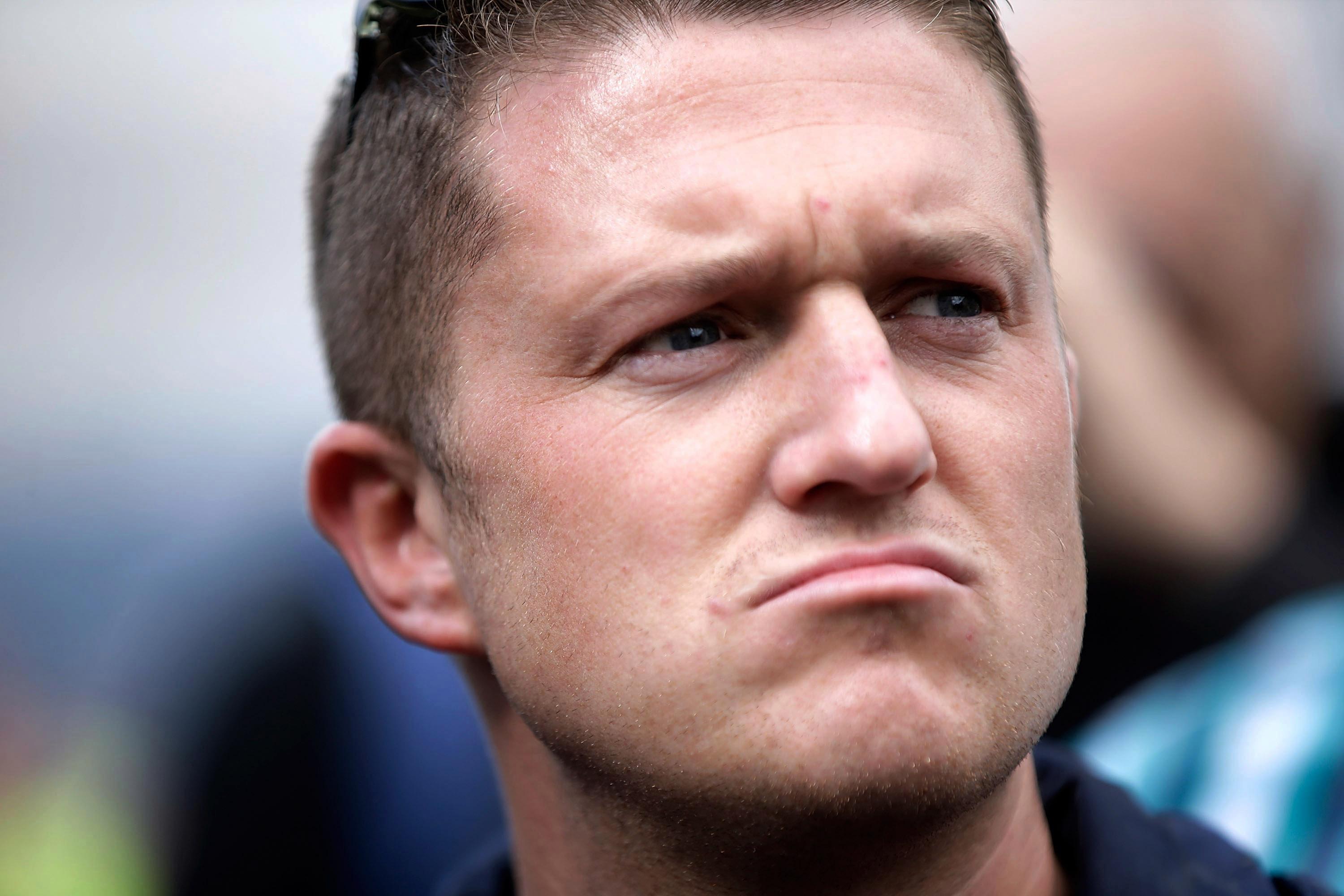 Image Source/ Dailymail
Tommy's affinity to the group fuelled death threats from Islamists, as well as from other radical groups like the Neo-Nazis. The pressures of leading such a targeted, controversial group left Tommy's quality of life (as well as his actual life) under threat:
"I was drinking alcohol, going out three times a week, neglecting my wife. I thought I was dealing with the pressures of the English Defence League, but I was pretty much just bingeing my way through it."
Before he cracked under the pressure, Robinson stepped down from his role in 2013, but did however make it known that his extreme views on Islamists were very much in tact.
Ex- EDL leader Tommy Robinson continued to involve himself with anti-Islamic organisations, preaching his views both at protests around the world and also in an online community that had really started to take off.
Let's take a look at how the man from Luton has made a fortune of £1.3m, by monetising his extremist views…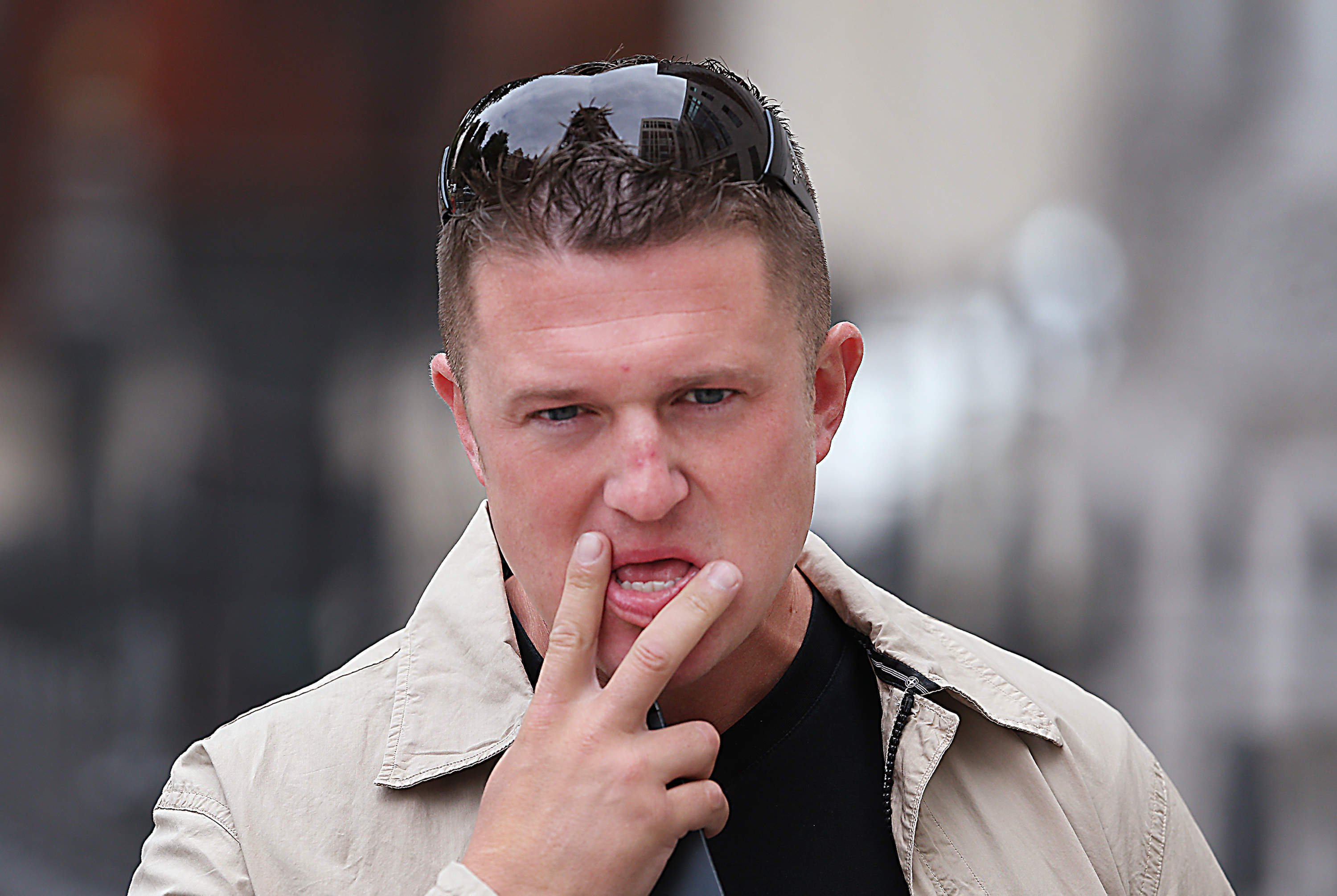 Image Source/ Dailymail
Despite no longer (publicly) associating himself with extremist organisations, like the EDL and BNP, Tommy wanted in on far-right party, Ukip.
Back in November 2018 he began to serve as a political advisor to the Leader of the party, Gerard Batten. Seeking advise from the UK's most well known anti- Islam activist on 'grooming gangs and prisons' really cemented their position as a far-right party.
Although not formally a member of the party, as rules of Ukip say that former EDL members (never mind the leader) can formally join their party, Robinson may as well have been with the input he had.
Alongside his movement in the UK, Tommy took his views worldwide, writing and appearing online for The Rebel Media- a Canadian far-right website, from 2017-2018. He received up to $6,000 a month for the work he provided.
As well as serving multiple roles in his career as an activist, Tommy continued to grow his own online presence, quite exponentially.
Tommy Robinson Net Worth: A Powerful Online Presence
Activist Tommy Robinson's massive net worth undoubtedly owed a lot to his social media presence, with his massive reach. As social media goes, a big audience means more coverage and in turn, more money- Tommy was constantly in demand for interviews and talks. These alone will have allowed him and his family to lead a pretty comfortable life.
Video Source/ Youtube
Tommy's official Facebook page, with one million followers, was his major outlet for racial rants and preaching. Despite, of course, being met with anti- extremist rebellions he was also met with an overwhelming amount of support.
He built an online community and 'fan base' (as demonstrated below), who he claimed to be the outspoken voice for. In today's society, any form of opinion deemed extremist isn't welcomed- but when able to be expressed online, people had no bars held.
Labelled as the UK's Donald Trump, he's alike in his brutality with words and tunnel-vision views. We might live in a democracy of free speech, but the way Tommy exercises this has proved controversial, to say the least.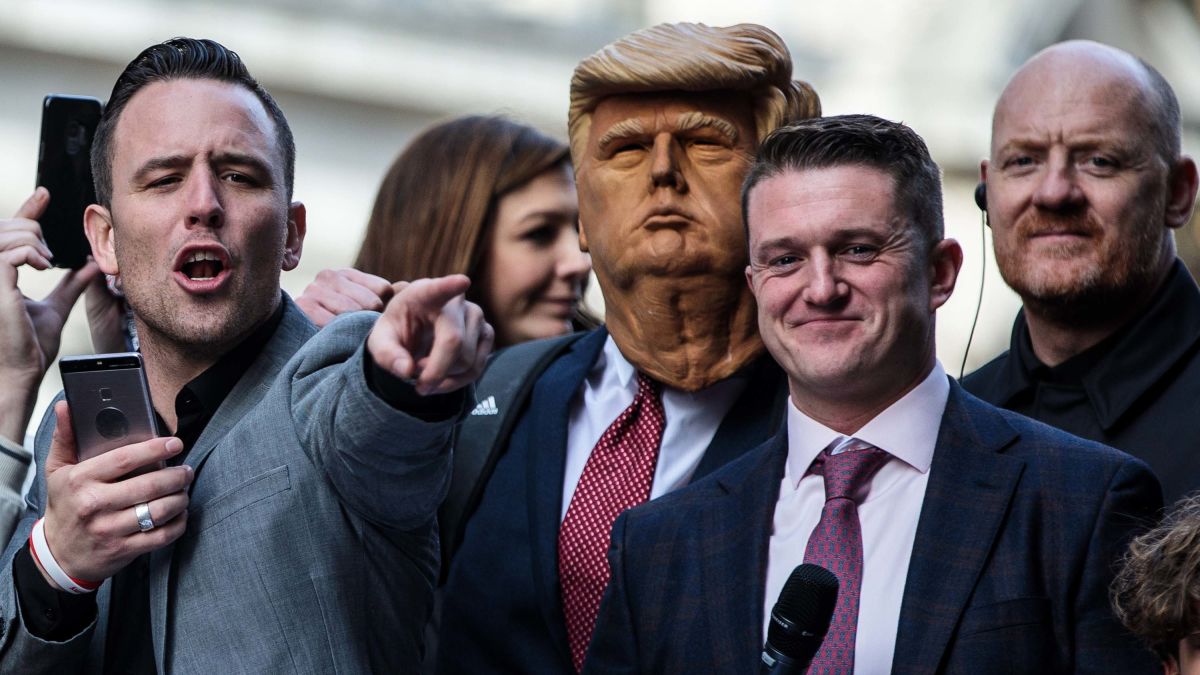 Image Source/ edition.cnn.com
Too much so recently, as in February 2019, Tommy received a permanent ban from Facebook and Instagram, following a breach of their policies surrounding hate speech.
"Tommy Robinson's Facebook page has repeatedly broken standards, posting material that uses dehumanising language and calls for violence targeted at Muslims."

"This is not a decision we take lightly, but individuals and organisations that attack others on the basis of who they are have no place on Facebook or Instagram". – Facebook spokesperson
It comes after a final written warning to Robinson's account after it 'called on people to 'make war' on Muslims'. Previously, Tommy's PayPal, Twitter and official website were blocked off the back of similar policy breaches.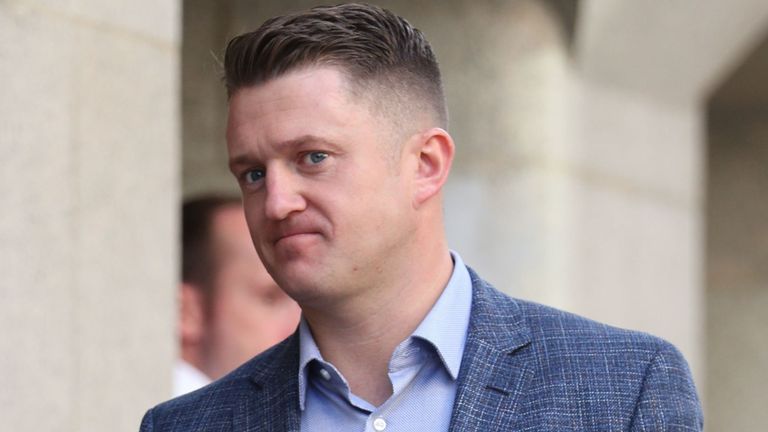 Image Source/ SkyNews
Tommy Robinson: His Run-Ins With The Law
Tommy might be rolling in it money wise, but his career hasn't gone without numerous dealings with the law. Even these dealings will have earned Tommy money- as they say, all attention is good attention.
Over the years, he's served three sentences- with his convictions ranging from drug possession to fraud to public order offences.
Most recently, and the offence that reaped the biggest public backlash, was his sentence back May 2018, for contempt of court. Robinson was jailed for 13 months after posting a Facebook Live video (before the account was banned), of defendants entering Leeds Crown Court.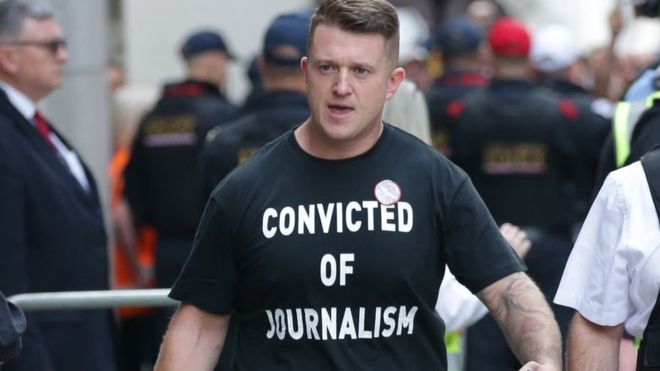 Image Source/ Dailymail
His sentence sparked outrage and fury in Tommy's loyal following as the defendants Tommy aimed to expose were accused of the sexual abuse of minors. Regardless, the filming was said to encourage 'vigilante action' against the defendants of the case and breached laws that rule out any reporting from such trials.
Robinson faced up to two years, but served just 19 weeks following dealings with the court of appeal.
Proving unaffected by his time imprisonment, Tommy admitted:
"Going to prison was the best thing that ever happened to me."
Tommy Robinson: A Charity Case
International protests kick-started immediately after Tommy was sentenced and their support was shown in the £20,000 he received in Bitcoin whilst he was in there.
Fans as far afield as Istanbul sent virtual donations as well as from Washington, where he received public support from the president's son, Donald Trump Jr.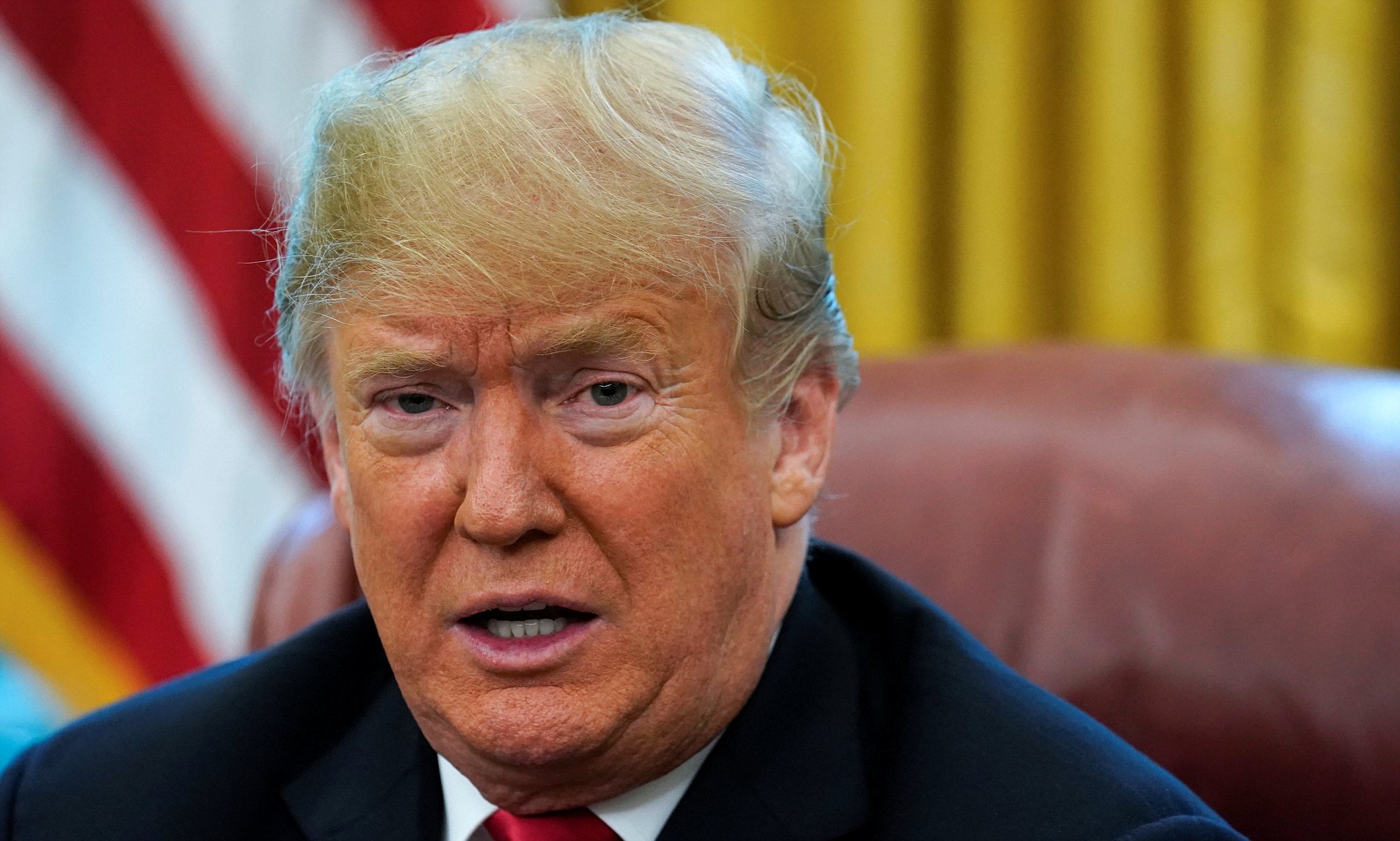 Image Source/ Dailymail
Before it was removed, his site allowed fans to make one-off or monthly donations. Numerous independent 'Save Tommy' funding-raising pages were also set up.
The 35-year-old reportedly received in excess of £350,000 in donations in just two weeks- no wonder he saw it as a blessing!
In a letter he wrote from prison, he expressed he would have served six months 'for that recognition'.
Robinson himself revealed that 2018 was a good year financially:
"I made a hell of a lot of money, [an] unbelievable amount of money."
The former EDL leader also claimed to have:
"a pot in excess of a few hundred thousand pounds, despite spending £300,000 for the police and legal battles".
Tommy Robinson: A Published Author
Adding to his pot, is his status of published author. He's collaborated on a number of books but his own 'Enemy Of The State' released back in 2015, was a sell-out. The book is no longer in production so can only now be find on sites like Ebay- and for ridiculous prices.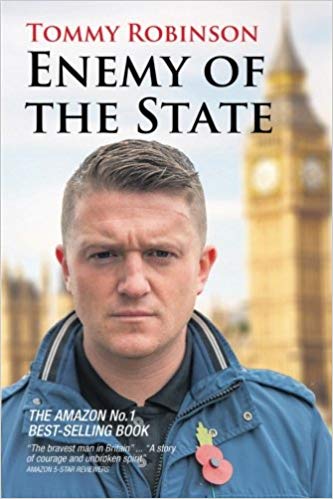 Image Source/ Ebay
Tommy has admitted in the past that holidays are funded by the profit from his bestselling books.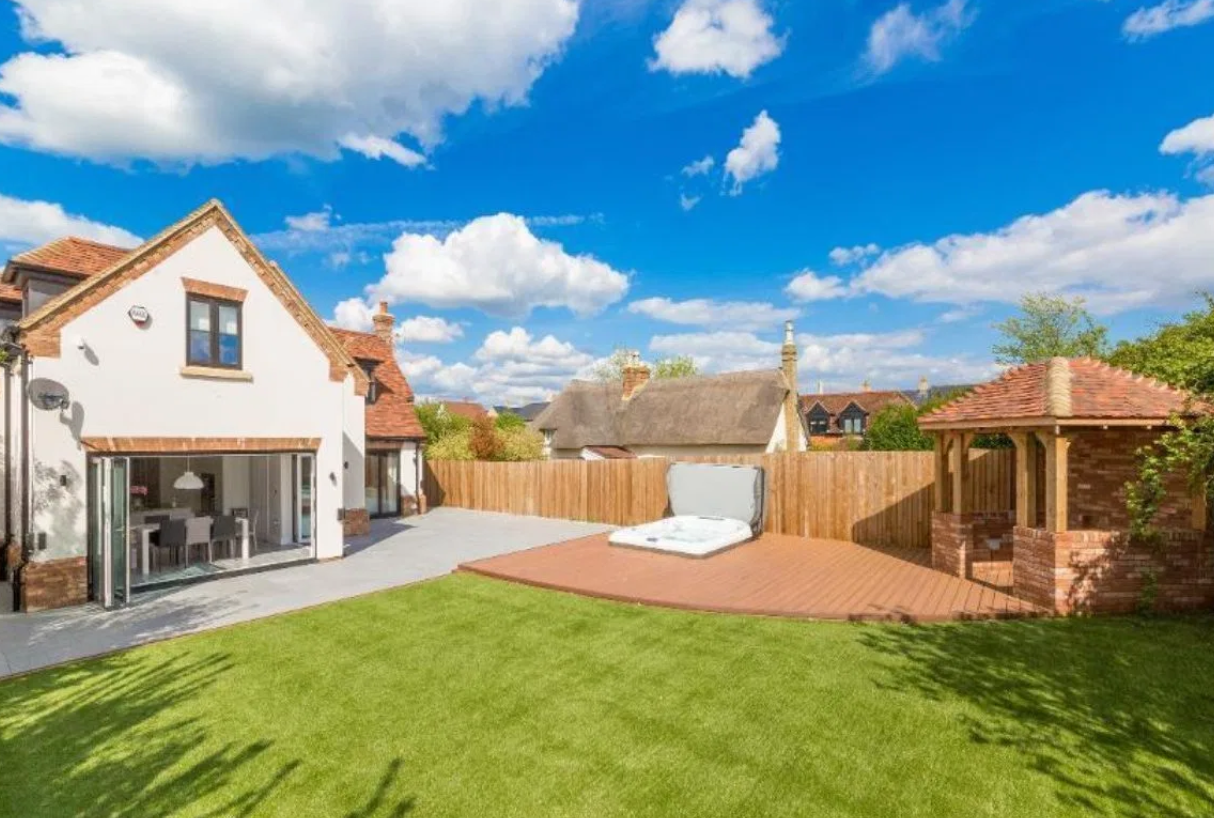 Image Source/ TheTimes
Tommy's earnings (and donations) have allowed him and his family to live in luxury. We can imagine his house has strict security installed, with the homeowner being one of the most wanted men in Britain!
It's hard to imagine him living a normal family life with the height of public attention his receives, but when he does, there's worse places to live it. His £950k gated mansion in rural Bedfordshire, complete with a hot tub is a far-cry from his original stomping ground of Luton.
With six bedrooms and four bathrooms, Tommy has provided a more than comfortable family home for his wife and three kids.
Tommy spent 18 months building the house himself, after buying a £200k plot of land, funded by the sales of seven houses he had owned in 2014 (and also money borrowed by his parents.)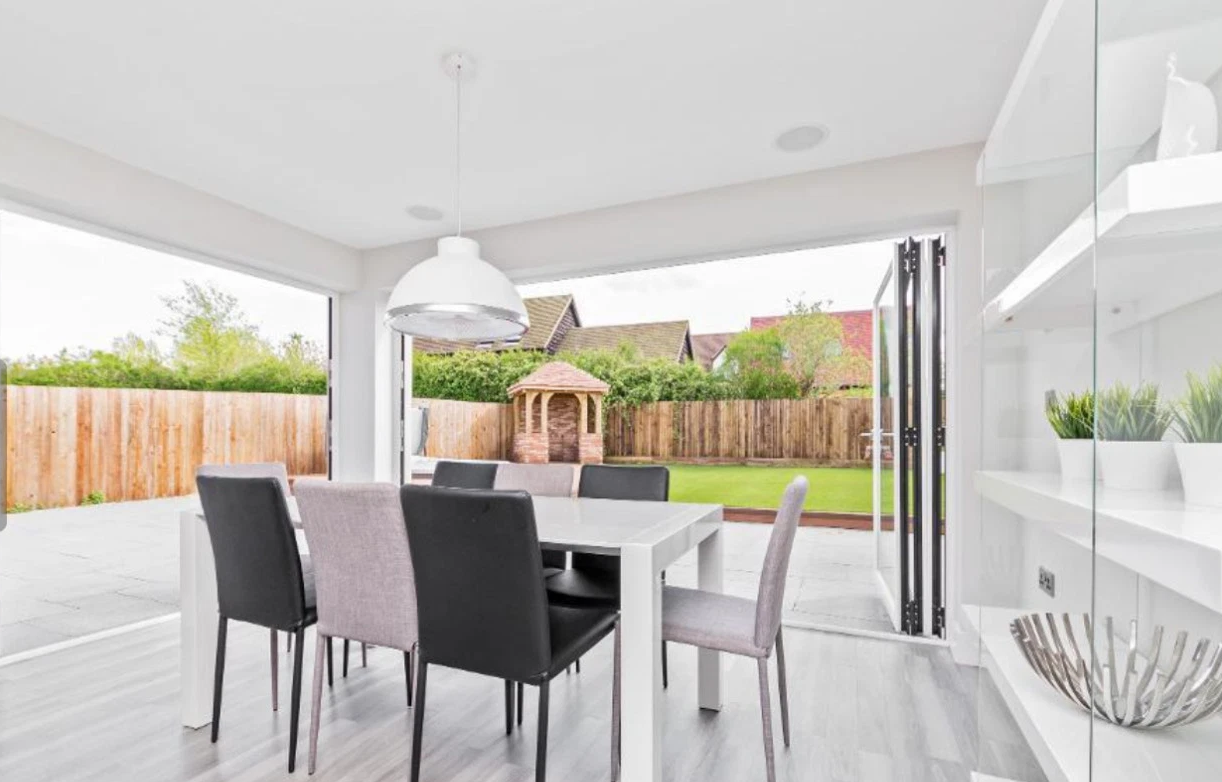 Image Source/ TheTimes
Despite his knock backs, we can't imagine Tommy will be taking much of a back-seat and will continue to finish what he started.
The fact that he's the most well-funded political activist in Britain will probably spur him on as well.
It's thought Robinson intends to use his donations to sue the governor of the prison where he was held, Cambridgeshire police and media organisations including Sky News and The Sunday Times.
Unrecognisable
Things might have been on the up since his early release back in August 2018, but it all came crashing down again recently when the trial was re-heard.
He was sent back to prison in July of this year to serve nine months. But, just nine weeks later, just last week, he walked free once again.
"I have walked into Belmarsh prison and walked back out without seeing another prisoner," he told supporters and the media. "They would have [killed me]."
Tommy revealed while in prison he's detained away from other prisoners, proving just how much he is dicing with death on the daily.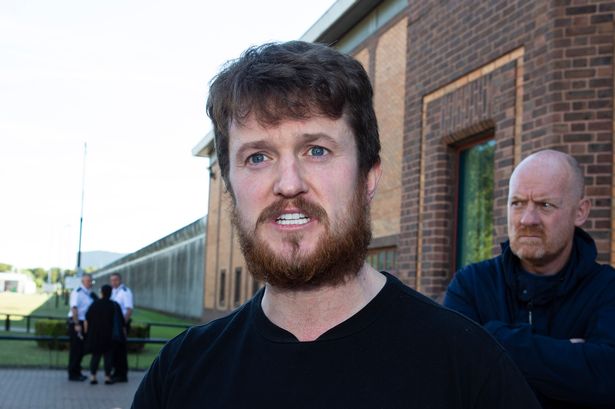 Image Source/ TheSun
He was pictured walking out on release, looking distinctively more overgrown and unkempt.
With the justice system not looking to be giving him a rest anytime soon, will this finally signal the demise of Tommy Robinson?