Cici First Dates: Everything You Need To Know About Her Secret Love Life
We know her best as one of the waitresses on First Dates but just who is Cici Coleman and who is she dating?
Most of us have now become avid Love Island viewers (guilty as charged) but for the rest of us, we're loyal to the OG dating show on Channel 4.
There's no programme we love more than the sometimes-heartwarming, sometimes-awkward but always-entertaining First Dates.
Under the watchful eye of Maitre d Fred Sirieix, some hopeful but often hopeless romantics visit the restaurant to be paired with what is hopefully the ultimate love of their life.
Some, however, only have eyes for their waitress Miss Cici Coleman. And really, who can blame them? But just what do we know about the blonde beauty? And what about that new boyfriend of hers?
CiCi Is Actually An Actress
Technically, CiCi doesn't work at the First Dates restaurant (The Paternoster Chop House in London).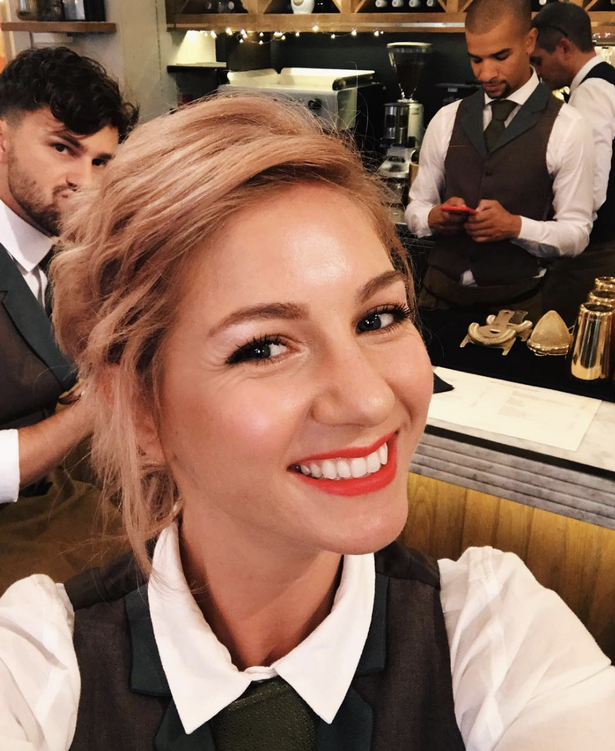 Source/OK
Trained at the New York Film Academy, Cici is no stranger to life on screen having made appearances in the two shorts Beautiful Girls and the thriller Sleep.
The blonde beauty has also starred alongside the likes of Danniella Westbrook, Michael McKell and Kris Johnson in the drama Essex Vendetta.
In fact, none of those 'working' at the restaurant actually work there full-time. Fred might be the resident love guru but when filming isn't taking place for the show, he works at Michelin-starred restaurant Galvin at Windows, located at the London Hilton.
Source/YouTube
Waitress Laura Trott, was previously a member of the Royal Navy with the HMS Raleigh in Cornwall having travelled all over the globe.
Instead of attending university, Laura described herself as a:
"graduate from the University of Life".
Merlin, on the other hand, previously worked as a global brand ambassador for Bombay Sapphire Gin and owns his own bar and restaurant in North-West London called The Prior Tavern.
Cici 'Went Back To School' To Become A Personal Trainer
Last August, this blonde beauty dropped the bombshell that she was changing career and becoming a personal trainer.
The Oxford-born star has decided to broaden her horizons, training with Fitness Training Solutions to be a fully-certified PT.
We weren't expecting it but CiCi has actually wanted to be a PT for a 'long time' and so finally took the first step to fulfilling her dream.
Cici posted a pic to her Instagram with the caption:
"Wanted to do this for such a long time but kept putting it off. So here we go. Back to school with @fitnesstrainingsolutions, training to be a Personal Trainer. Any of ya'll wanna PT (once I'm passed) hit me up." 

Source/Instagram
Miss Cici First Dates or Miss Cici PT… a woman of many talents.
CiCi Has Found Love After Being Single On The Show
Last summer, the actress was spotted with a mystery man seemingly enjoying a romantic afternoon in the park.
Taking a boat ride in London's Regent Park, they took a boat ride hand in hand as CiCi looked pretty pleased.
Sadly, this was the last we saw of the mysterious hunk.
View this post on Instagram

Source/Instagram 
Romance Between CiCi And Fellow Waiter Sam Conrad?
Fans of the show speculated (and hoped) that CiCi was actually dating her fellow star Sam Conrad.
Following the Christmas special, fans were delighted by the idea of her coupling up with her colleague and rumours began to swirl about a possible romance.
The pair's behaviour on the show became incredibly flirty and at Christmas, we saw Sam declare his feelings for her, Love Actually style. Because if you can't say it at Christmas, when can you?

Source/Instagram 
Sadly, it didn't seem to quite do the trick as Sam was pied off with a hug from the waitress.
However, causing us all heartbreak, CiCi counteracted the rumours by saying:
 "We haven't ever had that conversation. We have a lot of flirty banter, and he's the best person to bounce off with because he's so quick.

"We've been doing it for three years or so now, so I think if it was gonna happen it probably would have done by now. I always say never say never though."
She confirmed that a relationship between the pair would not be possible:
"I would love to say yes, but I think I would be very distracted having all my mates around me," she said.

"They'd all have an opinion. So I'd probably be basing it on their reactions rather than the date, if it was just me and him I'd probably be more into him."

Source/Instagram 
She Claimed That First Dates Ruined Her Love Life
Having been single for two years Cici claimed that starring on the show had put more pressure on her dates.
Despite working on a show designed to help singles find their dreamy-eyed soulmates, Cici claims that her love life was even worse than it was before she joined the series!

Source/Instagram 
She explained:
"People assume I'm the perfect date.

"It makes them more nervous. I've learned things but it goes out the window on a date.

"Being on the show puts more ­pressure on me. I'm no dating guru. I feel I have to be perfect."
She might have been single but it's no surprise that she is bombarded with dating requests all day every day on social media.
View this post on Instagram

Source/Instagram 
The actress even dubbed Instagram her 'own personal dating app'. Everyone wants to date First Dates Cici.
But would she be up for dating a fan?
"I'm definitely up for it, God yeah. I've been single way too long now. I use Instagram as my dating app. If there's a nice message I'll look at their profile pic stalk their pictures and if they look sane maybe I'll reply.

"I get loads of requests for dates. It's like I can pick whoever I want, but I still haven't found the one."
Luckily, someone came along to sweep Cici off her feet.
Source/Instagram 
Who Is Her Current Boyfriend?
Cici finally finds love! In December last year, Cici confirmed that she had found love by sharing a photo of herself and her boyfriend on Instagram.
She posted the snap along with the caption:
"Christmas Day no.2 with this one. Didn't think it was possible to find someone on the same level of cray-cray as me -he definitely proved me wrong."

Source/Instagram
Cici Is Quite The Adventurer
A quick scroll down CiCi's Insta tells us that she's not one to stay in the same place for too long.
Ibiza, Italy, New York and Skiing, the star has been all over the place! Jealous? Yeah me neither…
View this post on Instagram

Source/Instagram
First Date Fact File:
The series is filmed in the Paternoster Chop House near St. Paul's Cathedral in London and you can totally just walk in for a meal or a drink (just not during filming).
First Dates Hotel has been filmed in two locations. The first season in Le Vieux Castillon in Castillon-du-Gard. The second in Aquapetra Resort & Spa in Campania near Naples, Italy.
Couples in the background are other people who have applied for the show and are all also on first dates.
In the first couple of series, the participants were given a photo of their date before they met them… they don't do that anymore.
Producers do make sure that the couples are as well matched as possible, including whether they live as suitable distance away from each other.
Men and women looking for love on the show have a series of interviews before they make it on to the show, being interrogated on their likes and dislikes.
The producers give every person taking part £25 towards the cost of their meal and the participants split the rest. This makes those 'splitting the bill' moments all the more interesting…