The well loved British comedy showed the journey of four socially awkward, misfit teens; Jay Cartwright, Simon Cooper, Neil Sunderland and Briefcase-I mean, Will Mckenzie on their quest to make it through high school.
Over the seasons we see the lads attempt to woo their fellow ladies and in a bid to lose their virginity (which for the most part they are diabolically unsuccessful), climb the social ladder and cope with family issues and problems within their own friendship group.
With such a bad track record of love on the show, you may be wondering if the real life relationships of the Inbetweeners cast have fared any better. Keep reading to find out!
1. Simon Cooper
He's the first to learn how to drive and as a celebration for passing his test his father buys him a less than fashionable, bright yellow, Fiat Cinquecento Hawaii car which leaves him the butt of many jokes among his friends and school peers.
Though for the most part Simon maintains his composure, it doesn't take much to set him off. Over the course of the show fans have watched as Simon regularly loses his temper with streams of curse words – especially to his father's reminiscent stories he fondly shares with the boys.
Despite his faults and frequent failure in his quest for love, Simon is at heart a hopeless romantic. He fully believes in the prospect of soulmates and in his pursuit for finding such a deep connection allows the women he dates to walk all over him. *cough cough* Carli….
Real Life: Joe Thomas and Hannah Tointon
34 year old Joe Thomas has been dating 30 year old Hollyoaks and fellow Inbetweeners star Hannah Tointon who plays his on screen girlfriend Tara Brown. Unlike their  relationship on the show which quickly fizzled out, in real life the couple are happy and looking forward to a bright future together.
Similarly to his on screen character Simon, Joe Thomas confesses to also being a romantic at heart and has said that he is always wanting to protect his fiancee.
"I always try to impress my girlfriend Hannah by any means I can and I'm very protective about her. I've tended to have some serious, long-time monogamous relationships."
2. Jay Cartwright
Jay: a self proclaimed ladies man who's obsession with sex has led him to sharing some colourfully creative but not so truthful stories with his group of friends. Strangely, even though the rest of the group is aware his experiences are entirely fabricated they still accept and act upon his awful relationship advice on multiple occasions throughout the show.
His insecurity stemming from his lack of sexual experience is what causes Jay to create so many false scenarios and these lies spill over into other aspects of his life.
Though he doesn't admit it, Jay is on a hunt for a meaningful relationship just like his friends but unfortunately his obsessive behaviour gets in the way of things working out.
Real Life: James Buckley and Clair Meek
Fortunately, in reality, James Buckleys' love life is worlds from that of his on-screen character Jay Cartwright. James and former model, wife Clair married in 2012 and true to her heritage it was a full Scottish affair which saw her husband dressed in a green tartan kilt.
The couple currently reside in Kilmarnock, Scotland with their two young sons, Jude Buckley and Harrison Buckley but star James says while he loves staying in Scotland at the moment,  he also hasn't ruled out the possibility of the family moving to England in the future.
3. Will Mckenzie
Of his four friends, he is the most unpopular which results in him regularly being singled out by school bully Mark Donovan (Henry Lloyd-Hughes). After attending a private school for his entire school career, Will is forced to move to a local sixth form comprehensive school after his mother can no longer afford his school fees.
It's due to his history within a private school setting that sees Will portrayed as being the most uptight of the bunch with even his own mother slipping up and describing him as "boring." His uniform unlike the rest of his friendship group is always pristine and freshly ironed and the addition of his briefcase in place of a generic school bag earned him the regular insult of "briefcase" or "briefcase w****r." On top of his own appearance causing him regular grief, his mothers good looks also have caused him issues over the show with his friends continually making sexual comments about her.
Will's naivety and positive against all reason attitude causes him to suffer some major heartbreaks across the series. Most notably when his relationship with Charlotte "Big Jugs" Hinchcliffe (Emily Atak) comes to an end after she publicly humiliates him by making an appearance on the schools charity dating show. Despite this, he holds on to the hope that one day the pair will reconcile and carry on their relationship from where they left off against the advice from his friends to move on.
Real Life: Simon Bird and Lisa Owens
In 2012 Simon Bird married Lisa Owens who is a successful author having written over 45 books in the fiction and non fiction genres targeted at young readers. The Inbetweeners star popped the question to his long term girlfriend whilst the pair were in Paris for a romantic getaway.
The happy couple met at Cambridge University where they performed a scene together about a couple having an argument. The piece was actually written by Simon's close friend and fellow Inbetweeners star Joe Thomas.
Together the couple have a young son who they joke has a "judgemental air" about him.
"He's quite judgemental. He's only six months." Simon confessed back in 2016 when his son was still and infant.
The couple prefer to keep their relationship and family life private having still not disclosed the name of their (for now) only child.
4. Neil Sutherland
Neil Sutherland is the least intelligent of the group and for the most part looks a bit vacant but it's this combined with his laid back attitude that means he is the most popular among his other classmates. Neil is full of hidden surprises and is often hitting it off with women (especially those who are old enough to be his mother and in some cases, grandmother!). His dancing skills come as a huge shock to the rest of the group which becomes an originally unintentional way of getting attention from women.
Neil is often made fun of by his friends on account of his mothers absence from the family unit. As well as this his fathers behaviour is something the group regularly comment jokingly on as they are each fully convinced that he is a closet gay. The sexuality of Neil's father is never actually cleared up on the show but as the other parents also seem to believe there is truth to it and both Neil and his father act overly defensive towards the possibility it suggests to the viewers that it perhaps played a huge part in his wife's abandonment.
Of the four, Neil is the least arrogant and nor is he desperate in his search for a relationship. It's probably because of his easy going nature that he is the first to lose his virginity (though Jay of course would say otherwise). After his friends fail in their advances towards the girls on the show, Neil somehow always manages to swoop in and get them for himself, a fact which the group don't find out about until the days that follow.
Some of Neil's most hilarious slip ups on the show include believing that he's going to be a father to 'Saucy Asda' Karen's baby, but it actually turns out she tested positive for an STD instead which Neil assumes is a good thing.
Real Life: Blake Harrison and Kerry Ann Lynch
In real life Blake Harrison is just as lucky with the ladies, but unlike dopey on screen character Neil, there's only one woman for him. Blake Harrison has been with Theatre Publicist, Kerry Ann Lynch for eight years and the pair tied the knot in 2016. The couple married in Mauritius, a beautiful island in the Indian Ocean and Blake's fellow Inbetweeners stars joined the couple for the happy occasion.
Blake and Kerry reside in South-East London with their young daughter. Although they keep their personal affairs completely private from the media, it's known that the family are happy and doing well.
5. Mr. 'Phil' Gilbert
Mr. 'Phil' Gilbers is the head of sixth form at Rudge Park Comprehensive and causes the group a lot of problems over the series, especially Will. He is lazy and often negligent with his job requirements preferring to pass off his responsibilities to Will (Simon Bird) where possible. Along with Mark Donovan (Henry Lloyd-Hughes), Mr Gilbert is the main antagonist of the show.
He often treats the boys unfairly and refuses to take action against their bullies. An example of this is shown when Donovan ties Will to a chair in the common room and places a bin over his head threatening to do the same to anyone who tries to help him. When Gilbert walks in he questions what is going on but interjects when Will is about to "grass" on Donovan and forces him to instead respond to his query with "I tripped."
To Will's horror, Gilbert becomes romantically involves with his mother which leads to their engagement at the end of the second Inbetweeners movie. Although he is a teacher anyone would hate to have, he offers so much humour to the show due to his cynical nature and for many fans is a well-loved character.
Real Life: Greg Davies and Liz Kendall
In real life 6'7" giant, Greg Davies has had no such luck in finding a lasting and meaningful relationship. He was previously in a long-term relationship with then Leadership Contender Liz Kendall for several years but the couple decided to make an amicable split back in 2015.
Now 50 and a successful comedian and actor, Greg Davies is without a relationship, well not one he's publicised anyway but still, he seems happy and content with his life and we wish him luck in finding that special lady in future.
6. Polly McKenzie
Polly McKenzie is Will's very attractive mother and much to his dismay is the focus of attraction for not only the male students in Will's school but also his teacher Mr. Gilbert who she ends up engaged to at the end of the Inbetweeners second movie. After her ex-husband, Will's father has an affair with another woman, Polly divorces him and moves to South-West London where she enrolls her son in Rudge Park Comprehensive School after she can no longer afford the fees of his private tuition.
Though very attractive and visually younger than most other mum's, Polly seems to be completely clueless on the effects her beauty has especially when it comes to Will's friends which is something they often take advantage off. An example of this is shown when she expresses her inability to master the Wii games console and the boys suggest that "jumping up and down" is how she can get better at it.
As a mother, Polly is very protective and does her best to shield Will from even the mildest aspects of growing up. When she begins dating again she reassures Will that the men she sees are "just friends" and initially he believes her which shows his naivety. She doesn't feel ready to let him grow up right away as she still collects him from school in the first season and arranges for an elderly neighbour to go over and check on him on the occasion that she goes to the Cotswolds with Fergus.
Real Life: Belinda Stewart-Wilson and Ben Miller
Just like her on-screen character Polly, Belinda Stewart-Wilson hasn't been so lucky in love either. She was previously married to English comedian, actor and director Ben Miller who is famous for his roles in Johnny English and The Prince and Me. The couple were married from 2004-2011 but sadly the relationship came to an end with a "bitter" divorce.
Belinda is sick of hearing about marriage and is wary of becoming that involved with another man in the future as she fears things may turn out the same way. An insider also revealed that she has not been able to stop thinking about the break up of her marriage and blames herself as she believes she couldn't be a good wife.
For now, Belinda is working on overcoming her marital fears and focusing on raising the son the couple had together, Jackson who is also known as Sonny.
7. Carli D'Amato
Carli D'Amato is in a  higher social circle than the main friendship group and because of this, she has the ability to influence other students behaviour towards Simon and his group of friends. On many occasions, she has stopped bullies from tormenting the boys and for the most part comes across as a down to earth and level-headed individual.  Initially has little romantic interest in fellow student Simon, however, she knowingly uses Simon's complete adoration for her to take advantage of him even encouraging him to take the same class as her purely so he can help her with revising for her exams. Over the series, fans root for Simon hoping that one day the pair will get together but as each opportunity Simon has to impress Carli is ruined by some mortifying mistakes, this begins to look less and less likely yet he somehow pulls it off. Talk about a miracle worker.
As fans are showed more of Carli, the less likeable she becomes. During the show she is dating an older boy and during a break from their relationship she leads Simon to believe that he has a chance with her only to break his heart later that same day by informing him that she has gotten back with her ex. Despite this Simon doesn't give up on the possibility of them becoming an item and we find out in the early scenes of the first Inbetweeners movie that the  two do in fact get together. Unfortunately for Simon, it's not to last as Carli is planning an all girls holiday where she doesn't want to be tied down by a boyfriend so breaks things off with Simon.
Overall Carli is portrayed as being shallow and selfish with manipulative tendencies but poor Simon, being so blind sighted by his love for her doesn't see past her false kindness. His friends, on the other hand, can see Carli for who she really is and continually question Simon on his choices by pointing out that she is in fact "stuck up" and "moany" with Jay even nicknaming her the "The Moan-a-tronic 5000."
Real Life: Emily Head
Emily Head is a successful actress who is also known for her role infamous British soap, Emmerdale. But despite her career success, Emily is yet another member of the Inbetweeners cast who hasn't been able to find a lasting relationship. She has currently no relationship status to show and has suggested that her time spent focusing on her busy acting career has left her little time to follow her search for love.
Despite her character Carli D'Amato having a large male interest on the show, in real life Emily Head has said she has found that men just aren't interested in her. Instead of getting to know her, they just want to know all about what the Inbetweeners boys are like and what it was like to be able to work with them so closely.
8. Charlotte Hinchcliffe
Charlotte Hinchcliffe is the most popular girl in the school and according to the boys, is also the most attractive. Despite her obvious good looks and social status, Charlotte proves to be an intelligent and well rounded young women who shows a lot of compassion those around her. Unlike Carli, Charlotte doesn't appear to be shallow and for a while has an honest interest in Will but for a variety of reasons including his lack of experience and relationship maturity, things don't work out between them but they remain friendly towards each other.
For a young girl she is very confident and happy in herself and is open about her sexual experiences. This confidence seems to be a main attraction to the boys as Charlotte is a year above them and they link her experience and the fact she is nothing like the other girls in their school with her obvious maturity. Her most notable relationship aside from her one with Will, was of course with Mark Donovan (Henry Lloyd-Hughes) who is classed as the "school psycho" and bully but she manages to show a softer and kinder side to him during their relationship and even after it ultimately fails.
Although Charlotte is highly regarded among her school peers and teachers alike which results in her being invited back to Rudge Park Comprehensive to guest star at the school's charity fashion show even after she has left and started University, she remains humble and down to earth.
Real Life: Emily Atack
Similar to her on-screen star Charlotte Hinchcliffe, Emily Atack is regularly changing between relationships or having casual fun, not that there is anything wrong with that of course. Back in 2012, Emily Atack had a brief relationship with One Direction star Harry Styles but things weren't to be as Emily admits they never made it to the point of making their relationship official by calling each other boyfriend and girlfriend. The pair didn't end things on bad terms or with harsh feelings towards each other though they are no longer in contact with one another.
Although it's not known if Emily Atack is currently involved with a special someone, she has previously had a relationship with model boyfriend Jack Vacher. Since their split she has been rumoured to have dated Strictly Come Dancing Star Giovanni Pernice in 2017 but there is no recent news of her relationship status.
9. Pamela Cooper
Pamela Cooper is the mother of Simon and Andrew Cooper and despite her caring nature towards both of her sons, she is regularly met with Simon's explosive temper. He uses her as a way to vent his frustrations in the form of lengthy and expletive rants to which she barely makes any notable response. Though her intentions are always good, her delivery is a huge cause of embarrassment for her son which causes a rift in their relationship.
When it comes to her relationship with her husband Alan Cooper (Martin Trenaman) the pair seem to work well as a couple and have a healthy and happy relationship for the most part. Though the details of their sex life are often shared by her husband with their sons and the rest of Simon's friends which mortifies Simon a great deal.
For a while, Pamela and her husband separate which Alan hints is down to their sex life not being as good as it used to be. This causes a lot of problems for Simon as his mother is constantly upset and seen crying causing yet more embarrassment for her son.  When she is not with her husband, Pamela appears to lose all of her confidence and desires of wanting to be in public even with her friends as she asks Simon to take her home early from Will's BBQ much to her son's anger. There is a happy ending though as the couple make up at the end of the episode and from there seem to have completely overcome their relationship issues.
Real Life: Robin Weaver and Sean Gilder
In real life Robin Weaver who plays Pamela Cooper and is also well known for her role in 1989 horror film 'The Woman in Black,'  is happily married to English film actor, Sean Gilder who is famous for his roles in King Arthur and Shameless. The pair are very bus with their acting careers but always make time for spending together as a family.
The couple have two children together, a son Tommy, who is ten and a daughter Violet, who is eight. The couple are rarely photographed together due to their hectic lifestyle and prefer to keep their personal lives to themselves but on occasion, when they do make a public appearance with each other their love for one another is clear to see.
10. Lucy
Lucy is introduced to viewers in the first Inbetweeners movie along with her group of friends who she is on a girls holiday with. When they meet the Inbetweeners boys its clear that Lucy has an attraction for Simon but as he is still hung up on his ex-girlfriend Carli he doesn't pursue her until the very end of the film. Initially, she comes across as a very sweet and lovely girl who is just trying her best to be noticed by a guy who doesn't reciprocate the feelings she has for him. She cares for Simon so much that she listens to him as he rambles on and on about Carli and how he wishes they could get back together all so she can just spend time with him. Fortunately, by the end of the film, Simon has a bit of a reality check and realises what is standing right in front of him and kisses Lucy before he loses her to his own stupidity.
When the second movie begins the couple are still together but it's evident that things have changed in their relationship dynamics. Lucy has quickly become controlling and obsessive over Simon who has by this point clearly lost interest. Upon learning that Simon is going backpacking in Australia with his friends, Lucy becomes unbearably jealous as she believes that Simon will cheat on her which prompts her to destroy his personal belongings including his favourite hoodie.
Whilst on a Skype call with Lucy, Simon accidentally falls into a trap of asking Lucy to be his wife. Unfortunately for Simon things get even worse as his parents become very close to their sons girlfriend and they fully encourage her to make wedding plans whilst their son is in Australia. To his relief the couple part ways at the end of the film when it comes to light that Lucy has been cheating on Simon with his best friend at University, Pete.
Real Life: Tamla Kari
It may surprise you to know that in real life, 29-year-old actress Tamla Kari Cummins who not only plays Simon's girlfriend Lucy but is also famous for her roles in The Musketeers and Cuckoo, is currently completely single. When it comes to her acting career, Tamla is a self-confessed perfectionist and works hard to ensure great results so when it comes to her relationships she's no different. In 2017 she finally spilt the beans on what traits she believes make the perfect guy.
It's good to know that in real life, Tamla is nothing like her difficult on-screen character Lucy who makes life a nightmare for Simon. In complete contrast, Tamla's desires are not in the least bit shallow as she doesn't care for wealth or appearance. Instead, she is looking for a partner who will love and respect her for who she really is without wanting to change parts of her to suit himself. In addition to this, she wants a partner who can be open and honest about what he's looking for in a relationship.
While her demands seem perfectly reasonable, she still hasn't found a man who is willing to take her up on her offer and so, for now, is happily single and focusing on her very successful acting career.
11. Mark Donovan
Mark Donovan is along with Mr.Gilbert, the main antagonist of the main Inbetweeners boys. He is the school bully and is feared by nearly all of the students although on occasion has been put in his place by Carli D'amato. Although viewers are shown the after-effects of his work and told that he is tough, he is never actually shown physically assaulting anyone.
Of the four main boys, Donovan often targets Will due to him previously catching Will kissing his ex-girlfriend, Charlotte Hinchcliffe. While he is often shown in a negative light, Donovan shows a softer and more sensitive side when it comes to Charlotte as he warns Will to be nice to her and treat her correctly.
Despite being a bully who terrorises the boys at any chance he gets, fans of the show gain a lot of humour from the character. A most notable example of this would be when Donovan sells Jay and Neil a bag of PG Tips for £20 after they ask for drugs to take to a concert so that Simon can woo his current girlfriend Tara (Hannah Tointon) but as they are too afraid to argue they accept the exchange.
Real Life: Henry Lloyd-Hughes
When it comes to Henry Lloyd-Huges' relationship status, things have been a little confusing for fans. For a while, there were a lot of rumours floating around which told of Henry being gay. This rumour stemmed initially from his lack of shared relationship history, but as he is such a private individual, he has never disclosed anything from his personal life. In 2016 though, Henry finally decided it was time to open up about that aspect of his life much to the relief of his fans.
Whilst in a magazine interview, Henry discussed his wife and their relationship much to the shock of those who believed the rumours of his homosexuality.  He confessed that whenever he is unsure of something or wants an honest second opinion he always looks to his wife for her guidance and support.
"She has really good taste and it's crucial to me to have a second opinion." – Henry explaining that sometimes he sometimes needs his wife's input for which he is grateful for, in order to make the best decision for his future especially when it comes to his career
Henry revealed that the happy couple tied the knot in 2014 during a six-day break he had whilst filming Indian Summers. Although he expresses the ceremony wasn't extravagant they thoroughly enjoyed their day and are happy in their relationship. Perhaps in future Henry Lloyd-Hughes will open up more about his personal life but for now, he is working hard on his career and enjoying his marriage in privacy.
The Inbetweeners is one of those shows where you can physically feel the embarrassment of the character for yourself, but yet for some reason cannot bring yourself to look away from what kind of disaster will follow. The shows brutal honesty in showcasing the most embarrassing moments of adolescence is something that unfortunately resonates with all of us in some way or another as we make our way through those awkward teenage years and into what we hope will be a stable and cringe-free adulthood.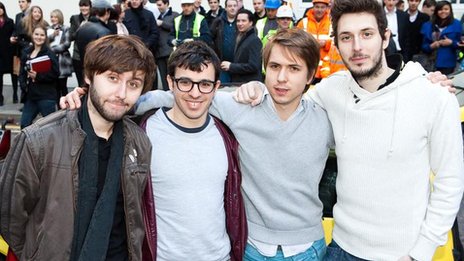 On a positive note, it seems that for the most part the cast of The Inbetweeners have been fortunate in their search for love and whilst many remain keeping their relationships and personal lives completely  private from the media, it's just good to know that some of our favourite characters have found happiness in their lives which is often a great contrast from their on-screen characters.
12. Jane
Jane and her friends meet up with the lads in the nightclub. You know that nightclub they do their famous dance in and Jane takes it upon herself to put it on Jay, who was originally disappointed because he got "stuck with the fat one".
Jay and Jane eventually hit it off after a lot of grafting (on Janes part) until Jay messes things up with her (like he always does) when she catches him denying they're together. But again, in Jay style, he admits he was wrong when they see each other at a boat party and they sneak off to….well I'm not going to write that here.
The pair of them spends the rest of the holiday together before meeting up in the airport in England when we see Jay introduce her to his parents.
Real life: Lydia Rose Bewley.
It turns out 32-year-old Lydia is completely single at the moment unless she has a secret boyfriend no one knows about. Last year she spoke about how she collects certain items and carries them everywhere, like her tarot cards.
She spoke about how the Inbetweeners cast all made fun of them on set, but they all had a reading from her anyway. She also carried her grandmother's wedding ring around with her which she wears on her right hand after a palm reader told her she would never get married if she wore it on the left…
13. Alison
Alison originally doesn't hit things off with Will after he mocks her cliched Greek waiter boyfriend. However, Will soon impresses her with his zany sense of humour and the girls and lads end up spending time with each other.
Will and Alison make a bet that if he doesn't get laid before she end of that year, that she would sleep with him as long as she wasn't with her boyfriend. Lucky for will, Alison later find her Greek boyfriend having sex with someone else on the local beach and she dumps him.
Just as the lads are about to give up on their holiday, Alison and the girl invite them all on the boat party where the two finally kiss.
Real life: Laura Haddock.
In real life, 32-year-old Laura is happily married to actor Sam Clafin. The pair married in July 203 after dating for two years.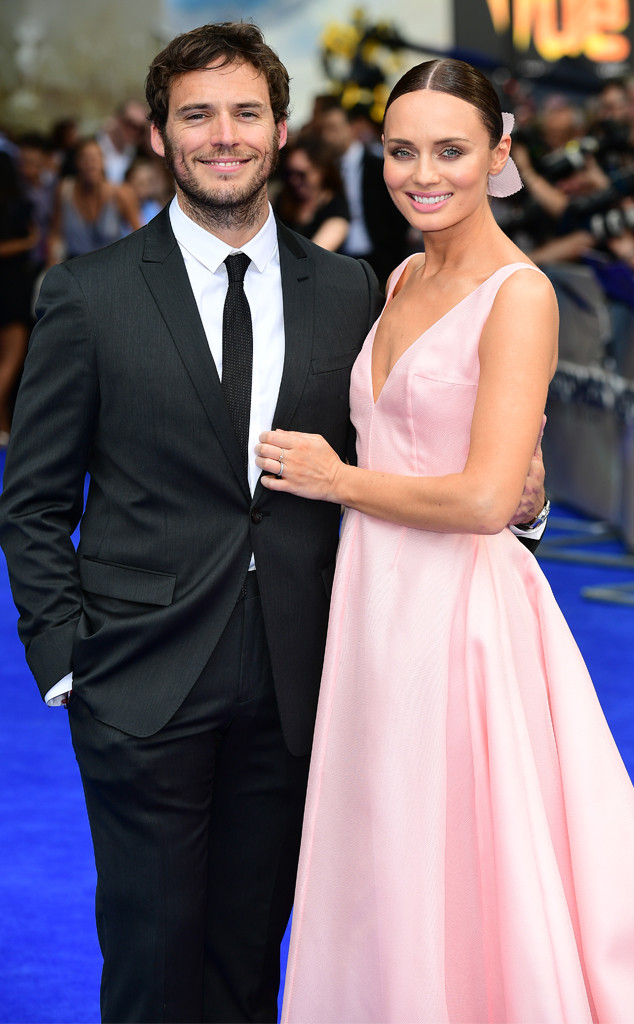 At the second Hunger Games premiere, it was revealed the couple were expecting their first child. Laura gave birth in December 2015. The couple welcomed their second child in January of this year.