I think we have all seen Gavin and Stacey, haven't we? There surely can't be a single Brit out there who hasn't had the enjoyment of watching this absolutely classic TV programme.
It first came out back in the May of 2007 and ran for three years. We follow the romantic, long-distance relationship of Gavin and Stacey from Essex all the way to Wales. However, it isn't just the main two characters that make this programme as amazing as it is. Both of their best friends, Smithy and Nessa, alongside both Gavin and Stacey's parents make this show incredible.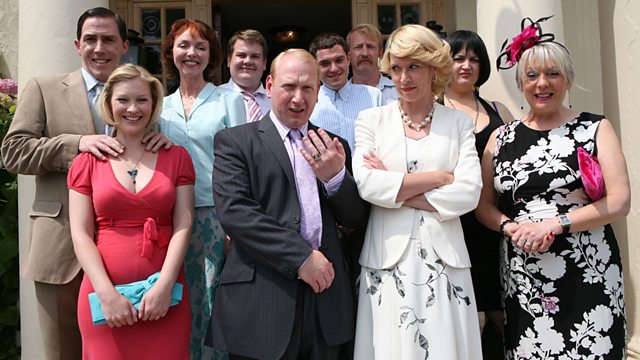 via/bbc
We have a soft spot for every single character on this show. Whether it is the lovely Pam or Uncle Bryn.
The show was originally shown on BBC 3, however, it quickly moved to BBC One as it became more popular.
There were only twenty episodes of this programme ever made over three different series, including two Christmas specials. We were absolutely gutted when they decided not to make any more episodes of this classic. I think we'd all be in complete shock if they were to ever announce they were going to do another series, but we can still hold on to the hope of the idea!
via/metro
We can all admit that every now and then we will watch a sneaky episode of this when we're in the mood. Especially the Christmas episodes over that festive period!
Although some of us may think we know the episodes inside out because of how much we used to watch it, there are still things that we don't know about this absolute classic.
Here are 10 things you probably didn't know about Gavin and Stacey! Enjoy!
1. Gavin's mum and dad's house wasn't actually in Essex.
Apart from the scenes shot in London, the entire series was filmed in Wales, including the scenes filmed in Essex and the house that was used for the Shipman's, is located in Dinas Powys, a little village 1 mile North of Barry.
2. The 'Barry' house was someone's house.
The street was real, the house was real and so was the furniture. The occupant of the house used to move out for a couple of days whilst the show was filmed.
3. Nessa's age is never actually revealed in the show.
BUT Ruth Jones is 12 years older than James Cordon in real life. She doesn't look it, does she!
4. Budgie is from Billericay.
Russell Tovey who plays Budgie is actually from Billericay, Essex, where the show is supposed to be filmed (the Essex parts obviously).
5.  The Elvis convention is based on a real-life annual convention.
In the episode where an Elvis convention takes place in Barry, it's based on a real-life convention that takes place in Porthcawl which is about 25 miles away from Barry.
6. The stag party were all played by James Cordon's co-stars in The History Boys.
Samuel Anderson, Andrew Knott and Russell Tovey made up the stag party and were all asked to join the cast by James Cordon who co-starred alongside them in the 2006 movie and the stage version.
7. Tom Jones and David Cameron are among some of the famous fans of the show
David Cameron has even admitted to using the catchphrases from the show in day to day life. "What's occurring?". I don't think this is that hard to imagine though, there probably isn't a show out there that is more relatable than this. The family life and the way the characters are with one another show how comfortable the actors are together. The chemistry between the cast is probably one of the main reasons that we love watching this. I am sure there are many more celebs out there who LOVE watching Gavin and Stacey!
via/Telegraph
8. James Cordon met Ruth Jones (Nessa) on Fat Friends where they both co-starred together. He told her about going to a friends wedding where the bride was Welsh and the groom was English.
He said, 'The wedding was on Barry Island, and Ruth's from Cardiff and knows the area quite well. I told her I didn't think anybody had shown a wedding on TV like the one I had been to.' These two ended up being the writers for the entire show and also ended up co-starring in it too. I think we absolutely LOVE the undeniable romance between Nessa and Smithy – a romance they just can't seem to get away from.
9. James based his character on a friend of his cousin. The rest of the characters are based on people they had met during the filming of Fat Friends.
It is important to get your inspiration from somewhere. So, when James Corden and Ruth Jones were writing this amazing series they had to come up with amazing characters. We can see how diverse and hilarious each character is. There is so much time and thought put into each character that they had to be perfectly cast. To make the characters more realistic, they based them on real people that they knew. We definitely couldn't have thought up more hilarious characters, could we?!
10. Gavin and Stacey were supposed to be a one-off film. The BBC said they didn't have enough space for a one-off special.
We are so grateful that they didn't make this into a one-off film. The fact that they made it into a three series programme makes us all seriously happy. Imagine if we only got to experience an hour and a half of this epic storyline? We'd be pretty gutted. Thankfully, we don't have the think of the dark world of what COULD have been. Thanks to the BBC saying they don't have the time slot for a film meant we got many more hours of the Gavin and Stacey storyline.
11. When Mathew Horne was chosen to play Essex-boy Gavin, Corden sent him a text saying, 'So chuffed you're doing it'
After Horne rang back, they stayed on the phone to each other for over an hour having a natter and a chat. So, it wasn't just pure acting on the screen because since then they have been best friends ever since. It is so amazing that something this can bring two completely opposite people together. There is nothing we love more than the cute on-screen chemistry between these two boys. I don't think we could imagine any of the series without the current actors that were used for it.
12. The leading characters are named after murderers.
Some of the characters surnames are taken from notorious, well-known serial killers of the UK. Some of these serial killers have been known to kill hundreds of people. This was a creative decision that some people actually found offensive, but there is a real reason why they did this. They wanted to re-claim the surnames that were now tainted with poor connotations and turn them into positive ones. The families with the last names of West, Sutcliffe and Shipman now have positive associations as opposed to negative ones.
13. Rob Brydon who plays Uncle Bryn used to liven up the set with his hilarious impressions.
We can all agree that Uncle Bryn is one of the more comical characters on the show. He used to spend his time on the set making the other cast and crew members laugh with his amazing skill of being able to do impressions.
14. When James Cordon went on stage to present an award to Daniel Radcliffe he planted a huge kiss on his lips for five seconds, then told everyone Kiera Knightley couldn't make the awards because they'd be sh*gging for three days. What a joker.
We can all agree that James Corden has a cracking sense of humour. He took it to the next level (and an extremely risky level) when he pulled this stint at an awards evening. He is the writer of Gavin and Stacey which means he must be a genius to create such an amazing and hilarious TV series. But, we can clearly see that his wit comes naturally to him and he can pull off a cracking joke.

15. Almost every single episode starts with a phone call between Gavin and Stacey
This is a fact and reinforced the idea that these two have to suffer from a long distance relationship. The struggle for the two of them must be real when they live so far away from each other. This is why nearly every single episode starts off with a phone call between the two love birds.
via/WalesOnline
16. The Jamdani Hash curry that Nessa eats is actually a made up curry apparently with duck cooked with honey and lime.
The curry she has doesn't even exist. However, a curry house in Cardiff – the capital of Wales – has decided that they should make this dish in honour of Ruth Jones and the whole series. They decided that they were going to put this on the menu for customers to enjoy!