Rachel Riley's Partner Pasha: Everything You Need To Know
With the exciting news that Rachel Riley and partner Pasha Kovalev are expecting their first baby together, we're taking a closer look at their (adorable) relationship…
How Did They Meet?
Back in 2013, Rachel joined Strictly Come Dancing on its 11th series and was paired with Russian dancer Pasha. The dancing duo made it to the show's week five but were eliminated after a dance-off with the champions to be Abbey Clancy and Aljaz Skorjanec.
At the time of Strictly, Rachel was married to her long-term partner Jamie Gilbert – a man who she met while studying at Oxford. However, a few weeks after Rachel left Strictly, she announced that she and Jame were divorcing after being married for 16 months.
Although the break-up appeared to be a result of the 'Strictly curse', Rachel insisted that her friendship with Pasha was not the reason for the split.
'I'm still friends with my ex-husband. He's great, he's a brilliant guy. 'We were together since I was 19 and it wasn't right… What Strictly did give me was distance – because I was away from home in Birmingham, Salford, Borehamwood. It was the emotional distance that I needed to break away.'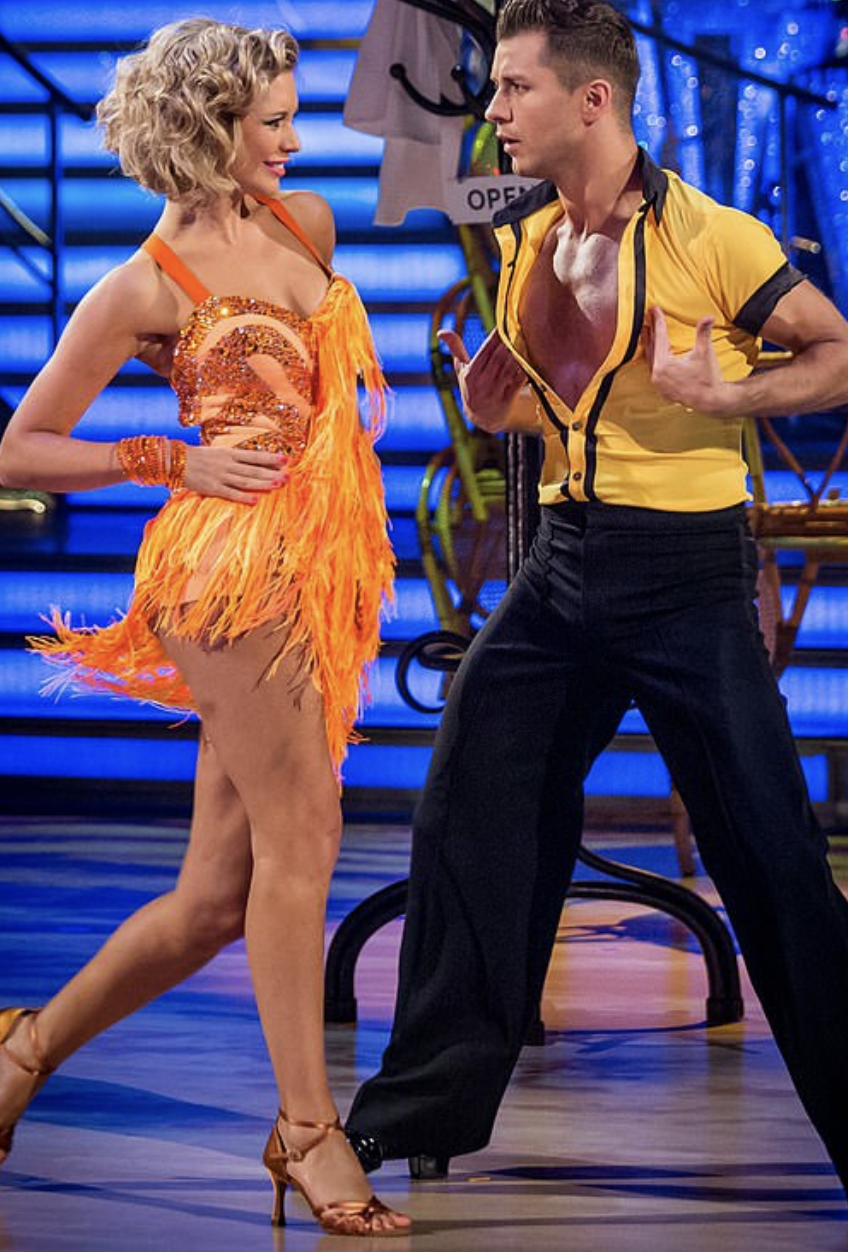 Image Source/BBC
Pasha and Rachel confirmed their relationship in September that year when they both attended London Fashion Week together. Speaking about her new boyfriend (at the time) Rachel said:
'Pasha's gorgeous, he's amazing when you need a bit of support that's when you know you're with the nice person. He's a good egg.'
Although he did admit there were some differences in their culture:
'He was brought up in Soviet Russia and his friends were brought up in Soviet Russia. They have a completely different outlook on things. 'Some of his friends, who I love and who are brilliant, think that the earth is flat.'
When Did Pasha And Rachel Marry?
The pair decided to ditch the stereotypical celebrity wedding, swapping the church and flashy reception for a private affair in Las Vegas. Rachel broke the news on Instagram over the weekend (30th June), writing:
'Introducing the new Mr and Mrs Kovalev 🥰 We both said yes!'
Countdown presenter Rachel Riley wore a red and white printed mini-dress for the wedding, while her new husband, Strictly's Pasha wore a blazer, trousers and a printed shirt.
Image Source/Instagram
The wedding came almost five years after the the pair began their relationship.
When Is Their Baby Due?
Earlier this year (May), in an adorable Instagram snap, Pasha and Riley announced they were expecting their first baby together.
In true Countdown style, Rachel spelled out a jumbled up version of the word 'maternity' with the caption:
'Pasha and I have a conundrum for you…you have till December to work it out!' she added. 'We're over the moon excited!'
Image Source/Instagram
Rachel Riley Partner Pasha's Strictly Career
Last year, the Strictly star announced that he was leaving his Strictly career behind:
'After scoring 93 perfect tens, reaching 4 finals and lifting 1 glitter ball, it's time for me to find a new challenge and so I've decided to make last year – my final season on Strictly.

'I've had 8 fantastic years, full of wonderful memories, thanks to the incredible partners, professionals and myriad of behind the scenes teams who all work to make Strictly the amazing production that it is.'
However, it was claimed by The Sun that Rachel had felt 'uncomfortable' with Pasha spending so much time with females on the show – he danced with Love Island host Caroline Flack most recently.
View this post on Instagram
Image Source/Instagram
Although Rachel is (apparently!) anxious about Pasha dancing with other women, Pasha's dancing colleague Gleb Savchenko insisted that he wasn't the type to cheat.
He previously said:
"You know the only person who will never have a 'Strictly' curse is Pasha.

"I think no matter who you give him he will never ever, ever have any attraction or anything, not even a flirty moment because he's such a reserved guy."