By Anna Collins
22nd February 2021
WandaVision is the new weird and wonderful TV spin off from the Marvel Cinematic Universe. It's full of familiar faces because it has all of the best Marvel characters that we know and love – and MORE. It's the new most popular show at the moment and Marvel fans are going crazy for it (understandably). Plus, there's so many twists and turns that it keeps everybody on their toes.
So, let's have a look into the cast of WandaVision and find out more about the people behind the characters. Here are the real life partners of the WandaVision cast…
Wanda Maximoff
She's the protagonist of the series and she's considered the villain by many viewers. When Wanda Vision starts, Wanda Maximoff is reeling from loss and she's facing a totally new world.
She's completely caught up in her grief she uses her powers to conquer a small town in New Jersey called Westview to make it her own.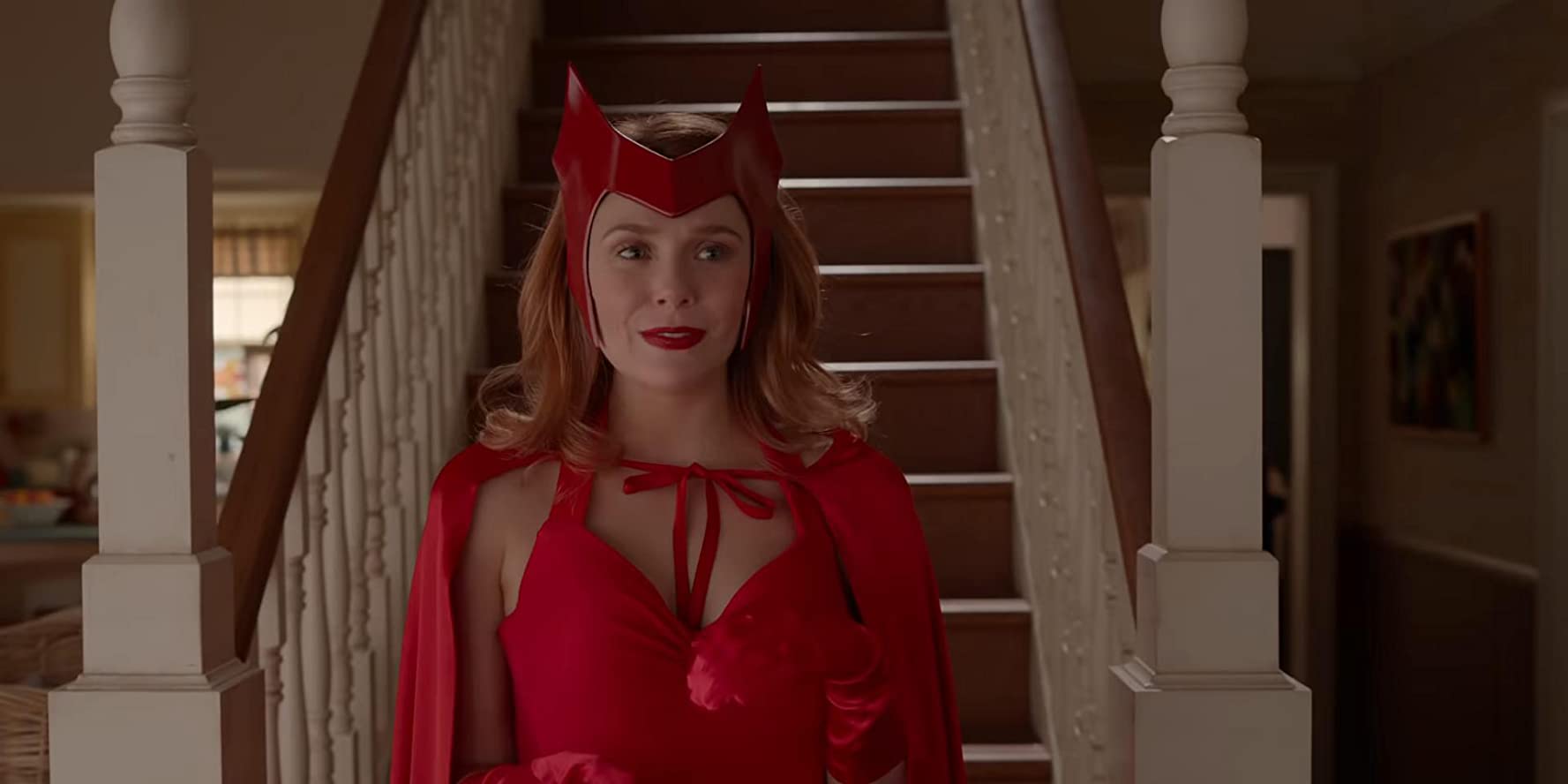 (Image Source/ streamingwars.com)
She brings Vision (played by aul Bettany) along with her. She escapes into TV land and moves through decades of sitcoms trying to navigate her grief. She lands in this new world and tries to take on a life of domestic bliss.
This sounds pretty familiar to us right now as most of us are binge-watching a lot more TV than usual as a coping mechanism during the pandemic.

Elizabeth Olsen
Does this name sound familiar to you? Elizabeth is the younger sister of the famous twins Mary-Kate and Ashley. While they may have more recognisable names in the industry after their childhood stardom, Elizabeth has created her own fame and successful career.
Her breakthrough as an actress came in 2011 when she starred in the thriller/drama Martha Marcy May Marlene.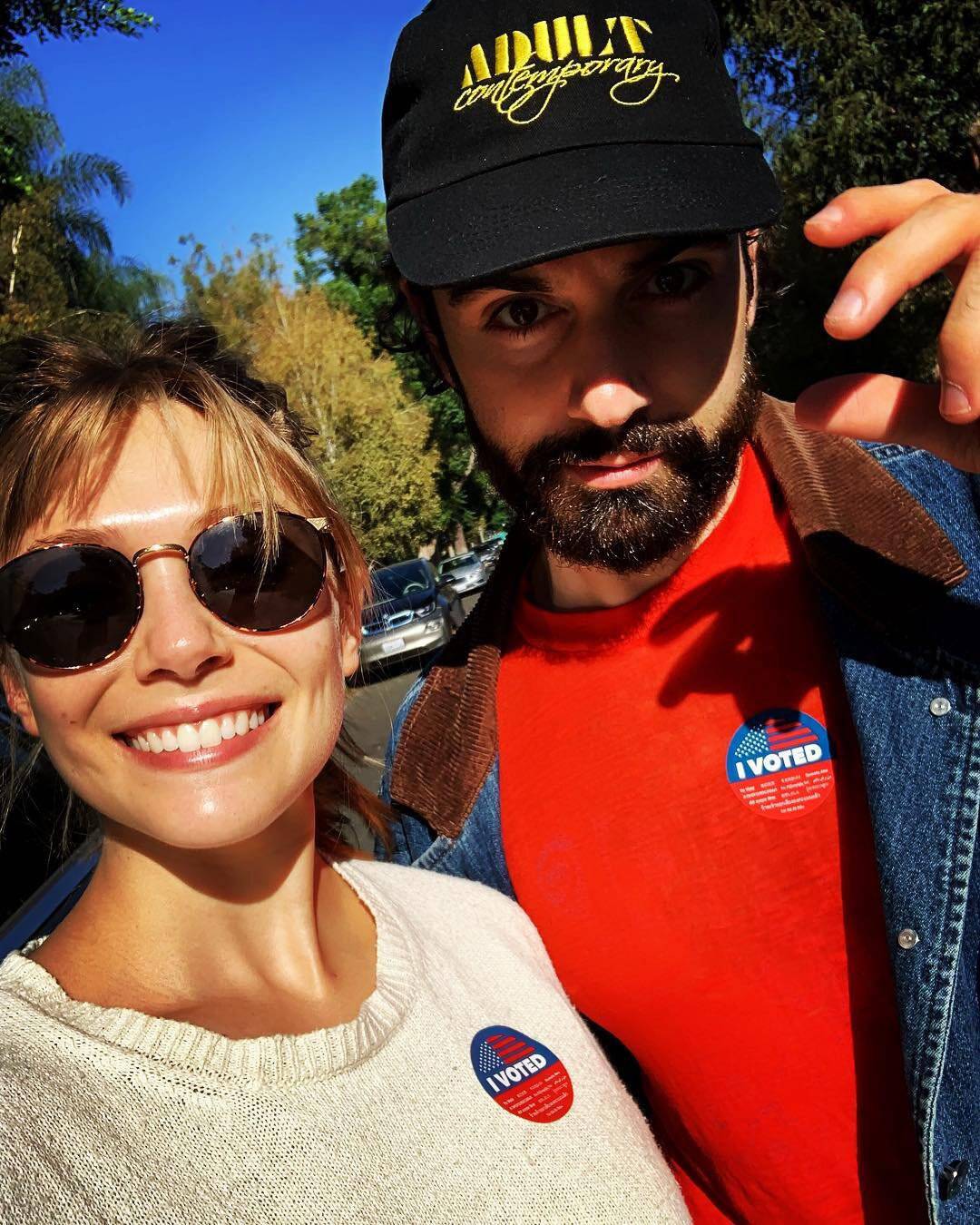 (Image Source/ E-News)

Since then, she's had a successful career and has been nominated for a few awards. When it comes to her love life, she's very much in love. She's in a relationship with musician Robbie Arnett.
They met accidentally when they were both holidaying in Mexico in 2017. The setting was the perfect romantic spot for a blossoming romance and a couple of months later they made their first official appearance as a couple when they attended the pre-Emmys party. The pair have been together ever since.
Vision
Vision (Paul Bettany) made his first appearance in Age of Ultron. He's one of the main characters in the series. He's an android, who has been created by the artificial intelligence JARVIS, with a synthetic body but he possesses all of the knowledge in the universe.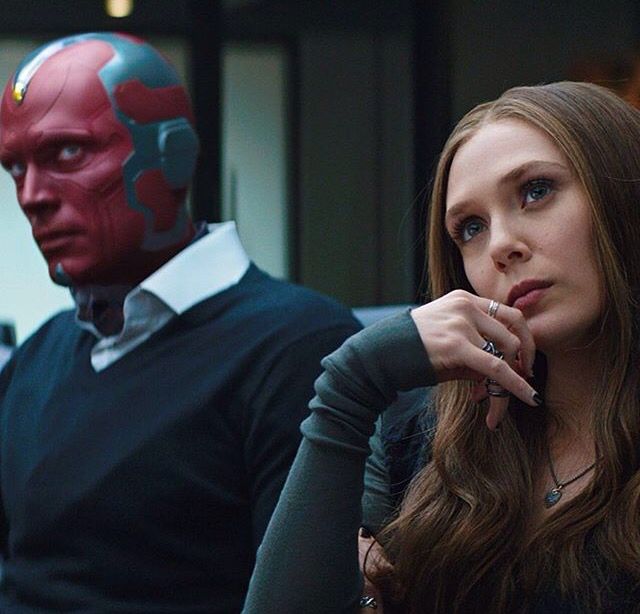 (Image Source/ Pinterest.com)
He bonds with Wanda and they form a relationship. He returns to the world of WandaVision and joins Wanda in her journey although she does not indulge her plans to him. They settle down together in their new domestic life of Westfield and Vision even gets a job at the local company.

Paul Bettany
Paul has the kind of love story that sounds like it's from a movie. Paul has now been married to his wife Jennifer Connelly for almost two decades. But, no one could guess the way this relationship started.
In 2000 the pair met whilst they were filming A Beautiful Mind. They clearly connected straight away but nothing happened. Then, when 9/11 happened he was in Tuscany at the time.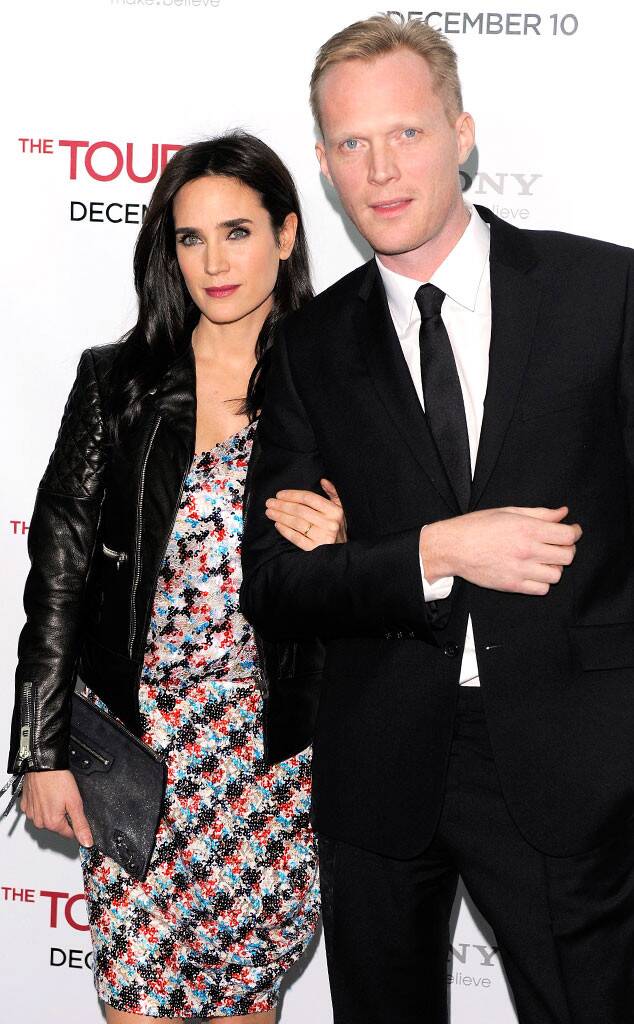 (Image Source/ E-News)
When he realised what had happened, he spent two full days trying to contact Jennifer to see if she was okay. When she finally answered his call, he proposed straight away. He practically told her he was coming to see her and they would get married. They'd never even dated.
True to his word, the couple got married in 2003 and they have had 3 children since. To this day he can't imagine being with anybody else on earth and he says marriage and children have changed his life forever – in the best way possible. Now that is a story that no movie could ever compare with.
Mrs. Hart
Mrs. Hart is the wife of Mr. Hart. We meet the pair at the infamous dinner party at Wanda and Vision's house when her husband chokes. Mrs. Hart, rather than trying to help, just repeatedly tells him to stop it. Which probably isn't the kind of advice you want to hear whilst choking on your food.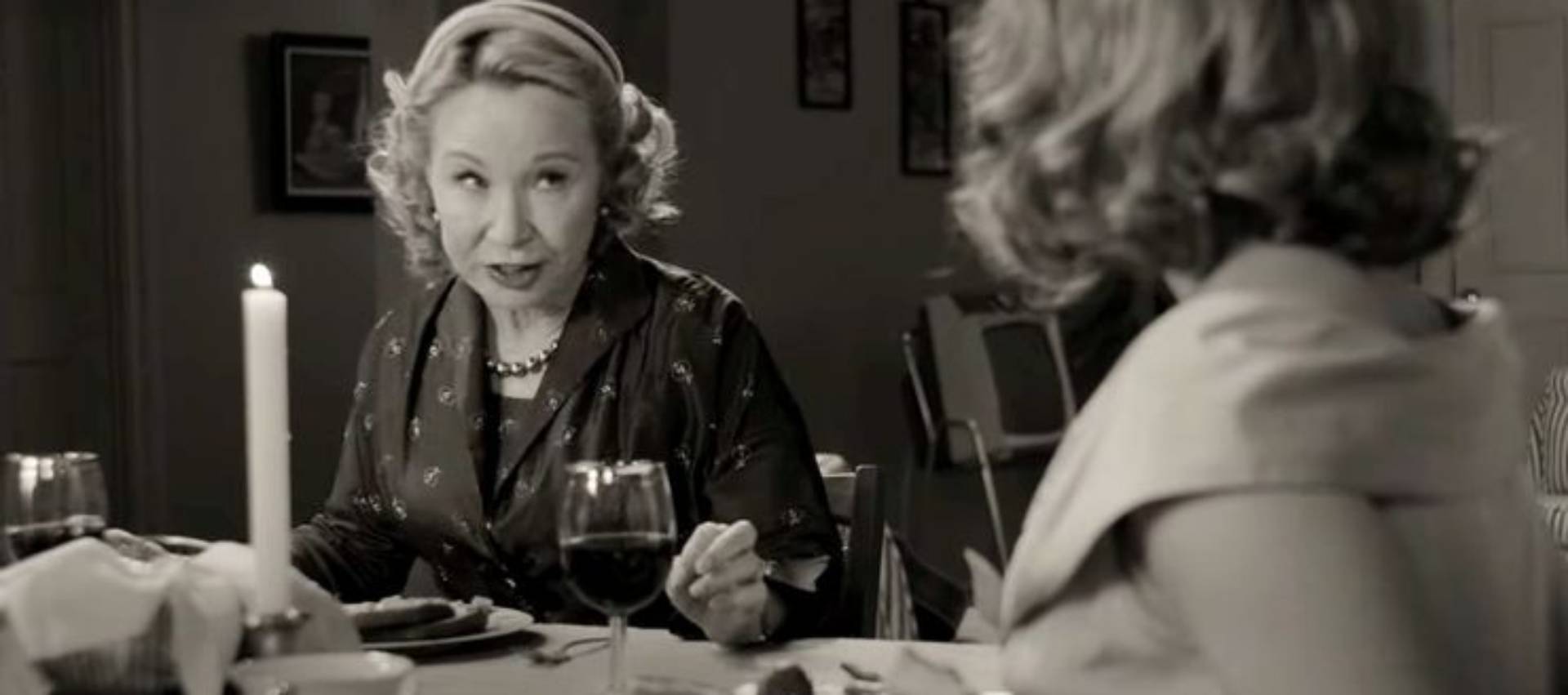 (Image Source/ coxinhanerd.com)

This brought a stop to her husband interrogating his boss and his boss' wife. There is a conspiracy regarding Mrs. Hart and Agnes, both characters appear to be hinting that something about their reality is not as it seems. It appears that both characters are attempting to keep up a charade and try and prevent Wanda and Vision from realising their plot.
Debra Jo Rupp
Debra Jo Rupp was born in Glendale, California in1951. She grew up with two sisters. From a young age, she knew she wanted to be an actress but this wasn't a decision that her family supported. Her parents did not want her to be an actress and she had to against their judgment to pursue her dream.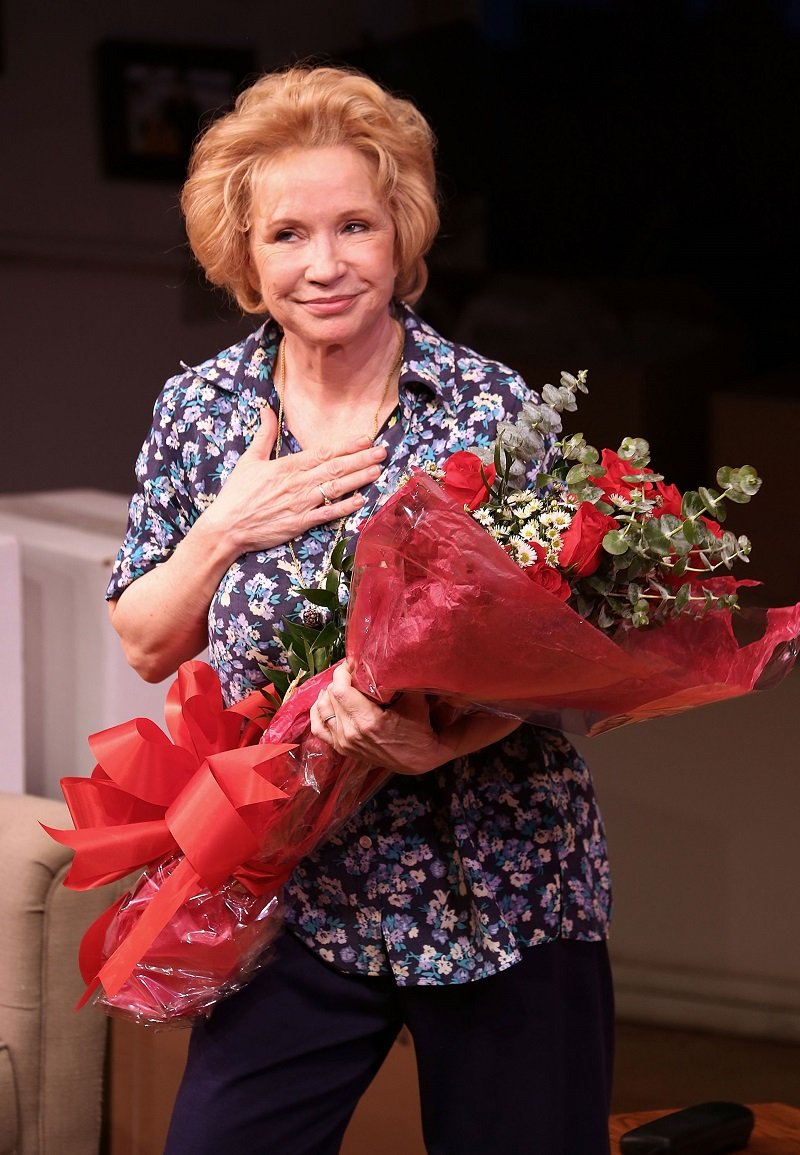 (Image Source/ news.amomama.com)
So, she went on to obtain a Bachelor of Arts degree at the University of Rochester. She learned acting formally at the Drama House. Her decision certainly worked out for her and her dream of being an actress came true as she has had a very successful career. She is now 69, and she hasn't married. In fact, she has openly said that she does not like discussing her personal life.
Pietro Maximoff
Pietro Maximoff (aka Quicksilver) appears on WandaVision's episode 5. Wanda's dead brother – Pietro Maximoff – returns. This was a shock that none of us were prepared for, including Wanda who until now had still been mourning his death.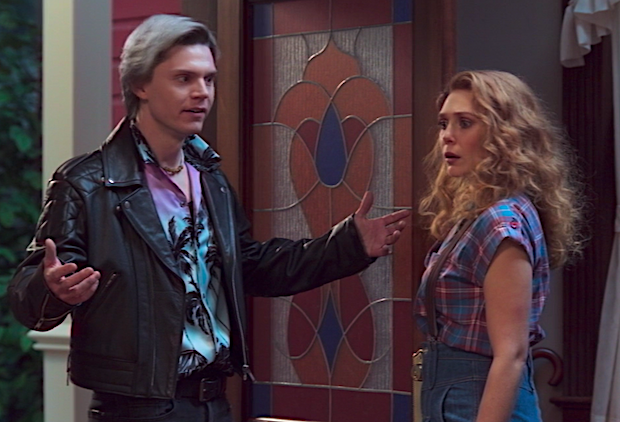 (Image Source/ tvline.com)

We'd all seen him die in Avengers – and yet here he turns up at Wanda's door in the Westview neighbourhood. So, with the pair reunited we can expect great things.
Evan Peters
Evan Peters was rocketed into fame when he starred in American Horror Story in 2011. After his newfound stardom, he has gone on to star in the biggest blockbuster movies such as the X-Men movies. At this current moment in time, he remains single.
But he's had his fair share of Hollywood romances. His main relationship was very much in the public eye and not always for the right reasons. He was dating Emma Roberts from 2012 and called it quits officially in 2019.
(Image Source/ Dailymail.com)
They had a very turbulent relationship and they were even involved in a domestic violence scandal. So, after many years the pair called it quits for the last time.
After this, he briefly dated Halsey. They got together in 2019 after his breakup with Emma and the pair made it official early 29292 and appeared at a red-carpet event with one another.
But later that year the pair broke up. The pair have been quarantining alone and Evan is single for now.
Darcy Lewis
Kat Denning's plays the Doctor called Darcy Lewis in the show. We are introduced to her first in episode 5. She plays a central part of this episode because she is responsible for finding the broadcast of Wanda's altered reality in the last episode of the show.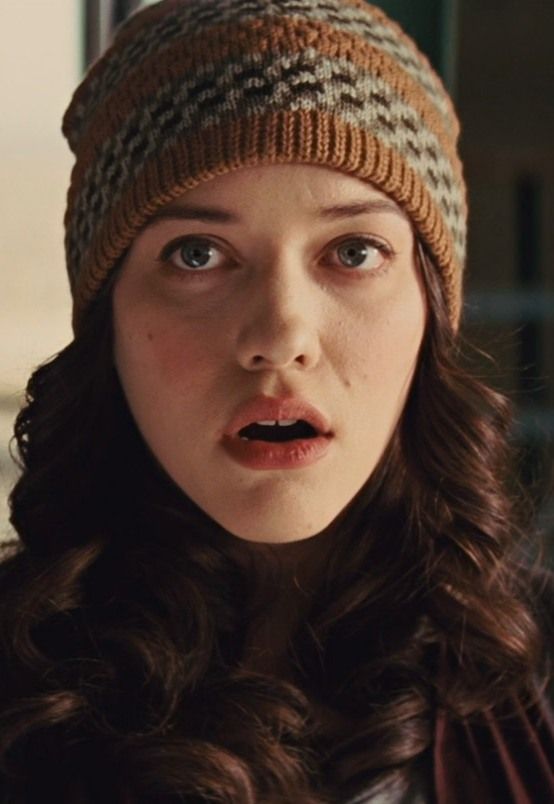 (Image Source/ Pinterest.com)
She attempts to help Monica find a way to bring something back into Westview. She tries to help her bring it back inside the sitcom world. Her character last appeared in Thor. She's just one of many of the cast that are a familar face to us.

Kat Denning's
Kat made her acting debut in 2000 and is best known starring in Broke Girls, Thor, and Wanda Vision. For the last few years, Kat Denning s has been pretty quiet on the dating/love scene. Since she split with Josh Groban in 2016 she has remained single. They had been together for two years before they broke up. Her fellow Broke Girls co-workers were the ones who had originally suggested that the pair would be a great fit for one another.
(Image Source/ thewillnigeria.com)
They had been friends for years and they both shared the same nerdy passions and characteristics which brought them together. So, in 2014 they made it official after taking their friendship to the next level.
Although it didn't work out the pair did not have a messy break-up. They remain friends and still care for each other they just did not work out in a romantic sense. She has since been linked with Tom Hiddleston and Ryan Gosling – but we can confirm she is single.
Agnes
In WandaVision, Agnes is a pretty comical character, she's introduced as Wanda and Vision's friendly next-door neighbour. There is little information known about her but she does make frequent references to her husband Ralph – even if these references seem to highlight how she thinks her husband is inadequate.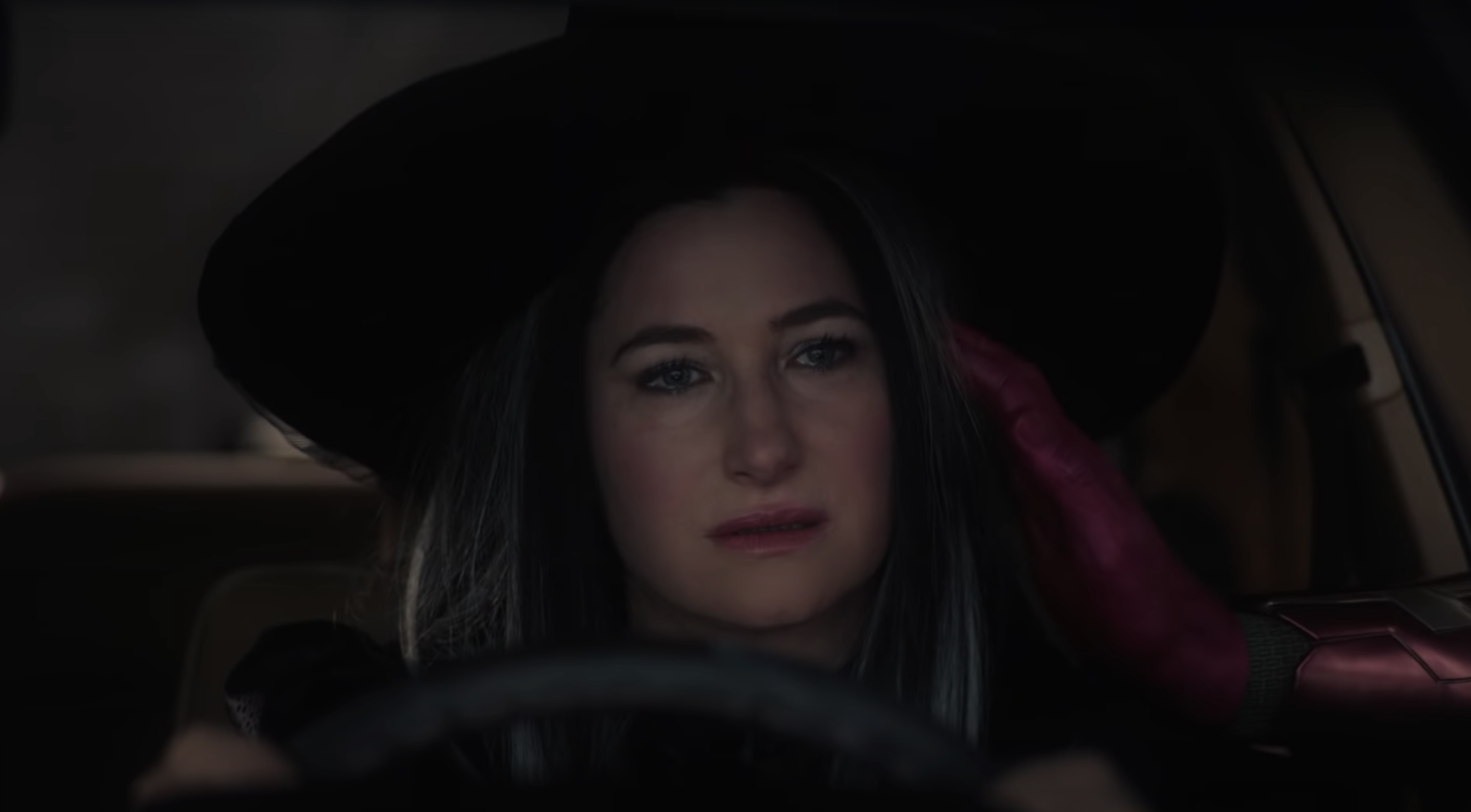 (Image Source/ Pinterest.com)

She is pretty much the town's gossip on the show, she seems to be very involved with the lives of everybody in Westview. She points out flaws in Wanda and Vision's relationship and tries to fix them, as well as helping Wanda with her domestic duties. She seems pretty harmless, BUT, there's speculation that she's actually an evil witch called Agatha Harkness in disguise.
Kathryn Hahn
Kathryn Hahn met her husband Ethan Sandler (not Adam Sandler's brother unfortunately) whilst they were both studying at North-western University. This pair have been very lucky in love and they knew pretty much when they met that they would be staying together. She jokes about how the pair started sharing a dorm room in college and then just never stopped.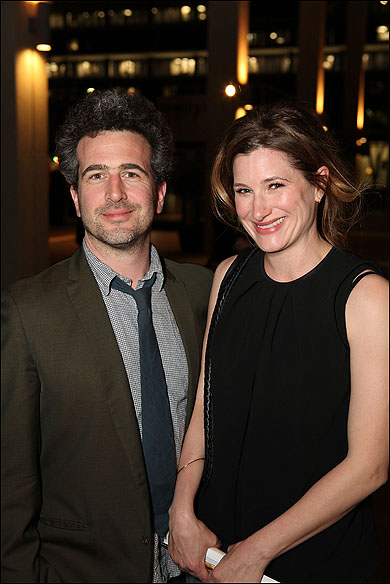 (Image Source/ Tiddlr.com)
They married in 2002 and now have two children together. She reveals her secret for her happy and long marriage is being able to adapt. She feels as though she has remarried the same person as they discover each other again as new people as they evolve and adapt. When it comes to their family life, they are really close-knit and love to be spontaneous together.
Jimmy Woo
Viewers had been asking for Jimmy Woo to appear on WandaVision and they were not disappointed. He appeared in episode 5. He was caring for Doctor Darcy Lewis in the episode and his continual one-liners provided fans with exactly what they'd been waiting for from Jimmy Woo.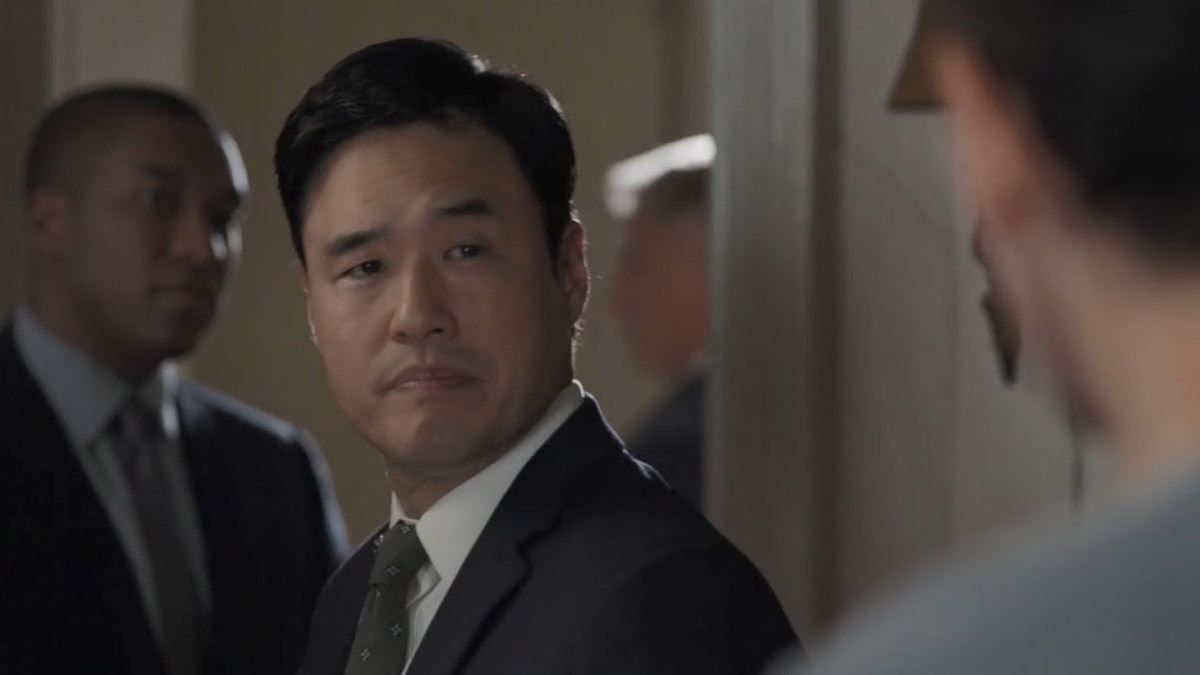 (Image Source/ journadageek.com)

He and his company were investigating weird cases in Westview (of which there are plenty) since there is more going on than meets the eye. This was one of the many spin-offs that fans had asked for from Marvel Studios and it seems as thought the fans have been given what they wanted.
Randall Park

Randall is known equally for his acting and his comedy. He is probably best known for Dinner for Schmucks, The Interview playing Louis Huang on Fresh off the Boat. He is in a long-term relationship with Jae Suh Park and the pair are happily married since 2009 and they have a daughter together.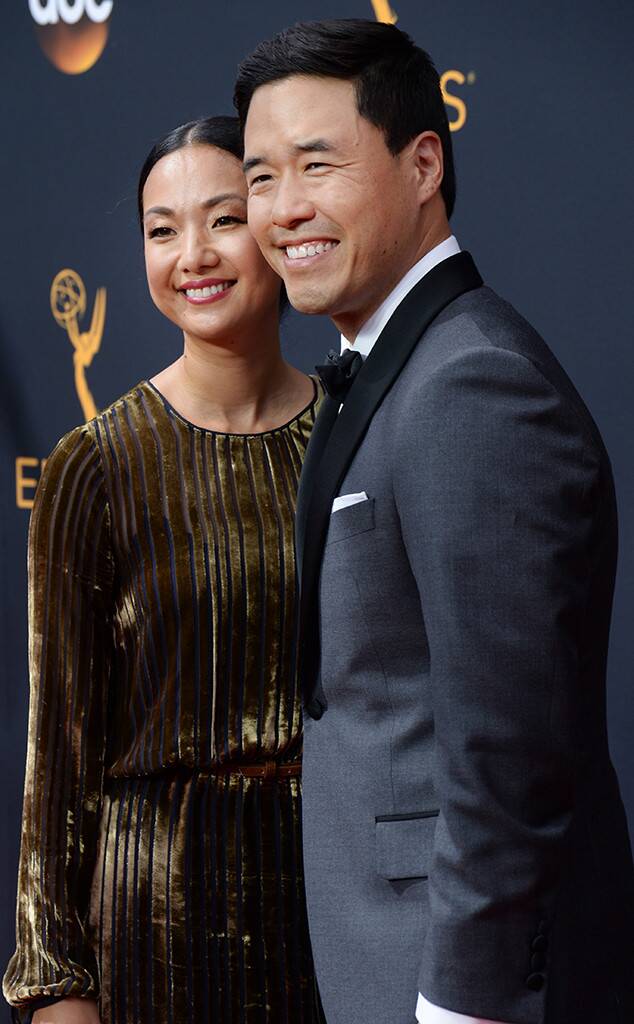 (Image Source/ E-News)
Those of us who follow the couple on social media will be familiar with their frequent family photos and the pair sharing little snippets of their life together. Randall thinks that some of their strength comes from them both being in the acting industry.
While many actors/ actresses avoid marrying someone else in the industry, this couple believes it has made them much stronger. Because, it gives them a mutual understanding and respect for what it takes, including the emotional strains of the industry.
Mr. Hart
Mr. Hart is Vision's boss at Computational Services, Inc. We first him during the first episode when they go to dinner at Wanda and Vision's house in a classic sitcom setting. Wanda and Vision had forgotten all about the dinner and so they were left totally unprepared.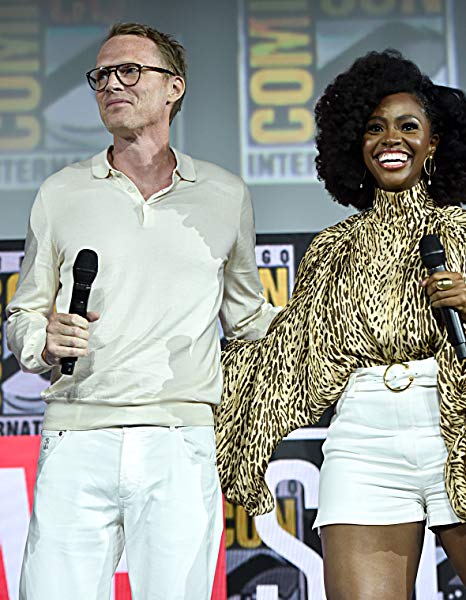 (Image Source/ journadageek.com)
The meal is a pretty uncomfortable scene and Mr. Hart interrogates Wanda and Vision about their relationship and the fact that the couple can't answer his questions. He only stops his interrogation when he chokes on his food. Thankfully, Vision removes the food from his boss's throat.
Fred Melamed
Fred Melamed is now 64 years old, and he had already had a very long and successful voice acting career before he landed his first acting role, playing Sy Ableman in the Coen brothers' 2009 film A Serious Man. His acting career since has completely taken off and he has starred alongside some of the biggest actors and actresses, including Mila Kunis.
(Image Source/ Zimbia.com)
When it comes to his love life, he was more a late bloomer. He first got married to his wife Leslee Spieler in 1999 when he was 42 years old. Then, it was another 5 years later when they had their twin boys. Melamed says that the timing for him was perfect and jokingly added that he never does anything early. After two decades of marriage, it is still going strong and so is his acting career.
Dennis
Dennis is a character in WandaVision who is played by Amos Glick. He certainly does not have as central role a role as some of the characters in the show but Dennis operates as part of the town's system. And, you can't help but become invested in his character.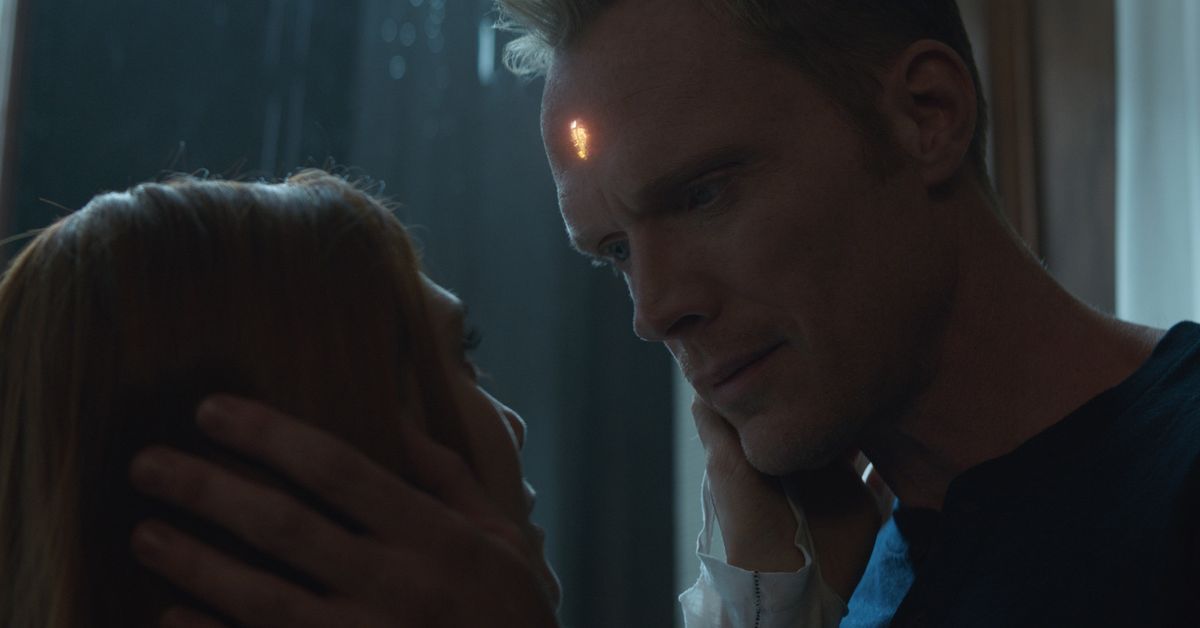 (Image Source/ flickrprime.com)
He's the mailman of Westview and he has a good rapport with Agnes who looks to be interested from the off (despite her husband). So, he may not be part of the essential storyline, but he's still at the heart of Westview.
Amos Glick
Amos is a man of many talents, he describes himself as an actor, musician, and teacher. He was born in Austin, but he grew up in Medway and Holliston, MA. He was a collective and company member at the Tony Award-winning San Francisco Mime Troupe for seventeen years.
View this post on Instagram
(Image Source/ Instagram)
And he also performed as a clown in Le Reve at the Wynn Casino in Las Vegas where he performed over 3500 shows. He's also played multiple characters in the Marvel Cinematic Universe. He's currently single and has no past relationships. He is happy to remain on his own for the foreseeable future.
Dottie
Dottie is the leader of the Planning Committee in Wanda Vision. She is also Phil's wife and the most popular housewife in Westfield. She's the woman you need to know if you want to have any kind of social status in the town.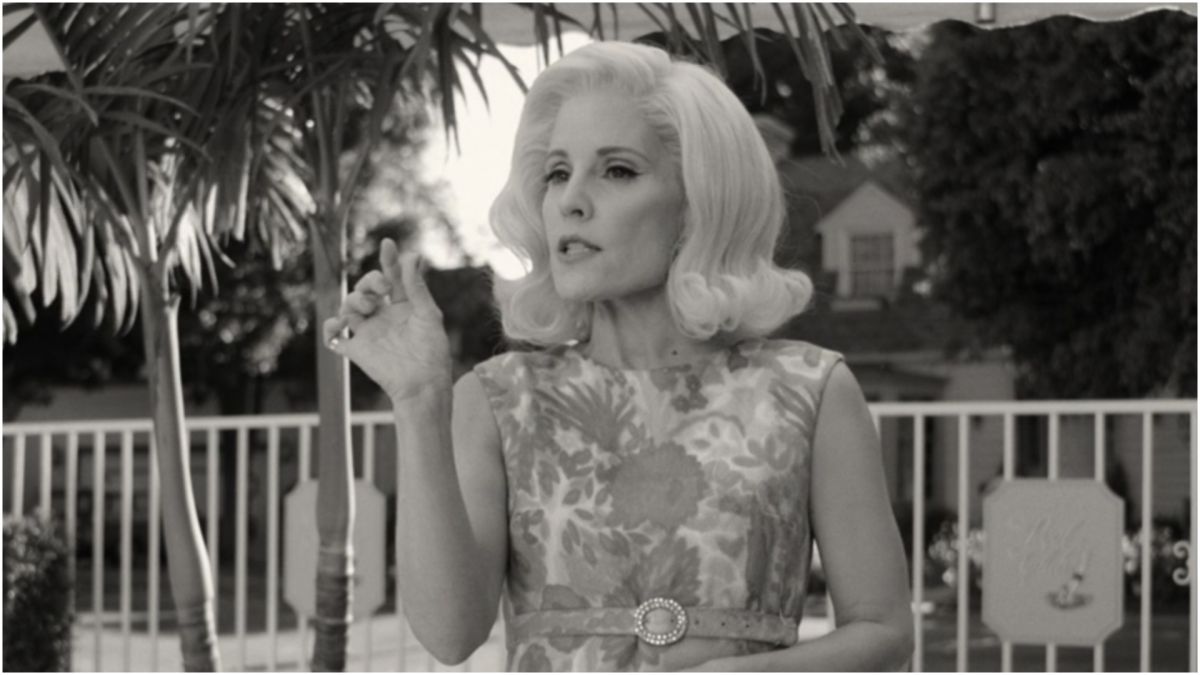 (Image Source/ gamesradar.com)
She's a classic busy body who loves to get involved with everybody's business – even when her inteference is not neccessarily wanted (we all know a Dottie).
But she clashes with Wanda on several occasions, pointing out that she doesn't belong here. However, Wanda and Vision manage to win her round with their magic at a talent show and she hands them an award.
Emma Caulfield Ford
Before her role-playing Dottie on Wanda Vision, she was best known for playing Anya in Buffy the Vampire Slayer and Susan Keats in the Beverly Hills, 90210 series. In 2015, she married Mark Leslie Ford who is a fellow actor and also a producer.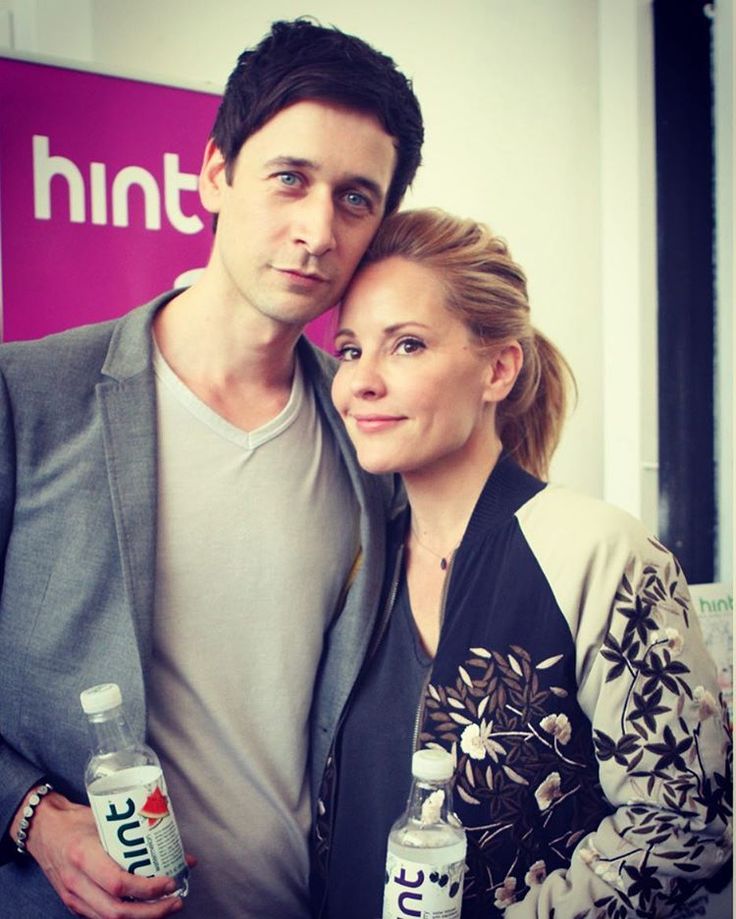 (Image Source/ Pinterest.com)
The two of them tied the knot in 2015 and then in 2016, they welcomed a baby girl into the world. They seem to be totally in love with one another and their daughter and we can see pictures all over their social media.
Commercial woman
Victoria Blade plays the Commercial woman in WandaVision. She doesn't have a massive role in the show but her character is still central to the running of Westview town. Plus, not every character can be the main character.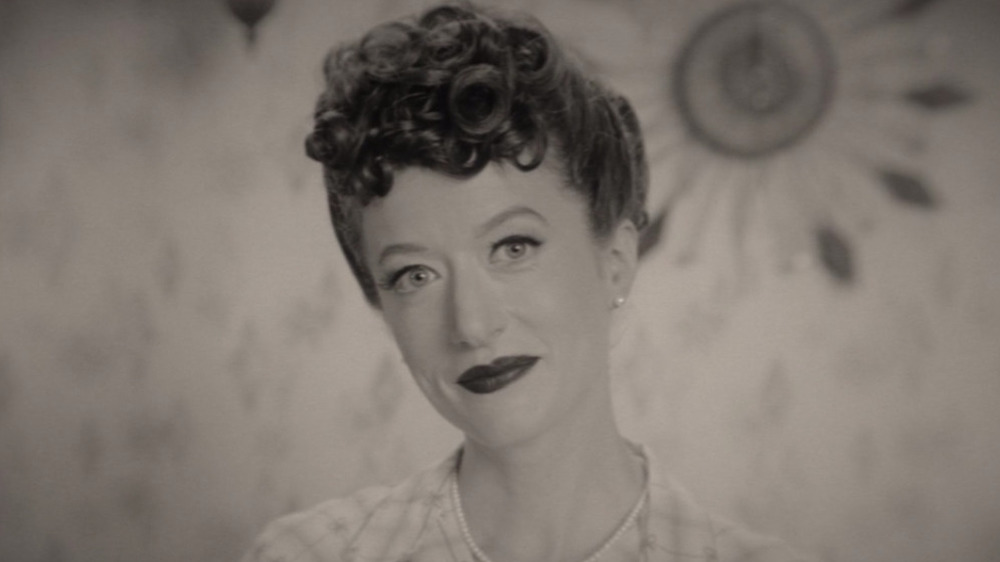 (Image Source/ Looper.com)
So, whilst she doesn't have a significantly important part – we still think she's pretty essential and does a great job none the less. Plus, it's the commercial man and woman that give the show it's authenticity as they recreate the feeling of an old sitcom with a broadcast break.

Victoria Blade
Victoria Blade is a woman of many talents; she is an American actor, singer, and filmmaker all rolled into one. She has appeared in critically acclaimed TV shows like Chicago Fire, Blue Bloods, and Doom Patrol. She also recently released her song, 'Anybody?', in December 2020. In terms of the romantic side of her life, she has now been married to her husband Joshua Tabbia for 10 years.
View this post on Instagram
The couple were actually childhood sweethearts in college. They didn't officially get together until 2008 and then they married in 2010. Joshua has his own record company which he runs with the help of his wife. The couple are focused on their work for now which is their main priority before starting a family.
Norm
Asif Ali plays the character called Norm, who is Vision's co-worker at Computational Services, Inc. He is an active member of the Westview community and he is a member of the Neighbourhood Watch group that the synthezoid tries to join in Episode 2.
(Image Source/ IMBd)

He and Vision get along well, and he often praises Vision's work for the company. He's a bit of a mysterious character as not much has been discovered about him as of yet. Perhaps if there is another series then more will be discovered about this character.

Asif Ali
Asif Ali is 35 years old; he was originally born in India and he is now an Indian actor. He's a family man and he is married to his wife Zama Mazrin. The pair wed in 2013 and so this year they will be celebrating their 8th wedding anniversary together. The pair now have a daughter together called Haya Marin Ali.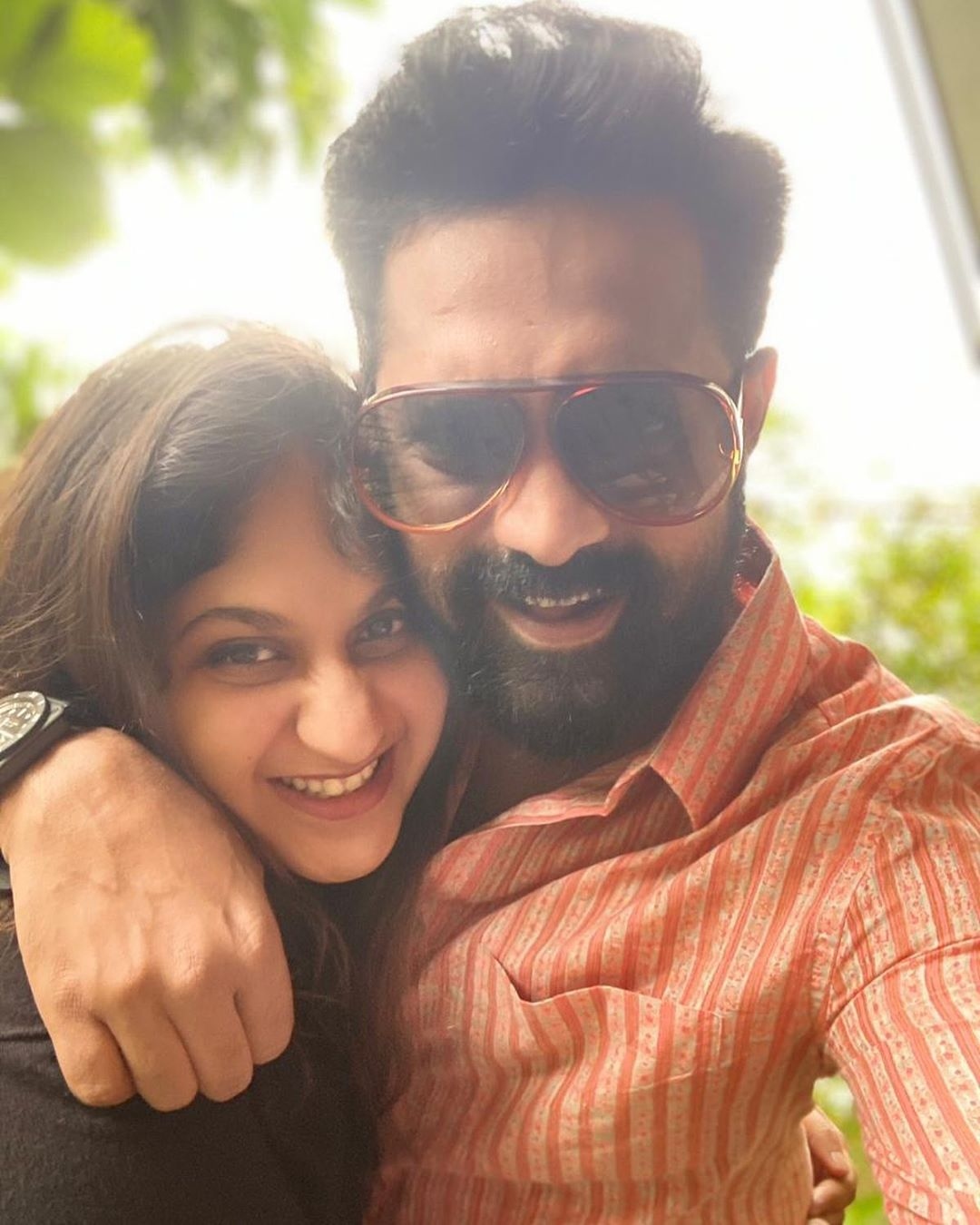 (Image Source/ indiaglitz.com)
He calls her an angel who has totally changed his life completely and he loves nothing more than spending time with his wife and daughter. He also has an older son called Adam, who took a while to warm to his new sibling but now they are inseparable.
Agent Rodriguez
Selena Anduze returns to WandaVision with a very cool part – she is Agent Rodriguez – even the name sounds cool. She appears first in episode 5. And, it's probably not the first time you've seen her because she is actually familiar to the marvel world. This episode is one of the most important episodes in the whole show, or the most dramatic anyway.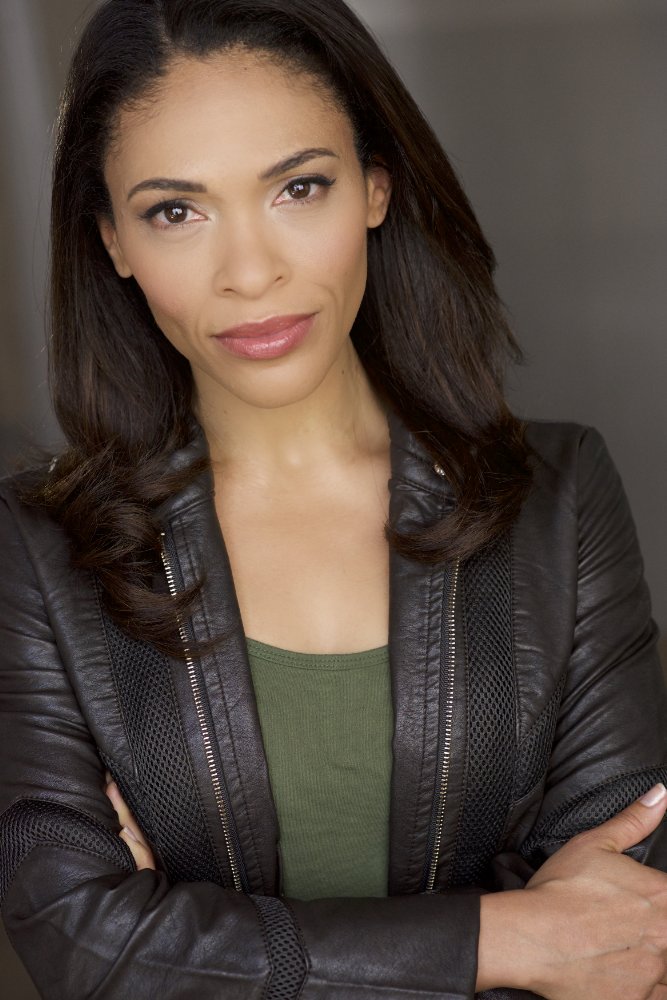 (Image Source/ www4.movies1.com)

Despite having a new life in the suburbs of Westview alongside his partner Wanda, this is the episode that reveals Vision is dead and has been disassembled. It's definitely one of those episodes that throw everything up into the air. And, if there was ever a single episode to feature in, it would be this one.
Selena Anduze
Selena rose to fame in 2013 with her role in the series Being Mary Jane. Since then, she's appeared in a long line of TV shows and movies.
She married her husband, Yano Anaya, on June 2th, 2009. The pair had been together a long time before they took their vows.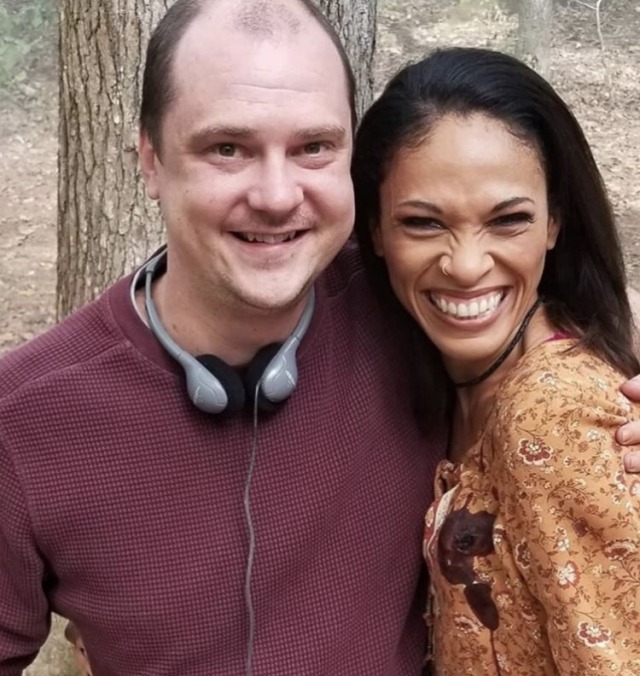 (Image Source/ cinetcetera.com)

They had a very intimate wedding with just family and close friends. The pair have no children as of yet, but they own 3 rescue Pitbull's together.
Selena is passionate about rescue dogs and she is keen to educate people on the true nature of Pitbull. She wants to take away the myths surrounding the breed regarding their temperament.
S.W.O.R.D Agent
Shane Berengue appears in episode 7 on WandaVision as a Tactical S.W.O.R.D. Agent. S.W.O.R.D stands for Sentient Worlds Observation and Response Department in the marvel world.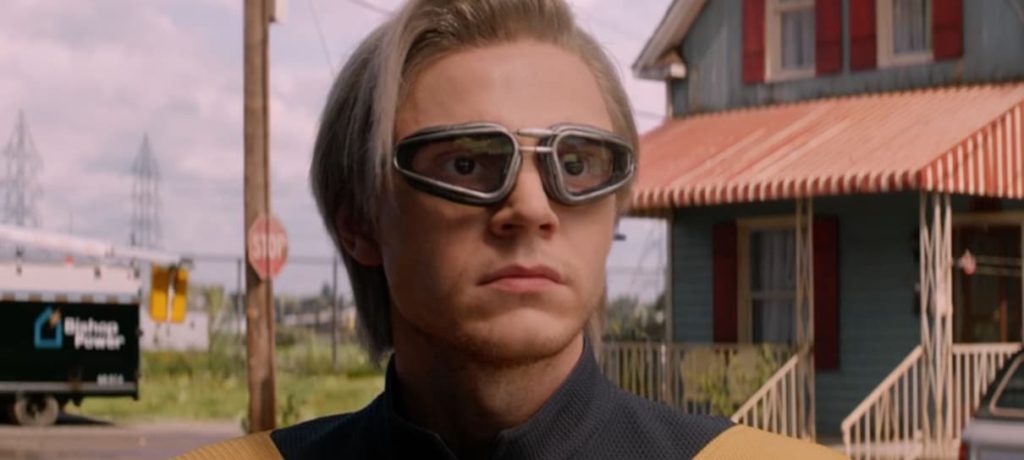 (Image Source/ cinetcetera.com)
So, Berengue's star appearance isn't huge – his character does not get much air time or storyline. However, being an agent of the S.W.O.R.D of course means you are critical to the marvel story. And, it definitely one of the coolest roles – who wouldn't want to be an agent?
Shane Berengue
ShaneBerengue is originally from Kailua-Kona in Hawaii. He is fairly recent to his stardom as he gained popularity in a guest role in the TV show Genius. He's been successful since however and before starring on Wanda Vision you may know him best for his role on the popular Netflix show Ozark.
View this post on Instagram
When it comes to his love life – he's a pretty private guy. But we do know that he's been with his current partner Linda Everett for over a decade now.
Whatever their marital status, it remains unclear, but it seems they are unmarried and happy together in a long and committed relationship. They prefer to keep their relationship with one another uder wraps – perhaps this is their key to a happy relationship.

Geraldine
Geraldine (played by Teyonah Parris) is a woman living in Westview who quickly adopts Wanda as her friend. They meet at the Planning Committee meeting – even though she doesn't actually know why she's there.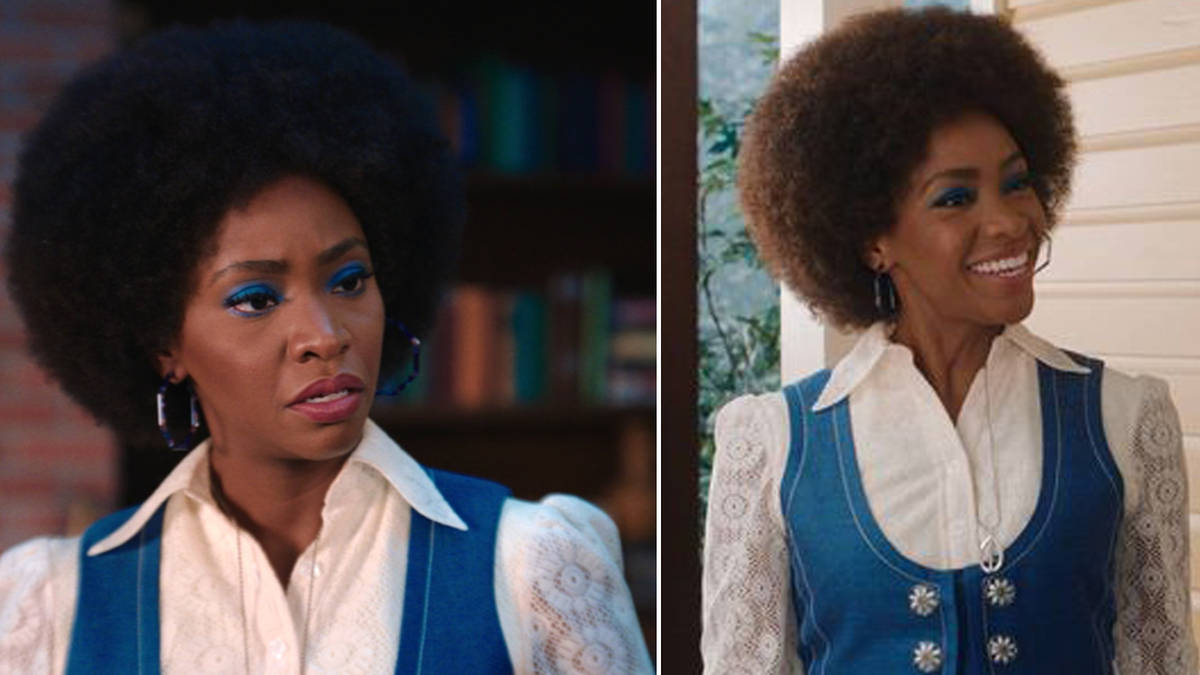 (Image Source/ Heart.co.uk)
It turns out, that Geraldine is an agent of the S.W.O.R.D who is trying to help Wanda escape from her new home.
You may also recognise Geraldine as Monica Rambeau in Captain Marvel. Most of the characters from Wanda Vision are taken from the marvel world so that it continues the story – in a very weird and wonderful way.

Teyonah Parris
Despite being a very young actress, she has already made herself a good name in the acting industry. She is also a producer. Her breakthrough role was the critically acclaimed film Dear White People (2014) where she earned her name for herself.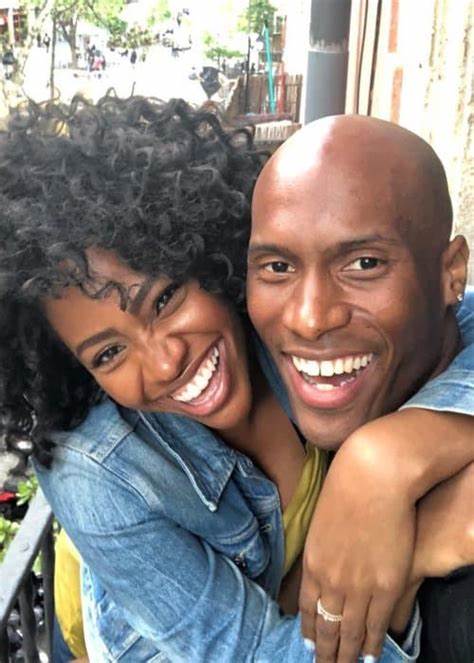 (Image Source/ healthy.celeb)
She is not in a relationship with anybody currently, she is focusing on her career.
However, she has many close male friends and there has been speculation about an on-screen romance but she denies this. It seems she wants to keep the media out of her private business for as long as possible as she has declared that she hates drama and tries to stay away from it as much as possible.
Commercial man
Ithamar Enriquez returns as the mysterious Commercial Man in episode 5. WandaVision is set as an old-fashioned sitcom. Within this sit-com, the pair of Avengers are trapped inside and seem to be held inside by some kind of strange force.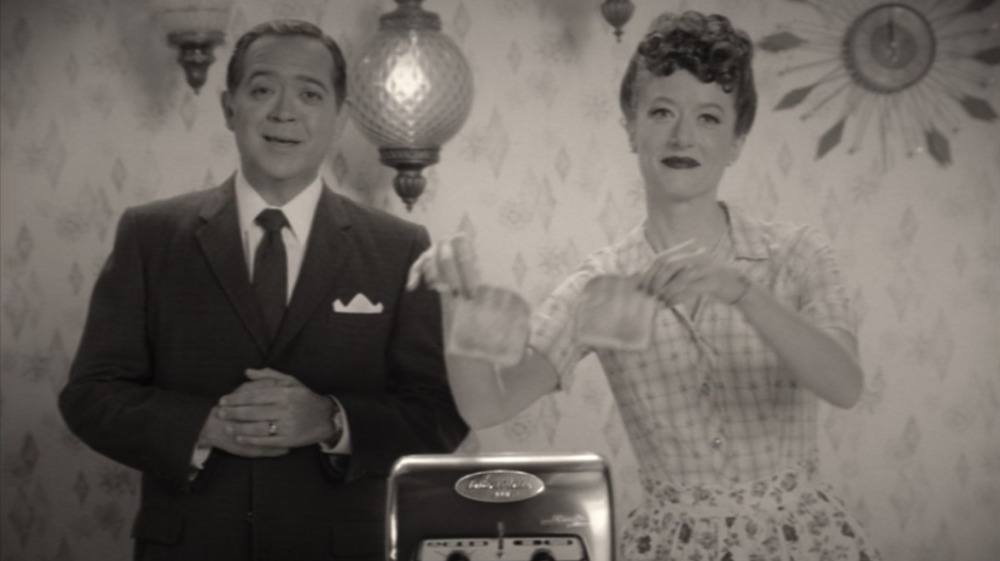 (Image Source/ Looper.com)

Because WandaVision wants to replicate this feeling authentically and replicate the feeling of an old broadcast show, each episode includes a commercial break. So, Ithamar Enriquez is the commercial man needed for the commercial break.
Ithamar Enriquez
Ithamar Enriquez was born and raised in El Paso, Texas. He has worked on multiple shows and movies and some of his most notable appearances in film and TV to date include: Wanda Vision, Curb Your Enthusiasm, Lady Bird, A Series of Unfortunate Events, and Arrested Development.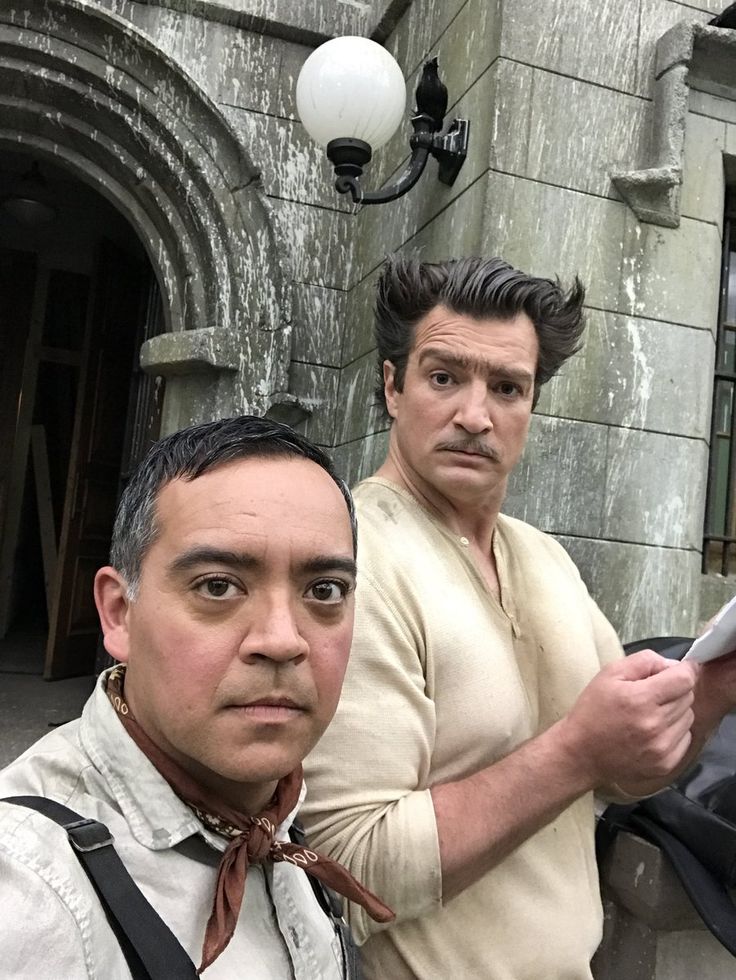 (Image Source/ Pinterest)

He is currently single – and it seems this man is extremely elusive as there is no information regarding any past romances. He is either too busy with work to focus on a relationship or he keeps it very well hidden – or perhaps he simply does not want a girlfriend/boyfriend at this time.
Phil Jones
Phil Jones played by David Lengel is a character whose function is pretty much purely to provide comedy value. He is another employee at Computational Services, Inc., but this is very short-lived in the series as he's fired in Episode 1 by Mr. Hart for hosting a dinner party that wasn't good enough – which seems pretty harsh to say the least.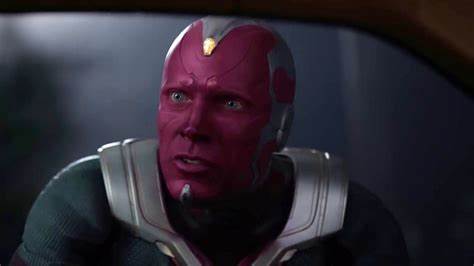 (Image Source/ videodetective.com)
So, after this, his character meainly appears at the town functions, as he is also Dottie's husband. Without his job he exists more as a background character. Phil Jones is a classic sitcom character who you can't help but love, even if he doesn't have much of a purpose or isn't involved in any crucial storylines.
David Lengel
David was born in New York City and his career took off around the year 1997. As well as Wanda Vision David Lengel has taken part in several TV shows and films – including the likes of iCarly and Superstore. One of these was Philophobia: Or the Fear of Falling in Love.
View this post on Instagram
And, perhaps this is true for David as he is not known to have had any previous relationships. He's now 48 years old and he seems to have focussed on his career and not on the dating world. But, he certainly has his successful career to keep him busy enough.

Agent Monti
Alan Heckner is back in WandaVision as the character Agent Monti. He appears in an episode of the show, however, for the Marvel fans out there this will probably not be the first time we've seen him as he has starred in other Marvel films.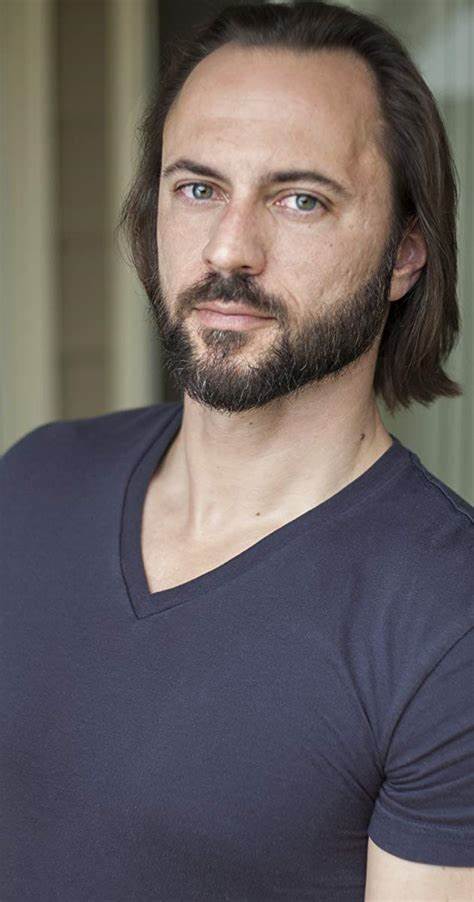 (Image Source/ IMBd)
He debuts as one of the SWORDs' many employees. In episode 4, the focus changes from Westview to what is going happening on the outside, as an agent of th SWORD he has to find out exacty what is going on.
This is because the SWORD is monitoring everything that is going on. They have been tipped off regarding a missing person after Thanos' snap was reversed by the Hulk. So, the SWORD and the FBI start to discover what's going on in Westview.
Alan Heckner
Alan Heckner is a very talented man. His acting career has been extremely successful and has had roles in pretty much everything, and every genre. Plus, he's worked with very famous people including the likes of Clint Eastwood. He was awarded his BFA in Acting by attending school in New York.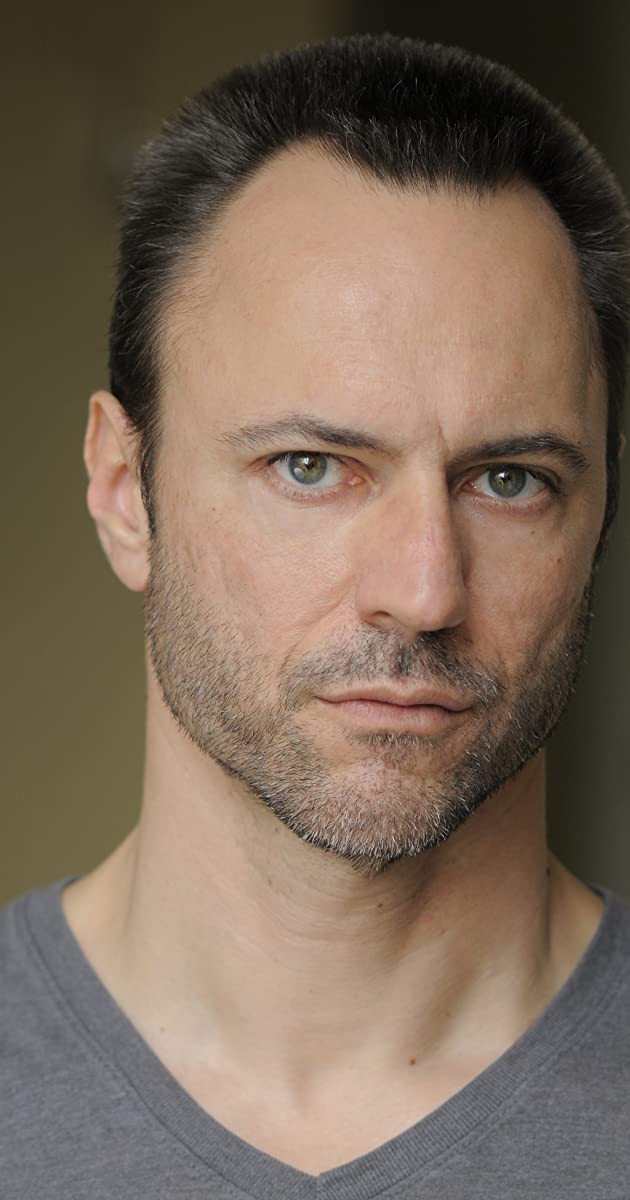 (Image Source/ IMBd)
He attended the New York University Tisch School of the Arts, which is a notoriously difficult University to get. As well as this, he performs his own stunts in his films. He does not have a stunt man and he much prefers to take on the stunts himself.
He's pretty much an all-rounder. When it comes to his love life it's much quieter- he is not in a relationship and any past relationships have not been disclosed.
Beverly
Beverly is one of the many housewives in Westview that is on the Planning Committee in Westview. She's a likeable character and you can't help but feel slightly sorry for her. Her character is played by Jolene Purdy. She is a friendly and harmless character but she is repeatedly undermined by Dottie who loves to show off her social status and power.

 (Image Source/ IMBd.com)
She finds herself overpowered by the bossy, busy body Dottie.Aside from Dottie, she seems to be on good terms with everyone.
And, Agnes was even willing to share her flask with her during the Planning Committee meeting.
Jolene Purdy
Jolene is 37 years old; she will be a familiar face to most as she has starred in dozens of TV shows and she has had a very active career so far. She prefers acting in shows rather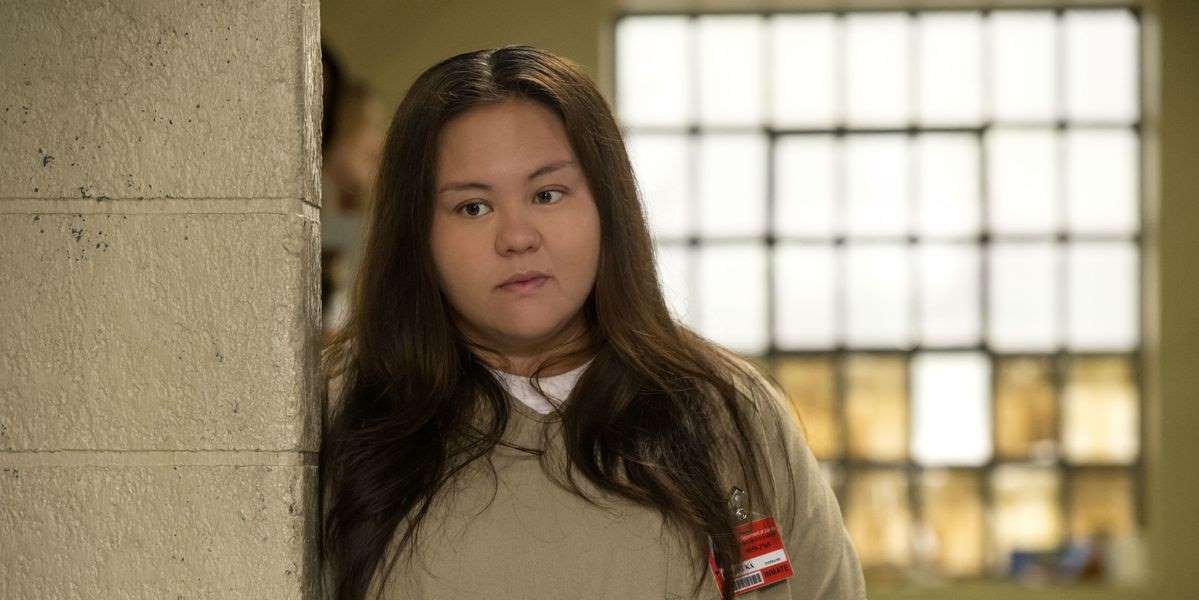 than films.
She was born on Redondo Beach in 1983. She is best known for playing Dodee Weaver in the CBS series Under The Dome, which is a series based on the Stephen King novel.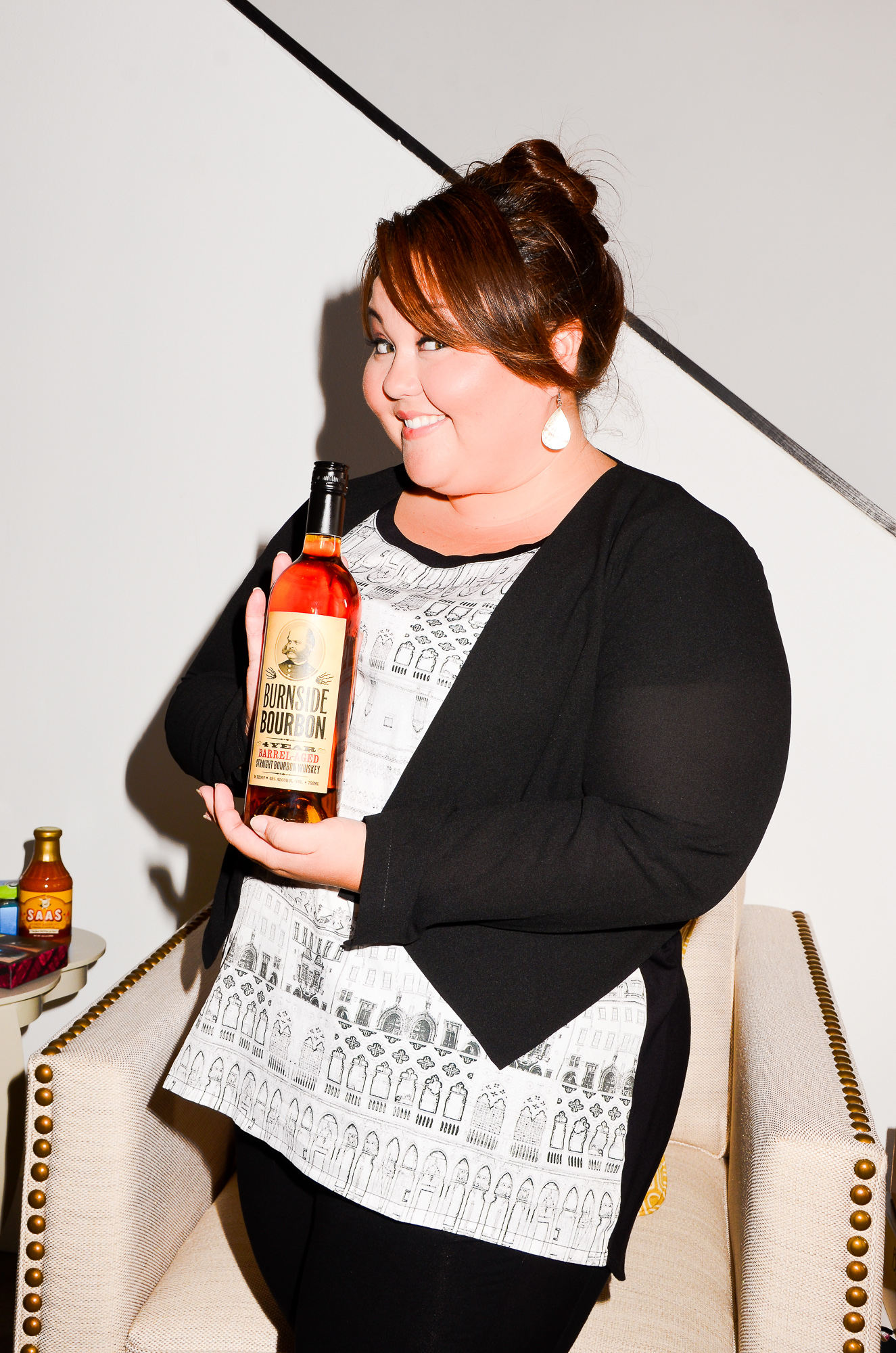 (Image Source/ quotesgram.com)
It is thought that she has had one serious past relationship that was never confirmed in the public eye or brought to the attention of the public. But, at the moment we can reveal she is very much single and she is not dating or romatically linked with any one at the present moment.
Med Tech
Jenna Kanell joined the Wanda Vision cast. She appears on the show as a med tech who is responsible for examining Monica Rambeau after returning from Westview. Monica returns and starts up her old post on active duty as an agent at SWORD.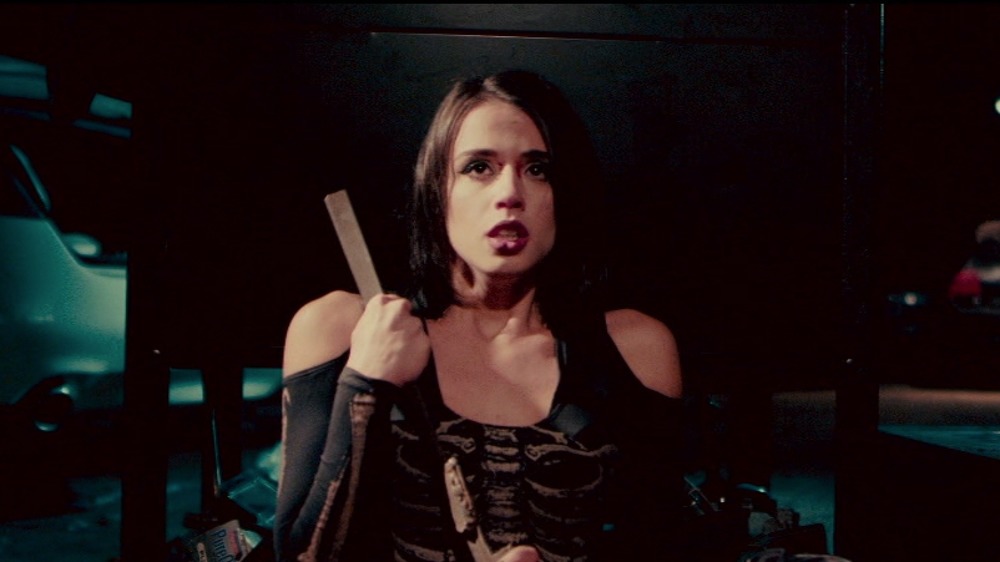 (Image Source/ tvovermind.com)
Her first task was a missing person case in New Jersey. Which, turned out to be the sitcom character, Geraldine. Nothing in this show is predictable – there's always a predictable strange turn of events. I guess that's why fans love it.
Jenna Kanell
Jenna Kanell is an American actress; she was born in Brookline and she is 29 years old. Her fame really skyrocketed in 2017 after her role as Kim in the horror film The Bye Bye Man. She has also been seen in films like Sassy Pants and Demonica's Reign as well as WandaVision. 
View this post on Instagram
(Image Source/ Instagram)
Jenna has focused so much on her career and she has already established her career at a relatively young age. Her romantic life has definitely taken a back seat and hasn't been a priority. She hasn't really been on the dating scene much since. Perhaps now she will – who knows?