By Anna Collins
13th January 2021
The Top 10 Smart Home Tech Products That'll Get You Excited In 2021
With 2020 finally behind us and 2021 in full swing, some of the biggest tech companies have launched their brand new gadgets and gizmos – and they're guaranteed to be the most innovative, savviest products yet.
From smart home updates to realistic robots, here are the 10 best home tech products that will make 2021 a year to remember (for all the right reasons)…
10. Petpuls A.I.-Powered Dog Collar
As Covid-19 struck, so did puppy-fever and every man (and his dog) went out to bag themselves an adorable furry friend to fill that all-familiar working from home void. It's fair to say that 2020 was a pretty good year for our canine companions.
And what would dog owners love more than being able to communicate with their beloved animals? Yes – a collar that tells us exactly how they are feeling, allowing us a rare glimpse into our doting pet's minds.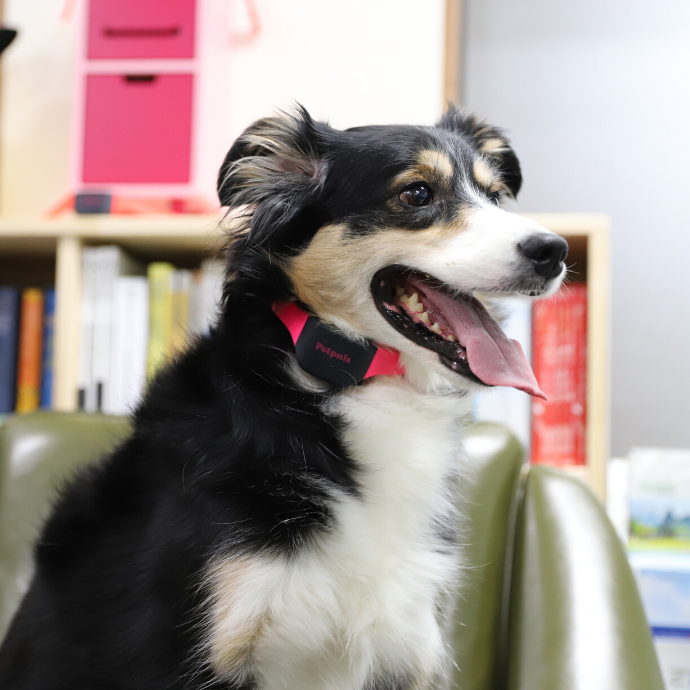 (Image Source/ Petpuls.com)
Using artificial intelligence and voice recognition, the collar picks up on the tone of the bark made by the dog. It then lets you know whether they are happy, anxious, angry or relaxed. It's a pet lover's dream.
9. NordicTrack Vault
There's nothing more current than doing a workout at home. And as more and more people are investing in workout equipment (or just bicep curling a tin of baked beans), technology continues to keep up with the demands of its new fit and healthy customers. The neat and compact NordicTrack Vault provides an exclusive home gym that intimately pairs iFit interactive training with innovative reflective technology.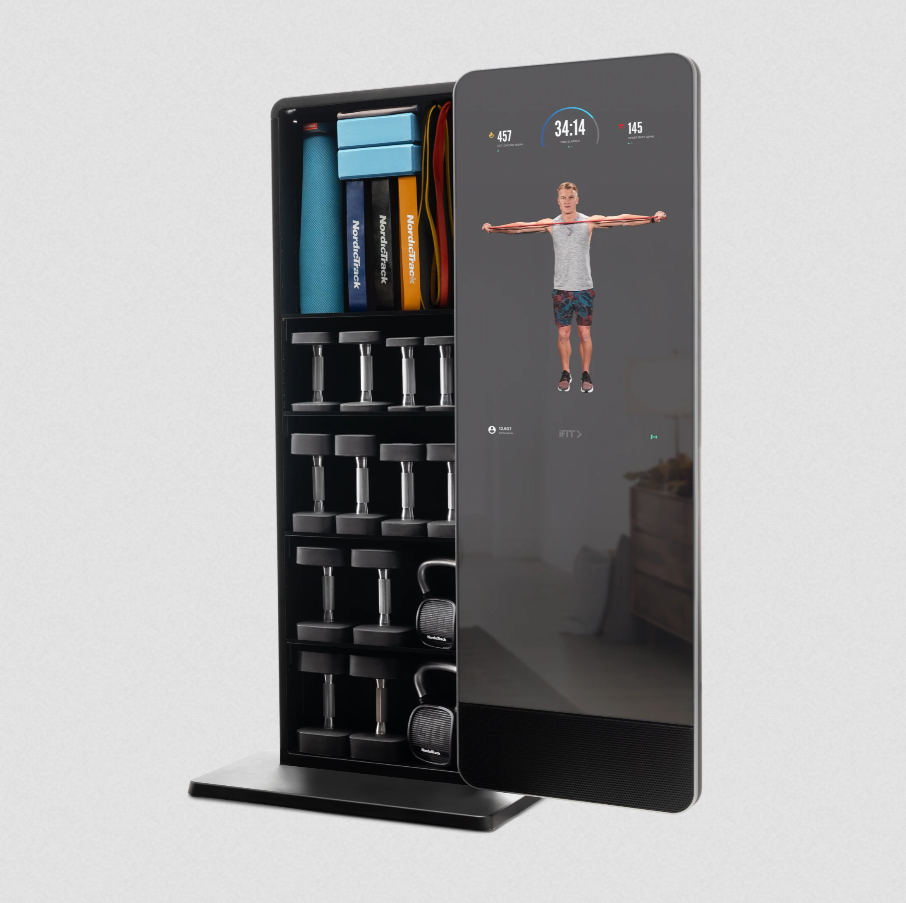 (Image Source/ Nordictrack.com)
The display screen will instruct your workout while the mirror screen helps you work on your form. Plus – when you're done with it and your workout is complete, it tucks away all the gym equipment and is left looking like a chic mirror accessory. Never miss a workout again.
8. Samsung Jetbot 90 AI+
With keeping things clean at the top of everyone's agendas right now, Samsung have introduced a new and improved robot vacuum. Not only does it avoid large obstacles, but it also cleans around general clutter – so you don't even need to tidy up before setting your robot about its business!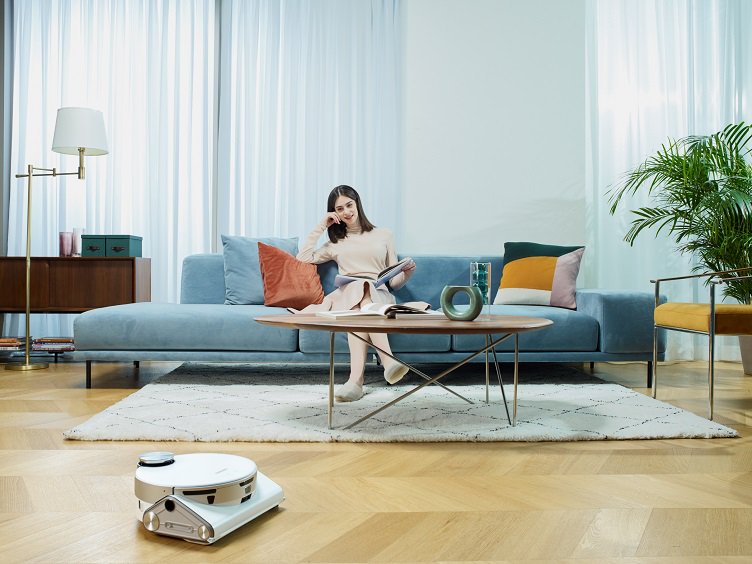 (Image Source/ Computerbuild.com)
To add to the robot's CV, it also has new features which include a camera – this means that you can log into the app to see exactly what's going on in your home. So, as well as having a cleaner, you also have a personal watch-dog.
7. Lockly Duo
Keys are a thing of the past with this Lockly Duo, using next-generation technology to guarantee safety, security and ensure you never have to put your keys in your plant pot again!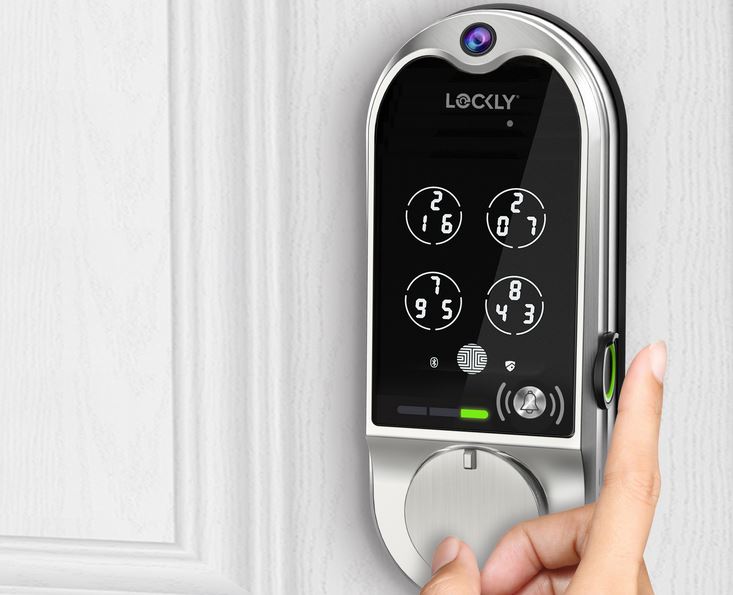 (Image Source/ Screwfix.com)
The finger ID technology allows only you and your family to safely enter your house, protecting your belongings and ensuring maximum security at all times.
6. ColdSnap Rapid-Freezing Appliance
If you're a fan of frozen yoghurt then this product will quite literally make your year. It looks just like a stylish coffee machine, but instead of serving up your hot morning beverages, it creates instant frozen yoghurt. The machine uses disposable capsules just like a coffee machine to whip up your dessert in a matter of seconds.
(Image Source/ cerebral-overload.com)
No need to go elsewhere for dessert with this machine, it's served up from the comfort of your home with the click of a button.
5. MaskFone And AirPop Active+
It was only a matter of time. Taking all our mask troubles of 2020 and fixing them in a new, high-tech gadget mask, meet MaskFone and AirPop Active+. Recognising that taking a call in a mask was never really an option, the MaskFone was created, meaning you get an in-built microphone and headphones, as well as shielding your mouth and nose.
(Image Source/ cnet.com)

You can even turn the volume up and down with the controls on the front and link it to an Alexa. And yes, it's washable.
4. GrowPod
No matter how green fingered you are or aren't, 2020 was definitely the year you got your gardening gloves on and your knees dirty. As we spend more and more time at home and we try and become more sustainable, growing our own vegetables becomes more and more desirable.
(Image Source/ Neowin.net)
With GrowPods, gardening it made simpler than ever AND can be done from inside our own homes. So, whether you have no garden or you're just not an all-weather gardener, this fool-proof veg grower will help you on your way to feeding the family.
3. Voy Tunable Glasses
These glasses are seriously cool. Anyone who has ever worn glasses will realise the annoyance of having to switch from reading glasses or glasses for distance, whilst remembering to take them with you EVERYWHERE you go. These Voy Tunable Glasses are smart. Why? You can adjust them to suit any eye with a simple dial.
(Image Source/ TheTimes.com)
Now you can have one pair to suit all your possible eye needs. AND they still look good.
3. LG Rollable
We all remember the LG Cookie phase, well, now we have a new one – 2021 will be the year of the LG Rollable. It's exactly what is sounds like, the phone will roll out so that the screen extends into a bigger display picture.
(Image Source/ Slashgear.com)
Of course, once you are finished with the larger screen, you can roll it right back again to a normal-sized phone screen.
2. Samsung Bot Handy
Okay, so we've cheated a little here – this isn't quite ready yet, but don't be too disheartened, it could well be ready soon. Whilst we now have dishwashers and washing machines to ease our household chores, we still have a bunch of endless chores to complete- here's when the Samsung Bot Handy comes in.
(Image Source/ Futurism.com)
It's been made to do those menial time-consuming tasks such as folding clothes, putting things away and fetching items when you've got your feet up. This is the kind of technology we've been waiting for.
1. Vespera Space Observation Station
We've all become more appreciative of nature in this last year and most of us have started a bunch of new outdoor hobbies to fill the boredom. Well, what about stargazing?
(Image Source/ challenges.com)
The Vespera space observation station has been designed for an amateur space enthusiast, but it also suitable for those who are more advanced. It combines a camera and telescope, allowing you to study the spectacular stars in fine detail.