News
Mike Tyson: Age Is Not Slowing Down Former Champ
Mike Tyson: Age Is Not Slowing Down Former Champ
Mike Tyson age 53, is back in the ring. Tyson was one of the most feared boxers on the planet in the late 20th century.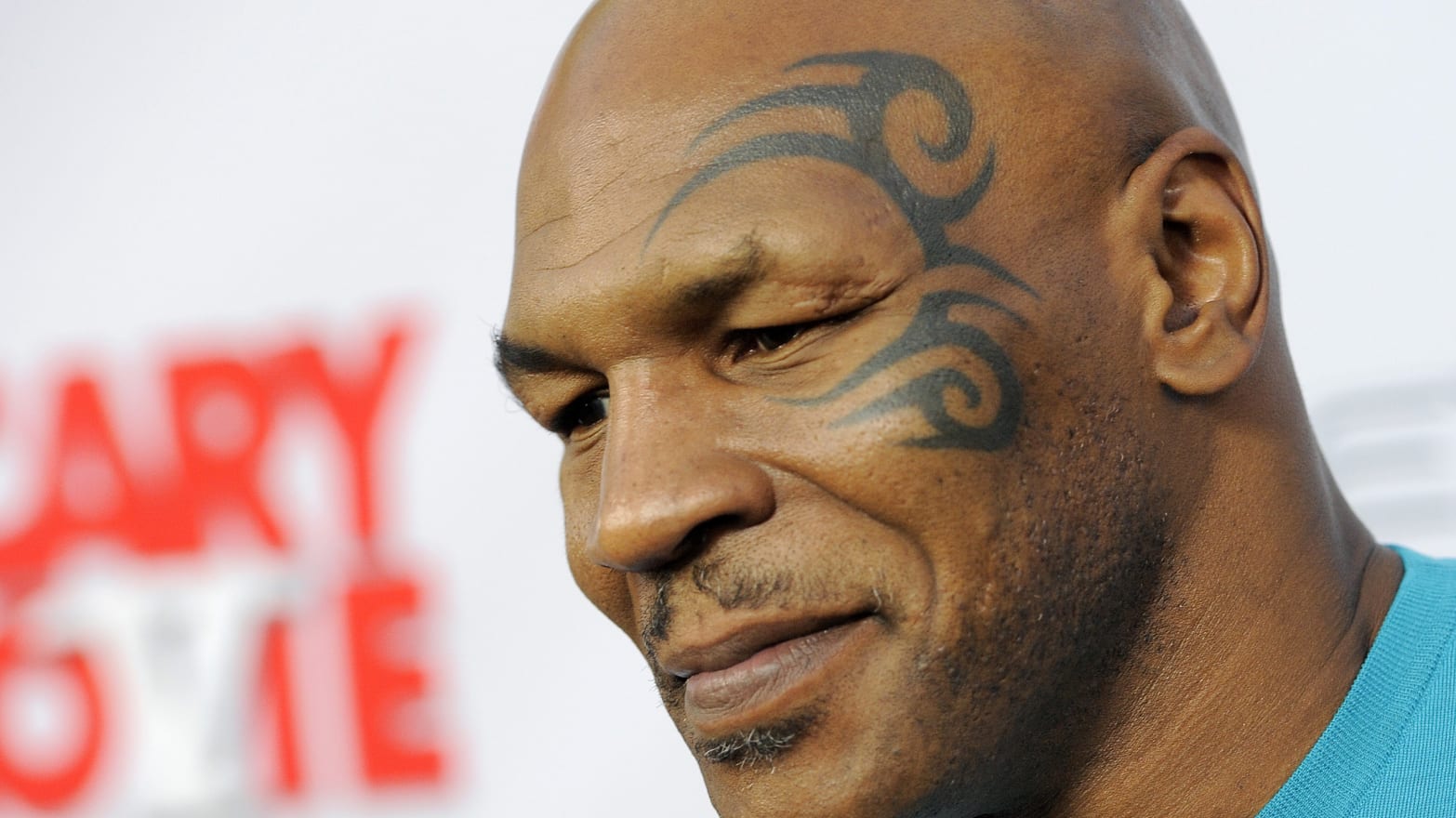 Now, Iron Mike is showing off those skills that drove him to the IBF, WBC and WBA titles once again. In a practice session training video that went viral in May, Tyson shows off his speed and power.
By the end of the video, Tyson – a la Michael Jordan in 1995 – hints "I'm back."
Scepticism as to whether it's a serious comeback abounds, as he's seen smoking during the video in question. Boxing analyst Max Kellerman, for one, is dubious as to the impact he can make.
Coming Back To What, Exactly?
Even for those who have posted a video, it may be nothing more than a wrestling preview for Tyson. He last fought professionally in 2005 against Irish heavyweight Kevin McBride. McBride finished off a technical knockout of the former champ in the sixth round in Washington.
However, even the rumours of this wrestling event can't get in the way of a potential boxing trilogy. Recent developments show Tyson's nemesis, Evander Holyfield, is in discussions with his camp to arrange a third fight. Evander Mike Tyson's age notwithstanding, trilogies mark a significant historical milestone for boxing fans and students.
The defeat marked the end of a precipitous & tumultuous drop for a heavyweight legend who last held WBA titles in 1996. His reputation – marred for years by arrests, wild statements and erratic behaviour – has undergone significant rehabilitation as well. All thanks in part to his one-man show collaboration with Spike Lee, social media posts with his Labradoodle Mars (much like other boxers, he prefers Instagram), and a memorable guest spot in The Hangover.
Mike Tyson Age 20-23
At age 20, Tyson rose to the top of the heavyweight class of championship boxing. By 1986, his record stood at 22-0, and with a knockout of Trevor Berbick, he took over the WBC heavyweight crown.
Mike Tyson, age 20 years and four months old, was officially the youngest fighter to hold the belt. He would consolidate this singular championship in the years ahead. Later, Tyson toppled James Smith and Tony Tucker to claim the WBA and IBF belts as well. Consequently, those respective wins made Tyson the undisputed heavyweight champion of the world.
Mike Tyson Age 24-29
By 1990, Tyson was still unbeaten, dispatching otherwise stellar heavyweight challengers such as Michael Spinks in as little as 91 seconds. Such dominance left many experts calling him the Baddest Man on the Planet.
Tyson was simplistic in his approach to the sweet science:
"Everyone has a plan until they get hit."
Accordingly, Tyson's formidable and devastating reputation made his February 1990 loss in Tokyo, Japan utterly shocking. Though Tyson was a 42-to-1 favourite over challenger Buster Douglas, he suffered a career-altering defeat. Singularly, Douglas pulled off a stunning 10th round knockout.
Afterwards, Tyson's aura and career trajectory had changed – all but rendering the fighter mortal. One writer thereby opined:
"The mystique of the untouchable, invincible 'Baddest Man on the Planet' had been shattered."
Troubles with the law
Tyson's downfall was now underway. In October 1991, he was convicted of raping former beauty pageant contestant Desiree Washington. With his conviction, Tyson would, therefore, serve three years in prison.
The conviction followed years of alleged abuse of wife and actress Robin Givens. That marriage would end in divorce, and Tyson left prison on parole in 1995. Yet he would later serve nine months in 1998 for assaulting two motorists after a car accident. Both times, he returned to the ring to rebuild his career.
Comeback I: Ear Biting
By 1996, Tyson's return to the ring had netted back-to-back fights with former heavyweight champion Evander Holyfield.
One such bout was a first-round knockout of Bruce Seldon in Las Vegas, 7 September 1996. Although the fight itself wasn't noteworthy, rapper Tupac Shakur, 25, was in attendance that night. Tragically, Shakur was killed on the Vegas strip in a drive-by shooting hours later, a murder that remains unsolved.
In the first Holyfield fight, Holyfield, 34, surprised Tyson in the 11th round. However, Tyson's camp alleged that Holyfield was repeatedly headbutting Tyson during the bout.
In a June 1997 rematch, the headbutting re-emerged as a storyline. Tyson – once again blaming Holyfield's headbutting – bit both of Holyfield's ears. Part of Holyfield's right ear was dislodged, and Tyson was disqualified in the third round by referee Mills Lane. The incident led to a near-riot in the ring.
Subsequently, Tyson lost his licence to box in the state of Nevada until 1998.
Comeback II: Championship bouts with Lennox Lewis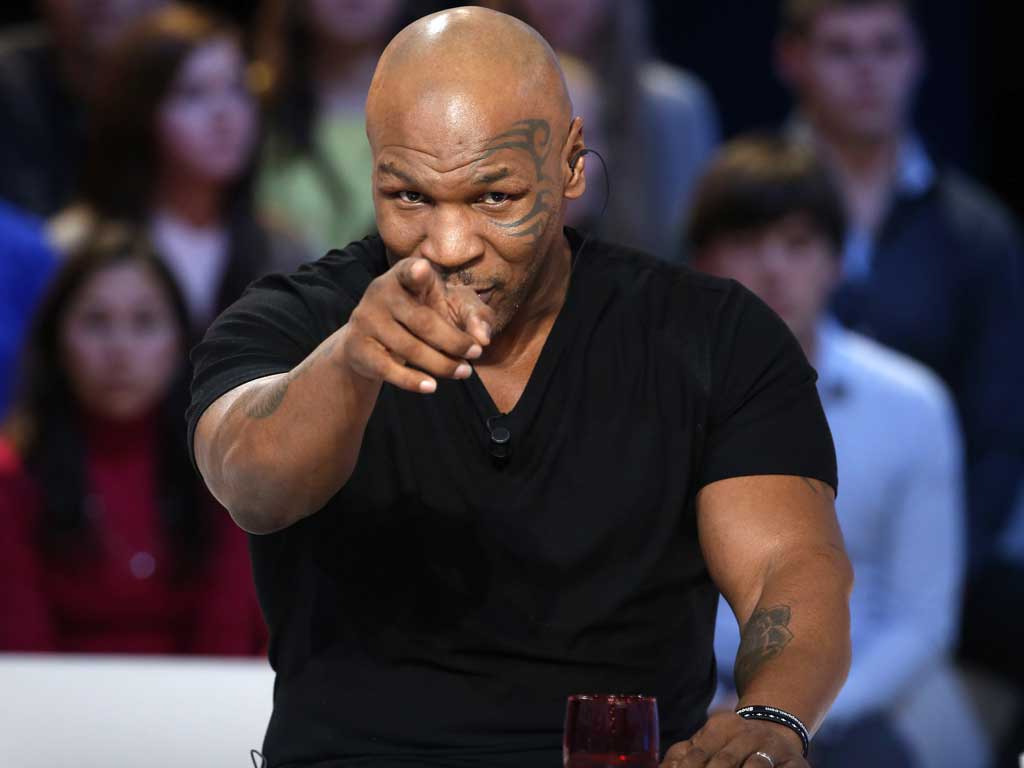 After the Holyfield debacle and nine months in jail, a new Millenium meant it was time for Mike Tyson boxing once again. However, he would not regain the heavyweight crown. His most notable fights would come with British heavyweight Lennox Lewis, who stopped Tyson in both 2001 and 2002.