Argos Cabin Bed: Combining Extra Storage And A Great Night's Sleep
If you're looking to help the kids keep their room tidy, and make sure they get a great night's sleep too, then why not check out an Argos cabin bed? With plenty for extra storage for tidying away toys, clothes and more, as well as a cosy comfy bed for sleep time, it has everything. And with Argos, you know you're getting great quality and great prices. So check out some of their best cabin beds below, and revamp the kids room into the room they've always dreamed of!
And they're not just for kids – cabin beds are a great way to add extra storage combined with stylish design. Perfect for a teenager's room, guest room, or your own sleeping space, a cabin bed is all style meets function. So if you're looking to up the bedroom storage space, or revamp your bedroom or guest room, then Argos have got you covered!
The Best Argos Cabin Beds For Kids – From £120
If you're fed up of your kid's room being a minefield of stuff strewn all over, a cabin bed could be the solution you are looking for! The extra storage space will definitely come in handy, and on top of that, it'll be a real statement piece in their room – something to get them excited about bedtime! And Argos have a great range of kid's cabin beds, so there's sure to be something to please you and the little one.
Cabin beds are perfect for expanding bedroom storage space, but they also raise the mattress up for a comfy night of sleep too! And with a shelf, storage cubby and cupboard, they'll have all the space they need for their stuff. This cabin bed is the perfect mix of storage and style for your little one – £120, available in grey or white: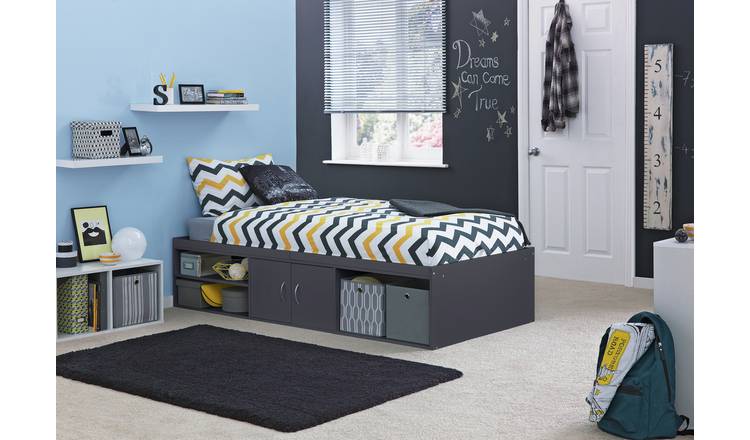 This Argos cabin bed is truly a place your little one can call their own! A proper sanctuary for any kid, their very own bedroom den. Comes with a built-in workstation and shelving. And bungee cords inside the roof to for hanging up pictures, bedside shelves and am under bed drawer – what more could they want? Wipe clean for sticky little hands, it also comes with a Silentnight mattress, so they will get a great night's sleep – and it's anti allergy too! £380: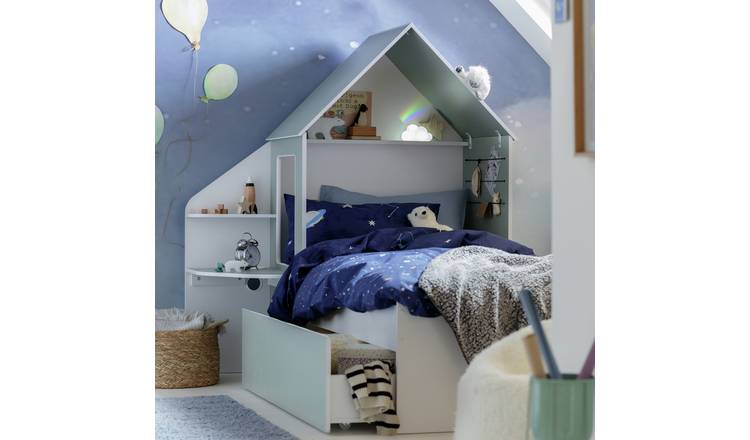 Image Source/ Argos
This kids cabin bed is top of the line, with all the storage your child needs! Packed with clever storage ideas, like headboard shelves and under bed cupboards. It's perfect for tidying away all of their things. Made of solid hardwood and MDF, it has a triple paint finish to protect against knocks and scratches, and sticky little fingers too! And it even comes with a five year guarantee, so you can be confident it'll last the test of time. £749 from Argos' cabin bed range: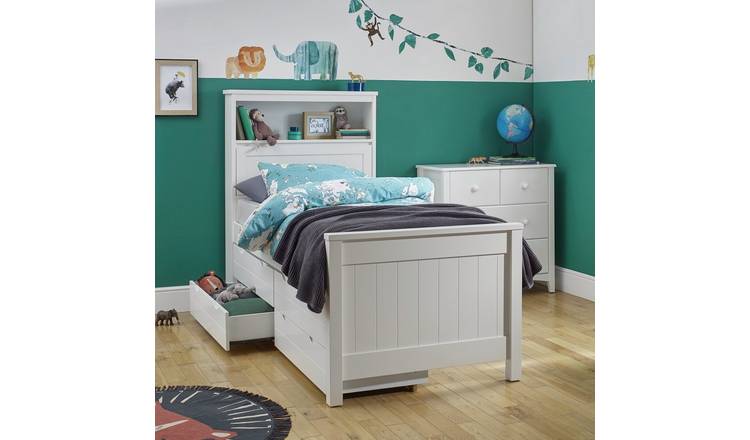 Image Source/ Argos
Your child will love this Argos cabin bed, perfect for sweet dreams! Comes with four drawers and two shelves built into the base, it's perfect for storing everything they love close by. With a soft two tone acacia wood effect finish, it's available in pink, grey and white finishes, so whatever their style, there's a colour scheme to match. And it comes with a Silentnight mattress too! £260: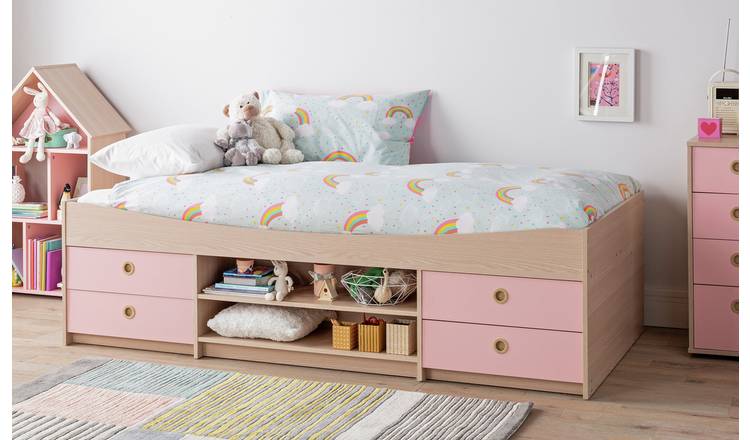 Image Source/ Argos
This Scandinavian solid pine kids cabin bed has six handy half depth drawers, openable from each side. And all while providing ample storage space for all their clothes and toys. The easy glide metal runners make them easy to open, and no trapped fingers too! The gorgeous tongue and groove effect pine panelling on the headboard will be a real feature in their room too. And it's just £280 from Argos' cabin bed range: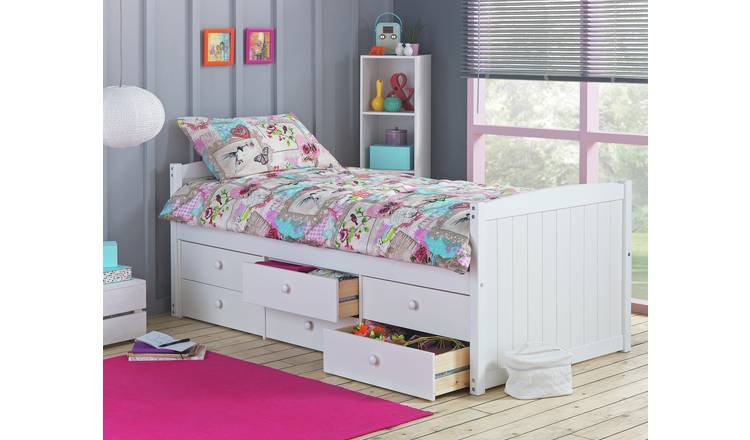 Image Source/ Argos
Not Just For Kids – The Most Stylish Argos Cabin Beds For Adults – From £220
Cabin beds aren't just for kids – they're perfect for a single guest room or a single bed for yourself. The added storage space means you can have a guest bed ready to go quickly, with bedding and sheets stored out of sight. And they're perfect for adding extra storage and sleeping space all in one. And all while maximising the space in your home and keeping everything in it's place until it's needed. So if you're looking for a new bed for your place, why not check out what Argos has to offer!
This cabin bed combines storage space and modern design – with a classic oak style finish. The hidden drawers are perfect for tidying away bedding and clothes. Or anything else you want to keep out of sight in your bedroom or guest room! And it comes with a headboard and mattress too. £310 from Argos' cabin bed range: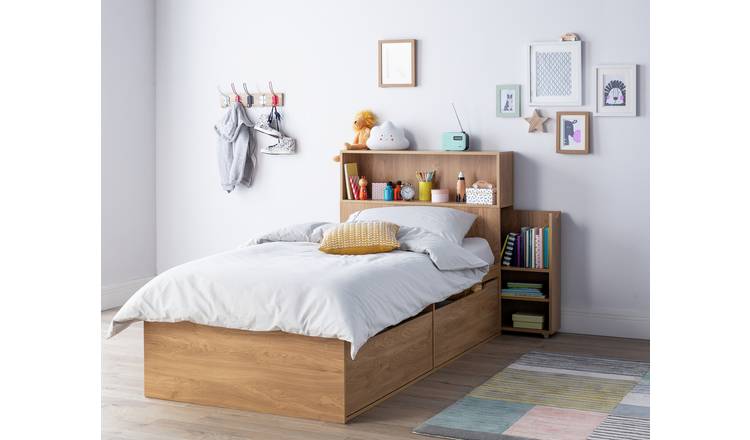 Image Source/ Argos
This European size cabin bed is absolutely gorgeous! The dark timber style is all rustic Scandinavian charm, but with a modern urban feel. Chock full of storage space, it's not only practical, but visually striking too. With a pull-out drawer for bedding or clothes, and cubby holes for books and more, it's the perfect statement piece for any home. And the longer European mattress is perfect for growing teens or adult visitors. £220: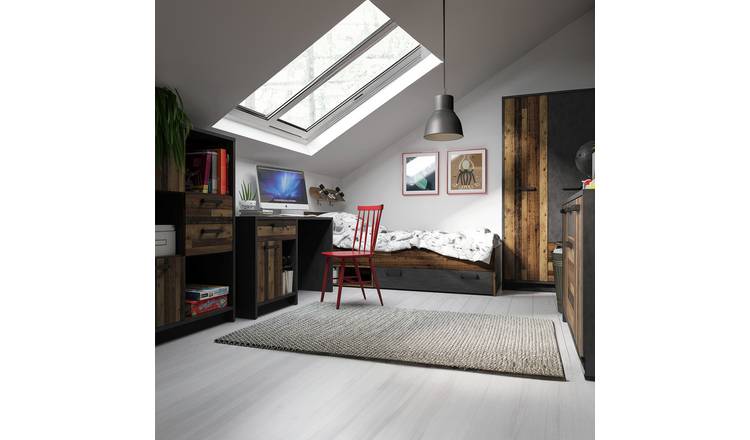 Image Source/ Argos
Whether you're looking for a cabin bed to get the kids excited about bedtime, or the perfect bed with hidden storage for a bedroom or guest room, Argos have a huge selection of cabin beds to choose from. And if you're looking for more than just a cabin bed? Argos have matching side tables, chest of drawers and wardrobes. On top of that, they have all the bedding and accessories you need to transform any bedroom! Available online and store, with home delivery direct to your door. So why not visit their site and get your perfect cabin bed?