Copper Microwaves: Bring Some Metallic Style To Your Kitchen
Copper and metallics are very on trend right now, and it's easy to see why! The bright colour and reflective finish can turn an ordinary everyday object into something that's not just functional, but beautiful too. Want a microwave you don't feel like hiding away in a cupboard? A copper microwave is the best of both worlds – a useful appliance you can use everyday, but with a distinctive design finish that will really stand out in your kitchen.
And a good quality microwave is essential for any home kitchen – and it's not just for defrosting and reheating! You can cook all sorts of amazing meals in a microwave, like jacket potatoes, risotto, sauces, eggs – and even brownies and cakes! The possibilities are endless, so if you're microwave isn't up to scratch, why not invest in a new one and add some major design flair at the same time!
Transform Your Kitchen With This Chic Copper Goodmans Microwave – £69.99
This gorgeous copper microwave is so stylish and beautiful, it's sure to stand out in your kitchen! Gone are the days of hiding your microwave away in a cupboard with this beauty – it can hold it's own decoratively and will really add some shine and colour to your kitchen. And it's not just nice to look at! It has 700W of power, 6 control settings, and an auto defrost feature, so it's perfect for all sorts of microwave cooking.
It's part of a whole range of Goodmans copper kitchen appliances available at B&M, so you can have the coordinated matching set to really take your kitchen decor to the next level. The copper coloured stainless steel finish is all sleek curves, and it's wipe clean too for easy cleaning. And at just £69.99, it's a bargain!
Image Source/ B&M
This Beautiful Russell Hobbs Microwave Will Brighten Up The Space – £74.99
The Russell Hobbs copper microwave will look perfect in any style of kitchen! The stainless steel casing is easy to clean, and the copper effect finish and mirror door will add some metallic flair to your space. As well as looking great, this microwave is easy to use, and has a whopping 800W of power, so it's perfect for cooking too.
With 17 litres of capacity, you can make whole meals and desserts, and it even has pre-programmed cooking and reheating settings for pizza, fish, and popcorn, so you can perfectly cook your favourites. The auto defrost feature flawlessly defrosts food, taking the guesswork out of defrosting too. With five power levels, a handy countdown timer and digital clock, it's got everything you need for a great cooking experience. And it has a useful child safety lock option, you can keep it safe from little button pushing hands too! Just £74.99 from Amazon.
Image Source/ Amazon
This Swan Copper Microwave Is Beautiful And Functional – £94.00
This Swan microwave is gorgeous to look at, and has all the features of high quality microwave too! It has a 20 litre capacity, so there's lots of space for defrosting or even making meals from scratch – perfect for a family home. The extra space is ideal for thawing joints of meat, casseroles and more. And its 800W power output makes heating up delicious homemade meals or defrosting easy, and there are six setting programs to choose from. So it's perfect for cooking risottos, brownies, chilli, jacket potatoes and more! The rich copper coloured finish and reflective door will add lightness and brightness to your kitchen. And it also comes with a 2 year manufacturer warranty, for added peace of mind. £94.00 from AO.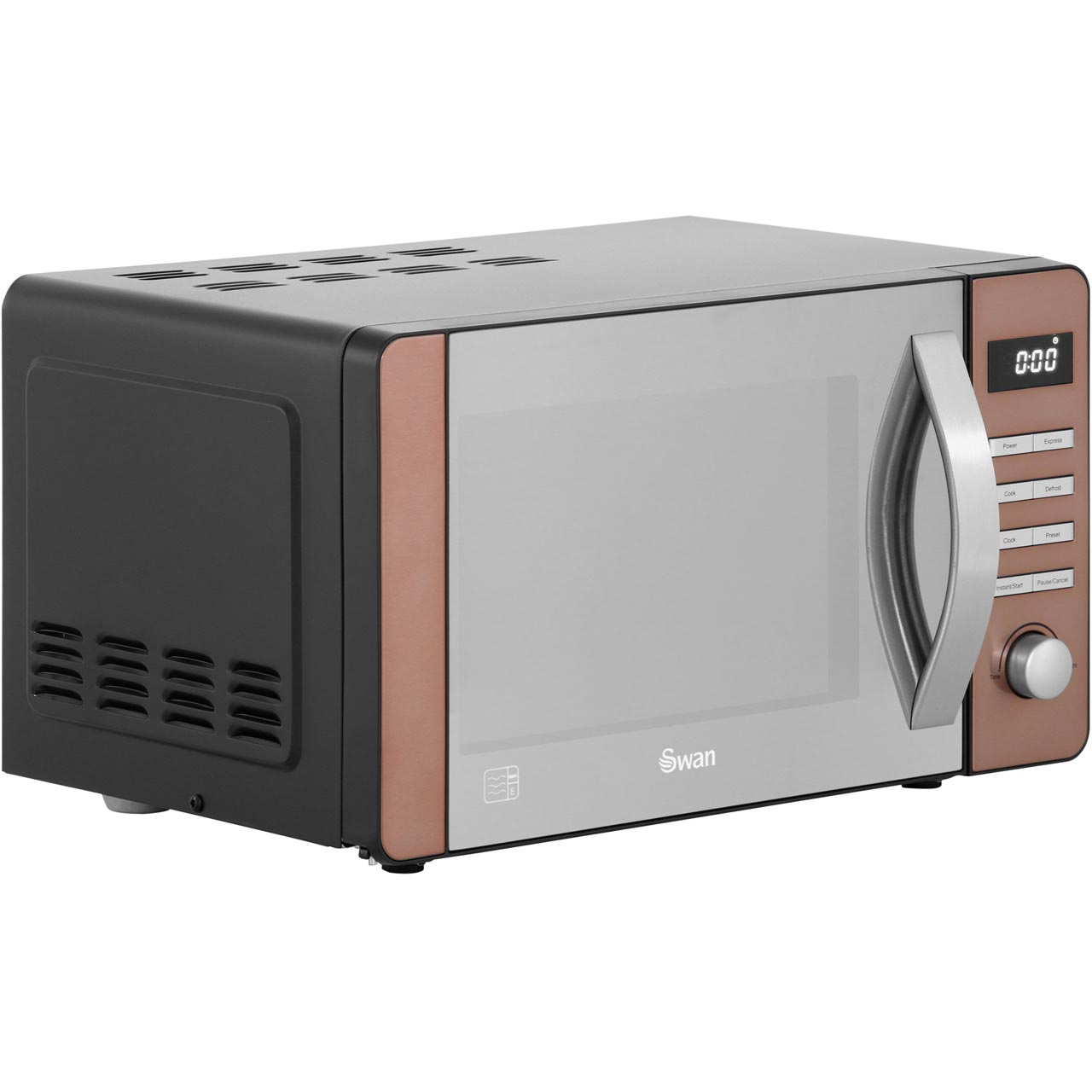 Image Source/ AO
Complete Your Kitchen With This Copper Microwave From Breville –£69.99
The on-trend bronze colouring of this digital copper microwave from Breville is perfect! The stylish finish comes alongside a range of useful functions. And on top of that, it has a 20 litre capacity so it's ideal for cooking and defrosting larger portions.  It also has 11 different power levels, giving tonnes of control over cooking temperatures. And the auto cook menus mean that you can set it and forget it and get perfect results no matter what you're cooking! The 90 minute timer means you can cook some really ambitious projects too, without having to keep coming back to increase the time. So why not try a microwave cake recipe, or noodles, chicken, egg dish and more! Just £69.99 from Studio.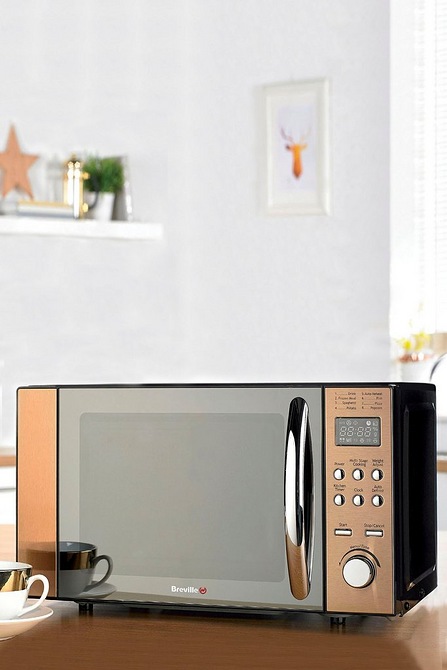 Image Source/ Studio
Kitchen Master Copper Microwave – £79.99
Whether you're warming up your lunch or making a bag of popcorn, this Kitchen Master copper microwave adds contemporary style to your kitchen. Featuring a beautiful copper design, this microwave has a turntable glass tray, defrost setting and the capability to cook for up to 60 minutes. And with a 23 litre capacity, there's no limit to what you can cook in it! An essential tool for any home, add this microwave to your kitchen and make cooking a whole lot easier and quicker. £79.99 from The Range.
Image Source/ The Range
Chic Metallic Style With This Copper Microwave From Dunelm – £75.00
With a 700w power output and a 20 litre capacity, this copper effect microwave is striking and feature packed! With five power settings and a defrost setting, it's perfect for all your microwaving needs. Comes complete with a two year guarantee, a child lock, programmable clock with a 60 minute timer. And it has multiple preset cooking modes for perfect cooking every time. So why not head over to Dunelm and pick one up?
Image Source/ Dunelm
Rosegold 20 L 800W Countertop Microwave – £73.95
This white and rose gold copper microwave is so striking, you'll never want to hide it away! With an ample 20 litre capacity, this microwave can hold a standard sized dinner plate. So it's ideal for one or the whole family. With six power levels, a 30-minute timer and a handy defrost function too, it makes cooking convenient. And it come's complete with a high-quality turntable for even heat distribution and an easy pull handle door. This microwave with its gleaming copper exterior would make a practical and stylish addition to your kitchen. On sale at Wayfair now.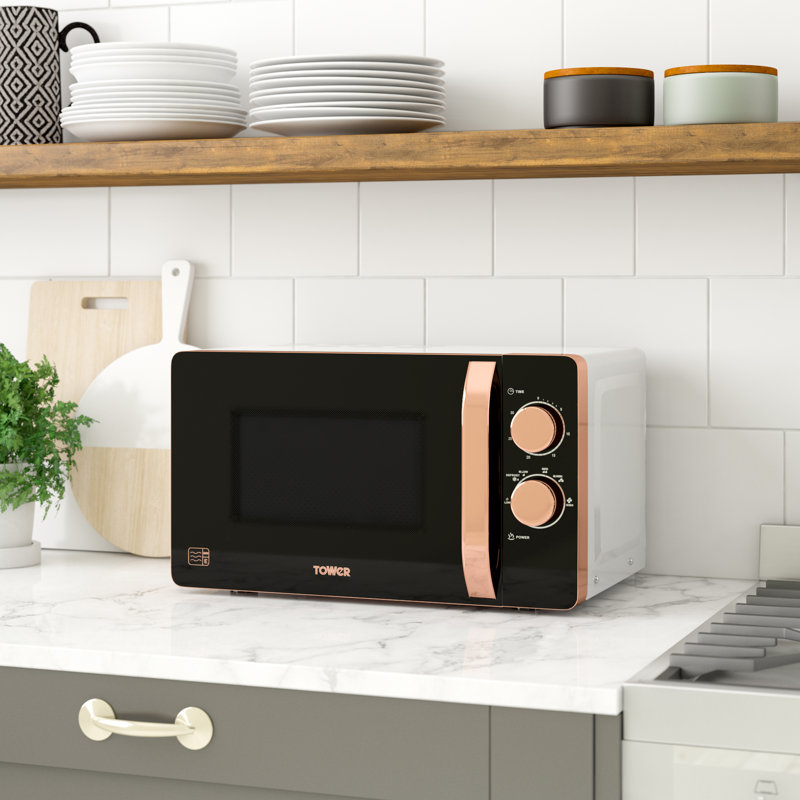 There's really no limit to what you can cook in a microwave! Far from just reheating food or defrosting, a quality microwave can make endless meals, desserts or snacks. And with these striking copper microwaves, you can have both style and function rolled into one! So why not pick one up and add some sparkle and shine to your kitchen.