Stormzy's Childhood: The Shocking Truth About His Past
Today, Stormzy is a name that is known all over the world and synonymous with chart-breaking hits. However, the world hasn't always been an easy place for the grime artist; Stormzy childhood is filled with shocking twists and turns.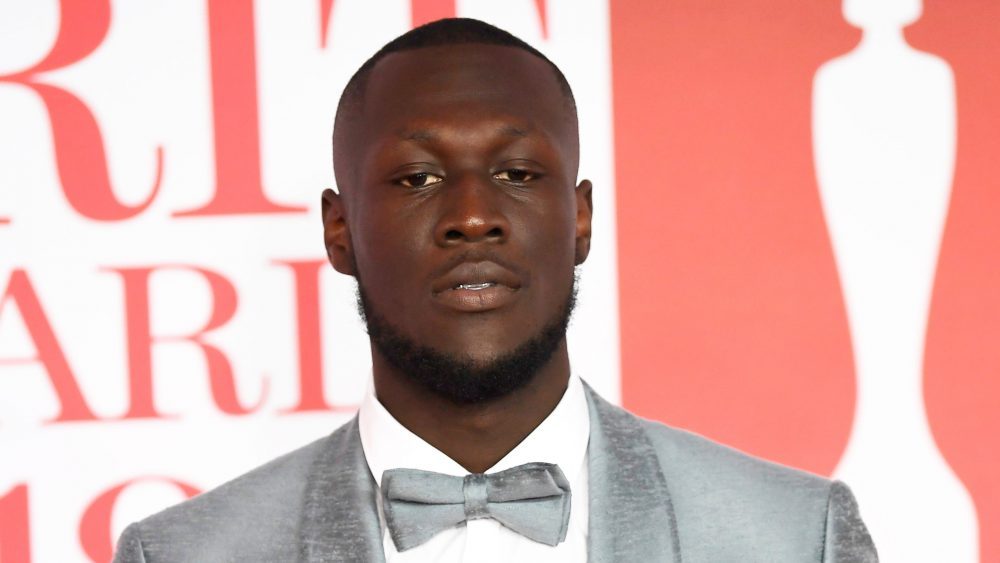 To get an appreciation for the man he is today. And why Stormzy remains so grounded despite his incredible success. It's necessary to delve into his past, more specifically his childhood.
A Legend Is Born: Stormzy
Michael Ebenazer Kwadjo Omari Owuo Jr was born in Thornton Heath, London on 26 July 1993. The baby that would be later known professionally as Stormzy.
As a child, Stormzy was brought up by his Ghanian mother. And despite being a South London boy is very proud of his heritage. He has family who still lives in Ghana and as a child was able to travel there to visit them from time to time.
View this post on Instagram
Back home in South Norwood, Stormzy's childhood passed in a single-parent family by his mum Abigail Owuo, together with his two sisters and brother. It wasn't an especially musical household – which makes his later success more of a surprise. The sole exception was Stormzy's cousin, Nadia Rose, the well-known rapper.
Nevertheless, Stormzy said he always enjoyed music and despite describing himself as a "hood rat" for much of his childhood, the passion was always there in the background.
Bright But Rebellious
There's no doubt that Stormzy was very bright and had the capacity to do well academically. His mum gushes about the intelligence of her son, and Stormzy himself admits that he in his childhood "was a bit of a boffin" and that teachers were expecting him to nab a place at one of the prestigious universities in the country.
However, despite his ability, life was a little more complicated as Stormzy was also a bit of a bad boy. During his school days, Stormzy got in so much trouble, the star says he was almost expelled many times.
Rather than doing anything truly unpleasant, Stormzy confessed that he liked to do things to entertain himself, much to the chagrin of his teachers!

From the age of 11, he attended Harris Academy in South Norwood. He did well in his GCSEs, achieving 6 A*s, 3 As and 5 Bs. Despite enjoying lots of fun with his friends and not putting in as much work as he could, Stormzy was able to walk into the exam hall and pull it out of the bag!
The school
The school was renowned as a tough place, with lots of pupils who were notorious in the community. As Stormzy himself explains:
"My school was nasty, the kind of school where people go on to become convicted murderers."
During his time there, Stormzy was able to earn the respect of his peers with behaviour that was sometimes outrageous. The grime star acknowledges he made life difficult for his teachers:
"I'd be the one to throw a sandwich at someone's head in assembly".
Stormzy was Expelled!
Although Stormzy managed to make it all the way through to his GCSEs, the number of black marks against his name were beginning to add up. One day, the schoolboy known as Michael went too far.
During his 6th form years, he piled up chairs to trap another student. Physically unable to move, the teenager was rendered immobile in what Stormzy now describes as "just messing around".
It was to be a step too far and Stormzy was expelled. Attending another college, he found he wasn't enjoying life there either and just walked out, much to his mum's horror.
With such a checkered academic record post-16, it's probably not the greatest surprise to learn that his A-levels didn't go as well as planned. To this day, Stormzy regrets not getting the grades he was predicted to achieve due to a lack of focus and hard work.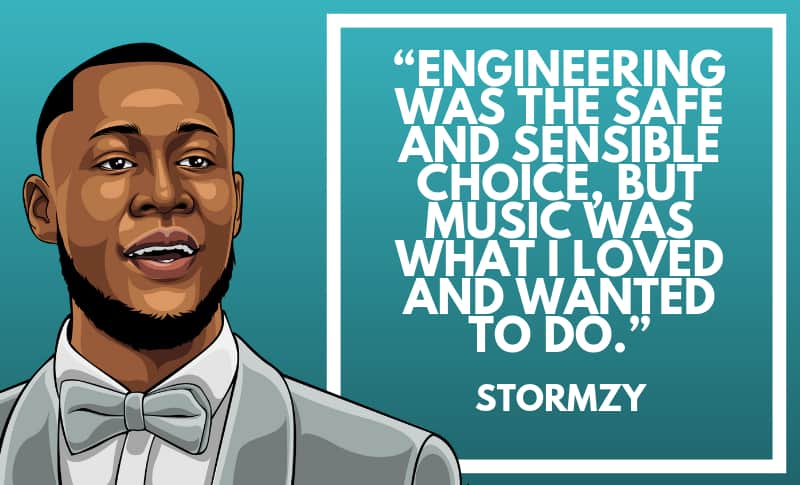 The A-level results mean that Stormzy was unable to pursue his studies at prestigious institutions such as Oxford University and had to rethink his plans. However, what was a loss to the world of academia, may just have been the thing that carved out Stormzy's musical career.
Stabbings
Although it's fair to say that Stormzy didn't help himself at times, there's no denying the fact that he had to endure some really tough periods when he was growing up. Violence and crimes were commonplace in his neighbourhood and the budding grime MC wasn't shielded from any of what went on.
In an interview with a US radio show host, Stormzy gave some examples of what went on in his neighbourhood:
"A robbery, a stabbing, a fight in the middle of the road, jumping in the cab and bumping the cab driver, ordering pizza and f**king robbing the pizzaman and taking his 'ped (moped)."
Stormzy dismissed those activities as "bog-standard" and claimed that "no-one batted an eyelid".
View this post on Instagram

Even though Stormzy believes the behaviour of both him and his friends was "reckless and stupid", when he was 17 years old he realised just how bad things had been.
Not A Typical Childhood – Knife Attack!
Meeting a group of new people at a college course, someone asked what the scar on Stormzy's head was. The grime artist blithely explained it was due to a knife attack, going on to point to two other parts of his body where he'd been stabbed.
Suffering three stabbings had seemed commonplace to Stormzy, against the background of violence and aggression. However, the shocked expression on the faces of his peers brought the enormity of his experiences into sharp focus:
"They had faces of horror – and that's when it dawned on me.Of course it's shocking I've been stabbed. Of course it shouldn't be normal."
Having lived through such turmoil and violence has added a gritty realism to Stormzy's music. As well as championing black culture, he now is passionate about advocating for communities that need support.
Stormzy's Discovering Music
Although Stormzy wasn't a child prodigy in his childhood, he was fascinated by music from a young age. When he was 11, young Michael Omari took the first steps to realise his ambition by performing as a rapper in a youth club.
Despite this promising start, Stormzy didn't launch straight into a full-time musical career when he left school, instead opting for an apprenticeship. He then worked at an oil refinery in quality assurance for two years.
However, the urge to create music was strong and the young grime artist was increasingly being drawn to the industry in his childhood which was to become his full-time career.
View this post on Instagram
Stormzy was discovered while working the underground scene, but at this time it's fair to say he hadn't yet found his trademark grime style. He began as a road rap MC, a style that's got more in common with hip hop than true grime.
Grime
Grime became properly recognised as its own genre in London in the noughties, drawing from a combination of other styles such as hip hop, jungle and garage. It has a very distinct sound of its own though, with electronic sounds mixing with rapping and a breakbeat of 130bpm.
Young Stormzy realised that grime music was the direction he wanted to go in and although he had been making YouTube videos since 2011, it was the now-iconic Wicked Skengman freestyling that got him noticed.
In 2013, one of the most prominent grime artists, Wiley, called Stormzy the "#1 grime don in this new era" and urged him to use his talent to bring grime music to the fore.
2014 was the year that Stormzy would start to emerge out of the shadows, with a number of key events occurring. He featured in a number of other videos for top artists including Hugs and Kisses by Professor Green, Grew Up In by Wiley, No Comment by Avelino and I'm Fine by Chips and Shalo.
He didn't just collaborate with other artists, 2014 was also the year when Stormzy bit the bullet and released his own EP. Titled Dreamer's Disease, it was his debut and went down a storm with audiences.
More was yet to come with his appearance on Later With Jools Holland, being the first black unsigned rapper to feature on the show. At the MOBO Awards he picked up the prize for the Best Grime Act, a real sign that he had arrived on centre stage.
View this post on Instagram
In 2015, Stormzy not only picked up the MOBO award for the Best Grime Act yet again. He also started to make an impression on the singles chart. He released Know Me From in March 2015. Where it peaked at #49 going on to release WickedSkengMan 4 six months later.
4 charted at #59
Shut Up, a track from WickedSkengMan 4 charted at #59 originally. But in December 2015 he performed at an Anthony Joshua boxing match. And this sent the song rocketing up the iTunes singles chart, reaching #8.
Throughout 2015 and 2016, he collaborated with a number of the leading artists in the industry including Big Narstie, Lethal Bizzle, P Money and Youngs Teflon.
Grime In The Spotlight
At the same time that Stormzy was enjoying his meteoric rise to the top. Grime music started to receive attention from artists from associated music genres.
One of these was Kanye West who famously invited 40 grime artists onto the stage at the Brits in 2016 for the performance of All Day. This act inevitably brought more attention onto grime music. But Stormzy has been quick to insist that its success – and consequently his own success – is not solely down to the influence of Kanye.
He said:
"Grime doesn't need a co-sign. It was sick before Kanye West, it'll be sick after Kanye West. It'd be sick if Kanye West had turned around and said he hated grime. Obviously it doesn't harm having one of the biggest artists of our generation talk about it. but yeah, people have been looking way too deep into that man".
Stormzy Hitting the UK Albums Chart
Having achieved real success with his singles. And enjoyed a number of different collaborations, in 2017. Stormzy released his first album Gang Signs and Prayer. This included the platinum hit Big for your Boots and Blinded by your Grace with MNEK.
The album went platinum and in 2018, it picked up the prize for British Album of the Year. He also went on to have success at the Brits, being named as British Male Solo Artist of the Year.
It seemed that things just went from good to even better in 2019. As Stormzy was named as a headliner for Glastonbury. He finally scored a #1 single in the charts with Vossi Bop. And he released a second grime album, Heavy is the Head.
View this post on Instagram
Grime Granddaddy Wiley
Although overall life was good for Stormzy, he did have a falling-out with his previous mentor, grime granddaddy Wiley. The veteran artist was unhappy. That Stormzy had collaborated on a track with Ed Sheeran.  Accusing the younger MC of selling out.
This prompted a row of epic proportions, with both artists attacking each other and their families via their music. Maya Jama and Stormzy may no longer be a couple but that didn't stop 40-year-old WiIey from name-checking her too during the spat.
As the saga played out on social media, fans were quick to jump to Stormzy's defence. Calling Wiley out for his comments and blasting him for going too far. Wiley did appear to make an attempt at conciliation but Stormzy rejected the olive branch, dismissing Wiley as a "dinosaur".
Sense of Justice: Stormzy's Childhood
In his childhood, Stormzy has been spotted with Amy Winehouse as his iPhone screensaver and he admitted he felt a kinship with the tragic singer. After watching a documentary about how she was pushed too hard without support, Stormzy fumed,
"I hated it. I got so angry at all of them".  The graft and the emotional strain of being a musician is very hard. No one ever sees that part. So I understand what happened, in a sense, to Amy."
It's not just the music industry that Stormzy has commented on as he's displayed a keen sense of social justice. As well as publicly supporting the Labour Party and Jeremy Corbyn. Stormzy added his voice to those calling for action after the Grenfell tragedy in London.
Giving Back To His Community
Now that Stormzy has become a huge grime artist with some serious money in the bank, he's become more focused on helping others. Who may be facing the same struggles he had. Although he was clever, he never achieved all that he was capable of at school. And that meant he missed out on further opportunities.
The star is determined to help young Afro-Caribbean adults. And prevent them from falling into the same trap. To that end, he offered to fund two scholarships for black British students. Hoping to find what he described as "genius and incredible minds" among those who were "badly behaved".
Stormzy originally made the offer to Oxford University but due to some confusion, his generosity was rejected. Stormzy claims that they reached out to Oxford but were turned down. While the university said it received no clear proposal about what was being offered, it did, however, admit that it had received contact from Stormzy.
Stormzy Pays Scholarship Fees for Two Students
As a result, it was Oxford's bitter rival, Cambridge University that has gone on to work with Stormy instead. He is paying for the scholarship fees for two students from 2018. And a further two from 2019, plus provide them with maintenance grants for the four years of their study.
Explaining his decision to offer the funding, Stormzy said: "If you're academically brilliant don't think because you come from a certain community that studying at one of the highest education institutions in the world isn't possible."
From Stormzy's humble South London roots to his status as grime megastar. Stormzy is living proof that you can experience many hardships in your life and still emerge as a success story. We hope the grime MC continues to go from strength to strength with even better times ahead!