Entertainment
Things You Didn't Know About Save The Last Dance
Save The Last Dance: Things You Didn't Know
First, there was Grease and then Footloose. Then came Save The Last Dance, shortly followed by Step up, and the rest truly was history…
Two opposing worlds come together with their passion for dance: Danny and Sandy, Ren and Ariel, Nora and Tyler. See a reoccurring theme yet?
How about Sara and Derek?
From Lemont to south-west Chicago, two high school students learnt to dance together, overcome hardships (Sara had to cope with the death of her mother) falls in love and of course, had their fair share of drama *ahem… Nikki (Bianca Lawson)*. It's just like reality, really.
The film – directed by Thomas Carter – became one of the most iconic dance films of the 21st century (with big thanks to Fredro Starr's catchy tunes), so it's incredibly frightening to realise that it's been over 15 years since its release. Time needs to sloooow down.
So whilst you might think you know everything about the film, it's time to put your dancing shoes to good use as you glide through 30 things that you didn't know about Save The Last Dance…
[dx_custom_adunit mobile_id="RTK_qw1q"]
1) Julia Stiles Had No Prior Dance Experience And Did ALL Of The Dancing In The Film
Yes, that's right. The main female lead in a dance film had no prior dance experience prior to being cast – wow.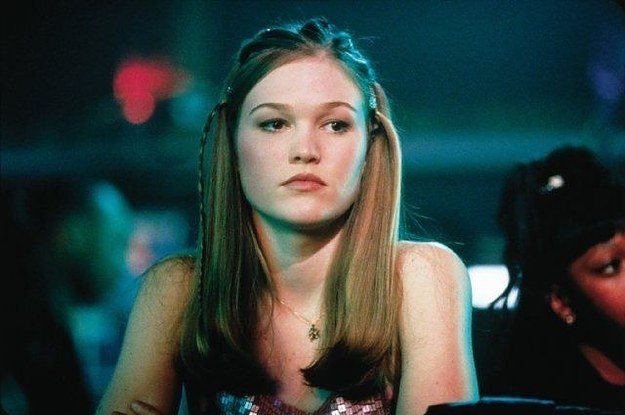 [dx_custom_adunit mobile_id="RTK_ZIkz"]
Although Julia Stiles did grow up dancing, she had no formal hip-hop or ballet training at all.
Sounds pretty odd but apparently, the casting directors were blown away by her acting chemistry with co-star Sean Patrick Thomas.
They were also blown away by her determination and dedication to learning to dance professionally.
Julia Stiles, whilst promoting the film across the US, commented:
"To train, in terms of the dance, is really exciting for me. And I told them from the beginning, I want to train really hard and I don't care if my toes bleed. Cause I love to dance".
[dx_custom_adunit mobile_id="RTK_qQCt"]
You would never have guessed! Watching the film, it looks as if Julia has been dancing professionally her whole life. Guess it's never too late to take up dancing folks!
2) Kerry Washington (Chenille) Had JUST Graduated Before Filming
The brainbox bagged herself a degree in Anthropology and Sociology just before the film was filmed.
[dx_custom_adunit mobile_id="RTK_iquJ"]
Remember, Chenille's brother was Derek (Sean Patrick Thomas)!
3) Sean Patrick Thomas Also WASN'T A Dancer
Sean Patrick Thomas, aka Derek Reynolds, Sara Johnson's dance coach and partner and eventual lover.
[dx_custom_adunit mobile_id="RTK_wiHk"]
Again, as shocking as it may sound, Sean Patrick Thomas didn't actually have much professional training before being cast.
The only dance experience he had prior to filming was a few aerobic classes here and there.
[dx_custom_adunit mobile_id="RTK_DdY1″]

Maybe this is the way to get the lead in a dream film? Just turn up and hope for the best?
Well, that's what Sean did. Talking to Nitrate Online, he said:
"I didn't have dance experience, except for some aerobics dance classes, and I had to dance at the final audition. Usually, with any type of choreography, you have to learn it and practice it. I didn't have that chance – they taught it to me that morning. I did the best I could".
[dx_custom_adunit mobile_id="RTK_ZoXg"]

Well, it all worked out. Whether he was just naturally gifted at dancing or they saw potential in his abilities, the casting directors must have been impressed with him!
[dx_custom_adunit mobile_id="RTK_hW7Y"]
4) The Dancing Caused Serious Health Issues For Julia Stiles
Six hours a day training, every day, with training on weekends. Dancing all day on set. Surely this must get tiring?

Turns out, it wasn't always pretty. We may only see the positives and amazing talent throughout the film but behind the scenes? It was pretty messy.
Although Julia Stiles was in the best shape of her life when she filmed the iconic movie (who wouldn't be?), her feet were not in the best shape.
As can be expected, Julia suffered from problems such as blisters, bunions and callouses. Ouch.
[dx_custom_adunit mobile_id="RTK_0mO0″]
If that wasn't enough, Julia reported that her feet bled a lot from the intense amount of dancing.
Acting doesn't come with all the highs. There's many lows, especially when you're on your feet all day and night long!
[dx_custom_adunit mobile_id="RTK_QejT]