Believe it or not, The Inbetweeners recently celebrated its ten year anniversary -feeling old yet? The well loved British comedy showed the journey of four socially awkward, misfit teens; Jay Cartwright, Simon Cooper, Neil Sunderland and Briefcase-I mean, Will Mckenzie on their quest to make it through high school. Over the seasons we see the lads attempt to woo their fellow ladies and in a bid to lose their virginity (which for the most part they are diabolically unsuccessful), climb the social ladder and cope with family issues and problems within their own friendship group. Unfortunately for these boys, leaving school didn't put an end to their embarrassing adventures as the two movies that followed the three season hilarity fest involved even more mortifying behaviour from the group.
With such a bad track record of love on the show, you may be wondering if the real life relationships of the Inbetweeners cast have fared any better. Keep reading to find out!
1. Simon Cooper
Simon Cooper is the oldest of the group and in many ways the most mature. Of the group he is the first to learn how to drive and as a celebration for passing his test his father buys him a less than fashionable, bright yellow, Fiat Cinquecento Hawaii car which leaves him the butt of many jokes among his friends and school peers. When it comes to his neighbour Carli D'Amato (Emily Head), Simon's bordering on obsessive love leads him through a series of mortifying situations whilst trying to pursue this out of reach "girl next door,"  including spray-painting Carli's driveway and climbing into her home when drunk in the hopes to confess his love but instead of entering her room, he ends up in the room of her little brother. Yikes.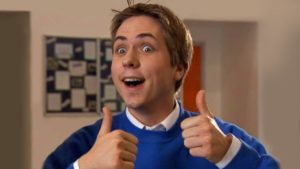 Though for the most part Simon maintains his composure, it doesn't take much to set him off. Over the course of the show fans have watched as Simon regularly loses his temper with streams of curse words even in response to his friends lighthearted jokes or to his father's reminiscent stories he fondly shares with the boys.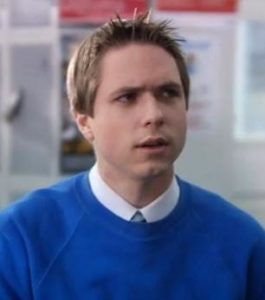 Despite his faults and frequent failure in his quest for love, Simon is at heart a hopeless romantic. He fully believes in the prospect of soulmates and in his pursuit for finding such a deep connection allows the women he dates to walk all over him. This is shown in The Inbetweeners movie when Carli is shown to be using Simon in order to get back at her ex, instead of refusing Carli's advances immediately, he goes along with whatever she says in the hopes of winning her back himself. It's this soft natured aspect of Simon that leaves fans feeling sorry for him over and over again.
Real Life: Joe Thomas and Hannah Tointon
34 year old Joe Thomas has been dating 30 year old Hollyoaks and fellow Inbetweeners star Hannah Tointon who plays his on screen girlfriend Tara Brown. Unlike their  relationship on the show which quickly fizzled out, in real life the couple are happy and looking forward to a bright future together. The couple had been steadily dating since 2010 after meeting on set but last year decided to take their relationship to the next level when Joe Thomas popped the question.