News
The Weirdest Things People Collect
1. Milk bottles
(Image/ Source: dailymail.co.uk)
This is Paul Luke, a former milkman. He's been collecting milk bottles since he was nine, so becoming a milkman was the perfect career for him! He's since moved jobs, but he still loves his milk bottles. Paul has over 10,000 different milk bottles, and he's still actively looking for new and unusual ones to add to his collection.
2. Toenail clippings
(Image/ Source: blazepress.com)
We know what you're going to say. "Why would ANYONE collect nail clippings?". It's a completely fair question, but apparently, it's not for enjoyment. This man is saving samples of his toenail clippings all in the name of medical research. We're not quite sure what kind of medical research it is though…
3. Daleks
(Image/ Source: dose.com)
In 2011, Rob Hull's collection had a whopping official record of 571 Daleks. But Rob didn't stop there. His passion for model Daleks has grown into a full-blown obsession, and he now has over 1,801 Daleks to his name. Unsurprisingly, he's managed to retain his Guinness World Record for over ten years now.
4. Chicken-related household items
(Image/ Source: blazepress.com)
For the last 40 years, Elkhart County's Joann and Cecil Dixon have collected all manner of chicken-related items. Their collection includes chicken fridge magnets, chicken planters, and chicken ornaments. The couple now has 6,505 items in their collection. We're not sure if they own any actual chickens though.
5. Dalmatian-themed items
(Image/ Source: thesun.co.uk)
It seems like people really love a theme. Here we have dalmatian superfan Karen Ferrier, who is absolutely obsessed with all things black and white. She now owns a collection of 3,500 spotty items, and is pretty proud of her eye-watering collection. A visit to her house would be interesting to say the least!
6. 'Love' dolls
(Image/ Source: collectionstudio.com)
This is one of the most, erm, unusual collections we've ever seen. Married couple Bob and Lizzie Gibbons share their home with their huge collection of 240 love dolls. Apparently, Bob and Lizzie like dressing the dolls up to make them more lifelike, and they even take the dolls with them on shopping trips.
7. Winnie the Pooh items
(Image/ Source: dailyrecord.co.uk)
Meet Deb Hoffmann, who lives in Waukesha, Wisconsin. She's a bit of a Winnie the Pooh fan! She has a pretty impressive Winnie the Pooh (and friends) collection, consisting of 10,002 items. Deb has even managed to make her way into the Book of Guinness World Records, as she has the largest Winnie-the-Pooh and Friends memorabilia collection in the world.
8. Barbie dolls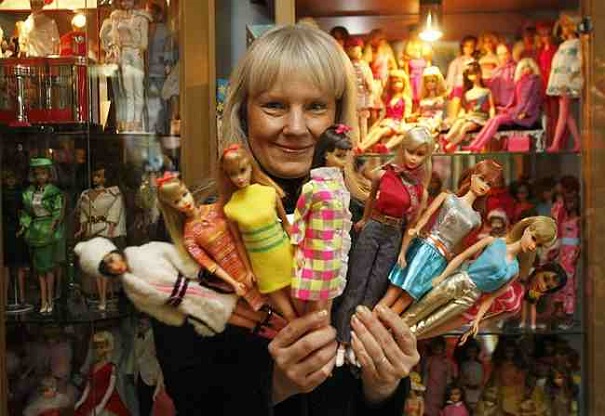 (Image/ Source: atchuup.com)
German housewife Bettina Dorfman adores her Barbie dolls. She started collecting them when she was in hospital at ten years old, and she now has over 17,000 dolls in her home. Apparently, they're worth well over $200,000. Her precious hoard lives in the basement and living room but Bettina also has a room called 'Barbie's Kingdom', for her most treasured dolls.
9. More nails
(Image/ Source: Tom Martin/ Wales News Service/ dailymail.co.uk)
More nails… but these ones are a lot less gross. Richard Jones has over 3,000 nails which he's gathered from different countries over the last 50 years, including Australia, Italy and the US. He used to work as a joiner, so this explains how his fascination for nails came about! He's still going strong with his collection, and even shows off his favourites on his website.
10. Traffic cones
(Image/ Source: guinessworldrecords.com)
This is David Morgan, a man from the UK who happens to own the largest collection of traffic cones in the world. He has over 500 unique items, which has earned him a spot in the Book of Guinness World Records. David is the director of a plastics company, so it seems that plastic cones really are his biggest passion in life.
11. Dresses
(Image/ Source: scpr.com)
Paul Brockman, the German-born contractor from California, has a huge collection of dresses- over 55,000 in fact. This happens to be the world's biggest collection of dresses, and they're all for his beloved wife Margot. He started buying dresses for Margot in an effort to woo her all those years ago, and they've been going strong ever since.
12. Hot sauces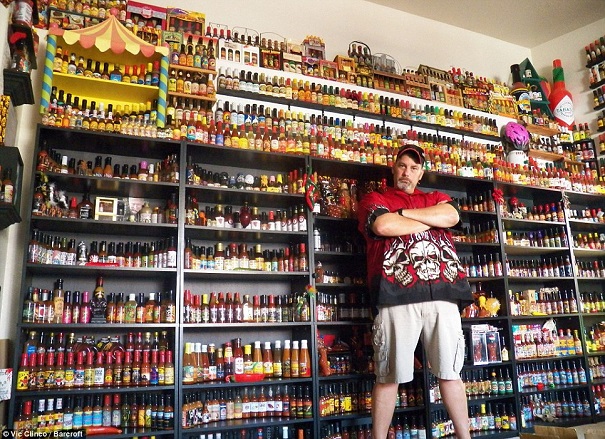 (Image/ Source: Vic Clinco/ Barcroft/ dailymail.co.uk)
This is one of the more unusual collections we've seen. Vic Clinco is a HUGE fan of hot sauces, and he owns a jaw-dropping collection of 6,000 bottles. He also has a super rare bottle of Blair's 16 Million Reserve, which is the hottest hot sauce on the planet. We hope he actually manages to use them all someday…
13. Surfboards
(Image/ Source: mauimagazine.net)
Say hello to Donald Dettlof, who is something of a surfboard superfan. Donald lives in Hawaii, and is no stranger to hitting the waves. So it's no huge surprise that he got quite into his surfboards. He now has over 657 different surfboards, and he's immensely proud of his growing collection. He shows them off on his property, and has come up with plenty of ingenious ways to display them. He's even made a wall out of surfboards!
14. Prepared food-related items
(Image/ Source: odditycentral.com)
Japan-born Akiko Obata is the record holder for the largest collection of prepared food-related items. She has over 8,00 items in her collection, and it's still growing to this day. It seems that she had an obsession with plastic food since she was a child, and it didn't take long for her to become a serious collector.
15. Watches
(Image/ Source: taminoautographs.com)
It seems that some people love watches. REALLY love watches. Watch fan Kevin O'Leary described his watch collecting as "completely irrational", and in some ways, it is. Watches are expensive, and we can tell the time by simply looking at our phones. But watches are aesthetic, and plenty of collectors like learning more about the craft of watchmaking.
16. Miniature chairs
(Image/ Source: ajc.com)
Yep, a huge miniature chair collection really does exist. Barbara Hartsfield has been collecting miniature chairs for years now, and has over 3,000 pieces. This has earned her a Guinness World Record. She's now opened a three-room museum for her collection in Stone Mountain Village, U.S, which even has a gift shop!
17. Back scratchers
(Image/ Source: dose.com)
Ever thought about collecting back scratchers? Well, Manfred S. Rothstein has- and he's got tonnes of them! The North Carolina dermatologist has been building up quite the collection since the 1970s, and he now has over 1,000 to his name. Manfred has purchased scratchers from over 71 countries, and it's bagged him a Guinness World Record.
18. Umbrella cover sleeves
(Image/ Source: atchuup.com)
If you end up losing your umbrella cover sleeve as often as we do, you might start getting suspicious about where they're all ending up! Nancy Hoffman from Peaks Island, Main is a HUGE umbrella sleeve fan, and grabs as many as she can to add to her growing collection. She now has over 730 unique items, which is quite a feat.
19. Troll Dolls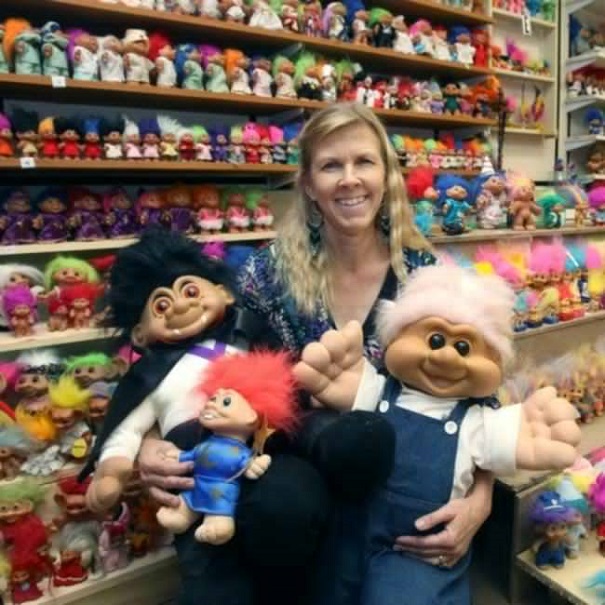 (Image/ Source: World Record Academy)
Sherry Groom of Alliance, Ohio loves collecting Troll Dolls. So much so, that she's decided to open her very own Troll Doll Museum with her husband Jay to show them off! She's been collecting them since she was five years old, and gained her first Guinness World Record back in 2013. It's rumoured that Sherry now owns over 20,000 individual Troll Dolls.
20. McDonald's memorabilia
(Image/ Source: YouTube)
McDonald's owner Mike Fountaine has a mind-blowing collection of 75,000 pieces of McDonald's memorabilia. The collection has now taken over 7,000 sq ft of his home in Pennsylvania! It includes 1,000 McDonald's cups, uniforms, 11,700 lapel pins, old displays, and nearly every Happy Meal toy the fast-food restaurant has ever had.
21. Pokemon Memorabilia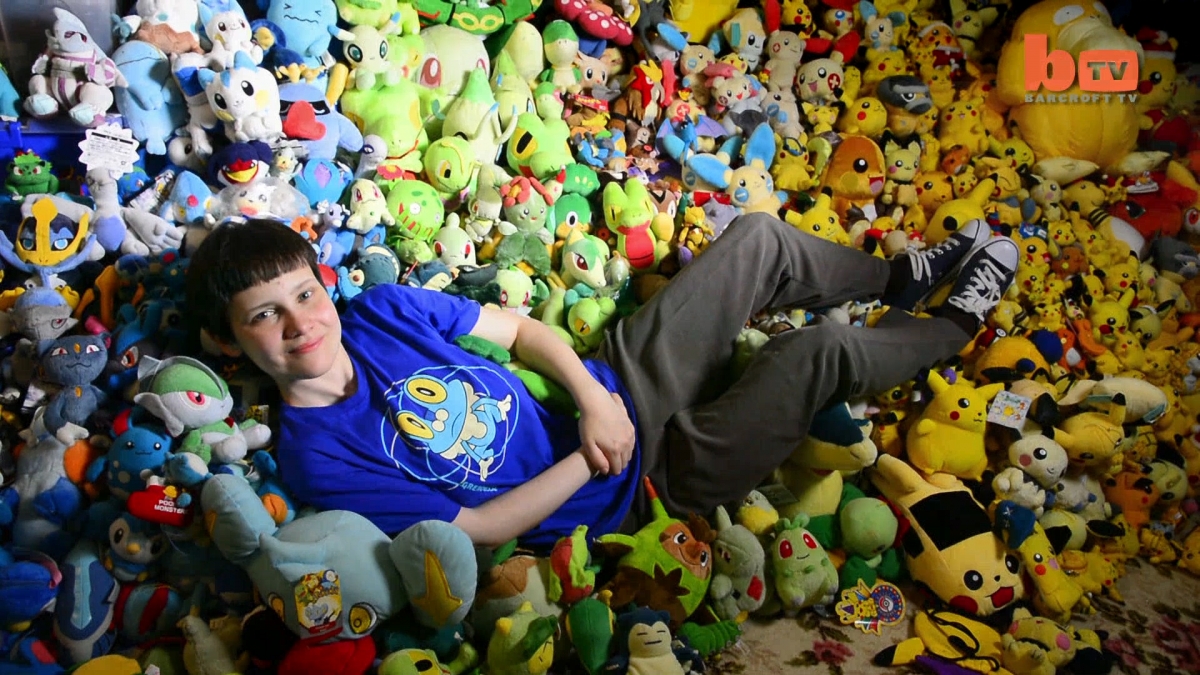 (Image/ Source: ibtimes.co.uk)
This is Lisa Courtney from the UK- and she's a serious Pokémon fan! She has been collecting cute Pokémon plushies and memorabilia for over fourteen years now, and is a Guinness World Record holder of having the largest collection of Pokémon memorabilia. Her collection includes 17,127 different items.
22. Raggedy Ann dolls
(Image/ Source: TLC)
Meet Tampa resident Robyn Amato, who has a collection of over 3,000 Raggedy Ann dolls. She's featured in the TLC reality series My Crazy Obsession, which has seen Robyn dress up in her own Raggedy Ann costume on a regular basis. Apparently, her fixation with the dolls didn't start until she was 40 years old.
23. Dice
(Image/ Source: spokeo.com)
Kevin Cook LOVES collecting dice. He has the largest dice collection in the world, and in 2014, he got his own Guinness World Record to prove it. Kevin has been building up his dice collection since 1977, and has amassed over 97,000 different individual dice. He's now leading his very own dice-collecting community on the internet.
24. Talking Clocks
(Image/ Source: oberlin.edu)
We've had watches- now we have clocks too! Talking clocks have been a huge source of fascination to Mark McKinley, a retired professor of psychology at LCCC. He owns over a thousand of them- one of almost every model made. He's released a book about his love of talking clocks, and even has his own YouTube channel dedicated to them.
25. Super soakers
(Image/ Source: wcnews.com)
Super soakers might not seem like the most obvious things to collect, but they're a huge passion for brainy Boeing scientist Chris Reid. He has over 340 super soakers in his collection, with over 240 unique designs. Safe to say he loves to show them off as often as he can! We wonder what his wife makes of it all…
26. Erasers
(Image/ Source: pinterest.com)
The largest collection of erasers belongs to Petra Engels from Germany, who owns an eye-watering 19,571 non-duplicate erasers from 112 different countries, including Greece, the U.S and the UK. She's been collecting erasers since she was nine years old, and now proudly displays them in huge glass cabinets around her home.
27. Do not disturb signs
(Image/ Source: storeandmore.com.au)
Jean-François Vernetti's collection of Do Not Disturb hotel signs has grown to 11,111 which he collected from different hotels across the globe. And he's very pleased with what he's managed to collect so far! The Swiss ex-UN worker has collected signs from hotels in over 189 countries since he started travelling for work in 1985.
28. Toothbrushes
(Image/ Source: thefunnybeaver.com)
Say hello to Grigori Fleicher from Russia, who is a serious collector of toothbrushes. His obsessive collecting has nabbed him a Guinness World Record for having the largest toothbrush collection on the planet, which consists of 1,320 individual items. It's an accolade that Grigori is very proud of. Bless him.
29. Napkins
(Image/ Source: reddit.com)
Did you ever consider whether there would be people out there that collect napkins? Neither did we! Martina Schellenberg from Germany is a hardcore collector of napkins, and she now has 125,866 items in her home. Martina still holds the world record for the largest collection of napkins, which she's retained since 2013.
30. Teddy bears
(Image/ Source: buttercupcountsherblessing.blogspot.com)
Jackie Miley from South Dakota has a pretty rare interest. She absolutely adores teddy bears, and has a huge collection of them- 8,026 in fact! Jackie's spent the best part of two decades building up her collection, and her house is now so full of teddy bears that she's doesn't know where to put her new ones!