News
Scarlett Moffatt's Rise To Fame
Scarlett Moffatt's Rise To Fame
Since winning I'm A Celebrity, Gogglebox's Scarlett Moffatt's VIP status has gone through the roof…
But how did the straight-talking Geordie lass go from child dancing queen to Queen of the Jungle?
We're looking at her rise to fame – and what she'll be up to next…
[dx_custom_adunit mobile_id="RTK_qw1q"]
Child Dancing Queen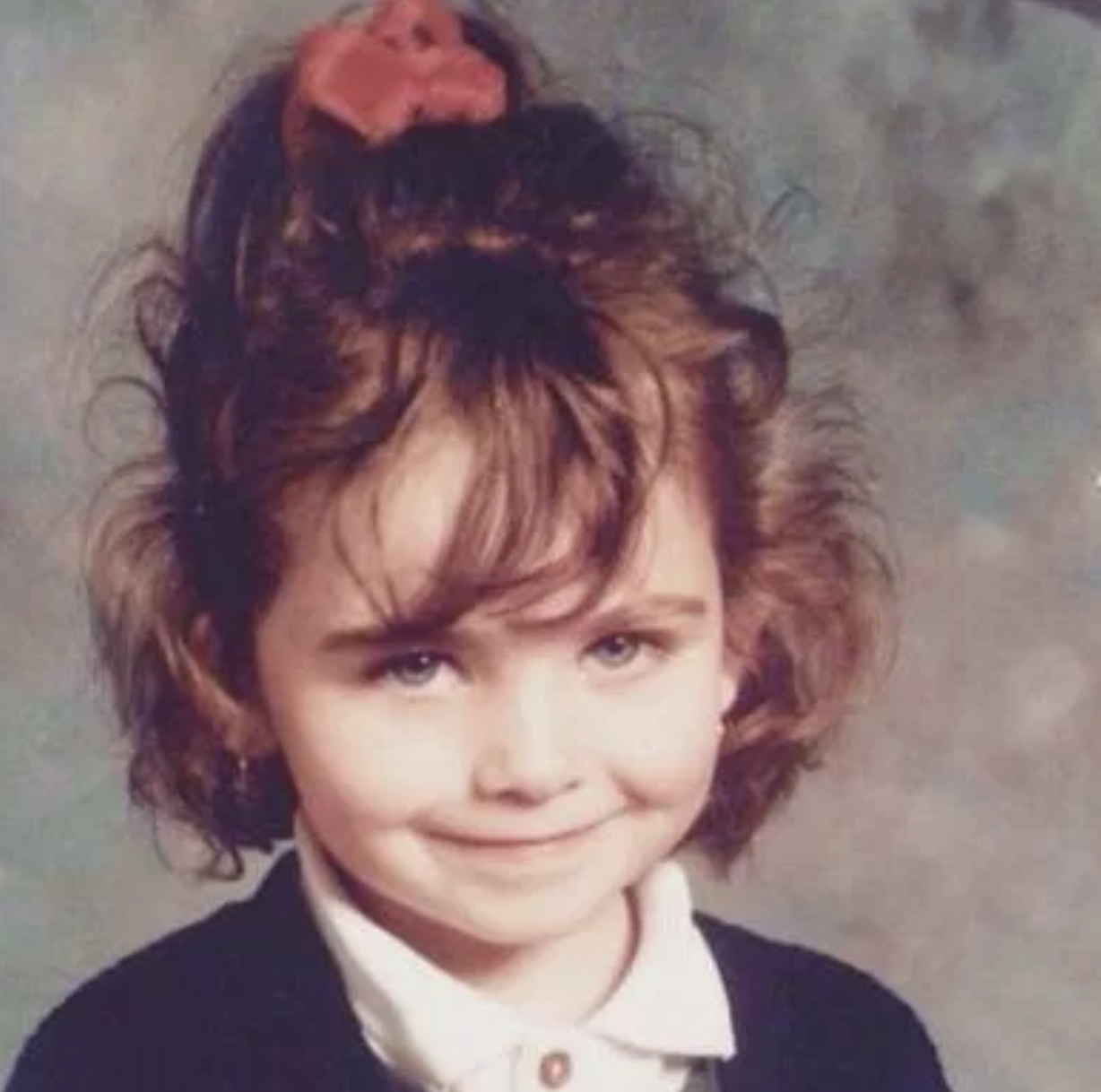 Image Source/The Sun
[dx_custom_adunit mobile_id="RTK_ZIkz"]
The 29 year old is a trained ballroom dancer who competed in competitions from the age of six – now we know where her love for fake tan was born.
The dancer became SO obsessed with that bronze look it even cost her a job at Clinique; she made her customers look like oompa loompas!
2011- She Landed Her First Job At ASDA
Before finding fame on TV, Moffatt worked at the checkout in ASDA in her hometown, Bishop Auckland, County Durham.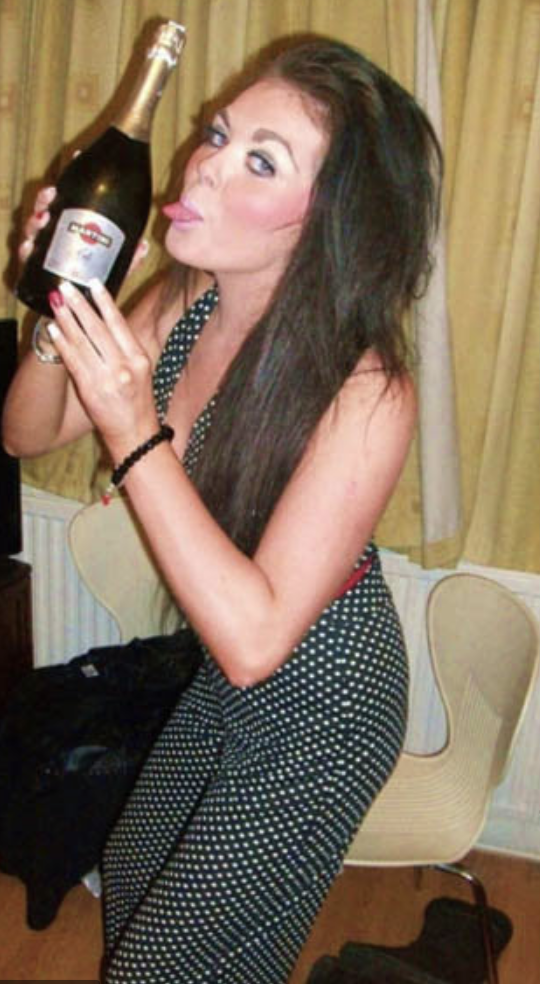 Image Source/Express
[dx_custom_adunit mobile_id="RTK_qQCt"]
2013 – She Joined MTV's Beauty School Cop Outs
The witty star's TV debut came on the MTV series Beauty School Cop Outs back in 2013 – the show that followed the movements of a set of people working at a Manchester salon.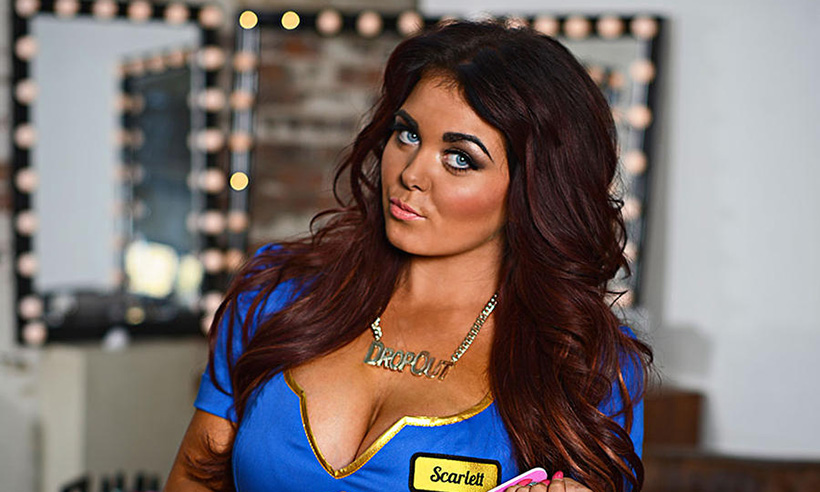 Image Source/Hello Magazine
[dx_custom_adunit mobile_id="RTK_iquJ"]
As well as getting into the swing of reality TV, Scarlett Moffatt snogged Stephanie Davis' ex Jeremy McConnell during an X-rated version of Truth or Dare. He notable actions were stripping off for a spray tan and also hooked up with TV personality Richard Cull.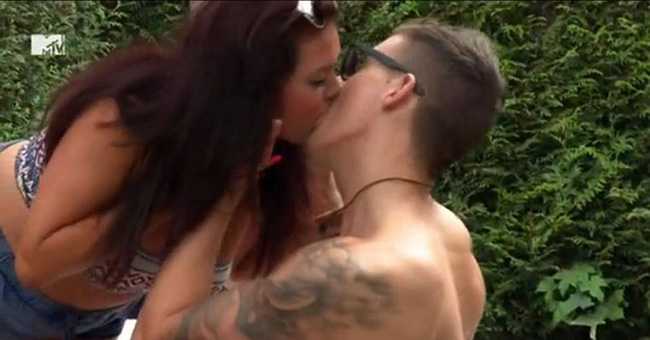 Image Source/Hello Magazine
2014 – Gogglebox
Moving away from reality TV, a year after Beauty School Cop Outs, Scarlett first appeared on Channel 4's Gogglebox alongside her mum and dad – and, more recently, her sister and (ex) BF Luke Crodden. With her witty humour and infectious laugh, Scarlett instantly became a hit with the public.
Back in 2017 – after three years on the show – the TV star took to social media to reveal that her and her parents would no longer be part of the programme. The Moffatt family were axed from the Channel 4 show as it surfaced that Scarlett was now 'too famous'.
Her hilarious parents Betty and Mark were unfortunately dropped by producers as they claimed that the shoe 'wouldn't work so well without all three of them.' Sad times.
Image Source/Youtube
[dx_custom_adunit mobile_id="RTK_wiHk"]
Scarlett confirmed the news over Twitter as she messaged a fan:
'We are gutted to, thought my Mam and dad (and little Ava) would still be able to do it but we will still be watching.'

She added: 'We are going to miss doing #gogglebox so so much but can't wait to watch the new series (good luck my fellow goggleboxers you will smash it love the Moffatts).'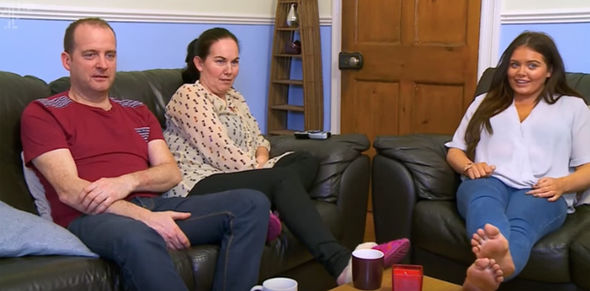 Image Source/Daily Express
2016- Then Came Her Fitness DVD
After dropping from a size 16 to a size 10 in as little as 14 weeks, Scarlett created a fitness DVD for others looking to lose weight, which sold 60,000 copies.
Speaking about her weight loss, she posted on her Instagram account:

"Doesn't sound like a big deal but it's the little things that make me now smile everyday.

"Running up the stairs without getting out of breath, I now can enjoy going shopping, I wake up and my back doesn't ache."
The now-29-year-old initially claimed to have shedded three stone due to a gruelling exercise regime – the one she promoted in her fitness DVD – as well as sticking to 1,200 calories a day.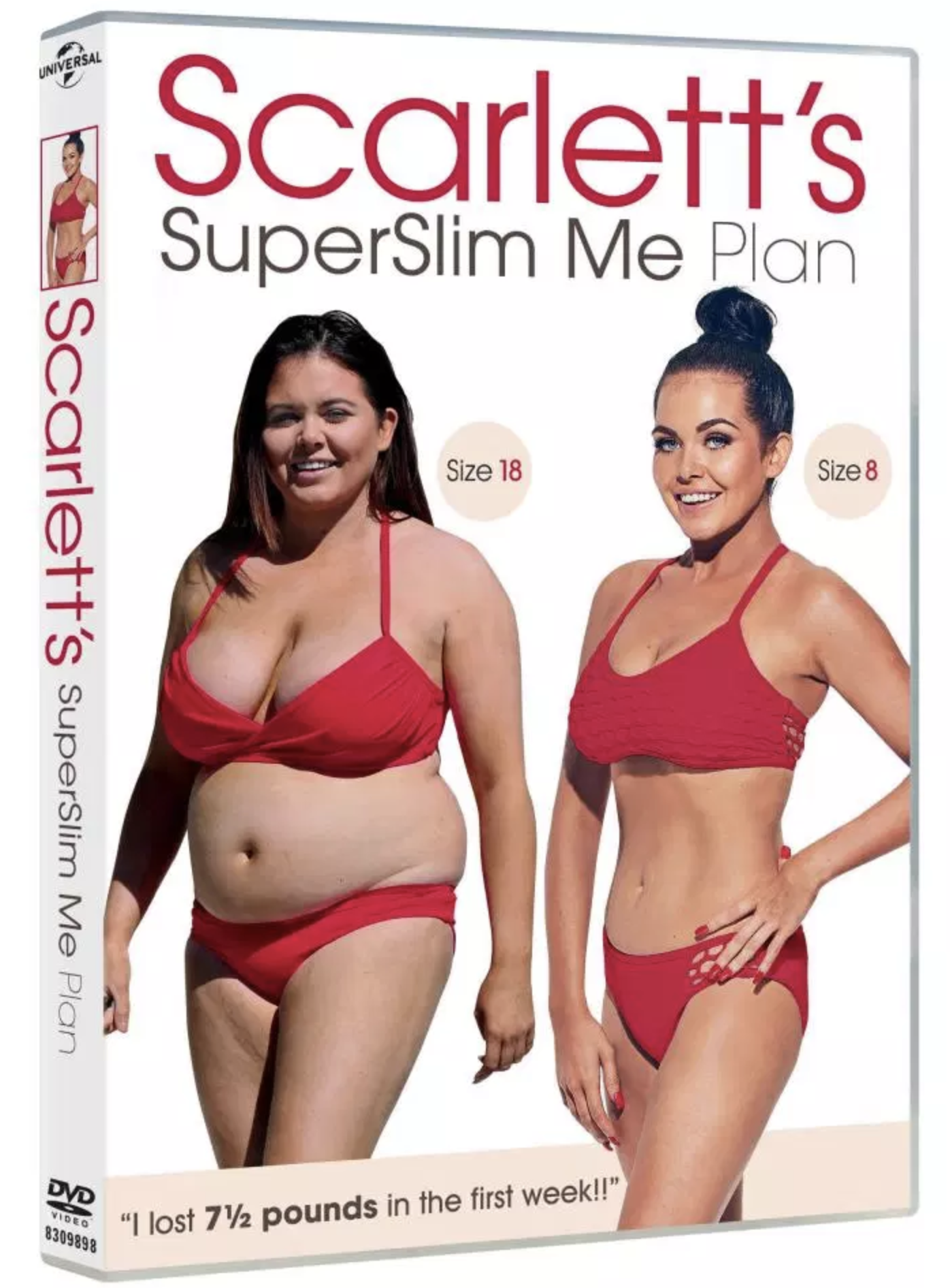 Image Source/The Sun
[dx_custom_adunit mobile_id="RTK_DdY1″]
Shortly after her DVD was launched, the news emerged that Scarlett actually lost the weight from attending a boot camp in Switzerland, where members attempted to survive on just 700 calories a day and had to undertake exhausting exercise for up to six hours in one day.
After receiving criticism for her fluctuating weight, Scarlett was once forced to hit back at trolls on social media, slamming body-shamers for bullying her figure after filming for I'm A Celebrity: Extra Camp in November.
On Twitter she revealed:
'I'm an actual human being with feelings! Stop it with your bullying words! Who are these people who think it's ok to call women for the way they look… too skinny, too fat, too old, not enough make up etc.

'What example are we teaching to the younger generation. It really upsets me that we live in a world where it's the norm!

'To all the girls & women who follow me. You are amazing & beautiful, whether that beauty is from your kindness, intelligence or the love you show to others.'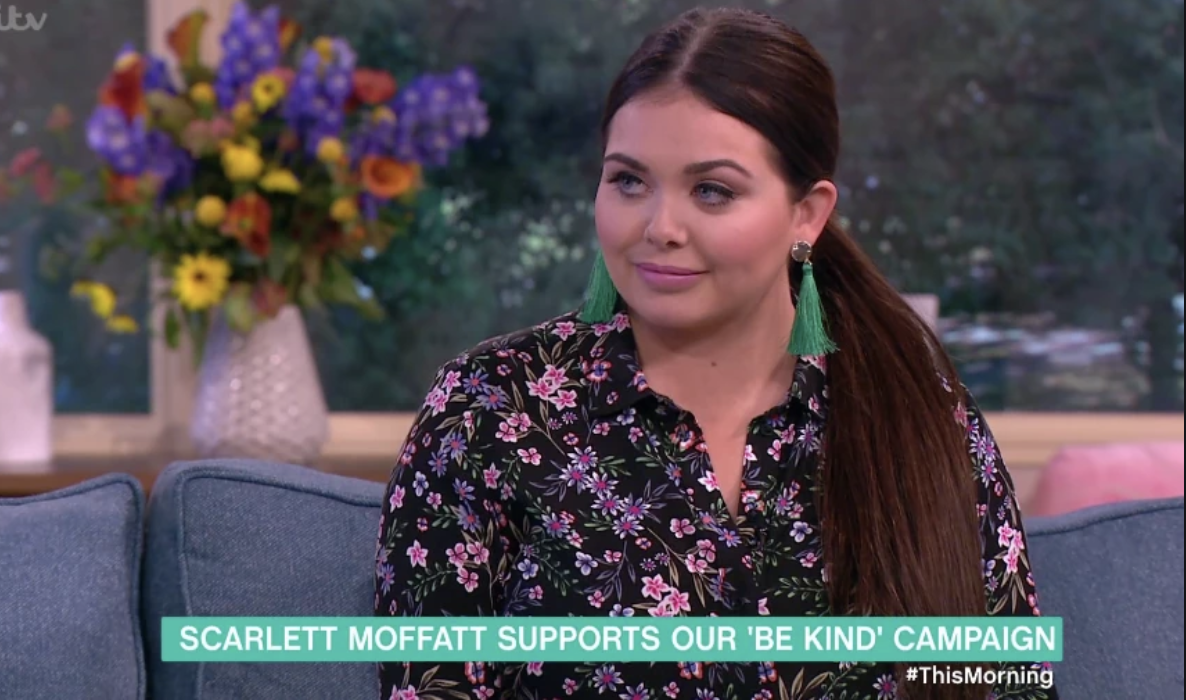 Image Source/Daily Express
2016 – She Appeared On Celebrity First Dates
Scarlett was paired up with Northern Irish MMA fighter, Tommy Quinn – and he was certainly swoonworthy!
Although Tommy was besotted with the TV personality, the feeling wasn't mutual…
Tommy spent the majority of the date hoping to impress Kate with magic tricks and talking (alot), including a list of all the pets he's ever owned, concluding with a 'big reveal' that he used to own a goldfish…
Scarlett gave away the fact that she was unimpressed by her date pretty early on, replying to this goldfish reveal:
"Everyone has a goldfish when they're little."
Image Source/Youtube
[dx_custom_adunit mobile_id="RTK_ZoXg"]
Earlier on in the date, Scarlett revealed that she'd earned her place on Gogglebox because she got nelson Mandela and Uncle Ben (yes, the rice guy) mixed up.
"We had to talk about these pictures of celebrities," she told her date.

"For a good ten minutes I was talking about Uncle Ben. You know, the rice man. But it was actually a picture of Nelson Mandela."
When talking about finding her Mr. Right, Scarlett said:
"I just want someone I'm so comfortable with that they can see us without fake tan on. When I'm on the couch I've got my mum and dad there but there's space for someone else,"
"In ten years I do not want to be watching EastEnders with a brew."
As for her dream guy, when it comes to looks, Scarlett said:
"I really like the pirate looks, I don't mean like a wooden leg and parrot. It would be Captain Hook, but obviously not animated. That would be a problem."
2016 – She Was Crowned The Jungle Queen
Before she headed into the jungle, Scarlett worried that her fellow campmate wouldn't recognise her and think that she was a member of the public. However, the host proved popular with both her jungle friends and the viewers at home.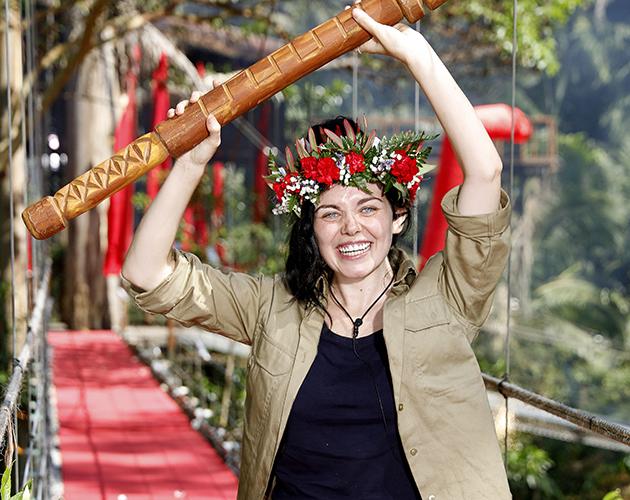 Image Source/Look
[dx_custom_adunit mobile_id="RTK_hW7Y"]
She won the nation's hearts by gobbling on camel's nipples, guzzling cow anus and gorging on turkey testicles and ended up being crowned Queen of The Jungle ahead of Emmerdale's Adam Thomas and much loved comedian Joel Dommett.
As well as making some lifelong friends, Scarlett bagged up to £70,000 for her appearance in the jungle: money which she confessed would go towards buying her parents a caravan (as well as a boob job!).
2017 – Scarlett Was Announced As New Ant & Dec Saturday Night Takeaway Presenter
In early 2017, Moffatt announced she'd landed a new role on Ant & Dec's Saturday Night Takeaway. In a statement, she expressed how grateful she was for her opportunity:
"I've watched Saturday Night Takeaway with my family for as long as I can remember, I'm such a huge fan, so to be part of one of the biggest entertainment shows out there, with two of my all-time TV heroes Ant and Dec, is an absolute dream."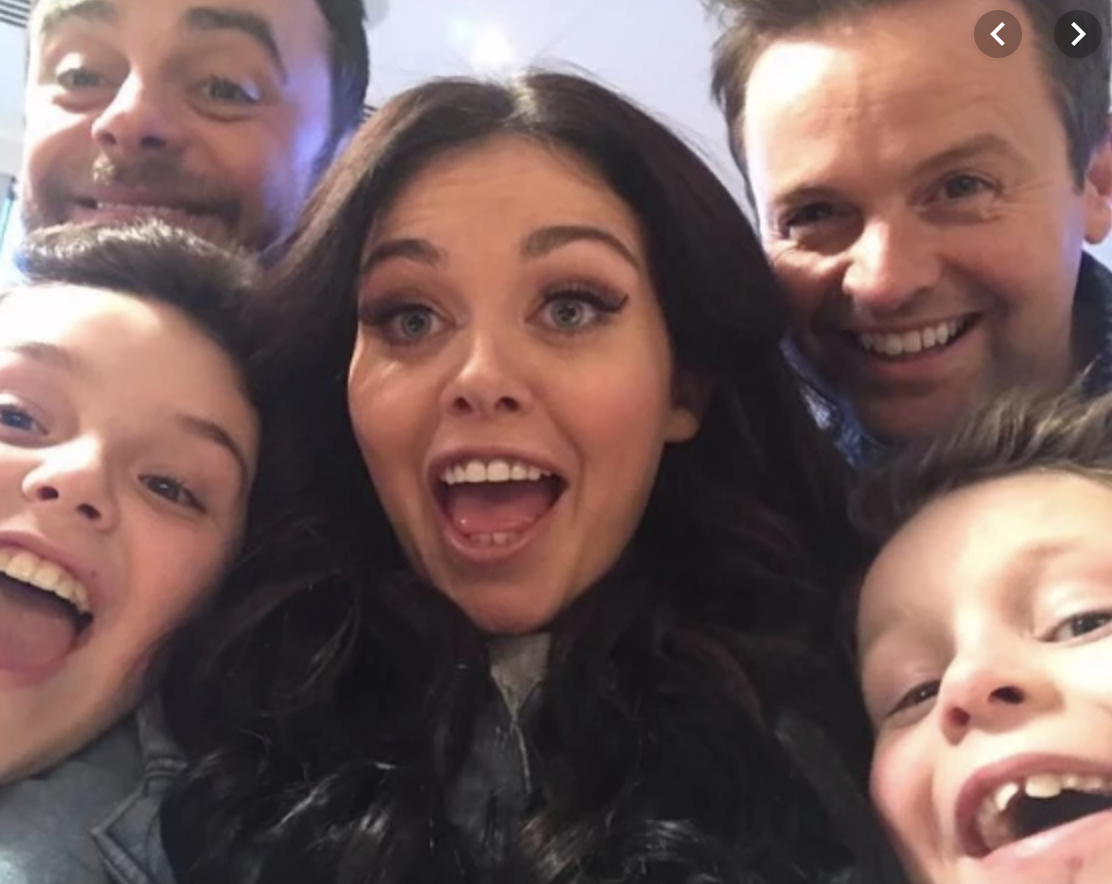 Image Source/Express
2017 – She Released Her Book 'Me Life Story'
The presenter penned her very own life story (at the age of 26!) in 2017 which was dubbed as 'the funniest book of the year' and earned a title as The Sunday Times Number 1 Bestseller.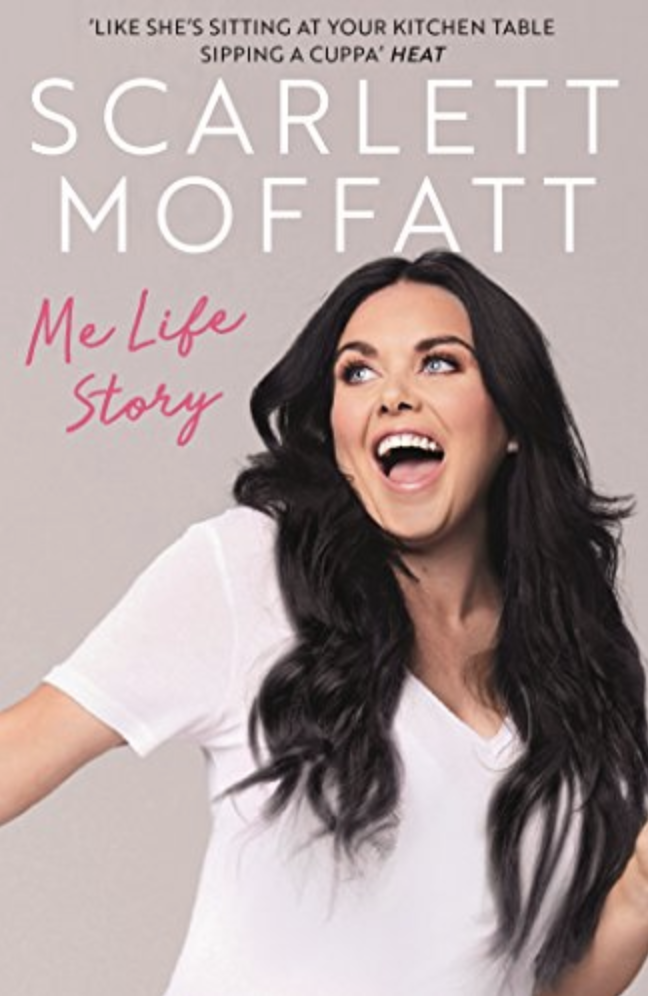 Image Source/Amazon
Introducing her book, she posted on Instagram:
"Hi. I hope you've all had a lovely day. I am here to share some secret news with all of you lovely lot that are kind enough to follow me on Instagram because if I don't tell someone soon, I'm going to burst with excitement.
"I have just been overwhelmed with how supportive and lovely everyone has been. I would love to come round every single one of your houses, sit on the couch, get in our comfies, order a chicken kebab and just have a right laugh and a chinwag."
In her book she'd be speaking about: "what really happened in the jungle, what it's like to work with my heroes Ant and Dec, the cringy embarrassing stories about what it was like growing up as Scarlett Moffatt and some really sad lows that have happened in my life."
2019- She Bagged Herself A New Police Officer Boyfriend
The Gogglebox star revealed she is currently dating a new man called Scott Dobinson after sharing an intimate snap of them cosying up together on Instagram. A friend of Scarlett's said:
"Scott seems like a really stand-up guy. He could be good for her. The pair met through a mutual friend and hit it off straight away.

"And he's got a decent job being a police officer in Durham near where she lives."
Image Source/Instagram
[dx_custom_adunit mobile_id="RTK_0mO0″]
Scarlett and former personal trainer boyfriend Lee Wilkinson split in 2018 after she branded him a 'cheating pathological liar'.
In a Facebook rant, she wrote:
"Just always seem to choose cheating pathological liars.

"I just choose lying cheats it's a skill.

"I haven't lost out. I've gained more self confidence."

"It scares me how much you think you can know someone. Trust is everything."
The post came after she hit out at Lee over Instagram too:
"For anyone that needs this right now, I just want to say if somebody feels you're not enough for them then that isn't a reflection on you, that's a reflection on them..

"Unless you're Henry VIII, then one girl's normally enough."
Before her failed romance with Lee, Scarlett was in a long-term relationship with hairdresser Luke Crodden, who broke up with her on her birthday, leaving her heartbroken.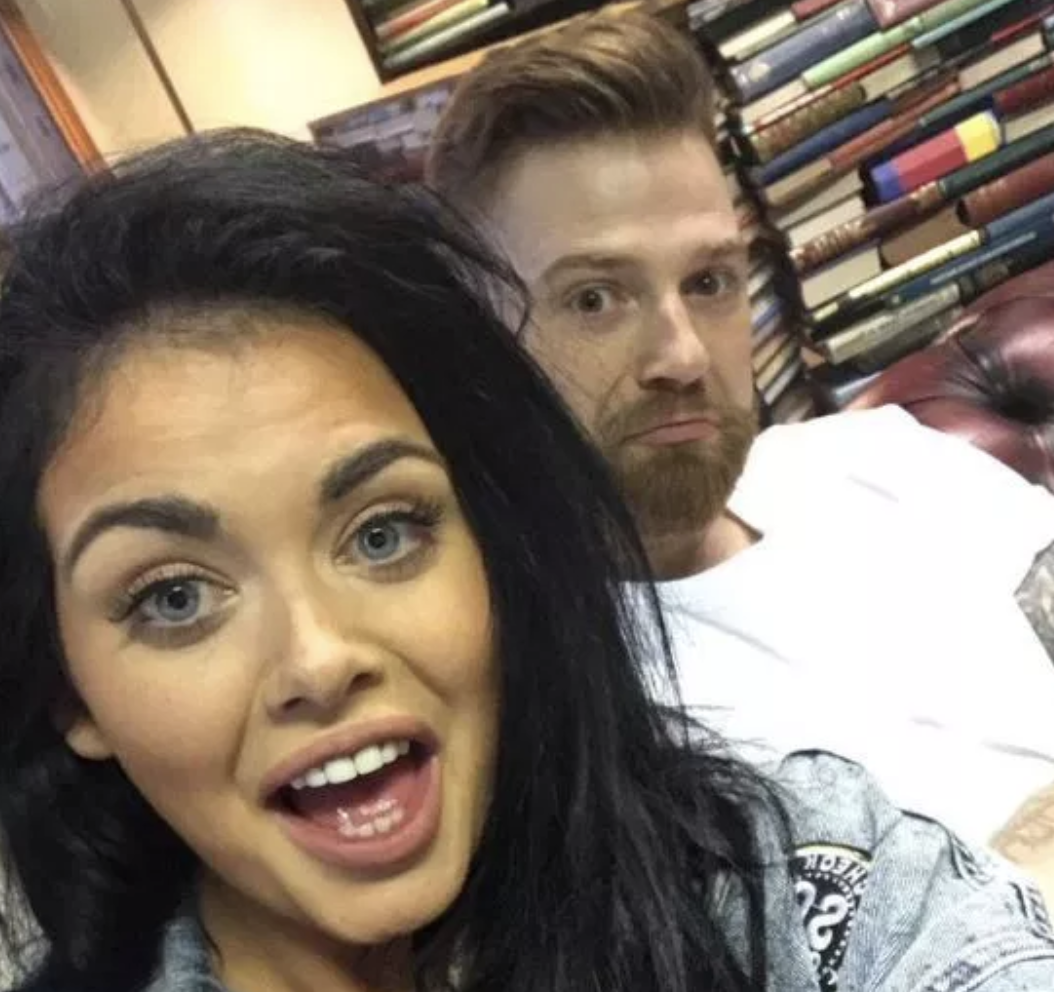 Image Source/Instagram
At the time, she wrote on Facebook:
'I'm gonna have to write it because I feel a bit awkward as I've done some interviews about him being in my book that aren't out for a while due to timings of the magazines … but me and Luke have finished due to a number of different things.

'It was Luke's choice in the end but it's because we both just see each other in more of a friendly way than a romantic way.

'We both respect and love each other enough to know we need to call it a day and not be one of those couples that's off and on.'
SO…What's Scarlett's Net Worth?!
After Scarlett's success in the jungle, followed by her presenting stints, experts believe that her net worth could be up to £1 million – making her the youngest Gogglebox millionaire ever.
The generous TV host has revealed that she's used some money to pay off her parents mortgage, as well as buying them a caravan for future holidays.
Image Source/Instagram
What Next?
After having trained in ballroom dancing as a youngster, Scarlett once claimed to have turned down the opportunity to compete on Strictly Come Dancing because it would have compromised her job on Gogglebox. Scarlett has been trained by Anton Du Beke before so would be in the running for the title.
She revealed:
"I was asked to do Strictly Come Dancing which was pretty cool but I love Gogglebox too much."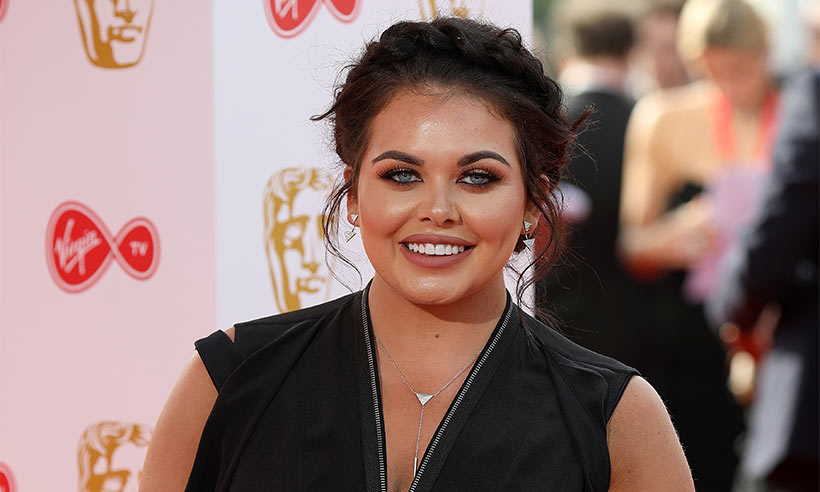 Image Source/Hello
[dx_custom_adunit mobile_id="RTK_QejT]
Speaking about Strictly, Scarlett said:
"I would love that, but I'm a qualified dance teacher so I feel like I've got a bit of an advantage."

"People don't like it when people can already dance on that show. They want to see a journey."
However, since Scarlett no longer has a role on Gogglebox, you never know who might be announced for the upcoming Strictly 2019.