"Once upon a time there were three little girls who went to the police academy."
A police academy we subsequently all wanted to attend. Yes, we are talking about none other than the three most glamorous, kick *ss girls in showbiz: Charlie's Angels.
Before we get started, I know what you're thinking…three girls together…a recipe for disaster? Wrong. Instead of feuding over who was the most popular actress, the angels developed an admirable close bond. They were incredibly loyal to each other through the years of working together (and even after). The girls frequently sang one another's praises to the press – and yes, it made us love/hate them even more.
They truly were more than just co-stars – they were sisters.
Over the years, they remained as close as ever. Kate became the Godmother of Jaclyn's daughter Spencer – 10 years later, Kate returned the favour by appointing Jaclyn as the Godmother to her adopted son Charles.
You often hear of Hollywood stars bickering over the silliest of things – but not these girls. It seems Jaclyn, Farrah and Kate's bond was too strong to be broken.
"Angels are like Diamonds, they can't be made you have to find them. Each one is unique"
The girls further proved their loyalty to each other when they all battled cancer. Sadly, Farrah succumbed to her three-year battle: throughout her struggle however, her girls were always by her side, giving their love, support and guidance every single step of the way.
This should be shown in school. As a kid, it teached me that a Woman can be pretty, AND smart, clever, kind, independant , strong. Love these beautiful actresses forever 💕 @realjaclynsmith #FarrahFawcett #KateJackson @RealCherylLadd #CharliesAngels https://t.co/dlasWuth85

— Séverine (@Sevie79) September 1, 2018
Yes, it might have been a long time since we saw them on our screens together, but they're still as iconic today as they were all of those years ago.
Life after Charlie wasn't always smooth sailing for the ladies, but they can definitely say they had each other's back through thick and thin…
Farrah Fawcett (1947 – 2009) – Jill Munroe.
We all know Farrah Fawcett was the feisty blonde from Charlie's Angels, but did you know this pinup poster was what propelled her to stardom?
Her famous pin-up…
Every teenage boy (and even girl) had this poster up on their bedroom wall – which sold 20 million copies, making it the best selling pinup poster of all time.
(She actually earned more royalties from the poster sales than from her salary for appearing in Charlie's Angels!)
She learnt how to skateboard just for the role…
Her acting abilities, coupled with her smile, made her an instant star and one of the most memorable women of the 70s & 80s.
She married Lee Majors, one of the biggest TV stars of the 70s, and landed her breakthrough role in Charlie's Angels alongside Kate Jackson and Jaclyn Smith.
Farrah on the show…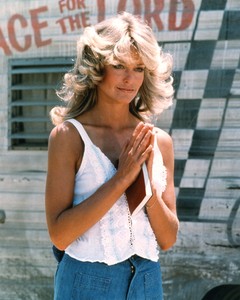 Despite Charlies Angels being one of the most popular shows on TV at that time, Farrah decided to break our hearts and leave after just one series to 'broaden her acting abilities in films.'