Daily Feed is the home of social first news and entertainment. From celebrity gossip to nostalgia, our unique content is guaranteed to intrigue and inform. If you enjoy the following article please share with your family and friends.
1. Chris Hemsworth and Bobby Hanton.
it must take a lot of hard work and dedication to be Chris Hemworth's stunt double. Bobby subbed him during Thor, Captain America and The Dark Knight and said he had to eat 35 meals a day in order for his body to look like Chris'.
"I also have to train twice a day," he said. "Chris is naturally a monster and all he has to do is look at weights and he grows."
2. Chandler Riggs and Emily Brobst.
I bet you didn't know that Chandler's stunt double is actually a woman! It turns out Emily is 15 years his senior and if you have a look at them, they really do look very similar. 3. Liam Neeson and Mark Vanselow.
According to Vanslow, Neeson actually does a lot of the hardwork himself.
"He does the majority of the fighting, he really does," he told the Daily Star. "He's tough. We usually end up beating each other up during rehearsals. What you see on screen is mostly him."
4. Johnny Depp and Tony Angelotti.
He's a wee bit smaller than Depp and his face is a bit slimmer, but blink and you might mistake Tony for his counterpart. Angelotti has filled in for Jack Sparrow for three of the Pirates of the Caribbean movies.
5. Sarah Michelle Gellar and Sophia Crawford.
Sophia Crawford is a trained martial artist so it was only right she played Sarah's stunt double in Buffy. She took on the stunts from 1998-2000 which included that infamous fight between Buffy and Faith.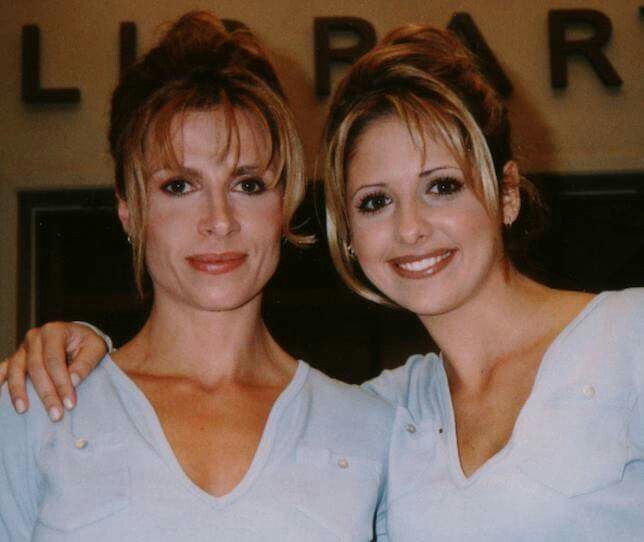 6. Daniel Craig and Ben Cooke.
Ben Cooke has been 007's stunt double in the last three movies. When explaining what his job is like, he said there "plenty of fire and lots of explosions".
"All of the [Bond] movies are different on what they require," he said. "A lot of car crashes and wire work and bomb control. That sort of stuff." You know, just a typical day at the office.
7. Jennifer Garner and Shauna Duggins.
Duggins filled in for Garner on the set of Alias but also became the first female stunt performer to be nominated for an An Outstanding Stunt Coordination Emmy. She's also good friends with Garner and worked with her in other movies like 13 going on 30, Elektra and Daredevil.
8. Chris Pratt and Tony McFarr.
The actor posted a sweet snap of his double on Instagram after shooting finished, writing: "Here's me and my stunt-man Tony McFarr. Been working with Tony since "Jurassic World." Love you buddy! Happy wrap!"
They also worked with each other on the set of "Guardians of the Galaxy Vol. 2."
9. Tom Hardy and Jacob Tomuri.
Jacob was Tom's stunt double on the set of Mad max: Fury Road. There were a lot of dangerous scenes in the movie that needed performing by a professional stunt double.
10. Lynda Carter and Jeannie Epper.
Lynda and Jeannie became very good friends during the shooting of Wonder Woman.
11. Emma Watson.
I'm seeing four Hermione's here? Emma Watson needed three stunt doubles on the shooting of Harry Potter and the Order of the Phoenix.
12. Elijah Wood and Kiran Shah.
Here's Elijah Wood with his scale double Kiran Shah on the set of Lord of the Rings: The Fellowship of the Ring. Kiran looks like a tiny version of Elijah, how cute!
13. Gwendoline Christie and Rory McCann with Mark Slaughter and Reg Wayment/Paul Heasman.
Mark Slaughter dressed as a woman when he fought 'the hound' in GOT. Rory had two stuntmen subbing him in 2014 so we're not entirely sure which one this is. But he sure looks like the hound doesn't he!
14. Ian McKellen.
Here's Sir Ian McKellen on the set of Lord of the Rings with his two scale stunt doubles. One of them is taller in order to shoot some special scenes with the teeny tiny hobbits.
15. Kate Winslet and Sarah Franzl.
Sarah was Kate's double for Titanic. Her hair and smile is very similar to Kate's, you can definitely see why she was picked.
16. Mark Wahlberg and Dan Mast.
Here's Mark Wahlberg and his stunt double Dan Mast, on the set of Transformers: Age of Extinction. Can you even tell the difference? They look exactly the same!
17. Rupert Grint and Anthony Knight.
These two don't look very alike if you ask me, but then again, do you really have to look that much like your stunt double when you're getting flung about in the air and thrown all over the show?
Advertisement