Daily Feed is the home of social first news and entertainment. From celebrity gossip to nostalgia, our unique content is guaranteed to intrigue and inform. If you enjoy the following article please share with your family and friends.
Christmas is around the corner and we can't think of anything better than curling up on the couch, watching our fave films whilst it is freezing outside.
We can all agree that there is nothing more dreamy than the thought of being all tucked up warm when it is snowing outside.
Thankfully, we are in for a white Christmas. But, the only thing that can make this festive season a little bit more special is the thought of treating ourselves to a new pair of pyjamas.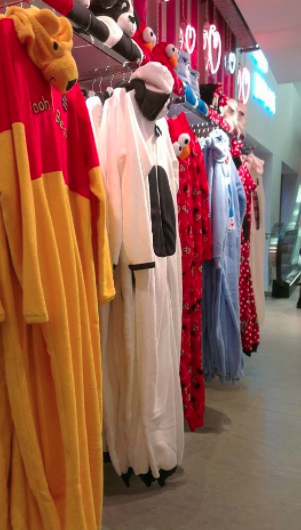 Primark has been pulling out all the stops recently. Whether it has been the Friends pyjamas set or the amazing Harry Potter Christmas decorations that we can't WAIT to put up in our homes. However, they have managed to wow us all once again with their new Disney range of onesies.
Once again, they have used Disney as their inspiration for the new onesies on sale. The best part about these all-in-one pyjama sets is that they are for adults and we can't WAIT to get our hands on them!
Onesies are a craze at the minute. Whilst they are modelled on baby grows, they have absolutely taken the world by storm. But, the one place we can trust to go to with all of our onesie needs is Primark!
The first onesie in the range is The Beauty And The Beast onesie that features one of our favourites characters teacup Chip!
With the new film being released earlier on in the year, people have been going wild for anything Beauty and the Beast related.
This adorable pink onesie is on offer at Primark now and looks so comfy. The suit is extra snug and there are two pockets on the front.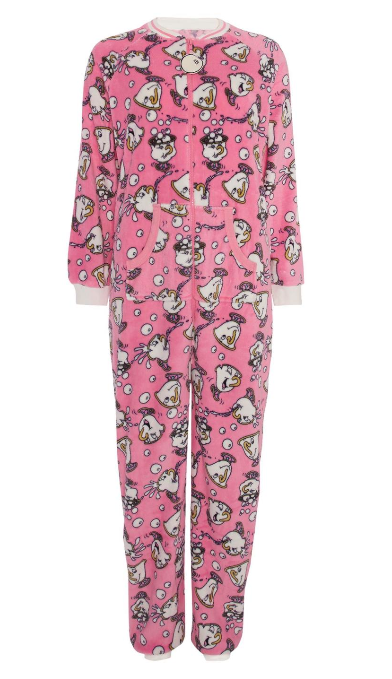 Do you want to hear the best part about this amazing little onesie? It is only going to set you back just £10!
So, could you think of anything better than getting in this when you get back home after work and slobbing around for a full evening? We literally couldn't. We are all definitely picturing ourselves wearing this, with a hot chocolate and a Terry's Chocolate Orange on the table in front of us!
If this isn't enough, then there are a whole host of other products available in the collection!
So, after the lovely pink onesie with Chip from Beauty And The Beast on there, you can also get yourself this lovely number.
For those of you who LOVE Disney, will know that Bambi was one of the best, yet most heartbreaking films of our childhood.
It played a huge part in our childhood and this lovely onesie can be yours for just £10!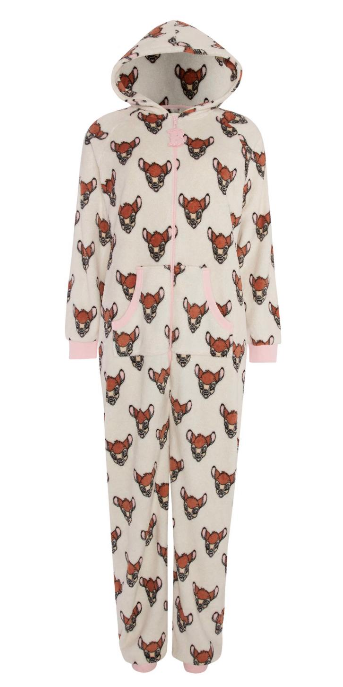 The lovely white onesie zips all the way up and has cute little picture of Bambi all around. There are two pockets on the front and a hood at the top to make you extra warm and snug!
If you prefer one of the most classic characters out there, then you can treat yourself to this lovely Minnie Mouse onesie.
This is available at Primark and is just £10 like the other onesies on offer. The grey and pink combo look extremely snug and cute! Again, there is a zip, two pockets on the front and a hood at the top.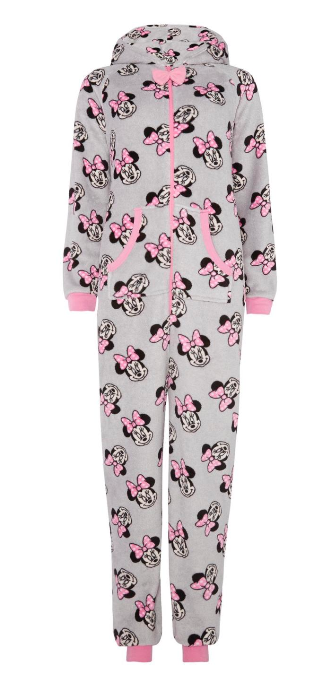 The stand out feature of this onesie is the little bow that is attached to the zip on the front. This is absolutely adorable and really brings Minnie Mouses bow from the top of her head to life!
If you are willing to spend a little bit more, then you can treat yourself to the Aristocats onesie that is available at Primark.
For £16 you can get this adorable onesie that is modelled on Marie. The cute hood at the top has the face of the kitten on the front and the colours represent her trademark look.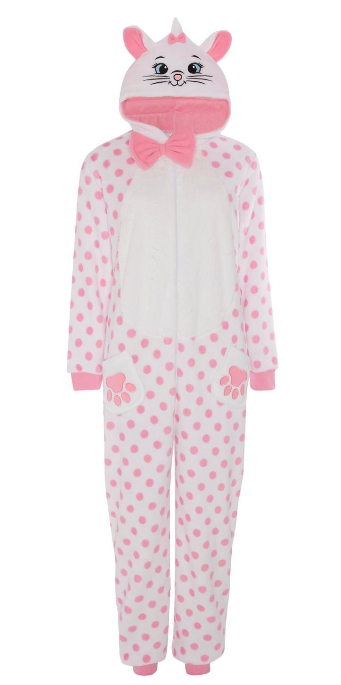 The most adorable part of this onesie is the little paw prints on either side of the thigh where the pockets are.
If you love a matching outfit, then you NEED to get yourself a pair of these socks.
It wouldn't be fair for you to get your whole body nice and warm and then leave your feet on their own, nice and cold.
So, Primark has once again brought out some adorable little socks that we can't wait to get our hands one. These socks are advertised on the Instagram page and are just £2.50!! These socks are the Aristocats and will look so adorable with your onesie as a little pair.
There are three different pairs you can treat yourself to – firstly, there is a plain pink pair the will compliment the onesie perfectly. Secondly, a black pair with a lovely bow on the top and finally a striped pair of socks. We can't wait to get our hands on these!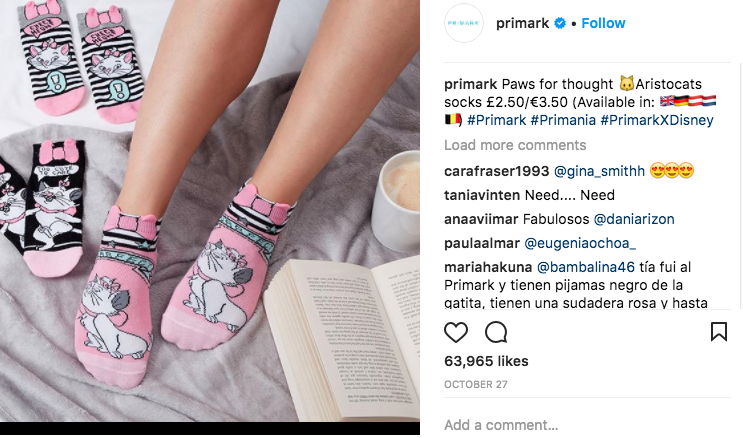 People obviously took to the Instagram page to show how excited they were about these lovely socks.
"look how cute !!!!"

"I could litch spend every penny I have on Disney in primani rn"

"hint hint ??"
If you are looking for something a bit more substantial than a pair of socks. Then Primark is STILL the place to go.
They have brought out the most adorable pair of Disney slippers that we can't wait to get our hands on!
These absolutely adorable Chip slippers are available for just £8. This means you can get the chip onesie and these adorable chip slippers for as little as £18 together.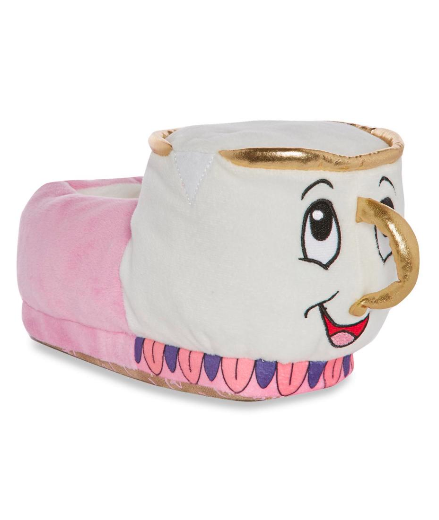 How amazing is that?! We can't believe how cheap Primark's prices are. You can go into a whole host of other shops out there and find yourself spending £30+ if you were buying a set of pyjamas and slippers.
It just goes to show that you can get amazing products at a good quality and a low price… and the one place to go for all of that is Primark.
This range has to be one of our favourites so far. We love the fact that the magic of Christmas has been enhanced a dramatic amount now it is going hand in hand with the magic of Disney.
So, who can't wait to snug up on the couch watching our favourite Disney films whilst in one of these onesies?!
Advertisement