Daily Feed is the home of social first news and entertainment. From celebrity gossip to nostalgia, our unique content is guaranteed to intrigue and inform. If you enjoy the following article please share with your family and friends.
We've all come across unusual photos on social media and wondered why anybody would think it was a good idea to post them. And that's certainly the case when it comes to these photos here. Take a look at these 18 incredibly weird photos from Russian social media sites which will have you seriously raising your eyebrows.
1-A toilet bowl full of roses…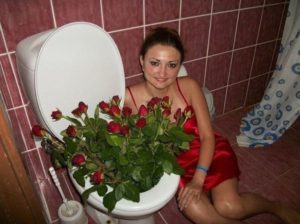 There are lots of things we need to question here. Starting with the posing next to the toilet bowl full of roses.
2-Just cutting the birthday cake.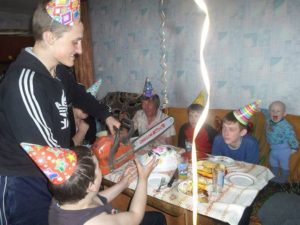 Not your usual way to cut the cake then…
3-Not the most suitable place to pose on a photo shoot.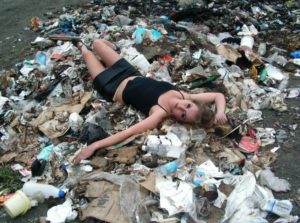 One things for sure, this photo shoot is trashy…
4-Caviar and grain alcohol…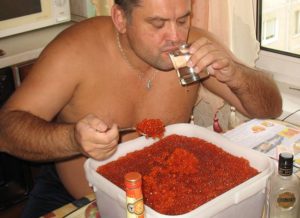 That's the breakfasts of all breakfasts.
5-A bath fully clothed…

We're wondering how clean he was when he got out.
6-A late night snack…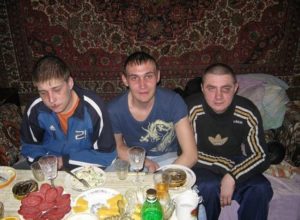 Whatever happened to a good old takeaway?
7-Not your happiest M&Ms.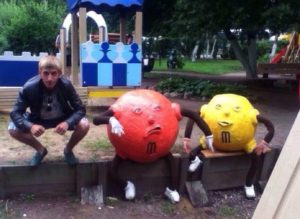 But at least the guy posing seems happy to be next to them.
8-That's one way to kill a fish…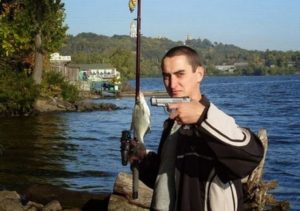 If the first option didn't work of course.
9-If your ever running low on shot glasses…
Fair play to them for being creative.
10-Making sure she gets her 5 a day.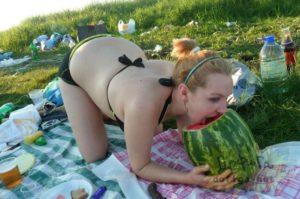 Surely there's an easier way to eat that water melon.
11-Well erm… that's a nice hard cut.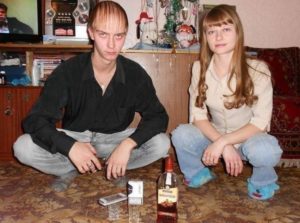 You'd think one of his mates would tell him.
12- A cuddy toy and a 10 inch knife.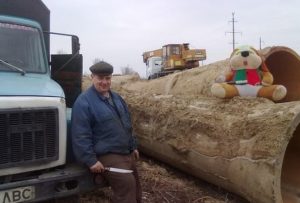 Not your typical cuddly toy photo then.
13- A shoe cup…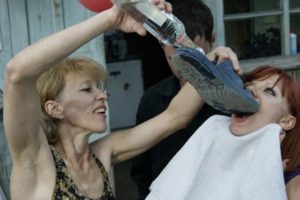 Well, that's one way to drink vodka.
14-Most of us like to relax in our bikinis by the pool…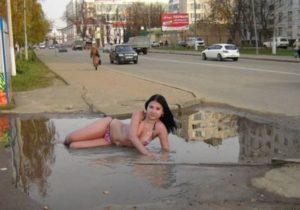 But this girl is relaxing by the puddle.
15-A few added candles to make the setting more romantic…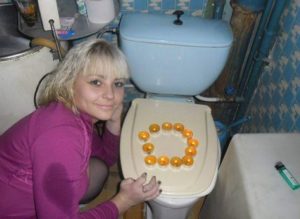 Although I'm not sure the bathroom is the most suitable place.
16-Most people pour water on their body, but not this girl.

That's one drink that will certainly attract the wasps.
17-Well that's a nice suit…

Or is a tracksuit?
18-We all love our food…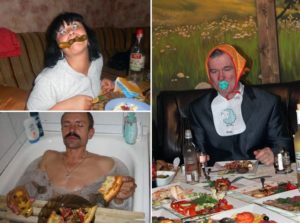 So let's try our best not to judge these guys.
Article credit: www.boredomtherapy.com
If you enjoyed this article please SHARE with your Facebook friends and family.
Advertisement