Daily Feed is the home of social first news and entertainment. From celebrity gossip to nostalgia, our unique content is guaranteed to intrigue and inform. If you enjoy the following article please share with your family and friends.
We are all aware that Primark keeps on delivering the goods and bringing out new ranges that we all want to get our hands on.
From the Harry Potter sleep range all the way to the Halloween fancy dress shop, we just can't get enough.
But, once again they have pulled it out the bag and the whole internet is going wild for these Disney slippers.
Fans are absolutely loving these comfy kids' slippers that Primark have just brought out and the prices start from as little as £3.
There is a huge range on offer including shark, Thumper, Minnie Mouse and Unicorn slippers. Kids are going wild for their parents to treat them to a pair of these adorable slippers.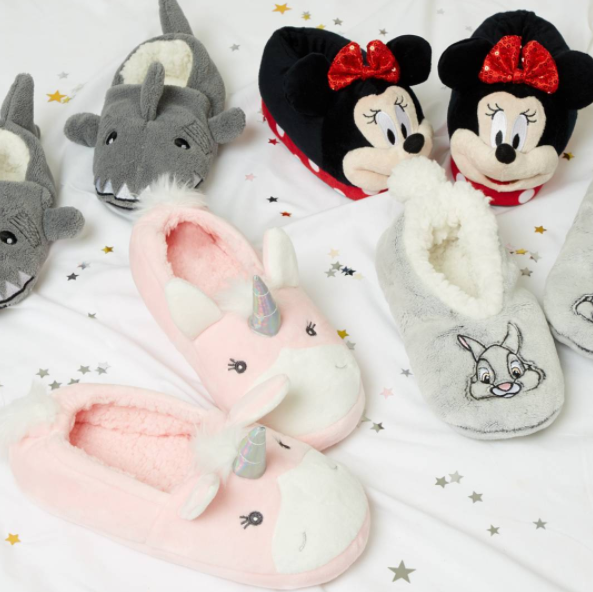 But, the thing people seem more concerned about is why they aren't bringing out these adorable comfies in adult sizes?!
The picture of these slippers was posted on the Primark Instagram and since then more than 87,000 people have liked the image. This just goes to show how much of a big hit these cosy character slippers are going to be.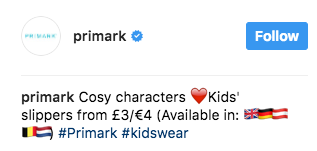 The comments flooded in:
"Okay but do these go up to like an adult size 4"

"Omg I love the unicorn ones!! ?"

"I would still get them even if they are kids" 

"wtf why are these kids I want some"
A lot of people were more concerned about the fact that these haven't been released in sizes more suitable for adults.
Ok thats all well and good but… do you have adult sizes for these slippers? ?

— Shan (@_Shazzarr) October 7, 2017
It seems that everyone would be very jealous if their kids had these slippers and they didn't have a pair to match too. So, we think that Primark should really bring out these in a range of sizes so we can get our hands on them.
However, the likelihood of this is extremely slim which means for the first time ever, those people with tiny feet can now benefit and grab a pair from the kid's section.
If this has upset you, then fear not… Primark still has a huge range of slippers for adults.
So, what can you treat yourself to in preparation for the Winter months that are fast approaching?
Pink Flamingo Slippers for £8.00 
These slippers are truly one of a kind and are guaranteed to be the talking point of any conversation. For eight pounds you can treat yourself to these hilariously cute slippers. Whilst they seem a little bit eccentric, they are perfect for you to wear around the house. It will feel like you are walking on a cloud with these huge, comfy slippers on your feet!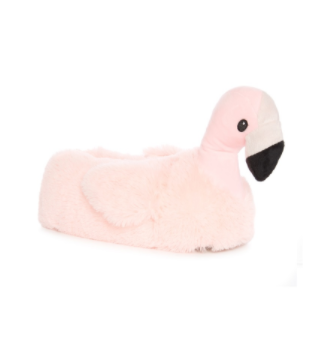 Fluffy Tan Slippers for £4.00
These lovely slippers are an absolute steal for just four pounds. These slip on slip off slippers come in a range of different colours and have a fur trim around the edge. They're fluffy inside which means they're guaranteed to keep your toes nice and cosy.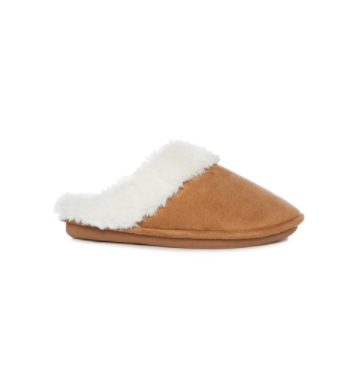 Navy Soft Slipper Boots £6.00
These adorable slippers have an extremely Christmassy vibe with the fur around the top edge of the slipper. The bow has two dangling pompoms and these little boots are sure to keep you warm in the cold, Winter months. The fact they're boots makes for an extra comfy combo and will keep you toasty and warm!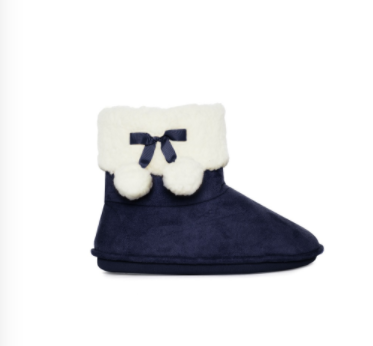 If you want to complete the whole of your evening wardrobe, then you can treat yourself to some of the lovely pyjamas that Primark have on offer at the minute.
Mermaid Onesie for just £14.00 
If you are really deciding to get yourself prepared for the Winter months then what better way to do so than buy yourself a onesie? This amazing onesie is only fourteen pounds, which is an absolute steal for a full nighttime outfit. This onesie is shiny and has a cute crown on the hood. This is perfect for cuddling up on the couch and watching films in! If you wore this to a movie night you can guarantee that everyone would be jealous!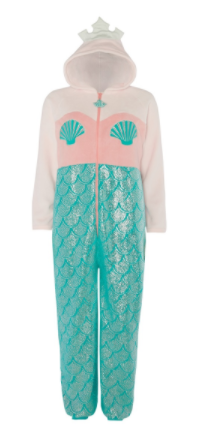 Satin PJ Set for £12.00 
Satin pyjamas sets are extremely in at the moment. So, instead of spending a fortune on a pair of pyjamas from any other high street store, why not head over to Primark for these lovely pyjamas that they have on offer. These dark purple satin pyjamas are absolutely perfect for a good nights sleep. Not only do they look amazing, but they are also silky smooth and comfy. For just twelve pounds you can treat yourself to this lovely set of pyjamas… and you'd be silly to miss out!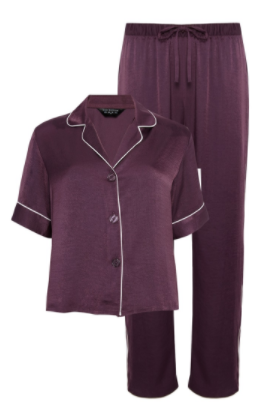 Satin PJ Set for just £14.00
Just like the purple satin set, these multicoloured pyjamas are absolutely adorable and look like they're worth a lot more than just fourteen pounds. The pattern is adorable and compliments to lovely trim on the edge of the sleeves and the bottom of the pants. Finished with an adorable bow on the waistband, these pyjamas are sure to make you excited to get home from work and change straight into them!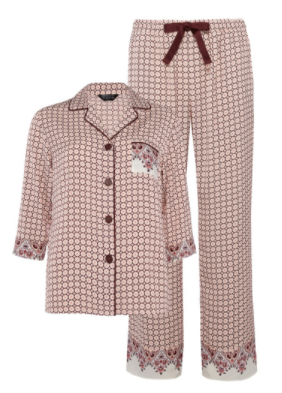 Pink Unicorn Top Bottoms Set for just £15.00
If you prefer to invest more into loungewear, then this is definitely the option for you. This divine pink duo is bound to bring you bundles of comfort in the evening. We are all obsessed with the Unicorn trends at the minute, so this pink combo is a delight.
'Always dreaming of unicorns' is what the top reads and a lot of us can agree with this!!!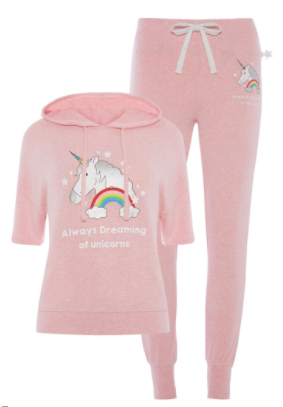 The internet can agree that any pyjama set bought from Primark is guaranteed to go down a treat!
Primark pyjamas are the comfiest things ever???❄️

— Becky? (@Rebeccagrimsha3) September 29, 2017
We can all agree with this lady…
I could probably spend hundreds of pounds on pyjamas in Primark ?

— kayl (@kayleighoneill_) October 8, 2017
You know it's Winter when you go on a shopping spree in Primark for new pyjamas!
Can't wait to go wild in Primark and buy new cosy pyjamas❄

— SK♡ (@sk_maclennan) October 5, 2017
Scientific fact:
Primark do the best fluffy pyjamas and that is a fact

— Caitlin Jane (@Caitlinn_Jane) October 4, 2017
We all agree with this woman, we need someone to just buy us every single pair of pyjamas that they have in Primark!
Would someone just buy me all the pyjamas in primark

— amy wellington (@a_mee_wells) September 27, 2017
It wouldn't be Winter if we didn't splash a little bit of cash on a whole new Winter wardrobe and we all know the best place to do this is in Primark!
Why not top off your whole Winter attire with some lovely slipper socks?
2 Pack Coral Fluffy Socks for £1.80
These pink fluffy socks are an absolute dream for lounging around the house in. Why not upgrade your boring pair of socks to the ultimate pair of chill socks? These are a fluffy dream and will leave you feeling like you're walking on a cloud. The price is so low that one pair costs less than a pound! You'd be silly to not treat yourself to this delightful duo of socks…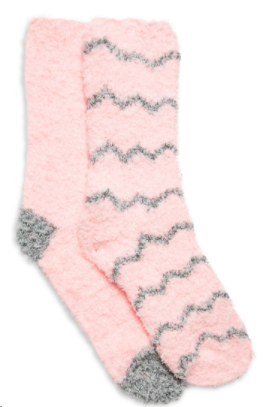 2 Pack Boucle Sock for £1.80
If pink isn't your colour, then you can definitely treat yourself to this duo of socks. Again, two pairs of these socks only costs £1.80 which means that they are an absolute steal! These are absolutely perfect for lounging around the house in and are guaranteed to keep your toes nice and warm in the Winter months.
So, will you be heading on down to Primark to treat yourself to the lovely nightwear range that they have on offer? Be sure that you get down there before these lovely items start flying off the shelves.
Advertisement