Daily Feed is the home of social first news and entertainment. From celebrity gossip to nostalgia, our unique content is guaranteed to intrigue and inform. If you enjoy the following article please share with your family and friends.
Many guests come and go on This Morning every single week. However, the pair that sat on the couch opposite Holly and Phillip this week have really caught the attention of the public.
Matt Fiddes was reunited with his former bully on the couch of This Morning after he had tormented him for two full years in his childhood from the age of five.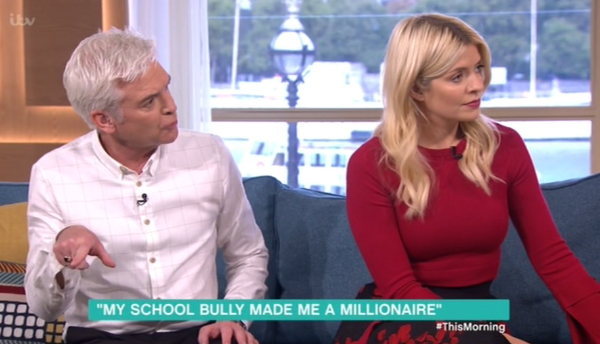 Fiddes said that his bully was the inspiration behind his lifelong career. The martial arts expert managed to build his entire career following the years of bullying he faced from Anthony.
Viewers have hailed the reunion of this unlikely pair as both heartwarming and inspirational. He gave credit to his former bully for being the real reason he got into martial arts.
Matt said:
"He triggered it, I come from a very well-educated family. 

"My mum's one of 14, all university graduates and I'm kinda the black sheep. 

"[The bullying] started a fire inside me."
When Matt was just eighteen years old he met Michael Jackson, the King of Pop, and this is where his career began. He was his personal bodyguard for a full decade.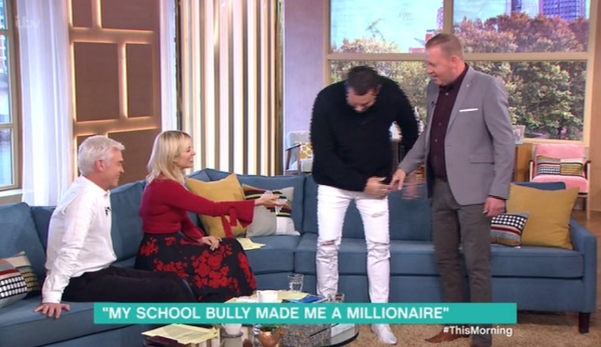 After years of working with Michael Jackson, he decided that he would invest his money into something worthwhile. He spent years building up an international martial arts school and used his wealth to hit back at bullying – an issue so many school children face on a daily basis.
He carefully developed a programme that students could enrol on to help them protect themselves from bullying. He claims that he has saved a million children from bullying.
After a career's advisor had a word with Matt and told him he was stupid for trying to pursue a career in Martial Arts, he returned at the age of 21 with a new Ferrari just to rub it in her face and prove a point.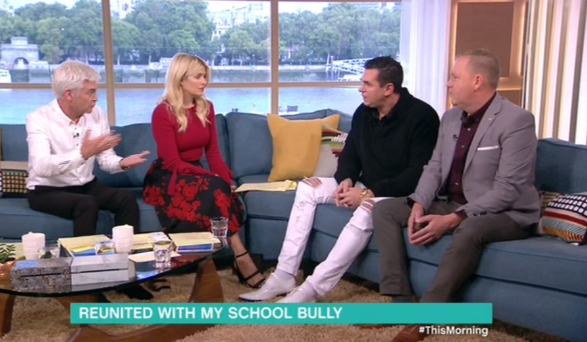 He said:
"To be fair to her, she was proud of me."
Naturally, when Anthony was brought onto the stage, the initial meeting appeared to be fairly awkward. However, the pair sat together and had a chat about what went on when they were just children.
Matt had this to say as his former bully came out and they shook hands:
"He's a real man for doing this."
Anthony responded:
"Yeah yeah, it was all five year old stuff, pushing him in the queue for the milk. I was overwhelmed about what Matt had said about me, to be honest."
A lot of people excused Anthony because they were only five years old at the time.
This Morning posted the best part of this interview on their Twitter.
We do love a happy ending! Matt and Anthony are now planning on training together pic.twitter.com/QdyKj0scr9

— This Morning (@thismorning) October 9, 2017
People were quick to respond on Twitter with positive comments:
A man bullied as a kid turned that emotional turmoil into determination and pure grit to become a successful individual.

— Adam Cochrane (@Sausages68) October 9, 2017
We can all agree with this person.
Loved the interview

— Sharon hurley (@Shazzer2933) October 9, 2017
People voiced their opinions through the comments section when the interview was posted on their Facebook page.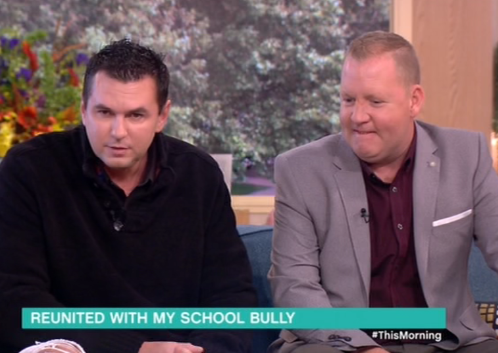 A lot of the opinions were definitely some that we could relate to:
"They should have brought out one of this teenage bullies who was old enough to know they were being cruel, not someone who was 5 years old at the time!"
Another commented:
"I think this was a great segment, to be honest… maybe bit cringe-worthy but as a parent of a child going through hell with bullies its great for other to see that life won't be rubbish forever and you can turn it into a positive… Only a few weeks ago my daughter got jumped by a group of bullies and shared over social media… now she instead of letting it get her down she is trying to raise awarenesss… "
It is extremely inspirational that this pair has come onto the show and shown that they have no put their differences aside. Decades later this pair found peace and they are now planning on doing some training together – there couldn't have been a happy ending.
Anti Bullying Week is just around the corner and it will be held on Monday the 13th of November until Friday the 17th of November.

This is a serious issue that we all need to raise awareness about and this week aims to highlight certain issues.
According to the official website, the specific aims for this week are as follows:
"This Anti-Bullying Week we want to: 
empower children and young people to celebrate what makes them, and others, unique

help children and young people understand how important it is that every child feels valued and included in school, able to be themselves, without fear of bullying

encourage parents and carers to work with their school and talk to their children about bullying, different and equality

enable teachers and other children's workforce professionals to celebrate what makes us 'all different, all equal' and celebrate difference and equality. Encouraging them to take individual and collection action to prevent bullying, creating safe environments where children can be themselves."
Advertisement