Advertisment
Is it Christmas already? 
People are going to go crazy when Debenhams start selling their advent calendar this year. Last week we told you about their pork scratchings advent calendar they were going to start selling next month but this one is even better.
Advertisment
Debenhams' Bailey's advent calendar is made up of 23 Bailey's chocolate truffles and a mini 50ml bottle of the winter warmer and just when you thought it couldn't get any better, it only costs £13.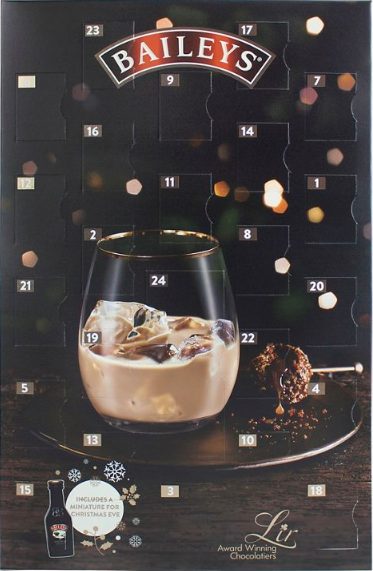 The delicious advent calendars have already sold out online, but you can buy the calendar in store. Don't worry though, if you haven't got enough time to go into town to get yourself one, Debenhams have promised that the calendars will be back online by the end of the week, so all of you Bailey's lovers out there will be able to get your festive mits on this amazing calendar.
If this calendar won't satisfy your cravings enough, you can get your hands on a bottle of the Irish cream from Tesco for £12. You can pick up mini bottles for around £1.50 to £2 online and you can even get a pack of 17 Bailey's flavoured sweets for £2 from Asda.
It seems that all shops are going advent calendar crazy, here are some more amazing advent calenders you can get hold of this year: 
Asda is selling a CHEESE advent calendar this year – YES, CHEEEEEESE!! And it only costs £8, can you believe it?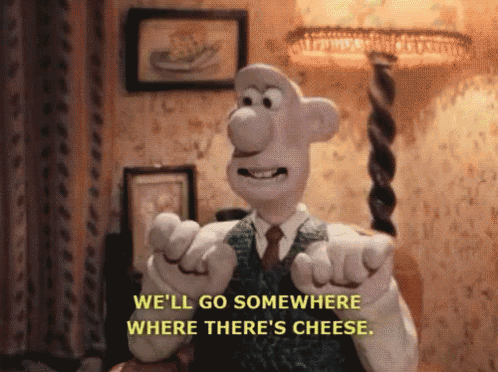 Each door has a different cheese and the options include Applewood, Mexicana and Jarlsberg (I'm dribbling just thinking about it….) and you'll be able to buy it from the supermarket as of November 6.
It obviously has to be kept in the fridge, you wouldn't want it smelling out your entire house no, would you?
The only downside to this amazingly cheesy advent calendar is that it only ha 24 doors, so you won't have a cheesy surprise to open on Christmas Day.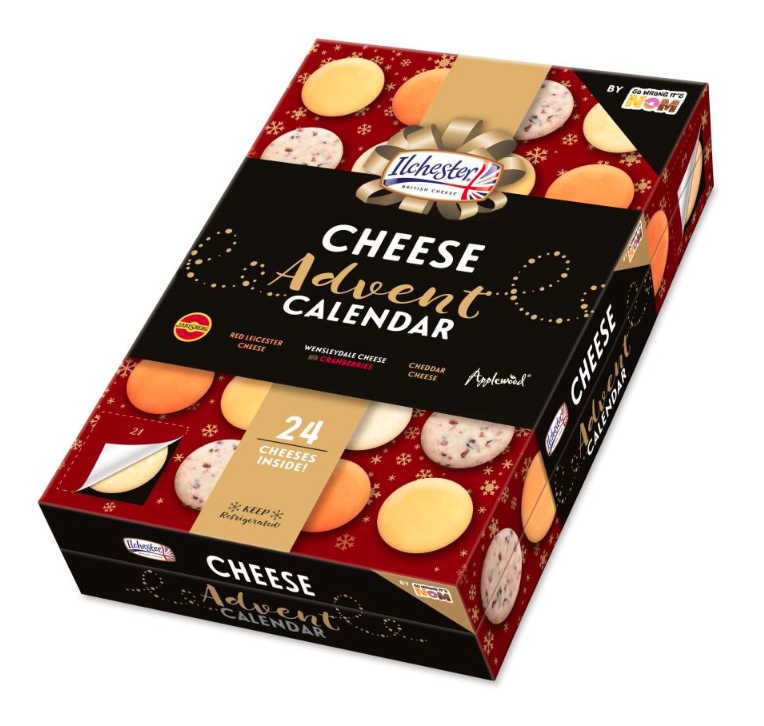 This isn't the first 'unique' advent calendar we've reported on either, Aldi are going to be selling a wine advent calendar this year….
The advent calendar will cost £49.99 which works out at £2 per mini bottle and it'll hit stores on November 14. It will contain everything from Merlot to Chablis – so wine lovers everywhere will LOVE this fancy advent calendar. All the wines are from France except the sparkling which come from Italy and Spain and Aldi have said it was created in collaboration with brands like JP Chenet and Calvet.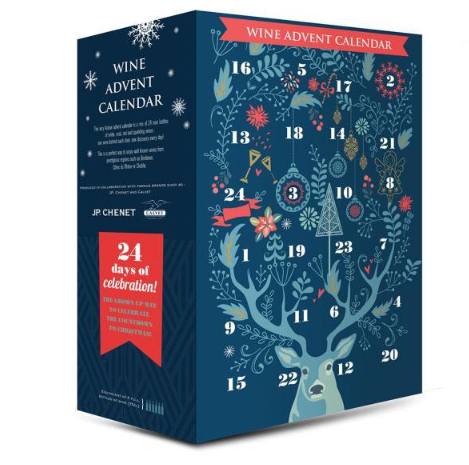 So you'll be able to treat yourself to a little bottle of wine each day (maybe not in the morning because you don't want to be going into work drunk do you!)
"I'm sorry but Aldi have produced the biggest game changer of 2017… a wine advent calendar," wrote one customer on Twitter.

While another added: "14 November is saved as the day for Aldi's release of a bargain alcoholic advent calendar."
People are absolutely loving Aldi's advent calendar this year but if you want to get your hands on it, I suggest you get one as soon as they come on sale, I predict they'll sell out very very quickly.
I'm sorry but Aldi have produced the biggest game changer of 2017 … a wine advent calendar 😱🍷

— Sister Darkness ❤ (@SadiaSallySamas) September 14, 2017
14 November is saved as the day for Aldi's release of a bargain alcoholic advent calendar

— Katie Henry (@henryfamilypc) September 14, 2017
We're not stopping there either, all of you wine fans out there will be happy to hear that Iceland is launching a wine advent calendar too.
You'll get 24 mini (187ml) bottles of wine behind each door and it'll cost you £39.99, which isn't bad at all when you think about how much wine you're actually getting.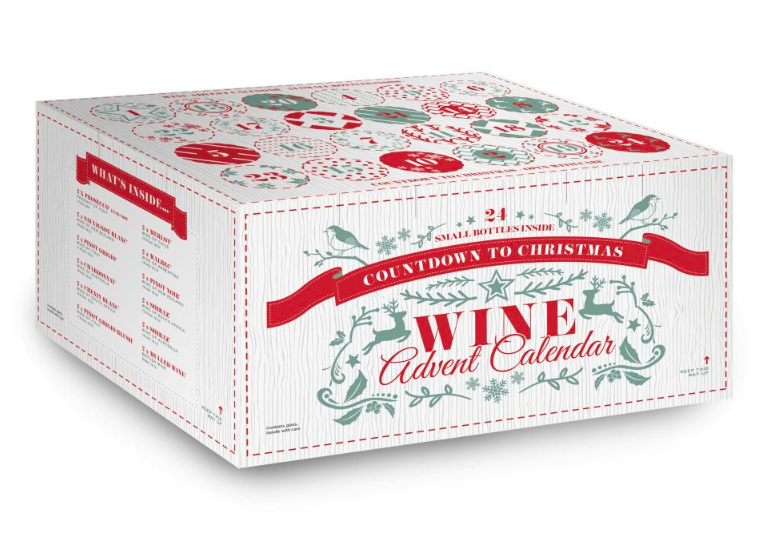 Whether you're a white or rosé girl, there's something in there for you. From Prosecco to Pinot Grigio, Malbec to Chardonnay or even Champagne and Mulled Wine. You'll get Prosecco, New Zealand Sauvignon Blanc, Italian Pinot Grigio, Australian Chardonnay, South African Chenin Blanc and Italian Pinot Grigio Blush. While there's also a double offering of Chilean Merlot, Argentinean Malbec,  New Zealand Pinot Noir,  South African Shiraz, Australian Shiraz and British Mulled Wine.
You can order the advent calendar off Amazon too and it'll be available to order from October 15 but it'll set you back by £55. Iceland stores nationwide will be selling the calendar from November 6 for £39.99, that's a saving of £15.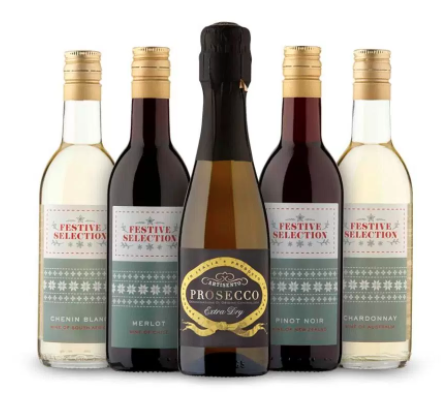 The boozy advent calendars don't stop there either…
If you're more of a gin lover, John Lewis is selling a GIN advent calendar that might tickle your taste buds.
You can get your festive mits on 25 bottles of 5cl Edinburgh Gin, Cannonball Gin and briny Seaside Gin. I know what you're thinking…this is going to cost you a fortune & you're not completely wrong there. the advent calendar will cost you a hefty £100 BUT with the gin miniature bottles being priced at £15 for a set of three, it would save you £12 on the actual value of the calendar.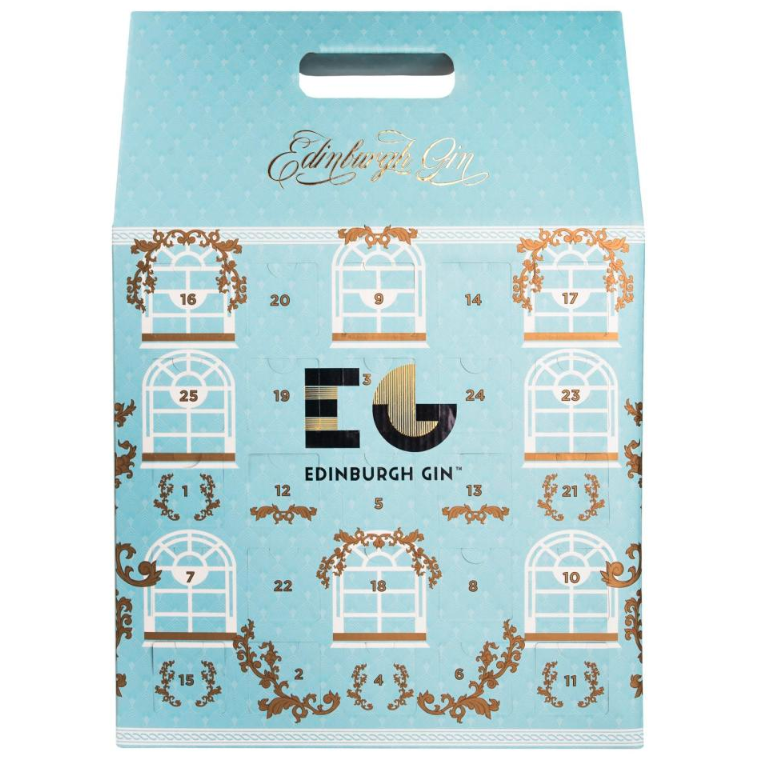 Here's what you actually get in the set: 
3 x Cannonball Gin ( actual value £15 – based on gin miniatures priced at £15 for set of 3, £5 each)
9 x mix of gins including Edinburgh Gin and Seaside Gin (actual value £45 – based on gin miniatures priced at £15 for set of 3, £5 each)
13 x different gin liqueurs (actual value £52 – based on set of 3 liqueur gins £12, £4 each)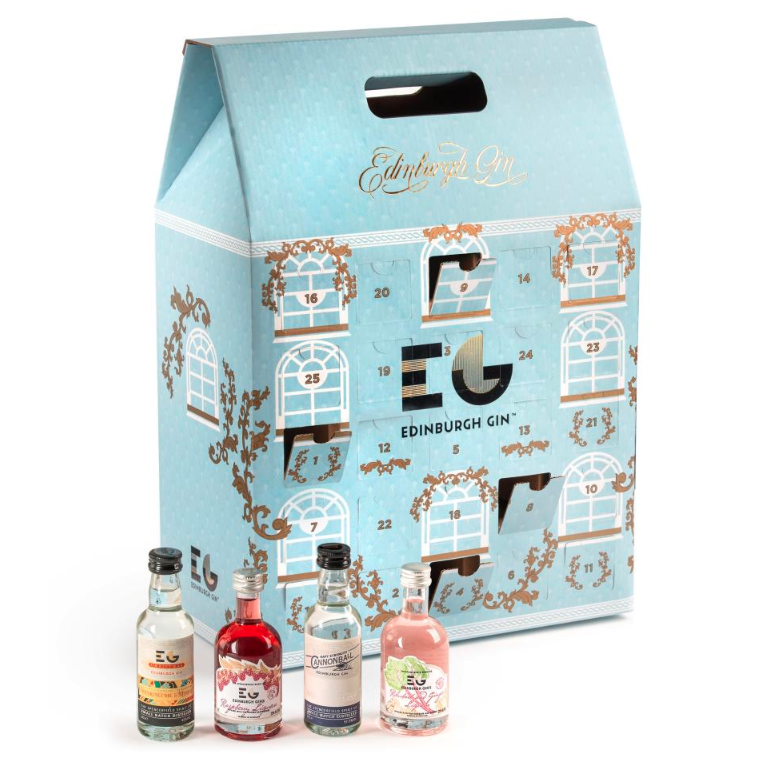 Anyway, enough of the alcohol advent calendars, I've got an amazing advent calendar that you'll LOVE. Debenhams is launching a pork scratching advent calendar, which will be perfect for any savoury loving swine's out there.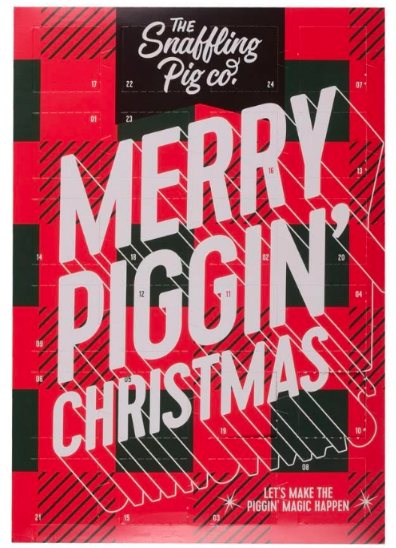 It contains 24 mini bags of gourmet crackling treats and it'll only cost you £15. You'll be able to get your trotters on the calendar by the end of this month and you'll get six flavours behind each door, including Pigs in Blankets, Low & Slow BBQ, Maple, Black Pepper & Sea Salt, Salt & Vinegar and Perfectly Salted.
It's the perfect calendar for anyone who doesn't like chocolate!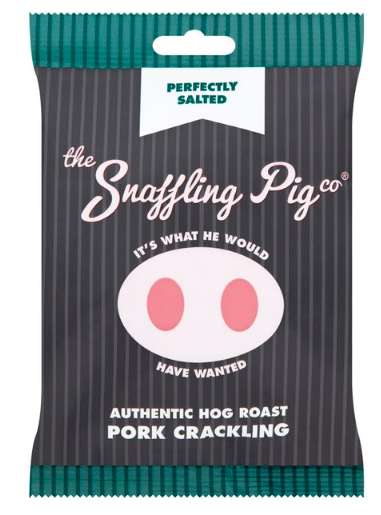 So, now I've shown you the food advent calendars, it's time to show you what ASOS has to offer.
They're launching a beauty advent calendar for £55 & fans are going absolute CRAZY for it & we can see why.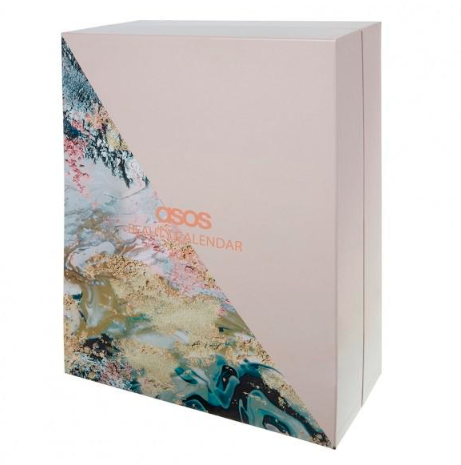 I know what you're thinking, £55 is a bit steep for an advent calendar, but when you see what you get inside, you might think again. Last year, they sold a MAD beauty ASOS 12 days of Christmas countdown which was packed full of lip balms, nail files, bath salts and other amazing products. THIS year, you'll get 24 individual treats hidden behind the doors and the range includes a mixture of skincare, makeup and hair products, with big name brands such as Eyeko, Smashbox, The Ordinary and This Works.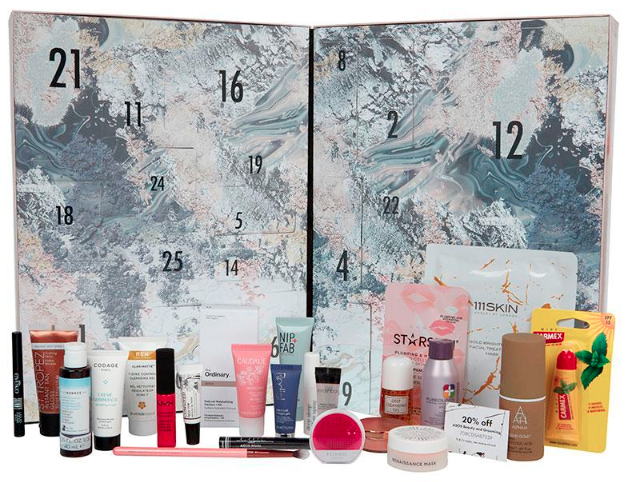 The calendar itself is very eye-catching, with a blue, green and rose gold swirling dye effect design. And just when you though this calendar couldn't get any better, on the 25th day, you'll get an ASOS discount code which will be perfect for splashing out on the Boxing Day sales.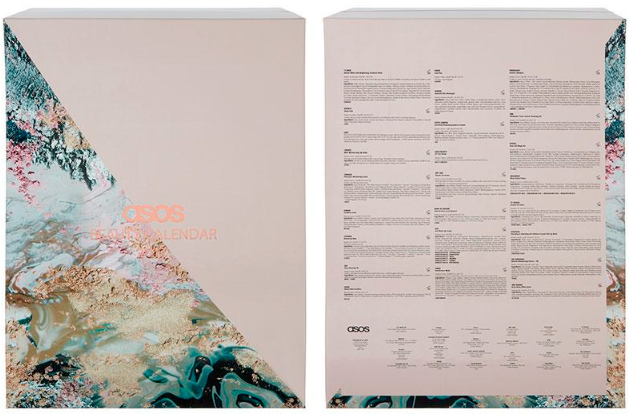 Here's a list of beauty products you'll find behind each door: 
111Skin Limited Edition Gold Brightening Treatment Mask 30ml
Alpha-H Liquid Gold 50ml
A 20% off single use discount code
Carmex Mint Moisturising Lip Balm 10g
Caudalie Vinisource Moisturising Sorbet 10ml
Codage Scrubbing Cream 15ml
Cowshed Natural Lip Balm 5ml
DHC Deep Cleansing Oil 30ml
Eyeko Skinny Skinny Deluxe Eyeliner 30ml
Foreo Luna Play
Korres Santorini Vine Shower Gel 40ml
Lottie London Arch Rival Volumising Eyebrow Powder 1g
Luxie Beauty 231 Eye Brush
NIP+FAB Glycolic Fix Serum 15ml
Nude by Nature Natural Glow Loose Bronzer 2g
NYX Soft Matte Lip Cream 8ml
Oskia Renaissance Mask 12ml
Pureology Hydrate Shampoo 50ml
REN Clarimatte T-zone Control Cleansing Gel 25ml
Rodial Stem Cell Magic Gel 5ml
Smashbox Photofinish Primer 7.1ml
St Tropez Instant Tan Gloss 30ml
Starskin Plumping and Hydrating Bio-Cellulose Second Skin Lip Mask
The Ordinary Natural Moisturising Factors + HA 30ml
This Works Deep Sleep Pillow Spray 5ml
You better order one quikly because they're already on sale & we expect they'll be extremely popular!
Advertisment
Next Post