Daily Feed is the home of social first news and entertainment. From celebrity gossip to nostalgia, our unique content is guaranteed to intrigue and inform. If you enjoy the following article please share with your family and friends.
There is nothing more enticing than the smell when you walk past a chippy. The scent of the chips sizzling and the fish frying is nothing short of a dream.
Our mouths instantly water when we smell the comforting salt and vinegary goodness and we know in that moment that we are unbelievably happy to be British.
There are so many positives about treating yourself to a chippy… Not only does it make us feel amazing, but you really don't have to break the bank to get yourself some fish and chips.
It really goes without saying that fish and chips are the ultimate comfort food and there is nothing we enjoy more than a full plate of this salty goodness. Whether it's lunch or tea, you can guarantee that a chippy is the best option to go for when you need a little happiness from food.
Here are just a few of those happy places that the chippy takes us.
Enjoy… because this will deffo leave you needing some chips, cheese and gravy with a fat sausage lay on top.
1. The sheer choice of things you can get
There is something for absolutely everyone at the chippy. Fish, chips, sausage, pies, gravy, peas…. the list goes on. There is nothing more delightful than a chippy. But, the absolute best part is that you don't have to decide what you want until you get there. Everything is on display for you so you can be tormented visually with the different bits and bobs on offer. This makes choosing a hell of a lot easier… or harder because it makes you want absolutely everything. There is nothing more dreamy than a chippy, it is the ultimate comfort food especially when it's cold outside!
2. The fact you're not judged for getting cheese AND gravy on your chips
When you can't decide whether you want cheese or gravy on your chips you start to work yourself up. But, you realise that there is no judging inside the chippy which means you can treat yourself to both. How delicious is it when your chips are drowning in gravy and melting amongst a huge mountain of cheese? The thought alone is making my mouth water. The best part is that they really aren't stingy with the amount of gravy and cheese they give you. They want you to enjoy your meal to the absolute maximum, which means they give you as much of the little extras as possible! 3. The scraps you can get whilst you wait
There are loads of little bits of batter on the tray where they keep the food warm. Whilst we are all aware that these are just crispy bits of batter covered in oil we are all still in agreement that these are the most delicious things in the world. We are essentially eating grease, but we really don't care. You can ask for a bag full of these scraps to snack on and usually, they don't even charge you for it! Delicious!
4. If your really pushing the boat out you can get curry sauce all over your chips
If you are just popping past the chippy and don't want to commit to a full meal, the perfect in-between option is a portion of chips covered in curry sauce. This seems like a really bizarre option for anyone who isn't from the UK, but for us, it is the norm. The thought alone is amazing… is this making anyone else seriously hungry? We are blessed that someone in the UK invented fish and chips and all the extra bits that come alongside it.
5. The fact you probably know the owners because you go to your local chippy that often
The nicest thing in the world is the warm welcome you get when you enter the chippy. We can agree that these people feel almost like family and they are providing you with the most delicious food you could ever dream of. A warm welcome is enough to make your whole chippy experience 100 times better. There is also no breaking the bank when you go to the chippy which means you can indulge in a HUGE meal for less than a fiver… yes, please!!!
6. You can get a portion of chips for a snack after school or work before your tea
There is nothing better than that mid-afternoon snack, is there? But, you upgrade this snack to a whole other level when you get yourself some chips from the chippy. There is nothing more divine than indulging in a small portion of chips before tea. Who used to do this when they were on their way home from school? You would eat them as fast as possible so your mum wouldn't shout at you for ruining your tea.
7. You feel like you're eating moderately healthy when you get mushy peas
We are all more than aware that anything we get from the chippy is bound to be unhealthy. But, this is the ultimate comfort food. However, to make ourselves feel a little bit better about life, we decide that we need the tiniest little bit of health in there. The only remotely healthy thing that the chippy has on offer is the mushy peas. Whilst these are actually a vegetable, in an extremely unusual form, they are also absolutely delicious. A tub of mushy peas is the finishing touch we need for every single chippy we get. Mmmm…
8. Your local Chinese is probably a chippy too, which means you can get a combo of the two
We can all agree that Chinese is also up there on top of the list of comfort foods. In a nutshell, we love any type of food that is completely saturated in batter and fried. This means that we are over the moon when we learn that the majority of our local chippies are also places that sell Chinese food too. The food is just as amazing as a truly authentic chippy, so there is no issue there. This is perfect if you're wanting chippy chips but a little bit of a Chinese side… like salt and pepper chicken wings. What a dream.
9. You don't even need a plate because you can eat your food out of the newspaper its wrapped up in
The classic way you receive your chippy is in a polystyrene food box and then wrapped up in loads of newspaper. This is the general way we all receive our chippy food. If you have a full on meal from the chippy then when you get home all you need to do is unwrap your newspaper and dig right in. There is nothing better than having a delicious meal from the chippy and not even having to do any washing up afterwards. We can all agree that this is something special. Or, if you are getting some chips on the go then you can request that you have your chips in the newspaper without them wrapping it up fully. This means your little cone of chips are ready to eat…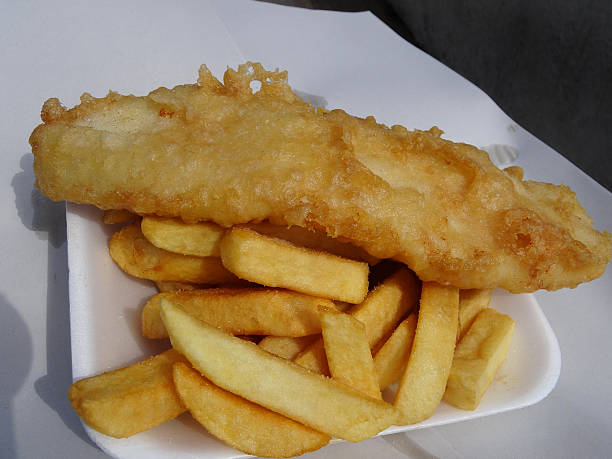 10. Watching them drown your whole meal in tons of salt and litres of vinegar
It goes without saying that any meal from the chippy is incomplete if they don't add salt and vinegar on all your things. There is nothing more dreamy than watching them pour your salt and vinegar over everything you've just bought. It is even better when you ask them to put on as much as possible. The combination of salt and vinegar makes for the most delightful combination of seasoning in the world.
Advertisement