Daily Feed is the home of social first news and entertainment. From celebrity gossip to nostalgia, our unique content is guaranteed to intrigue and inform. If you enjoy the following article please share with your family and friends.
Roald Dahl is most famously known for his children's books and he has played a huge part in everyone's childhood. When we were growing up we spent so much time reading these books and he is known as one of the world's best selling authors. "One of the greatest storytellers for children of the 20th century" had a trusty sidekick called Quentin Blake who was known for the amazing illustrations in the books.
This man wasn't just famous for his children's books as he also wrote many stories for people of all ages. So, how many of his amazing books have you read?
1. The Gremlins (1943)
This was the very first book that Roald Dahls wrote and it was for children. Originally, this book was meant to be turned into an animation done by Walt Disney. Sadly, it was dropped before the film was completed but Disney still decided that they were going to publish the storyline as a book. Copies of this book are extremely rare and that is because only around 50,000 copies were printed worldwide.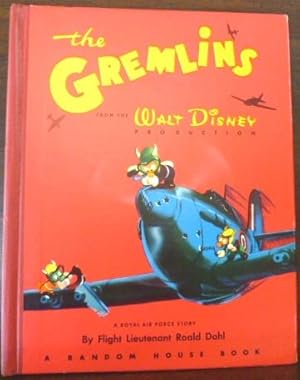 2. Over To You (1946)
"The – plane – is – burning. Get – out – repeat – get – out – get – out."
This was a compilation of Roald Dahl's earliest stories. Ten stories, most of them set during the Second World War, were published in this book and he used past experiences to help aid his writing for these books.
3. Some Time Never (1948)
This book was originally released in the United States back in 1948. The following year it was published by Collins throughout England. Sadly, this book wasn't successful as he had hoped. The book was likened to an adult version of The Gremlins story – the first book he published for kids.
4. Someone Like You (1953)
This is another collection of small stories including mystery, horror and science fiction.
5. Kiss Kiss (1960)
Kiss Kiss was published in 1960 and is another collection of short stories. Some of the stories included were published in The New Yorker the year before but it still contained some new short stories people hadn't read yet.
6. James and the Giant Peach (1961)
"My dear young fellow,' the Old-Green-Grasshopper said gently, 'there are a whole lot of things in this world of ours you haven't started wondering about yet."
James and the Giant Peach has to be one of Roald Dahl's most well-known books. James Henry Trotter is the main character in the story and his parents are tragically eating by rhinoceros. Sadly, he goes to live with his two aunts who are absolutely horrible. He drops some magic crystals near the old peach tree and the peach tree begins to grow… the magic doesn't stop when the amazing adventures begin!
7. Charlie and the Chocolate Factory (1964)
"So please, oh please, we beg, we pray,
Go throw your TV set away,
And in its place you can install
A lovely bookshelf on the wall.
Then fill the shelves with lots of books."
Another one of his more successful books was Charlie and the Chocolate Factory. We have all read this and possibly seen the films that have come out since.
8. The Magic Finger (1966)
This fantasy story showed the Gregg family, who were people that loved hunting, see their lives turn upside down when their next door neighbour decided to turn them into birds so they could see what life is like on the other side.
9. Fantastic Mr Fox (1968)
"Down in the valley, there were three farms. The owners of these farms had done well. They were rich men. They were also nasty men. All three of them were about as nasty and mean as any men you could meet."
This is another one of his more famous books. The success has lent itself to the film industry, stage adaptations and it has even been adapted into an Opera.
10. Charlie and the Great Glass Elevator (1972)
This is the sequel to Charlie and the Chocolate Factory which was published eight years prior. The book has never been adapted to a film, however, there were elements of this book in the ending of the film Charlie and the Chocolate Factory.
11. Switch B*tch (1974)
This was another collection of short stories which was intended for adults. The genre is 'sexual fantasy' and some of the stories were published in Playboy magazine from 1965 up until 1974.
12. Danny, the Champion of the World (1975)
This was another children's book and it focuses on the lives of Danny and his father, William, who live in a Gypsy caravan. It was actually adapted in 1989 into a made-for-Tv movie.
13. The Wonderful Story of Henry Sugar and Six More (1977)
This collection of seven stories was aimed at a slightly older target audience than his children's book. Whilst there was a range of different pieces in the book, two of them were autobiographical – the first one describing his life and how he first became a writer and the second describing his life experiences as a fighter pilot.
14. The Enormous Crocodile (1978)
"I've thought up secret plans and clever tricks."

"I'm going to fill my hungry empty tummy with something yummy yummy yummy yummy…"
The story is set in Africa and, just like the majority of children's books, teaches valuable life lessons through fun stories.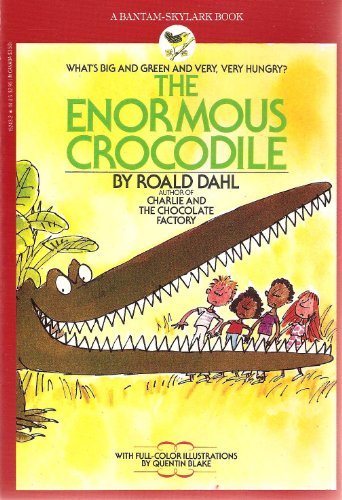 15. My Uncle Oswald (1979)
This was an adult novel that is described as 'effortless reading' with some extremely amusing scenes.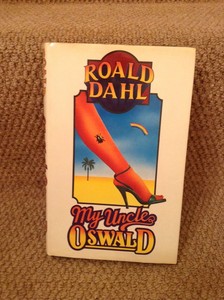 16. The Twits (1980)
"If a person has ugly thoughts, it begins to show on the face. And when that person has ugly thoughts every day, every week, every year, the face gets uglier and uglier until you can hardly bear to look at it.

A person who has good thoughts cannot ever be ugly. You can have a wonky nose and a crooked mouth and a double chin and stick-out teeth, but if you have good thoughts it will shine out of your face like sunbeams and you will always look lovely." 
This humorous children's book had to be one of our favourites when we were growing up. We loved Mr and Mrs Twit and the constant practical jokes they played on each other.
17. George's Marvellous Medicine (1981)
This book was illustrated by Quentin Blake and was praised for the humour yet there were many critics that pulled up some issues with the book. People thought that the plot was under developed and that the whole story came to an end extremely abruptly.
18. Revolting Rhymes (1982)
Unlike his previous publications, this book was full of his poems.
19. The BFG (1982)
"Do you like vegetables?" Sophie asked, hoping to steer the conversation towards a slightly less dangerous kind of food.
"You is trying to change the subject," the Giant said sternly. "We is having an interesting babblement about the taste of the human bean. The human bean is not a vegetable." 
The Big Friendly Giant was one of our favourite books ever when we were kids. A live-action adaptation of the book was released last year and it was directed by the infamous Steven Spielberg.
20. Dirty Beasts (1983)
This was another collection of his poems and the general theme for this book was unsuspecting animals.
21. The Witches (1983)
"It doesn't matter who you are or what you look like, so long as somebody loves you." 
We all read this book, but we probably remember it more because of the film that was released. The Witches were SO scary!
22. Roald Dahl's Book of Ghost Stories (1983)
"Spookiness is, after all, the real purpose of the ghost story" – Roald Dahl
In preparation for this book, he read a massive 749 ghost stories that he sourced from the British Museum Library. He selected 14 of these to make this anthology.
23. Boy: Tales of Childhood (1984)
This was the first full autobiographical book that was published by a British writer. It is a full description of his life from birth up until leaving school.
24. The Giraffe and the Pelly and Me (1985)
This book is about a young boy who meets a giraffe, a pelican and a monkey who all work as a team as window cleaners!
25. Two Fables (1985)
This is another collection of short stories that Penguin published!
26. Going Solo (1986)
This was a memoir by Roald Dahl. He set out for it to be a continuation of his autobiography, Boy. 
27. Matilda (1988)
"I'm right and you're wrong, I'm big and you're small, and there's nothing you can do about it." 
This was another one of his most successful books. Again, Quentin Blake did the illustrations for this book and it was adapted into a film back in 1996 with Danny DeVito as the director.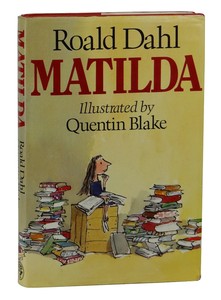 28. Rhyme Stew (1989)
This was another collection of poems that he released back in 1989. The poems had a recurring theme that they were parodies of well-known fairy tales, including The Tortoise and the Hare and The Emperor's New Clothes.
29. Ah, Sweet Mystery of Life (1989)
The book is a big collection of seven of his published stories that featured in a range of different magazine collections throughout the 1940s and the 1950s.
30. Esio Trot (1990)
Once again, this book was illustrated by Quentin Blake and is about Mr Hoppy, a very shy old man who sadly lives alone.
31. The Vicar of Nibbleswicke (1991)
This book was published after Dahl's death and focuses on the life of a dyslexic vicar. It was written in order to help benefit the Dyslexia Institute in London.
32. The Minpins (1991)
Again, this was published after his death and was his final contribution to literature after almost 50 years of writing.
33. Roald Dahl's Guide to Railway Safety (1991)
The British Railways Board asked Roald Dahl if he would write the text of their booklet. Again, Quentin Blake illustrated it and it was published in order to help young people use railways in the safest possible way.
34. My Year (1991)
This book is based on a diary that Roald Dahl wrote in the final year of his life. He reflects on the past and the present. It was described by The Independent in a way that summed it up completely:
"like a nature diary by Andy Warhol – what in other hands might be slight seems, in Dahl's hands, freakish and astonishing."
Advertisement