Why bother changing the name of a brand? It just annoys us more than anything…
1. Royal Mail – Consignia.
As the millennium approached, Royal Mail decided to get rid of its usual branding and have a complete rebrand. They thought it needed a makeover (as if the public really cared). So they hired people to turn it around and they came up with "Consignia". Just 16 months later, when their plans to push into the overseas market didn't go as planned and the name turned into a laughing stock. Consignia was given the boot and Royal Mail bosses hope everyone would just forget about the rebranding as soon as possible.
Consign;
1. To give over to the care of another; entrust.
2. To turn over permanently to another's charge or to a lasting condition; commit irrevocably: "Their desponding imaginations had already consigned him to a watery grave" (William Hickling Prescott).
3. To deliver (merchandise, for example) for custody or sale.
4. To set apart, as for a special use or purpose; assign.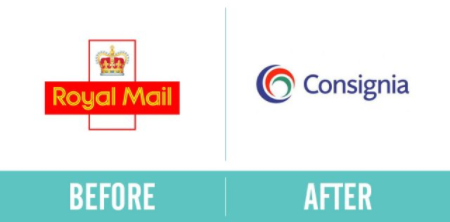 2. BT Cellnet – O2.
In 2000, BT Cellnet launched the worlds first GPRS and together with BT Grop's mobile telecommunications businesses in Germany, Ireland and the Netherlands were part of the BT Wireless division. They became known as mmO2plc then O2 plc. O2 was bought by Telefonica in 2006 in the agreement that they'd retain O2 branding and the company's UK headquarters.

3. Marathon – Snickers.
This deliciously nutty chocolate bar was known as Marathon before 1990. Mars decided to align the product with the global Snickers name. In 2008 it was suggested the bar would be sold as Marathon again for a short period of time – Snickers remains the brand's name.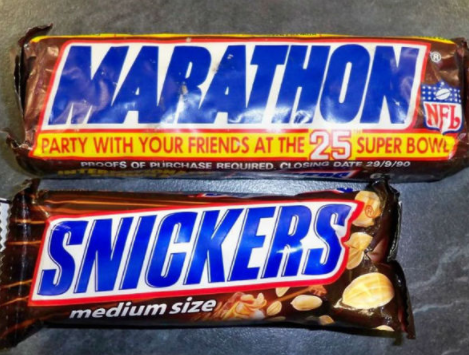 4. Opal Fruits – Starburst.
Starburst were called Opal Fruits, everyone born before the 90s will remember the branding. These sweets were introduced to us in 1959 and were named by Peter Pfeffer in a competition that won him £5 and the four original flavours were strawberry, lemon, orange and lime. Opal Fruits were phased out of the UK and Irish market so that Starburst could be introduced. Asda revivied Opal Fruits for a short time in 2008.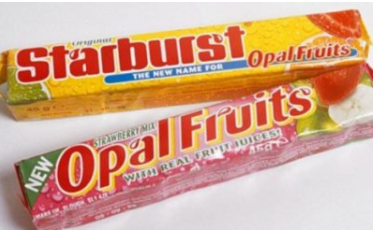 5. Jif – Cif.
This is one of the more subtle changes to a brand name. This lemon infused household cleaning product changed its name in 2000. It was initially called Jif and a £2m rebrand saw it change to Cif and the bottle changed into a yellow colour. It was deemed a necessary change for the European market as they were having trouble pronouncing things, apparently, the "S" was easier to pronounce in other languages. It is sometimes still sold as Jif, Vim, Viss and Handy Andy, depending on which of the 51 countries its sold in.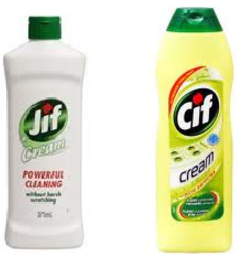 6. Abbey National, Alliance & Leicester & Bradford & Bingley to Santander UK.
Some of these building societies dated back to 1849 and they were very well known on the high street before beginning their formation in January 2010. This led them to be renamed Santander UK plc and Alliance & Leicester plc merged into a renamed business in May 2010.

7. Dime bar – Daim bar.
Dime bar changed to Daim bar in a bid to standardise the brand across Europe. If you ask an English person to spell Daim, they'll probably write Dime….ANNOYING.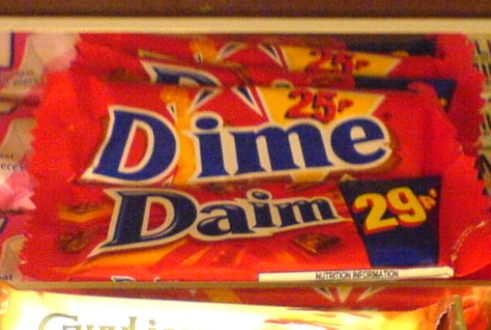 8. Oil of Ulay – Olay.
Like Jif/Cif, Ulay changed their name to olay because some places were having trouble pronouncing the name. In some places the word had close connections to something considered undesirable as a brand name, so it was changed.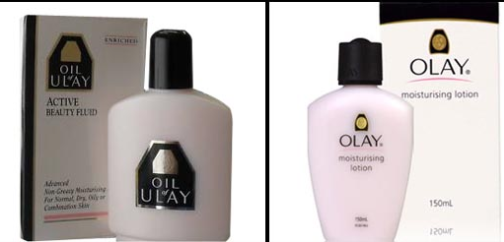 9. Midland bank – HSBC.
The name Midland Bank Ltd was adopted in 1923 and by 1934, it was the largest deposit bank in the world. In 1992 it was taken over by HSBC Holdings PLC, who phased Midland bank out by 1999 in favour of HSBC Bank. HSBC announced that it would be rebranding its UK branches and chairman Douglas Flint described "Midland Bank" brand as the favourite to return to the high street. It was later announced that Midland Bank name wouldn't make a return to the high street and HSBC would be branded "HSBC UK". How boring!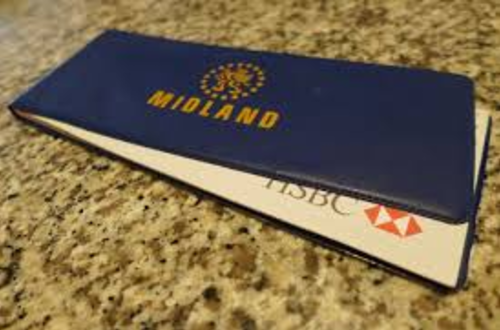 Here are some rebranding disasters:
BP: 
BP replaced their strong logo that had been part of their company for 70 years with their current design logo. The Helios logo is meant to symbolise and represent the company's green growth strategy by taking on the form of the sun. There's nothing green about drilling oil and the company caused global outrage with the Deepwater Horizon oil spill. They were responsible for the largest marine oil spill in the history of the petroleum industry. Greenpeace challenged them to come up with a "new" logo" design. The estimated cost of the "helios logo" was a rumoured $211,000,000. WOW.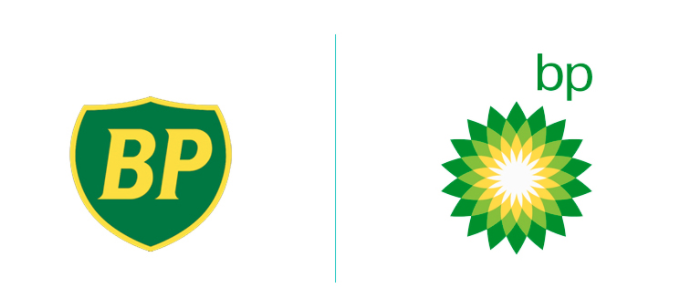 Gap: 
Gap decided to launch a new logo during the busy Christmas period in 2010. They did it with no warning and the original logo had served the company for 20 years. The bold font and square disappeared with people laughing at the new logo. It became clear that people didn't like the new design and Gap responded positively saying it was the first stage of a crowdsourcing process that allowed them to reinvent the company. Gap changed the logo back to its original designs after just 6 days and the rebrand costs them an estimated $100 million. $100 million for that?! You could have created that on WordArt.

Holiday Inn: 
The new logo isn't bad by a long stretch, but you'd expect it to have been a bit bolder. They gave it a spring clean and a complete change. It's now over 5 years old and it's starting to look a bit dated. This cost the brand an estimated $1 billion which is A LOT of money. A LOT!!!

Kraft Foods: 
Kraft is one of the world's biggest food and drinks company and when they revealed their new brand identity in 2009, the design community went a bit crazy and we can completely see why. The food company giant reverted back to their old logo after 6 months (good choice). The original logo was like a slap in the face but the new one, well, that was just nothingness really. Kraft then went on to split the company in two, forming a new company called Mondalez and Kraft Foods Group which kept the original logo.

Pepsi: 
Pepsi will always struggle and their branding will never be as timeless as Coca-Colas. They've changed their logo a number of times and in 2008, they released the latest logo, rotating the circular icon and incorporating a "smile" into their design. See it? No, I didn't either.
"The white stripe on the new logo varies across Pepsi products, getting wider or thinner depending on product. The design team that spearheaded the campaign explains that they're supposed to be "smiles," but we don't really see it." – Forbes Magazine
The cost of rebranding was an eye-watering $1.2 billion over 3 years with the logo mark alone coming in at $1 million.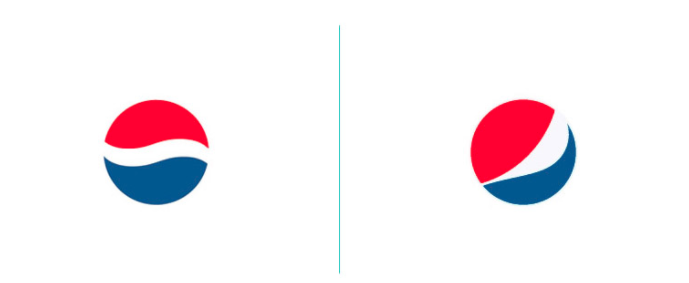 Tropicana:
Pepsi own this brand, so you can probably see where I'm going with this. At the same time as Pepsi was rebranding their fizzy drink, they were also adjusting this one. Tropicana's rebrand ended up looking absolutely horrendous – you know what they say, don't change something that's working perfectly well. The sales figures plummeted by a whopping 20% and they decided to rebrand the carton and reverted it to its original desing. It cost them around $137 million in sales between January and February. We're not at all surprised…

Don't forget to share this with your friends…