Daily Feed is the home of social first news and entertainment. From celebrity gossip to nostalgia, our unique content is guaranteed to intrigue and inform. If you enjoy the following article please share with your family and friends.
We've all been to those incredibly boring weddings. The hours spent in the church sitting at the back and hardly hearing a thing, the stale three course meal and the pangs of hunger which follow and the awkward small talk with the aunties and uncles you didn't know you had. Weddings, ey! Okay, we know we are being a bit negative. But weddings sometimes just aren't worth that new dress.
We have put together some of the most hilarious wedding cakes which will leave you in fits of laughter! These wedding cake toppers are guaranteed to brighten up your perception of 'the big days' and leave you celebrating each time another friend gets engaged!
From horse-head bride and grooms to mini dinosaur-bodied couples, here are 17 of our favourite cakes!
1. Hero wife saves the cake
Typical relationship summed up in a metaphorical sliding side-wards wedding cake. Husband tries to escape and everything goes downhill. Hero wife saves the day by keeping everything afloat. Wow, pretty deep for a celebration!
2. I've caught a big one!
We love this exchange of gender roles! Who says women can't go out fishing! Reel him in!
3. Dino-couple
This couple are either really ugly, or just love Jurassic park!
4. How much do you lift? Darling, how much do you weigh?
We all know those couples. The ones who don't only workout but let everyone know when, what they do and how often they do it. May as well put it on your wedding cake too, just to make sure people know.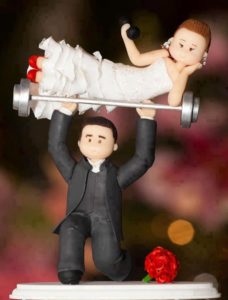 5. We got there!
Either the husband looks like a frog or this couple are implying the bride has kissed a lot of men… PLAYER.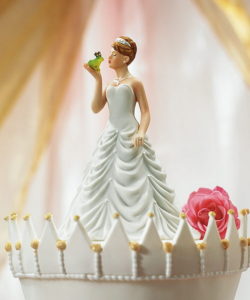 6. Insensitive hubby
The heavy bride spend months before the wedding to shift those extra pounds, only to find her new husband STILL jokes about her weight. Just avoid eating the cake!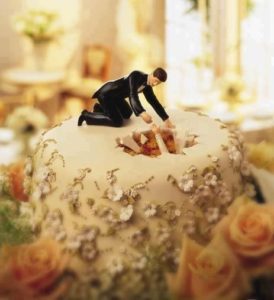 7. Horsing around!
We'e always said this! Those who ride horses gradually start to look like a horse the more time spent being around them. This couple must LOVE horses.
8. Put it down
Mobile phone obsessed couple can't even resist a quick social media check before their first dance!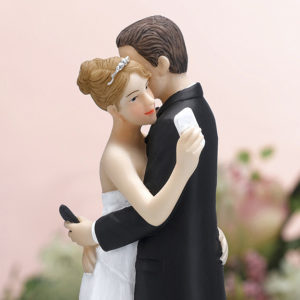 9. It's me or FIFA
Many men are obsessed with their XBOX or PS3 or gameboy or whatever is cool at the moment. This wife has had enough!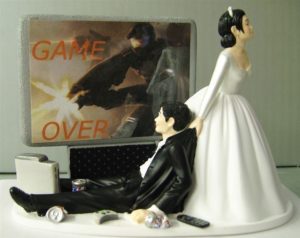 10. Pinch!
We love this cheeky wedding cake. Sorry mother of the bride, this one had to be done!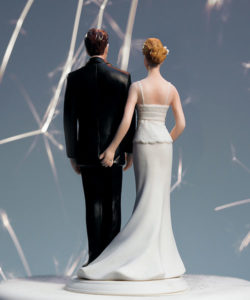 11. Mrs Always Right
As every woman is.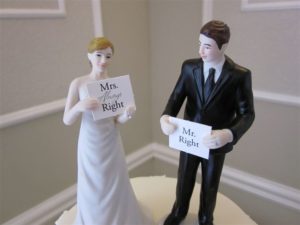 12. Goth Couple
This deathly couple are just pretty darn terrifying. We are not sure how many guests they had, but our guess is, not many.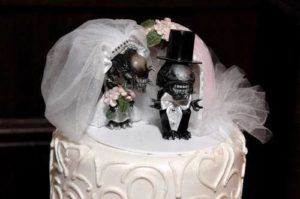 13. Take that!
Nothing says 'I do' like a cream pie to the face!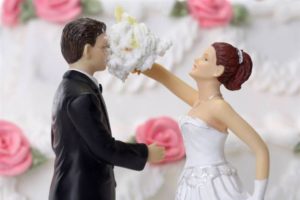 14. Lasso!
Got ya! This traditional bride does things to hard way.
15. We did WHAT?
It's just dawned on this panicked couple what they have actually done. Oh god. Are we really married now?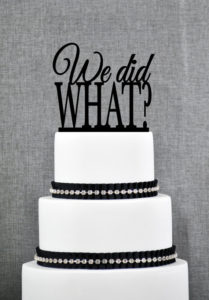 16. Happiest day ever?
This miserable couple look so sad for what is supposed to be the happiest day of their lives. Not a great start to married life…
17. Day before the morning after
These heavy drinkers don't look in a good way. Drinking this much won't help you forget what you've just done.
We love these hilarious wedding cake toppers!
Advertisement