Advertisment
This Morning first aired on our screens back in 1988 when Richard Madeley and Judy Finnigan presented it. There have been a few different presenters over the years, but the two arguably most popular have been the current presenters Phil & Holly. Phillip started presenting the show in 2002 before Holly joined in 2009, some of the funniest This Morning moments in history involve Phil & Holly. Most days, the pair get into fits of laughter & since Holly started presenting the show in 2009, ratings rose by 20%. It's arguably one of the most popular Daytime TV shows in British history mainly because of these two.
Here are some of their funniest moments on the show….
Advertisment
1. When Holly insulted Gino's Maccaroni Cheese.
There was a moment when Gino made the comedy duo a delicious meal and then Holly told him that if it had a bit of ham in, it would taste very much like a British Carbonara. Gino did NOT look impressed and replied with: "If my grandmother had wheels she would have been a bike."
The pair immediately burst out laughing along with everyone in the studio. Everyone at home found the innuendo hilarious and we don't blame them, it was a VERY funny moment.
2. Gwyneth Paltrow's pantry.
This is probably one of the most memorable moments on This Morning. Holly and Phil struggled so much to say "Gwyneth's tidy pantry". They struggled so much that they could barely get their words out and couldn't stop laughing while they were recording the promo. Over 9 takes later, they finally managed to record it but each time they try to say it, they begin to laugh even harder. Very very funny!
"Just cut that together, just cut together the impossible nature of attempting to record a promo for tomorrow's show with the word's 'Gwyneth Paltrow's pantry' in it. 

"Doesn't matter how much you change it, there is nothing you can do!"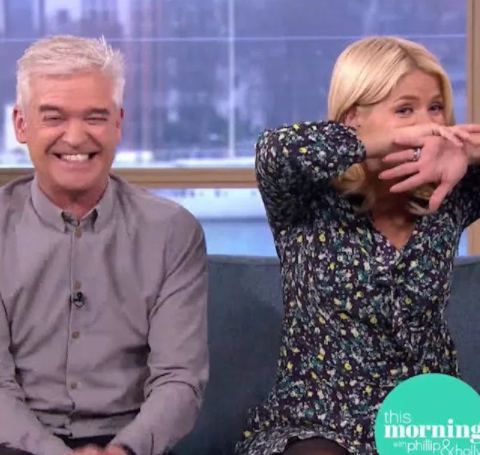 3. The time Holly sat on Phil's hand.
The pair don't just giggle on camera, but off too. After they'd finished reading out what's happening on the show, they went on to reveal that during their VT, Holly accidentally sat on Phil's hand, which had them in stitches of laughter, yet again.
4. When Holly told us her husband ate winkles.
When Phil shows the pair a "Winkle", Holly immediately comes out with "My husband eats winkles and I can't watch him…." which sets the pair of laughing before Phil replies: "Well that's his affair…". As Phil tries to move the conversation on, Holly walks away to try & stop laughing but ends up dropping a load of things in the sink, which makes them laugh even more.
5. The time they came in with last nights clothes on.
I think everyone remembers the time Holly & Phil presented This Morning the day after the NTA's. They turned up in their clothes from the night before, slightly tipsy/hungover and revealed that they went back to Ant's house to celebrate and played a game of Pie Face. Even people who don't watch This Morning, tuned in that morning or watched videos of them on Youtube.
6. When Holly made a strange noise and left Phil literally close to wetting himself with laughter…
This hilariously unexpected moment had Phil and Holly in stitches. Phil coughed and Holly asked him if he had "Sandy clam stuff in his throat" which made them both giggle A LOT. Holly made a very strange noise with her throat which made them laugh even more and the pair couldn't stop laughing for over 3 minutes. They even needed tissues to wipe their tears.
7. Holly and the 'willy-wang'.
This time it was Holly and Ben Shephard in hysterics over 'willy wanging'. Holly & Ben were talking about their segment the year before – welly wanging (when Holly threw the mini Welly and smashed the pineapple? Remember?) – well, Holly admitted: "I've never Willy Wanged since then,"
Which resulted in the whole TV gallery crying with laughter.
8. The time Holly couldn't resist making a joke mussels.
Fans of This Morning will know that Holly isn't a fan of fish or any sort of sea life at all. Gino cooked her and Phil a meal one morning that contained mussels. She was a little apprehensive to try it at first but after eating it, she said:
'Once it's in, I love it'…
Cue A LOT of laughter.
9. When Phil threw a chew toy for the dog & it almost dragged Holly across the studio.
Holly & Phil got a ridiculously cute & cuddly visitor in 2016. A puppy named Clover. Things soon turned though when Phil threw a toy for Clover and she dragged Holly out away from the view of the camera and across the studio.
10. The time when the pony pooed live on This Morning.
A pony, who came on the show decided to poo live on TV and the pair couldn't stop laughing. Holly started giggling before Phil burst out into laughter. Holly's face says it all really…
11. The time Holly almost cried her lashes off.
The pair were asking viewers to contact them about "wrong person texts" which made them laugh about something inappropriate they couldn't say on air. When they started to read the autocue, Phil and Holly couldn't even talk properly because they were giggling so much. They laughed so much that Holly had to sit down and she almost cried her eyelashes off.
12. The one with the soup innuendo.
Phil and Holly were discussing how to make soup one morning and how it can sometimes be a bit messy to make.
After, Phil said: "I've never whizzed it over the kitchen."

Holly replied: "I should hope not."

Holly could barely continue reading her script after that. Gosh we love them.
Yet another cheeky innuendo from these two.
13. Gino & the "forking" incident.
Gino made Phil and Holly a bowl of saghetti and Holly struggled to get the food on her fork & in her mouth, so she asked Gino for the word "twiddling" in Italian…..
14. "Can you stay & do me?"
Holly is known for coming out with some rather cheeky innuendos but sometimes she doesn't even realise just how rude they actually sound. During an interview with The Real Life Sherlock Holmes (a mind reader), Holly asked him: "Can you stay and do me?"
Phil immediately started laughing and Phil joked: "Are you impressed?"
15. The time Holly was on her phone on Live TV.
During an interview with astronaut Tim Peake, Holly didn't realise they were actually recording Live TV. She started videoing Phil on her phone before being told she was on Live TV. She managed to style it out quite well before laughing about the incident the day after. Only there two could get away with doing something like that, couldn't they!
16. The time Phil & Holly entered the studio on skates.
While reading out a message, she said: "My son thinks pink mushrooms… thinks sp—k mushrooms," before covering her mouth when she realsied what she'd said. A LOT of people tweeted about how hilarious they found the moment.
Don't forget to share this with your friends if you enjoyed it! 
Advertisment
Next Post