Daily Feed is the home of social first news and entertainment. From celebrity gossip to nostalgia, our unique content is guaranteed to intrigue and inform. If you enjoy the following article please share with your family and friends.
Dubai is a well renowned and popular holiday attraction, enticing the rich and famous, who enjoy indulging in its desert splendour and scorching winter sun. Despite the handy direct flights from the UK, for us normal folk, the celebrity hotspot feels just so far away!
With its Westernised Arab culture and ultramodern vision, Dubai proves to be ahead of the rest of the world, producing unique and innovative products that draw in super-wealthy customers who are looking for that extra piece of luxury.
From camel milk chocolate to hotel rooms underwater, we have compiled a list of the most weird and wonderful things to come out of Dubai!
1. Gold Playstation
As if keeping up with the new PlayStation wasn't enough, in Dubai Sony are selling a brand new Gold PlayStation, in case the colour black is just not luxurious enough for you.
2. How would you like your cappuccino?
Extra hot? Lots of froth? Two sugars? Shavings of gold? The minimum cost for this gold decorated coffee is 50 dirhams equal to around 10 British pounds!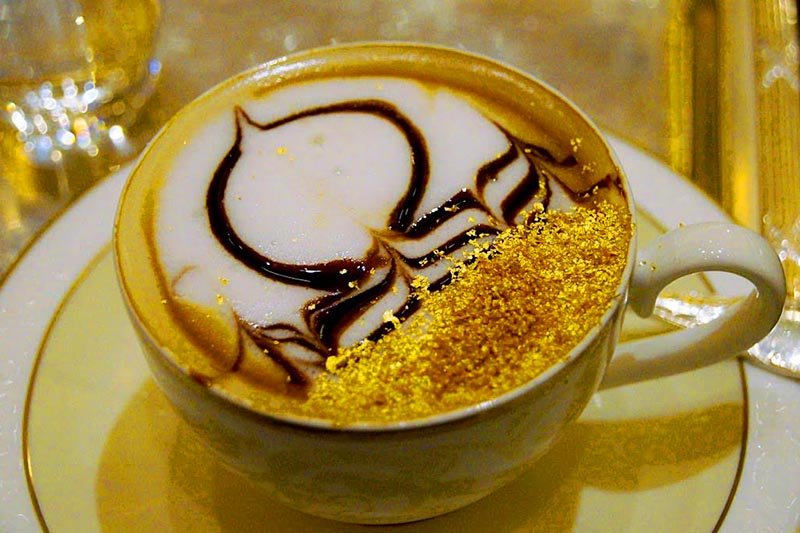 3. A bath in the sky
To the regular Dubai tourist, when a hotel offers lavish jacuzzi above the clouds, it is just what is expected! Breathtaking views over the city? No biggie.
4. Spaceship or car?
It is clear to see this is not your regular Nissan Micra. This glitzy car looks more like a space craft designed for aliens than an actual human automobile. How do you even get into it?
5. They see me rollin…
When you're super rich and you've got an elaborate car, humans are just not worthy enough to be your best mate. Instead of real human communication, this guy has opted for a giant cat bezzie.
6. Giddy up!
And after you've given your cat a ride in your super car, it's time for him to return the favour. This just looks downright cruel.
7. Gold ATM
Instead of your regular ATM which dispenses cash, because of Dubai's obsession with everything gold, this machine releases gold bars which you can instantly buy!
8. Beaten to it!
When you can't park your luxury super-car because a camel has taken your parking space!
9. A ancient mosque or a modern coffee shop
This Starbucks pit stop looks more like a grand, ancient palace than a place to drink your morning coffee.
10. No one in Dubai runs from the police…
…and here's why! Try and out pace this police mobile, no one escapes the Lamborghini!
11. Room with a view?
No need to even leave your room if you're staying in this amazing underwater hotel!
12. Record breakers!
The heaviest gold ring in the world also happens to be the most pointless gold ring in the world!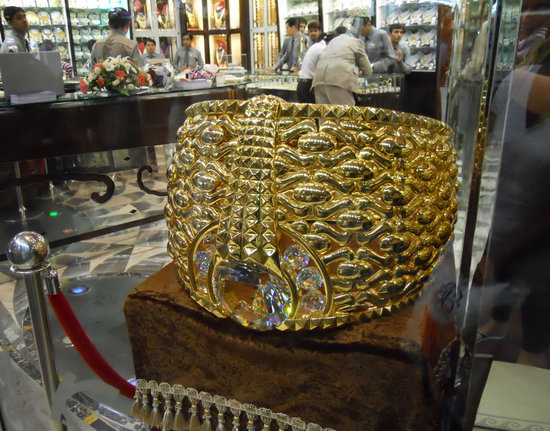 13. Yum!
The thought of drinking milk from a camel makes us feel a little uneasy and alot pukey. But this drink is a regular supermarket favourite in Dubai!
14. Camel milk chocolate
If you're a fan of the milk on its own, you'll certainly enjoy this camel milk chocolate! We are not so sure.
15. Disney in real life?
Yes, in Dubai, mermaids really do exist! And you can watch them perform in live shows!
These amazing luxury items and experiences make us want to visit Dubai! But we don't think our bank balance will stretch that far!
Advertisement