Advertisment
1. Don't sit on their phones whilst they're sat with each other.
Wehn you're constantly sat on your phone & feel dependant on social media, it suppresses the oxytocin in your body. That's the hormone that is responsible for emotional intimacy and bonding. Psychotherapists advise that couples turn their phones off or put them away after a certain time of the evening so they can spend proper time with each other.
Advertisment
2. Forget about work.
Pillow talk connects couples emotionally and it helps you forget your problems after a long, stressful day at work. Couples should avoid talking about work and their financial troubles. You should try and stop checking your work email when you are in bed and you should completely switch off once you're home.
3. Go to bed at the same time as their partner.
A lot of couples don't actually spend enough time with each other. They spend most of their day at work and have a habit of going to bed at different times. Psychologist Curt Smith says happy couples should brush their teeth together and go to bed at the same time to maintain the warmth and intimacy of the relationship.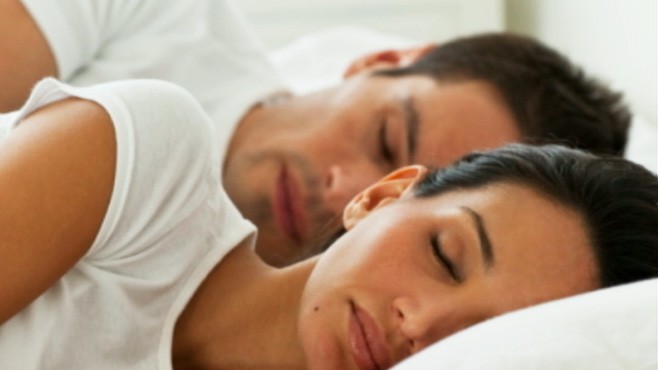 4. Follow a routine.
Following the same routine as your partner will make your relationship more intimate and trustworthy. If you both follow a bedtime routine every day it will help you sleep better and your brain will receive a signal of the approaching bedtime which will prepare your body for sleep. All in all, you'll keep that close bond with your partner and always wake up feeling refreshed.
5. Listen to each other and have good heart to hearts.
Sometimes just having a talk about your problems can make you instantly feel better. You both need to pay attention to your feelings and even if you can't give your other half the advice they want to hear, just listening is good enough. Psychologists say that saying a few positive things to your partner right before you go to sleep can really influence their mood the day after. it will help them to wake up feeling more positive and happy which will boost their overall mood.
6. Don't argue much or get into heated conversations.
Try not to involve yourself in heated arguments especially before going to sleep. Arguing right before bed never solves a problem and o top of that it makes it harder for you both to get to sleep. You'll wake up feeling upset and that will influence your mood for the entire day.
7. Keep their bedroom child-free.
According to psychologists, the only time you should let your children sleep in your bed is when they have a nightmare. They should always sleep in their own bedroom so you can both have your own private space to maintain the intimacy of the relationship. Plus, the more times you allow your child to sleep with you both, the more used to it they'll get and the harder it'll be to train them to sleep in their own bed again. It will cause more problems in your relationship as well as problems with your child.
8. Don't share a bed with their pets.
According to a study, 63% of people sleep in bed with their pets and they all admitted to not sleeping as well when their pets are in bed with them. You can't really get through a full nights sleep without your pet disturbing you at least once during the night. Plus, having your pet in the bed violates the 2 in a bed rule. AND, who wants all those annoying cat hairs on their bed?
9. Don't drink alcohol or smoke.
Ever wondered why you wake up feeling more tired after a night of drinking even though you've had the normal amount of sleep? Well, when you have a drink of alcohol, it disrupts the restorative period you usually get when you sleep. It'll make you feel more tired, distracted and easily annoyed when you wake up in the morning. People tend to snore more, even if they don't usually snore, after consuming alcohol and the nicotine in cigarettes promotes insomnia, so anyone who struggles to sleep at night should definitely stay away from cigarettes.
10. Give each other a massage.
Specialists from the National Foundation of Sleep confirm that a light and relaxing massage before bed improves your quality of sleep, reduces stress and anxiety and brings couples closer together. If you're struggling to sleep one night, why not try and giving each other a light back massage? it's definitely worth a try.
11. Don't forget about hugs and kisses.
You often forget to give each other a hug and a kiss before sleep, especially when you don't go to bed at the same time. A bit of kissing a cuddling before bed evokes positive emotions and gets you ready for bed. Psychologists think that if you hug each other while you're falling asleep, your relationship isn't in trouble.
If you struggle to sleep at night, you should try some of these techniques: 
Don't drink coffee after noon.
Coffee can keep you awake for longer than you think. Anyone who suffers from insomnia shouldn't drink coffee full stop but if you do, you should avoid drinking it after noon.
Waking up earlier and getting yourself into a routine of getting up at the same time will help you sleep at night. You will feel tired easier & in turn will get into a better routine of falling asleep at the same time at night.
Eating later on in the evening will keep you awake at night. Just as your body is starting to wind down it will wake back up as soon as you eat.
Make sure your bedding is comfy.
Having comfy bedding that you change regularly will feel better to sleep in.
Don't take naps on the weekend.
This will ruin your routine and throw you out of sync. Once your body gets into a routine of falling asleep, you should try and stick to it as best you can or else you will really struggle to sleep or stay asleep at night.
Leave all gadgets outside the bedroom.
Having a phone next to you that's constantly lighting up from messages can distract you from falling asleep. You should keep your gadgets away from your bed or outside the bedroom so you have no distractions before bed.
Make sure your room has some fresh air coming through.
Sleeping in a very stuffy room will make you wake up feeling stuffy and you'll often wake up with a head ache.
Take a hot bath before going to bed.
Taking a bath in the evening will relax you and get you ready for bed.
Try not to work past 9 pm.
Working past 9 pm will keep your mind awake & you'll end up lying there whilst thinking about work. You'll never get out of the cycle.
Don't drink too much water before going to sleep.
Don't forget to share this with your friends if you enjoyed it. 
Advertisment
Next Post