Advertisment
We don't really tend to take notice of the coins we carry around in our pockets. But, this could all be about to change once you discover how much some of these coins are worth!
So, if you have a 50p coin in your purse it is definitely worth checking to see if you are lucky enough to have bagged yourself one of these rare coins.
Advertisment
The rarest 50p coin in circulation is the Kew Gardens design and is currently going for up to £100 on eBay.
Here are the top 54 rarest 50p coins that are in the UK… do you recognise any of these?
The Beatrix Potter coins are extremely popular and feature on this list!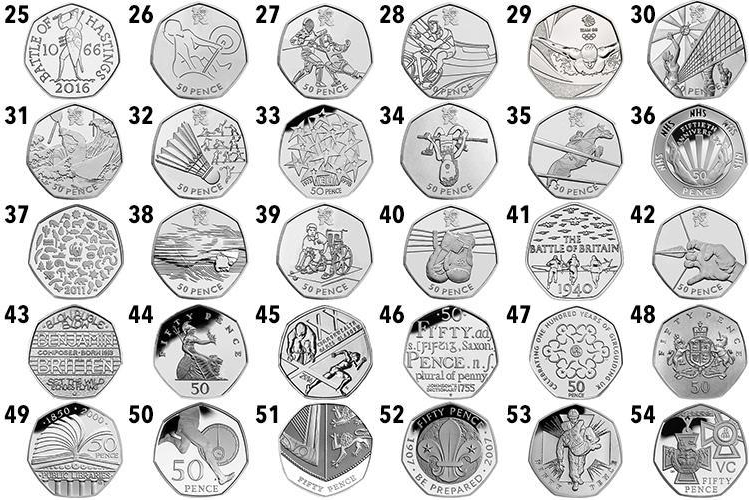 The way to check how much your coins are worth is through the website Changechecker.org and they have created an index which tracks the current coins that are in circulation and how much each of them are worth.
So, at number one we have The Kew Gardens coin, with just 210,000 issued it is currently the rarest 50p coin about and the most in demand. When investigated further on Changechecker.org it came to light that you can sell this for around £100 on eBay. However, some have been sold for up to £220!
The next four coins in the list are all from the 2012 Olympics which were held in London. The Football, Judo, Wrestling and Triathlon coins are all worth between £8-£15 if they are sold on eBay.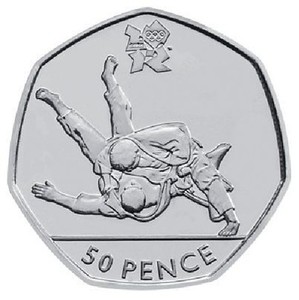 The next lot of coins that are in circulation are the infamous Beatrix Potter 50p coins. There is a range of different coins in this collection and they all rank highly on the list of most valuable.
The Jemima Puddle-Duck and Squirrel Nutkin coins come in at number six and number seven. These are in high demand and not that many people are lucky enough to own one.
On August the 7th of this year a new 50p coin was released – the Tom Kitten coin – and they have predicted that this coin will sell at an extremely competitive price too. So, you need to try and get your hands on one of these!
The coins are usually sold together in bags of 20 for approximately £35. However, if they're sold individually they can fetch up to £1.75 each per coin.
The Royal Mint has shared information regarding the Jemima Puddle-Duck coins and says that there are around 2.1 million of these in circulation at the minute.
These 50p coins are going for approximately £8.95 across eBay, however, experts on this matter believe that they could actually get up to £100 per coin. Proving why they are so popular!
Obviously, the other coins on this list are still very rare with the Suffragettes coin fetching up to £10 and the Battle of Hastings design getting around £5!
So, what do collectors look at when they need to know how much a coin is worth?
Well, to help assess a coins value collectors tend to look at the mintage figures. Not only this, but there are two other key pieces of information to consider when deciding which coins you are going to invest in.
Changechecker has said that firstly, you need to see how many of each coin are down as 'collected' by members on the website. This indicates how many are still in circulation.
Secondly, the number of times a certain design has been requested to swap is also a good indication of how many are left in circulation. They look at the information over the past three months which helps them to see the current level of demand for a certain coin.
Although the index given isn't an exact science, it is still effective in indicating how much a certain coin is worth.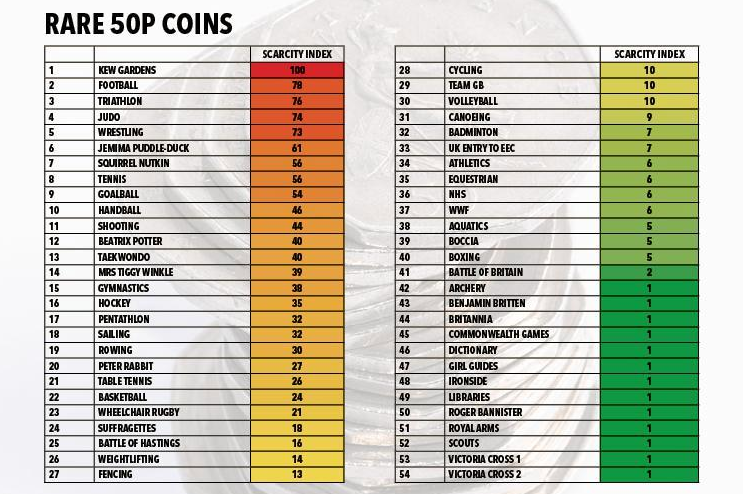 Changechecker is an amazing go-to place if you want to see how much your coins are worth.
"The index uses a unique combination of mintage, collecting and swap data to give to most up-to-date picture of today's 50p coin collecting market."
What you need to be aware, is that some coins are hoarded by people who aren't aware that they have collectables on them. So, this is why you need to check any of the coins lying around your house to see if you could be earning some mula!
Other coins that you need to look out for are ones with imperfections. This is usually because there has been an error when they have been minted, yet they have still been introduced. Change checker also confirmed that:
"It can be up to a couple of years before the Royal Mint eventaully confirms the actual mintage for an issue."
So, you need to get out all your own change and see how much you're sitting on!
Advertisment
Next Post