Daily Feed is the home of social first news and entertainment. From celebrity gossip to nostalgia, our unique content is guaranteed to intrigue and inform. If you enjoy the following article please share with your family and friends.
Take a look at some of these hilarious selfies and check out what is going on in the background. You will not be disappointed.
We are all guilty of taking a selfie every now and again. However embarrassing it may be holding your phone up to your own face in public, some moments just warrant a selfie. Though if you learn anything from what you are about to read, it will be to always check your selfies before posting them on Facebook, Twitter, Instagram, Snapchat or any other social media. This collection of hilariously awkward selfies below shows the importance of this last check before they go online.
1. Beware of the terrified child.
Any ideas on what is going on here! At first it looks like these girls are in a club of some sort. Then you are drawn to the petrified looking child in the middle of them. I don't even think that fake ID would work  for this kid.
2. Beware of the hungry dog.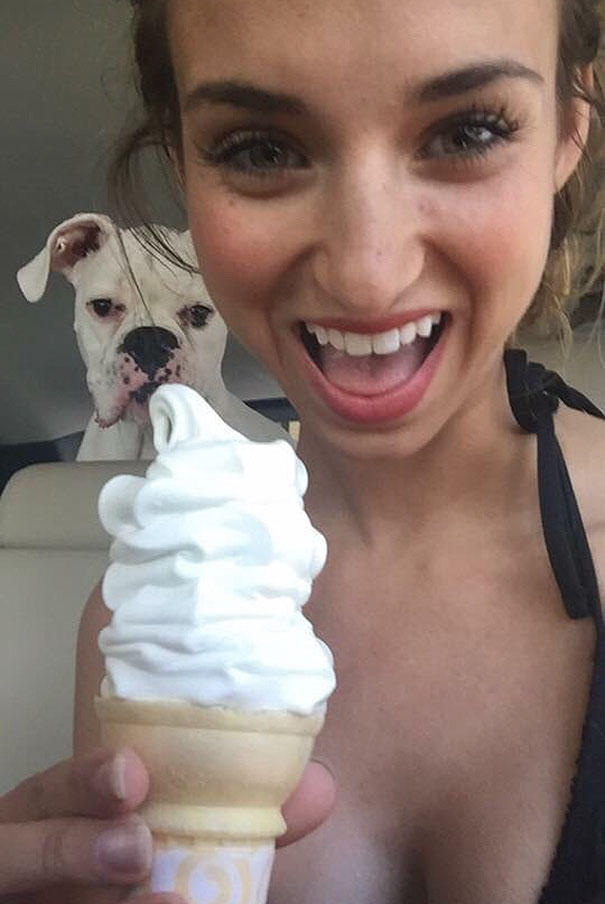 This is a good one. Showing off her ice cream which she is about to enjoy. However it seems that her dog has other plans for the ice cream. If only this was a video, we would love to have seen the next scene in this. The dog looks set to pounce!
3. Beware of the horses arse.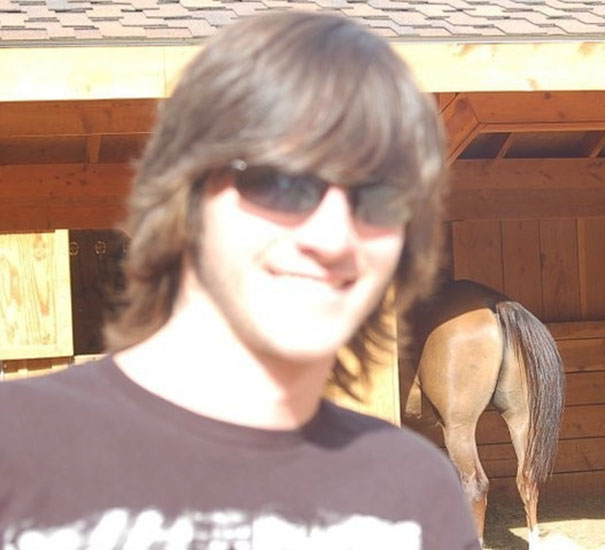 Looking cool with your new hair cut and fresh shades. Better get a selfie taken. But first, if your going to take the selfie in a stable at least make sure there isn't a huge horses backside in the background. It doesn't compliment the shades.
4. Beware of the topless mimicking man.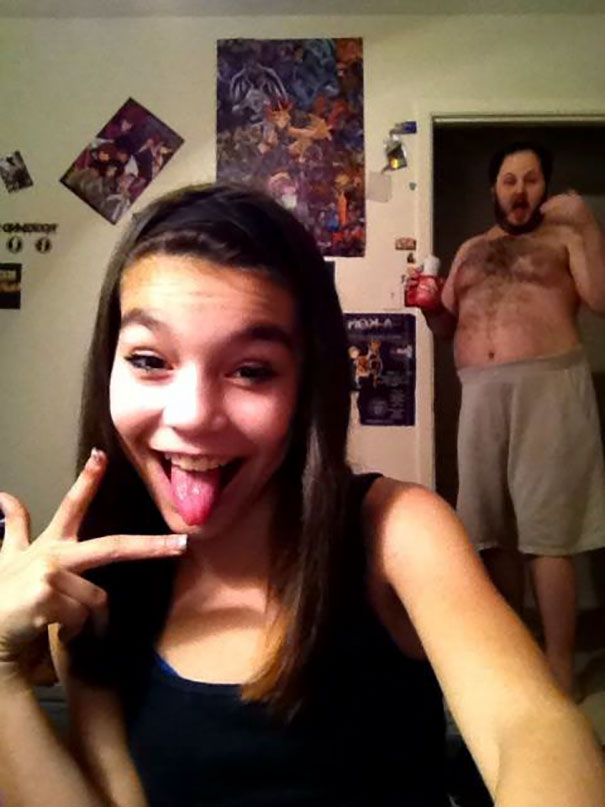 Just got ready for your night out, that probably requires a selfie to let people know you are going out tonight. Beware of the lingering, embarrassing, topless bloke in the background, mimicking your pose. He has had her right off there!
5. Beware of the mirror up your nostrils.

This is a complete shocker! How did she manage to miss that before posting it her Facebook page. Nobody wanted to see up her nostrils and I'm certain she didn't want to show her entire list of Facebook friends the inside of her nose. Just take a second before you post for crying out loud!
6. Beware of the huge spider.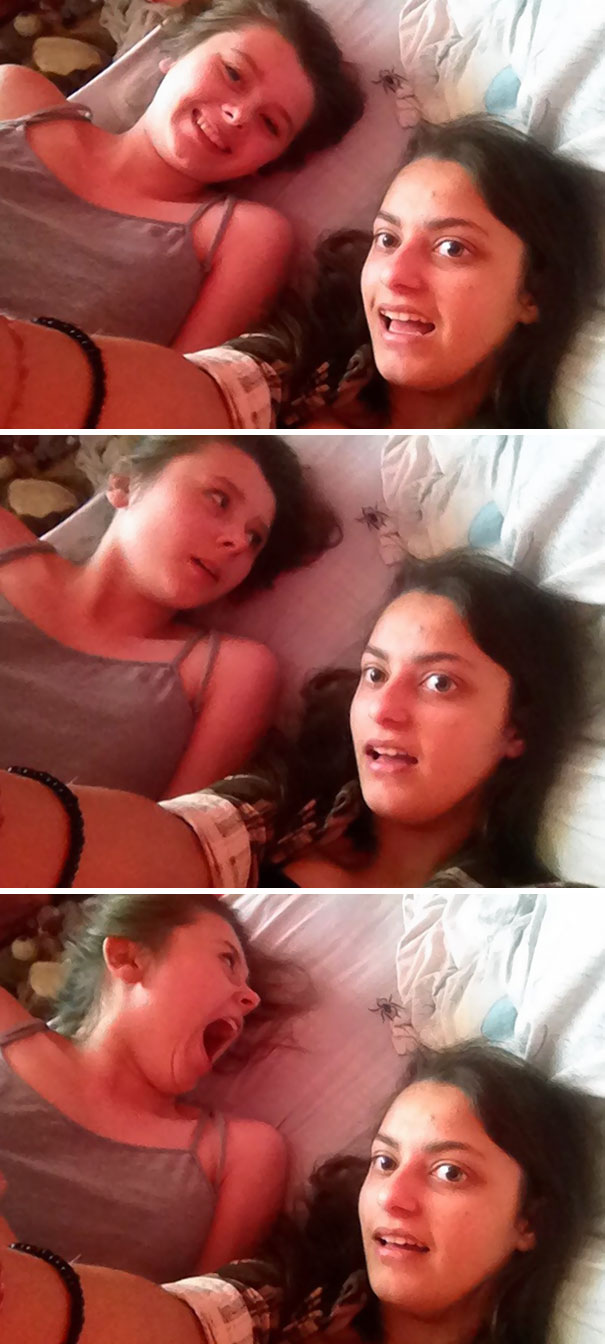 This is a classic. A hat trick of 3 sensational selfies taken seconds apart. The first one shows us the spider going unseen, and we are worried for the pair. The second selfie shows one of the girls coming to the realisation that there is a spider the size of a tarantula under her pillow. Then the third picture is the best! One of the girls is still completely oblivious to what is going on, whilst the other is having a total screaming fit whilst staring the spider in the face.
7. Beware of the alien dog.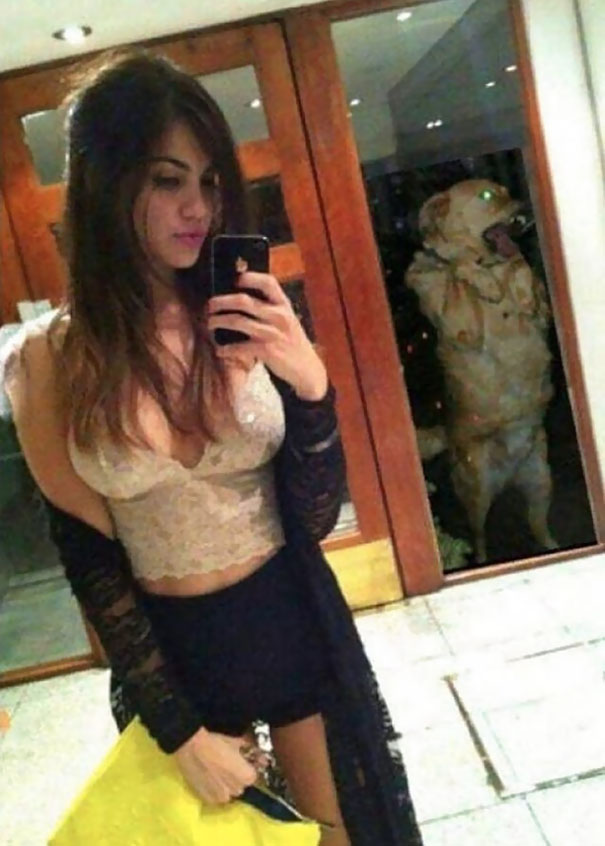 Take a look at this dog! Its brilliantly funny, look at the way it is plastered against the glass. And what is going on with its alien eyes. Not sure if he agrees with what he sees or not.
8. Beware of the kit clash.

This isn't the worst selfie in the world. It's just very strange how the man in the background looks very similar to him, and is dressed in the exact same clothes. At least he will know what he will look like in a few years.
9. Beware of the mirror.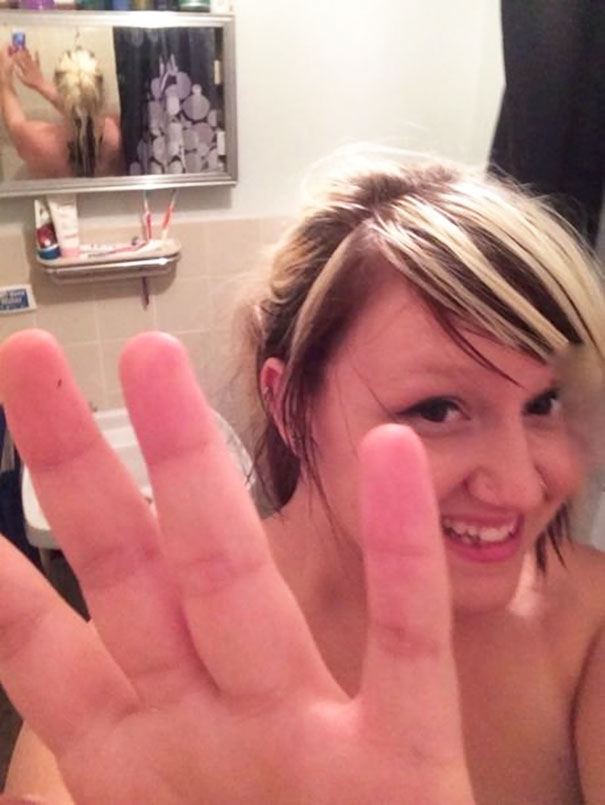 This one is completely embarrassing. She is putting her hand up in a way which suggests she doesn't want somebody to be taking the photograph of her. The the mirror in the background foils her as it shows she is in fact taking the selfie herself. Shocking stuff.
10. Beware of the cannon fodder.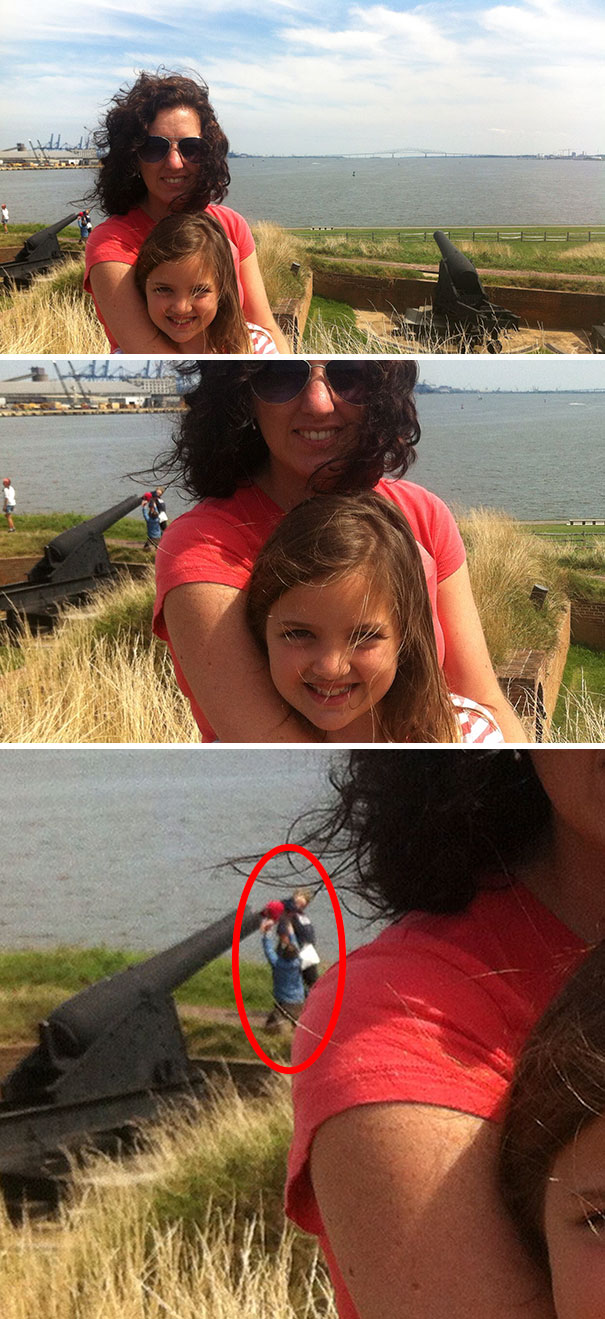 This looks like a lovely family snap with a mother and daughter enjoying themselves on a family trip near  the sea side. Unbeknown to them a child behind them is getting flung out of a cannon, crazy.
11. Beware of the perve in the shop.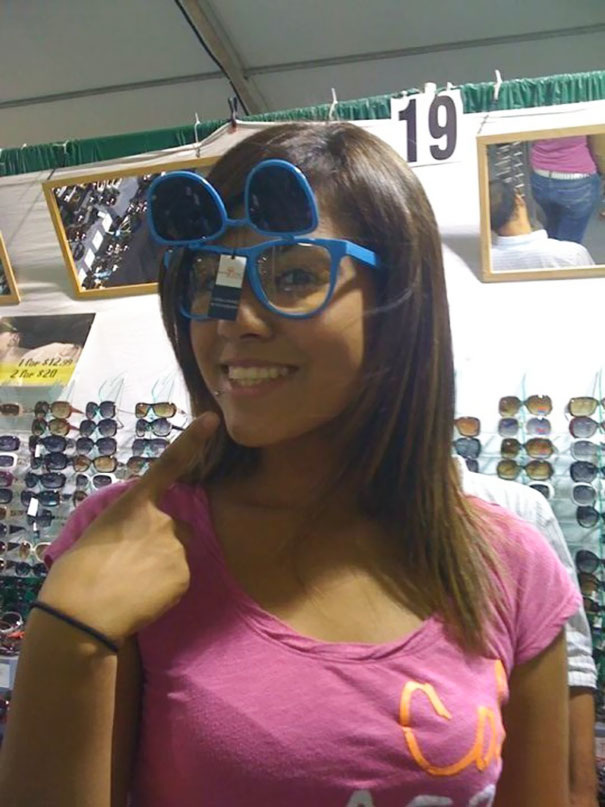 A selfie inside a shop can always have the potential to be pretty awkward. Getting your phone out in front of other shoppers and taking a picture of yourself is a bit embarrassing at the best of times, so when the picture shows an old bloke in the shop checking out your behind. Well thats really pervy!
12. Beware of the reflection of your mum.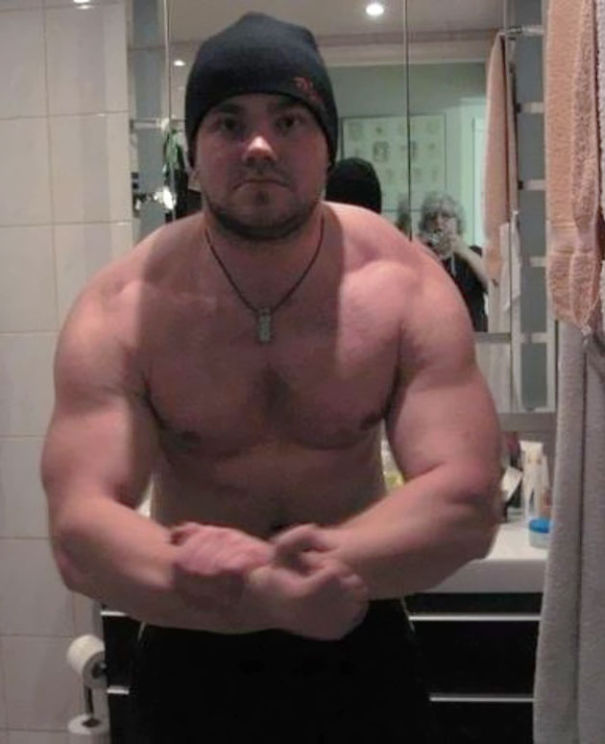 I bet this guy has been training in the gym for months and he will be pretty chuffed with the outcome so he has decided to show his friends on social media. Quite embarrassing that he is getting his mum to take the selfie though. Mummy's boy.
13. Beware of the traffic.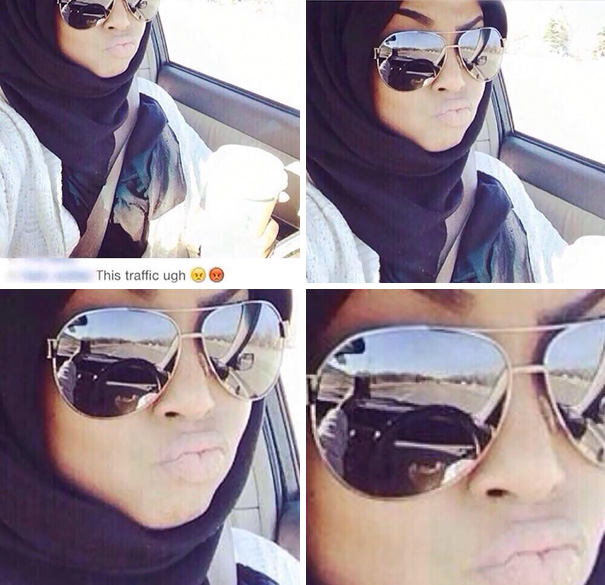 This is a terribly embarrassing picture, complaining about the awful traffic in a collage style selfie. However the reflection in her sun glasses tell a different tale, with a completely empty road ahead of her. Not a mad fan of the pout either.
14. Beware of your crafty friends (hmmm).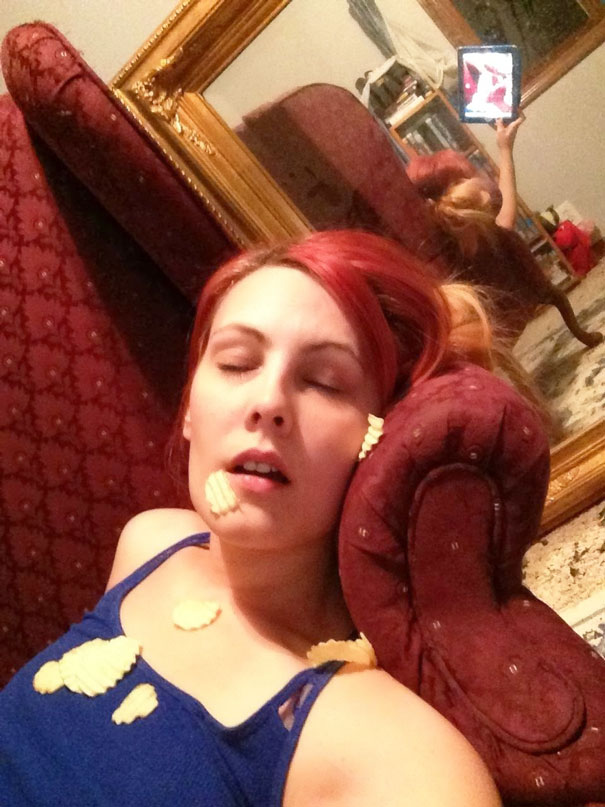 Another terribly embarrassing selfie, pretending to be asleep on her sofa, but again the mirror captures her in the act. She is well and truly awake and taking the picture herself from her iPad. I bet the caption was something along the lines of 'my friends are so tight'. She has gone to the extreme lengths of tipping a bag of crisps on herself as well, what on earth is she playing at?
15. Beware of the dog taking a dump.
This guy is clearly proud of his cute baby, and why not? It looks like a lovely day so they are out in the garden playing, perfect time for a selfie. Shame about the timing, as the dog decides to relieve himself just above the babies head at the exact time the selfie is snapped. Unfortunate to say the least. Thats one picture for the album that can be scrapped.
16. Beware of the flying kid.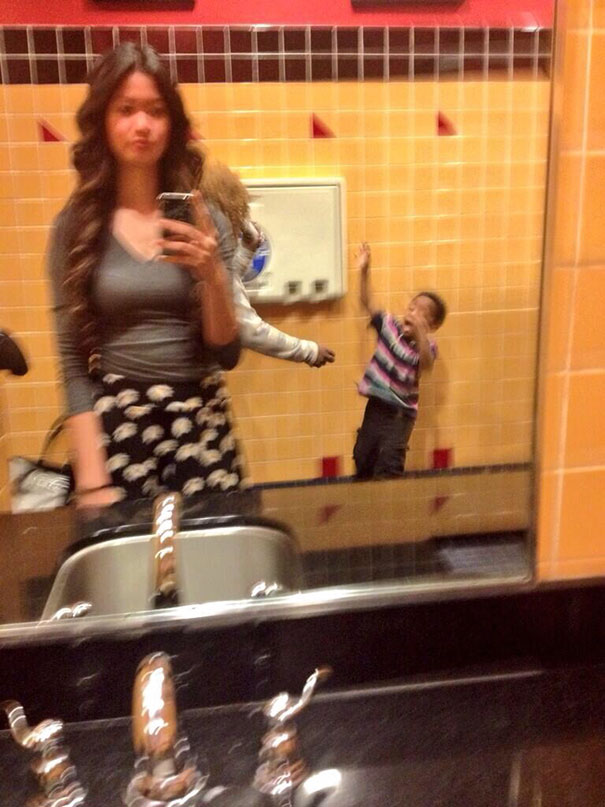 All girls love a good bathroom selfie. So this is the reason why this picture raises a number of questions. Question one, why is there a little boy in the girls toilets. Question two, why is the boy being flung across the room? And question three, is that his mum who has thrown him? If so she must have some serious strength and that boy must have really done something to get on her nerves. The selfie of her is so blurred as well.
17. Beware of the dog photobombing your selfie.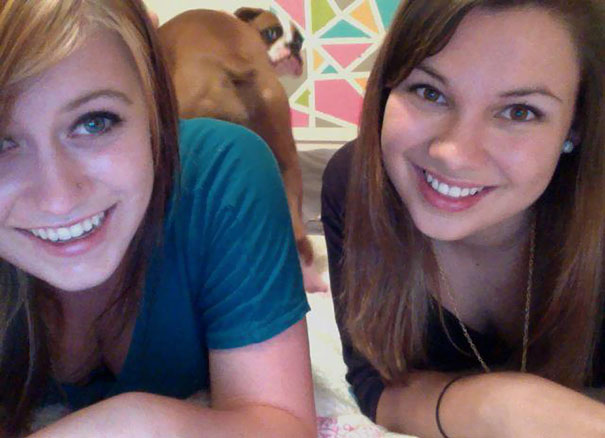 These two girls look like they are relatively experienced in the selfie game. However they have dropped a clanger in this particular picture. Little known to them, their dog is crouched behind them on the bed showing his butt to the camera, very funny and quite embarrassing. Just imagine if the dog would have had a big lunch and decided to take a crap at the same time this selfie was taken, now that would have been brilliant.
18. Beware of the horrified looking child.
For starters, is it Halloween or something? As this guy is dressed as something I can't imagine he wears for work or a night out in the town with his mates. The beard looks disgusting with his long, white wig. As for the face paint and headband, I just don't know. But the real star of this car selfie is the young child sat in her baby seat. Her face expression is absolutely priceless and she, like the rest of us, clearly doesn't have a clue what is going on.
Advertisement