Advertisment
Your wedding day is supposed to be one of the most special days of your life. It marks the coming together of two people who want to be united until death do them part.
There is a lengthy amount of preparation that goes into a wedding. When you think about it, the amount of details that go into a wedding is astonishing. From finding a venue all the way to the last details of what food you're going to have and your cake.
Advertisment
But, the one big thing is choosing your wedding dress. This is the one day in your life that you can dress like an absolute princess. So, why on earth have the women on this article decided to get married in some dresses as hideous as these?!
Here are 13 of the worth wedding dresses to have ever walked the aisle…
1. Why?
There is no acceptable reasoning behind having giant vaginas printed on your wedding dress.

2. She wouldn't be able to walk down the aisle
She probably went on a mega diet before her wedding and thought that she would go all out on the day. So, why not walk around with a tray of cakes on your the whole night?

3. Talk about tacky
I don't think you could even dream up a more tacky dress than this. I could probably list about 50 different things that are wrong with the image… starting with those sleeves that go up to her elbow.

4. This was 100% a shotgun wedding
She definitely ended up getting pregnant and had to marry the father of her child. Either this or she bought the dress too far in advance and had to cut a hole right in the centre just to fit her baby bump in it. Awful.

5. This duo are definitely bakers
They definitely wanted to spend the least amount of money as possible on their wedding so decided that they would make the dress out of baked goods. I'd just want to eat my own wedding dress if I wore this?!

6. Worlds longest trail
This must be so annoying for everyone involved. Why on earth would you want to have a trail this long for your wedding dress? This would just be plain annoying!!

7. Does anyone have a pin?
This must have taken some time to make. But, there are so many questions that come to mind when we look at a dress like this. How would she sit down? How would she have even put this on in the first place? Would this not irritate her skin a massive amount?

8. Would you do this?
I bet that someone petty would definitely do this. There's nothing probably more heartbreaking than having to go through a divorce. But, this art student really managed to make light of the situation when she made a full wedding dress solely out of divorce papers. Would you wear this? Or would it just tempt fate?

9. Neon… really?
Traditionally, brides are meant to walk down the aisle in a white dress. However, this wedding decide to take inspiration from My Big Fat Gypsy Wedding and do everything as over the top as possible!

10. Food on the go
There's nothing quite like a wedding dress like this. Without a doubt, this bride has thought ahead and knows exactly what she wants. The thing she wants is cake… so, this cake dress was probably more important than her even saying her vows. How happy and content would be stood at the altar knowing that if you got slightly hungry you could just rip some of your dress off!

11. Letting it all hang out
It's like her boobs don't even know where to go. She is definitely playing a risky game by having just her nipples covered up by this dress. I would be on edge the whole of my wedding day if I decided that I was going to wear this in front of all my family and friends. She doesn't seem remotely phased… I'm sure that she is showing off just a little bit too much for everyone!

12. These look like a fun couple
These guys have completely forgotten about any traditions and even have black on their wedding clothes. Their dash of brightly coloured rainbows lightens up their black dresses. But, each to their own… this couple look happy so good on them!

13. This is horrific
She probably needs to sue the person that made this for her. Either that, or she needs a refund from the blind person that made the dress. This is absolutely horrific… I feel sorry for the man having to marry her in this.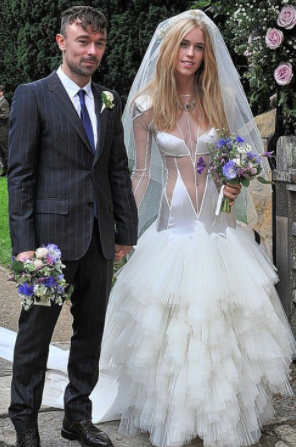 Advertisment
Next Post