Advertisment
The world is filled with many weird and wonderful things that we just can't explain. But many of us love nothing more than to scrutinise a good old photo which gets our eyebrows raised. And that's exactly what these photos will do. Here is a list of 13 mysterious photos you just can't explain.
 1- The Cadborosaurus Sea Monster.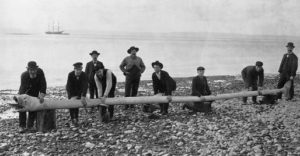 Way back in 1907, a group of fisherman spotted a huge creature while they were out at sea. Once they reeled it in they realised that it was a massive sea monster called Cadborosaurus. For many years people had questioned the existence of the Cadborosaurus, with many having suggested that the creature was the work of men who were bored while out at sea. However researchers haven't yet called this creature a fake, and so it continues to remain a mystery.
Advertisment
2- Freddy Jackson's ghost.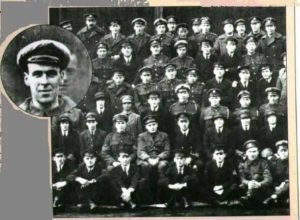 Upon first looking at the photo, you'd be forgiven for thinking it is an ordinary portrait of a WW1 soldier. But there's a whole lot more to this picture.
If you look really closely, you'll see a man named Freddy Jackson standing in the back row, fourth from the left.
Freddy was an RAF squadron pilot, but he wasn't supposed to be in this photo that day, as he died before the photo was taken!
3- 9/11 survivor.

In this very eerie photo, you might have noticed there is a woman standing on the wreckage of the world trade centre after it has been struck by a plane. Nobody knows how this woman was able to survive, and better still, she has never been identified.
4- Lost in space.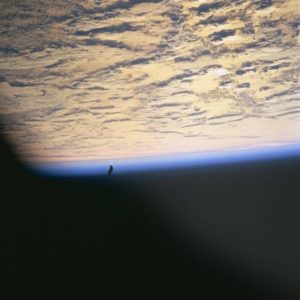 It is believed that the Black Knight Satellite has orbited around the world for 13,000 years. However, it's true origins still remain unknown. There are a few theories nonetheless about where the satellite came from, but none of these provide any clear answers about it.
5- A paranormal photo bomber.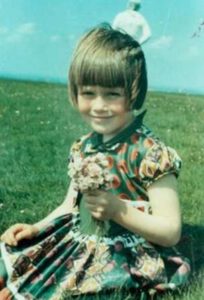 On another ordinary day Jim Templeton took an afternoon trip for lunch on Burgh Marsh with his daughter and his wife. But this particular trip turned out to be far from the ordinary. After taking a photo of his daughter, Jim noticed an unexplainable figure in the image. When Kodak staff examined the film further, they too were unable to explain where the strange figure had come from.
6- Ape On The Loose.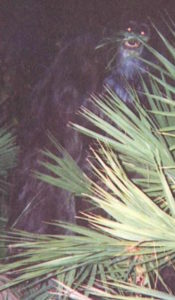 Back in 2000, a woman mailed in photos of what she claimed to be a skunk ape in the back yard of her Sarasota County, Florida home. Bizarrely, nobody else has reported sightings of the ape and no apes have been reported missing.
7-  Artwork you can't explain.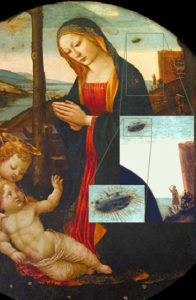 In The Madonna with Saint Giovannino, which dates back to the 15th century, there appears to be a UFO.  The painting was created by Italian artist, Domenico Ghirlandaio, and if you look above Mary's right shoulder, you can see a disk or UFO shaped object. What it is exactly continues to remain a mystery.
8- A Lake of UFOs.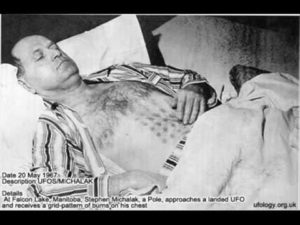 On May 20th of 1967, Stefan Michalak experienced the unexplainable on a weekend away. Whilst hanging out by a lake, Michalak claims that two unusual, circular objects began to descend in his direction, before eventually landing right next to him.
According to Michalak, when the objects landed their doors opened and he heard voices speaking to him in a language he did not know. But when he moved closer to the spacecraft to examine it, he was burnt with a grid shaped vent which ripped through his clothing. And as unbelievable as this story sounds, Michalak has the burns to prove it.
9- A haunted hospital.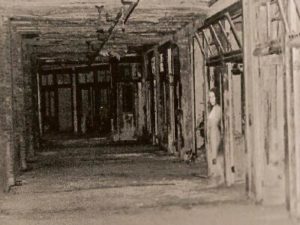 A haunted, old abandoned hospital is very much so a cliché. So, you won't be surprised to hear than an abandoned hospital in Waverly Hills, Kentucky is now renowned for its unwanted visitors. You don't have to look too closely at this photo to know what we're referring too.
10- Too many hands.
On the surface this looks like any other class photo. But it's not. If you look down at the right hand side of the photo, you might notice that there are two hands which don't belong to any of the children in the photo.
11- That's the Christmas spirit.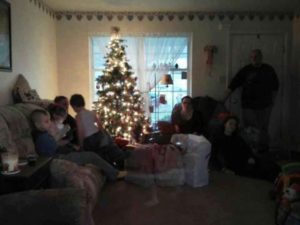 This isn't any old family photo at Christmas. Take a closer look and you'll be able to see that there is a mysterious spirit walking across the room. And the family members couldn't explain it either.
12- The Brown Lady ghost.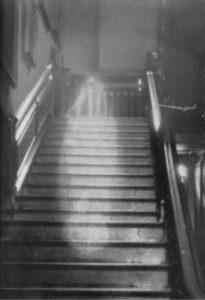 In Ryan Hall, England, there is a ghostly resident known as the Brown Lady. This ghost is said to be the spirit of Dorothy Townshend. In the photo taken in 1936, it appears that there is a ghost on the stairs. It is believed that Dorothy was imprisoned and abused in the Hall by her husband Charles Townshend throughout the 1700's.
13- The haunted house.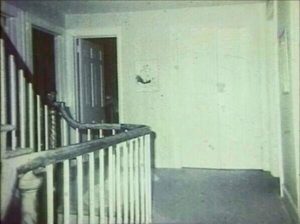 This photo, was taken during the infamous Amityville, New York scare. When you first look at this photo, it looks like nothing out of the ordinary. But if you look closely, you'll see that that there is a hidden house guest. In the shaded upper left-hand corner of the photo, you can see the figure of what appears to be a ghost. And what's even spookier is that many residents of the house have reported to have run ins with the ghost.
If you enjoyed this article please SHARE with your Facebook friends and family
Advertisment
Next Post