Advertisment
Nicole Owen was the fictional character from Hollyoaks plated by actress Ciara Janson. She joined the popular soap back in 2004, and was an instant hit with the viewers. Her entrance to the show was not a simple, smooth transition as we see with the majority of newcomers, as she joined the show with her two brothers, Russ Owen and Sam Owen, with a complicated back story.
Nicole's family suffered a dramatic split after her brother Sam was falsely accused of Arson, a fire that killed his girlfriend's younger brother, but he was wrongfully convicted for the crime. Their father Rob refused to believe that Sam was innocent, therefore their mother Carrie banished Rob from her and her children's lives. However, when Russ found out he had testicular cancer, he wanted to reach out to his father who he had lost contact with. Nicole and Russ were convinced their mother would not allow Rob back in their lives, however they were wrongly mistaken. After a few visits, Rob and Carrie reconciled and the children were thrilled. However, after having no father figure for such a long time, Nicole struggled to deal with having another parent telling her what to do.
Advertisment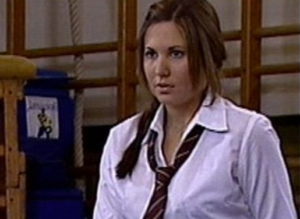 Nevertheless, Nicole went on with her business…which at her age was mostly boy centered. She had an admirer in Ali, who made it painfully clear that he was interested in Nicole in a romantic manner. However, Nicole friend zoned him brutally without even realising, leaving poor Ali devastated as she didn't even consider him as a partner. As a result, Ali got into a conflict with Stephen "Macki" Mackintosh, Ali acted in self defense when he attacked Macki with a knife. When fleeing the scene he was hit by a car and run over, leaving his step brother taking the flack for the knife attack. Justin was sent to prison, unaware that Nicole had feeling for him. However, Justin escaped prison and he and Nancy ran away together. She even testified for him at his trial at a later date.
However, things took a turn for the worse when character Andy took Nicole to a warehouse and gave her the date rape drug before sending pictures of her to her brothers Sam and Russ. The plan worked and the brothers were lured to Nicole's rescue, however during this event Nicole discovered that her brother Sam was a rapist, and she vowed never to speak to him again.
She did however visit him in prison at a later date. However, it was all part of Sam's plan to stage an escape from prison, which worked. He held his sister hostage and threatened to pour boiling water over her unless she told him where Sophie was. Russ found his little sister tied up, and rushed to where he thought Sophie may be to avoid her being harmed by Sam also. However, it was too late as when he arrived Sophie had already been killed, and Sam was dead also. Unsurprisingly, Nicole and Russ refused to attend the funeral of their rapist brother after all he had put them through, however she ended up agreeing to go for the sake of her mother. She sat at the back of the church emotionless, however managed to gather the ability to tell her mother she was sorry for the loss of her son, without even acknowledging him as her own brother.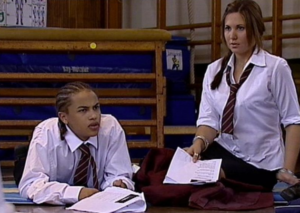 After the dramas caused by her brother, Nicole was terrorized by her peers due to Sam's reputation and action. Therefore, she left the show in 2005. She returned in 2007 for her brother and Mercedes Mcqueen's wedding, and begged her brother to change his choice of bride.
But what has Ciara Janson been up to since her last appearance in Hollyoaks, which was a decade ago!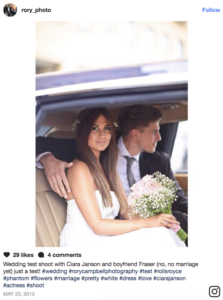 She did not discontinue acting, appearing in shows such as Bad Blood, as well as featuring in West End shows: playing Louise in New Boy at Trafalgar Studios in 2009.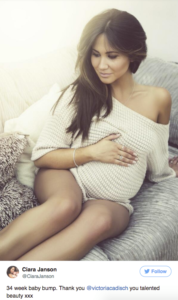 Another route Ciara deciding to take was trying to be a voice-over artist, proving successful as she voice-overed for popular channels such as BBC sister channel BBC Three. She also has extensive radio credits in Disney's new version of 'The Famous Five', and several dramas for BBC Radio 4 – proving she has a knack for success in the showbiz industry. She also plays Doctor Who's companion, Amy, in a series of Doctor Who audio dramas.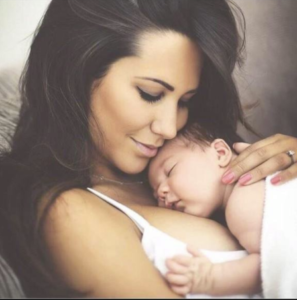 Today, Ciara focuses more so on being a mother as she gave birth to a beautiful baby boy –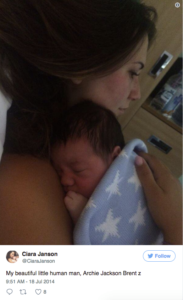 …and we don't blame her, he is absolutely gorgeous.
Advertisment
Next Post