Advertisment
2.1 million Jemima Puddle-Duck 50p coins were released last year, making it the 6th most scarce coin in the UK! Many collectors are desperate to complete their set of Beatrix Potter themed coins and are trying to hunt for the final piece of the collection! Due to the scarcity of the Jemima Puddle-Duck coin, some collectors are willing to pay up to seventeen times its value to secure it!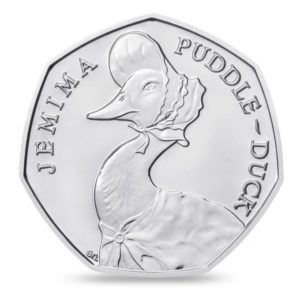 Advertisment
The Beatrix Potter themed coins were released last year! The Royal Mint released special edition 50p coins and these featured the characters Peter Rabbit, Squirrel Nutkin, Mrs Tiggy-Winkle, Jemima Puddle-Duck, to celebrate the 150th anniversary of the author's birth.
Mintage figures produced by the Royal Mint have revealed that only 2.1 million Jemima Puddle-Duck coins were released into circulation, which makes it the most sought after 50p coin from the series and the 6th most scarce in the UK circulation.
To prove and compare how scarce the coin is, this is less than 20 per cent of Peter Rabbit coins with 9.6 million in circulation, and half the amount of Squirrel Nutkin coins, with 5 million coins released into circulation.
For every single Jemima Puddle-Duck coin listed as available to swap, ChangeChecker says that there are more than 8 users requesting the item.
This high interest and demand are already starting to make prices drive up on eBay, where collectors have been auctioning the coin for nearly 17 times its value at £8.95!
Obviously, the more scarce and rare the coin the more valuable it is, and ChangeChecker.org has previously created a scarcity index that identifies which circulating 50p coins are the most scarce and collectable.
For example, The Kew Gardens 50p actually tops the scarcity index list! It has a mintage of just 210,000 and is the rarest coin and the most in demand! Various coin experts have stated that you can sell the coin for up to £100 on eBay today!
There was a story last year which made the headlines when a homeless man was handed a rare Peter Rabbit 50p, thought to be worth hundreds of pound, whilst he was begging in the streets of Exeter, Devon.
Another story is of a window cleaner from Hull, Richard Bird. He is expected to land up to £3,000 after he found a £1 coin with two different dates stamped on it! He is believed to have invested around £60 on some of the Beatrix Potter collection. According to the collector, the Peter Rabbit coins are now selling for £550 on eBay.
There are many coins in your spare change that could be worth an astonishing value and you don't even know it, it only takes for one of your coins to contain subtle minting errors.
The Royal Mint might soon offer the service to help you identify any earners as the government-owned coin maker recently announced it is considering offering valuations as a key part of its future strategy to grow in the collecting market!
So, what to do you if you believe you've got a rare coin?
Firstly, you need to make sure the coin is legit and not a fake!
Around one in every four old £1 coins are thought to be fake, according to the Royal Mint, so there are probably more fakes in your spare change then you realise
The Royal Mint is currently unable to value a coin but it can confirm whether it is real or not. They will usually supply you with a letter to confirm this.
Once you've found out whether the coin is genuine or not, you have a number of options – either selling it through a coin dealer, at auction or on eBay
The recent data from ChangeChecker comes as time is running out to spend your old £1 coins, which will stop being legal tender on October 15.
It has been reported that at least £800 million of the old style £1 coins have been returned, but there are much more still out there. The process of replacing the coins is a hard one as you can imagine. They have been in circulation for 33 years now but as we all know in March they released the new 12-sided version.
Check Your Change!!
If you like this article please feel free to share it with your family and friends!
Advertisment
Next Post