Advertisment
Growing up, we ALL wanted to be a Disney princess. Everytime we walked down the fancy dress aisle in Asda with our mums, we would manage to persuade her to buy us another Cinderella dress, or Snow White outfit. And when we got invited round to our mates for a sleepover, we would makesure we brought all of our dressing up outfits so we could have a pamper night in dressed head to toe in our princess gowns. We just loved playing up to the role of Daddy's little princess – which we all were and probably still are.
Halloween was even better, we had an excuse to parade around our estate and show off our best Disney outfit – although it was ALWAYS a struggle to decide on which one to wear (we always went with the one that had a matching wig). Add a pair of fangs and fake blood to your lip and voila, vampire Disney princess eat your heart out.
Advertisment
But now that we are a bit older, we tend to avoid those floor length Disney outfits for Halloween, and unashamedly we go for the more skimpy, sultry Disney outfits for Halloween. We are not sure when Halloween went from dressing like an innocent princess to a seductive one! But we are all guilty of doing it. The outfits are generally the exact same as they were when we were kids, but MUCH shorter and accompanied with a pair of knee high socks.
But how would you feel about Disney princess lingerie? We for one are unsure of how we feel about this new range, but one thing for sure is it is guaranteed to ignite a spark or two in the background! Yandy is a well known lingerie supplier online, and they have recently just released six lingerie sets, each inspired by a different Disney princess. Despite how you feel about this seductive new lingerie line, you have got to admit that at $30 a set – they are definitely reasonably priced. One thing we can agree on at least.
But if you are looking to spark things up in the bedroom, and you are a huge Disney fan then this lingerie might be just the thing for you! But it is no surprise that the lingerie has created mixed responses from the public. One Facebooker displayer her disgust, and believes such items encourage the sexualisation of children – we should be preserving their innocence!

Another disagree with the 'sexiness' of the lingerie. Her argument was that if we are to wear princess themed lingerie, it should be cute and innocent and not sexy and seductive.

The feedback wasn't all negative however, with other facebookers declaring that whatever people chose to wear in the privacy of their home is up to them and is not for anyone to cast judgement on! Hear hear sister.
The only question left to discuss is…which princess are you? Are you a Cinderella or a Snow White?!
Snow White
We can't deny, we absolutely love the colours of this lingerie set, and how cute is the back of that bra? We can definitely image us rocking this little set. The red hair bow is just the cherry on the top!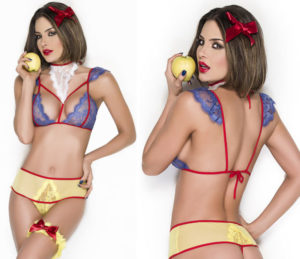 Jasmine
We all wanted to be Jasmine as soon as we saw Kim Kardashian rock a Jasmine inspired Halloween outfit back in the day. The off shoulder detail on this bra is to die for.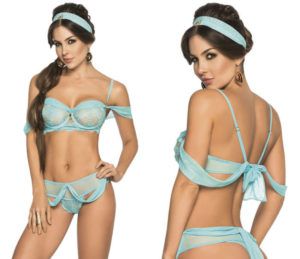 Cinderella
Wow – this definitely does not leave anything to the imagination! If you're looking to spice things up in the bedroom this is definitely the set for you!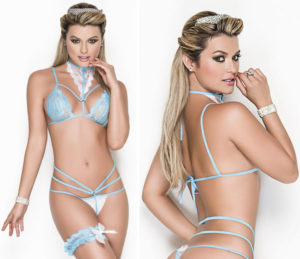 Sleeping Beauty
What girl doesn't love pink? Whether you're a girly girl or not, you cannot deny that this colour is lush. The added colour detail on this ensure it can't be worn as an everyday bra, instead it is strictly for those special occasions only!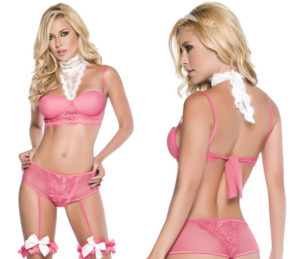 Elsa
Frozen hit the big time a few years ago, and since there the world has gone wild for the characters, songs and outfits. So what more could you ask for then a Elsa inspired lingerie set? All you need to create this look i a plaited hair do and frosty makeup.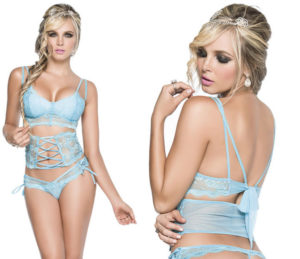 The Evil Queen
This is definitely the sexiest set so far and is definitely guaranteed to turn heads! Work your inner Angelina Jolie in a sexier, seductive manner. Get it girl! We are all for it.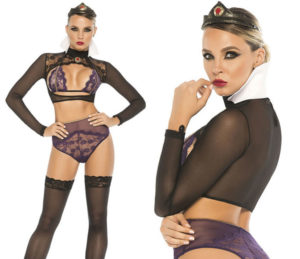 Beauty and the Beast
Who doesn't want to release their inner Belle? And we all want to find our beast – this little set might just be the ticket for that! The summery yellow colour will flatter all shapes and sizes.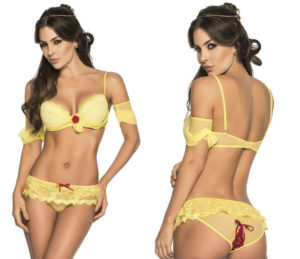 Pocahontas
We all love to dress as a hippy, especially when the Boho look has become so popular in the past few years. This American Indian inspired set is gorgeous, and the only thing you need to complete this look is a lovely tan and few plaits in your hair!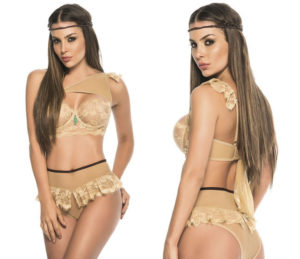 The Little Mermaid
Whether you wear red hair or not, you can pull off this look – just get yourself down to the fancy dress shop and buy yourself a red wig! And if you do have red hair, is that not the best excuse ever to buy this little set?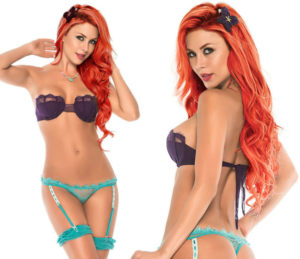 Advertisment
Next Post