Advertisment
We all remember Rosie and Jim from when we were younger. I can remember going to the local library with my nan and renting a VHS of the show to watch at her house!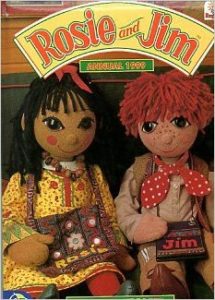 Advertisment
The show was based on the adventures of two rag dolls who lived on a barge and came to life when no-one was looking. We used to be obsessed with this when we were kids, was anyone else a little bit scared of them? They did look a little bit creepy, didn't they? The idea that lifeless objects can come alive is clearly one that we love – Toy Story being the most famous example.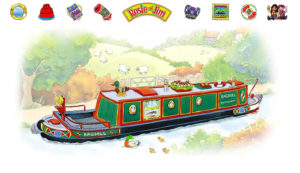 Either way, that didn't stop us sitting down to watch the adventures that these two went on together on (and off) the 'Ragdoll' narrow boat.
Rosie and Jim had discovered that they were able to follow the driver of the narrow boat when they moored the boat. They followed their owners to all sorts of places (from a Fairground in series 1, to trying out rollerblading in series 8). What was most exciting for Rosie and Jim – and for us as children watching – was that despite all the trouble the ended up in, they were never caught because nobody suspects a pair of rag dolls!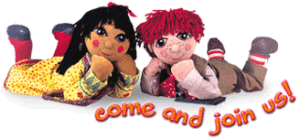 We've pulled together a list of 15 things that you probably didn't know about Rosie and Jim!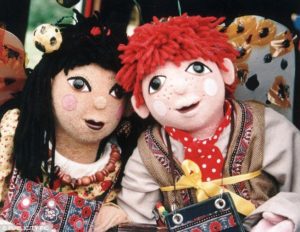 Enjoy… this will definitely take you on a trip down memory lane.
1. The boat they lived on was called the Ragdoll
*To the theme tune* "Rosie and Jim, Rosie and Jim, chugging along on the old Ragdoll"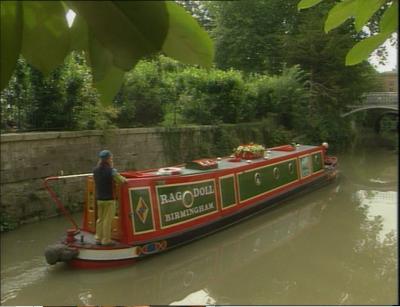 You can all probably tell why they decided that they were going to call the boat the Ragdoll! The whole programme is about two rag dolls!
Lovers of the show and canalboat enthusiasts have often wondered where the famous Ragdoll is these days. One keen bean even emailed the production company to ask of the boats whereabouts. The reply was a very sad email…
"Thank you for your email regarding the Rosie and Jim narrow boat. The Ragdoll is currently in dry dock and at present there are no plans to return her to the waterways. However keep your eye on our website www.ragdoll.co.uk for any updates"
So that's it folks, the Ragdoll is not returning to the water, sob.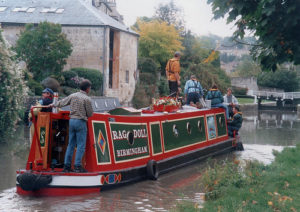 It's certainly true that the Ragdoll boat was an iconic feature of the show. For many of us it was our first time seeing a canal boat and, as one canalboat lover has written online: "If it wasn't for them I probably wouldn't be as interested in the canals as I am today!!!"
How nice, thanks Ragdoll, we have you to thank for our love of canalboats!
2. Robin Stevens who voiced Jim also helped the production of Teletubbies
He managed to find quite the career for himself in British kids television.
Jim had short red hair and wore a brown jacket with a red scarf.
He often carried a notebook and would often make doodles and notes about his adventures.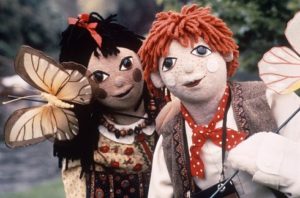 3. Rosie was voiced by Rebecca Nagan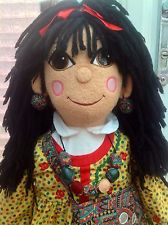 The voice of Rosie was brought to us by Rebecca Nagan.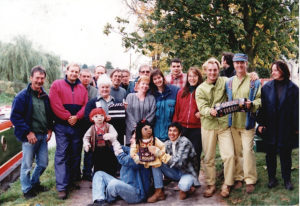 Rosie carried a bag that had her name written on it. She wore a yellow dress and has long black hair held up in a pony tail. She often referred to Jim as Noggin!? No idea why!
Nagan most recently worked on Star Wars: The Force Awakens where she was a 'creature and droid puppeteer'!
4. Rosie and Jim were hand puppets
You may have guessed from reading about Rebecca Nagan's role in Star Wars that Rosie and Jim were puppets – hand puppets! They were controlled by the same people who gave them their voice (Robin Stevens and Rebecca Nagan).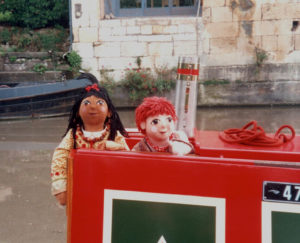 It's little wonder we often watched Rosie and Jim from behind something else!
5. There were a massive 176 episodes of Rosie and Jim
We really couldn't get enough of this programme, so there was no wonder that there were a massive 176 episodes. It was one of the biggest shows from our entire childhood and we loved watching it!
6. The first ever episode of Rosie and Jim was aired on CITV on the 6th of January 2013
Rosie and Jim had long finished since then, but they decided that they would celebrate the 30th anniversary of this show by airing the first episode for everyone to watch on CITV.
This was a whole 22 years after the same episode was originally aired.
It's nice to think then that there are probably two generations of Rosie and Jim lovers out there!
7. The company who made Rosie and Jim was called Ragdoll Productions
Yup that's right, the production company behind Rosie and Jim (and also Tellytubbies) was called Ragdoll Productions. We're not sure whether the boat was named after the company or vice versa but either way, we're glad the name of the famous barge lives on.
Their logo as you might remember it.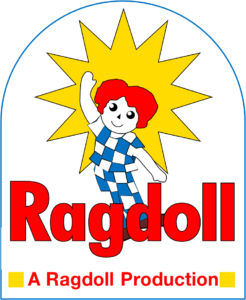 Their revamped logo as it looks today.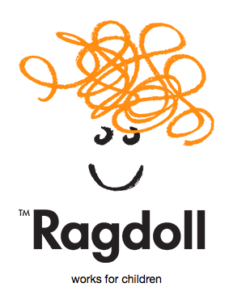 Up until 2005 Ragdoll Productions had its very own shop. Based in Stratford upon Avon, the shop sold Ragdoll merchandise!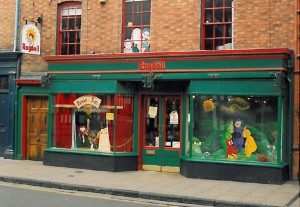 8. John Cunliffe created Rosie and Jim but also starred in the first 50 episodes
As well as being the creator of this incredible series, he also starred in the first fifty episodes that came out. His role here was as Fizzgog, the narrowboat owner.
John's role was that of an author who wrote stories about the rag dolls.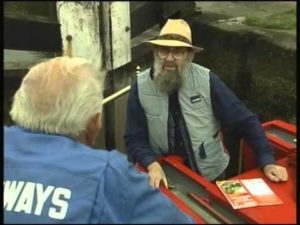 Each episode would start with John talking to camera and ended with a short animated story written and narrated by him.
John was the only one out of the three barge owners to talk directly to those watching meaning he ad a really unique relationship with his audience.
As well as being the amazing creator of Rosie and Jim, he also came up with the idea of Postman Pat. Both of these shows have been a huge part of our lives with growing up! Amazing!
9. Pat Hutchins took over as the second owner of the boat and she also illustrated the books for the franchise
Pat was the second presenter of the show and was referred to as Loopy Lobes! She was an illustrator who painted pictures in the episodes.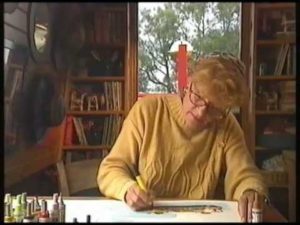 Each episode would start with Pat finishing a drawing of Rosie and Jim and end with an illustration, again by Pat, based on that episode's adventures. At the end of the each episode, Duck would be hidden in the picture, with Rosie and Jim trying to find him!
Pat's  magnificent art ability wasn't put on for the cameras – she was in fact an excellent artist. This led to her being asked to illustrate the books that came out following the series.
10. Neil Brewer who presented the last four series of Rosie and Jim was also in a rock band
The third and final barge owner and presenter of the show was Neil Brewer. Neil was a singer and musician who played the harmonica and the concertina. He went by the name Tootle!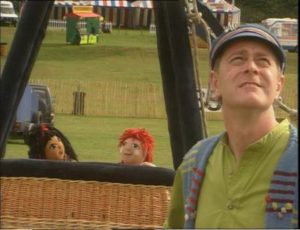 Neil would begin each episode looking for his harmonica. Brewer would often end each episode with a song played on his concertina; encouraged by the rag dolls who would leave the instrument out for him to play. At the end of each episode, the ragdolls would often join in with the song, unknown to Neil.
Much like his predecessors, Neil had talents beyond acting. He was part of the 1970s rock band called Druid!
11. The songs that Neil Brewer sang at each episode were ones he wrote himself
He would make them up about different experiences he had in his life. Obviously, these were kid-friendly songs. Do you remember any of them? He used to play the harmonica during the songs too!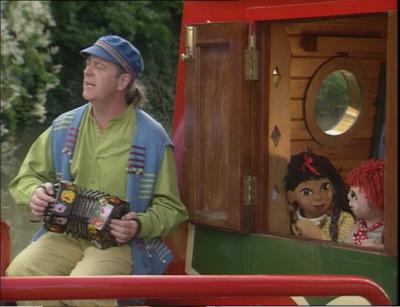 12. The programme ran for a massive ten years
This is an extremely long amount of time for a programme to be on our screens. This just goes to show how successful the programme was and what a big part of our childhood Rosie and Jim were. Amazing!
13. Duck
One of the most loveable characters from the series was duck a… duck.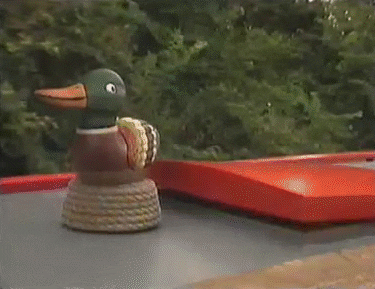 Duck was carved out of wood and, just like Rosie and Jim, would come alive when the barge owner wasn't looking.
Duck sat on top of the ragdoll boat and could be heard quacking when there were no humans around so that Rosie and Jim knew that the coast was clear.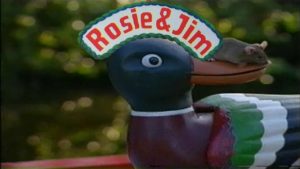 During many episodes, Rosie or Jim can be seen kissing the duck.
14. They're from Birmingham
That's right, the rag doll duo and their boat are from the Midlands.
In fact if you look at the side of the boat you can see the name of the city painted in white.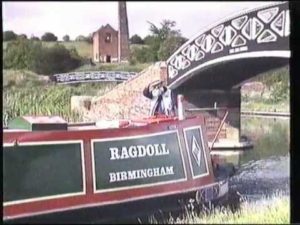 15. The series was repeated in the early 2000s on Tiny Living
Due to the success when it was originally aired, Tiny Living decided that they were going to air the episodes once more for viewers to watch. Tiny Living was a block on the channel Living TV that aired children's programmes at certain times of the day.
Wow, what a trip down memory lane that was!
If you like this article please share it with your friends and family and let us know what you think in the comments!
Advertisment
Next Post