Advertisment
We cannot deny that B&M is our favourite shop of all time – mums, dads, grannys, aunties, kids, dogs…everyone loves B&M. How can you not? It has everything from Unicorn pet beds to chic garden furniture. There really is something for everyone. Hence the reason why we are often guilty of just 'popping in' to grab one thing and 9 times out of 10 leaving with a suitcase, a garden bench and a whole new set of cooking utensils. Everything is SO cheap, it is retail heaven.
Our sporadic shopping sprees can seem quite detrimental to our poor debit cards, but in the grand scheme of things we are fully aware that this store saves us hundreds of pounds in the long run. It is for this reason that B&M is our go to store all year round, but particularly in the summer months where the stock is dominated with garden furniture, BBQ accessories and holiday essentials. B&M has got our back when it comes to making the most of our summer. Have a look at some of the latest amazing products on offer in store, and see how long you can resist from 'popping in' to your nearest store for a little nosey!
Advertisment
Piz Buin Allergy SPF15 Spray
Right lets get down to the nitty gritty, who doesn't love comparing prices of items from different shops? Ladies, you will understand this…from makeup items to shoes, we cannot help but hunt for a bargain, it is in our DNA.
So here is a treat for you…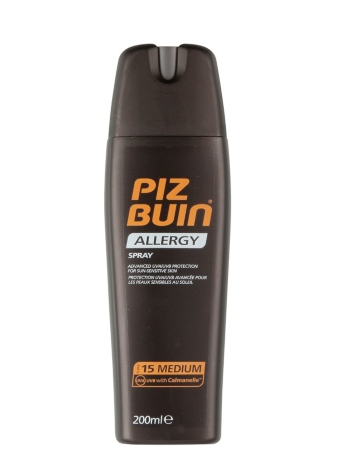 Piz Buin is a upmarket sun lotion that we often can't afford, instead settling for Nivea. But ladies, this is no longer an issue. Get yourself down to B&M – this lotion is on sale for £4.99, this might not seem so cheap but the same item is priced at £8 in Boots!
Malibu Dry Oil Spray
Another bargain ladies…Malibu Dry Oil Spray. We all love to maximise our tan on holiday, and what better way than soaking our skin in coconut flavoured oil.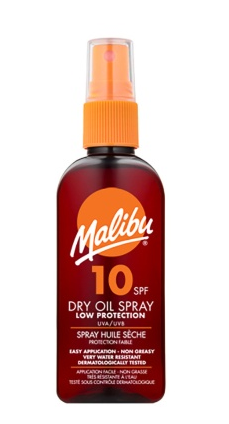 If you nip down the high street you will see this being sold for £3.99 in stores such as Superdrug. Well, get yourselves down to B&M for this tan booster… it is an absolute bargain at £1.29.
Goodmans Multi Frying Pan
Who doesn't love a fry up? There is NOTHING better than waking up hungover to a full cooked breakfast. But who wants to be running about cooking eggs in one pan, beans in the microwave, sausages in the grill. On a good day this is hard work, but near impossible on a stinking hangover.
Well fear not…introducing the Multi Frying Pan.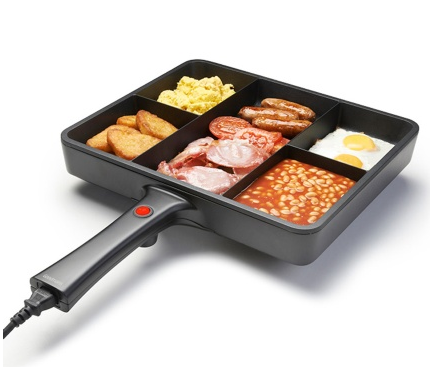 For £29.99, all of your hangover woes will be solved. You can cook an ENTIRE fry up in one pan, just whack it all in and let the frying pan work its magic. Get yourselves down to B&M before they sell out!
Goodmans Blend & Go
It's that time of year where we are all trying to undo the months of crap food we have been eating, as the scary reality of ourselves lying on a beach in a bikini hits home.
So what better way to start your day than with a healthy fruit smoothie? It wasn't long ago when Nutribullets hit the big time, with every fitness fanatic on Instagram promoting the versatile product.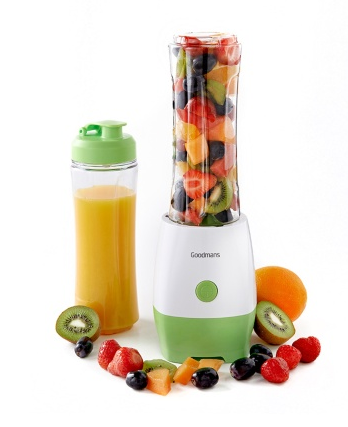 But realistically, who can afford to spend £55 on a blender? Because we definitely can't. Well here you go… a £17.99 alternative to the Nutribullet that does the same job! Amazing.
Unicorn Pet Bed
Now we are not one to deprive our beloved pets of the comfort they deserve…whether you have a petite female French Bulldog, or a manly Staffy…how can you resist buying your off-spring one of these precious beds?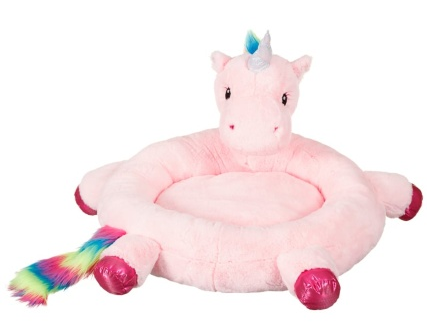 I don't know about you, but my dog is a queen and deserves only the best – everyone who enters my house should know this immediately. This beaut bed will set you back a minor £9.99 – go on…treat your pooch!
Wood Fired Pizza Oven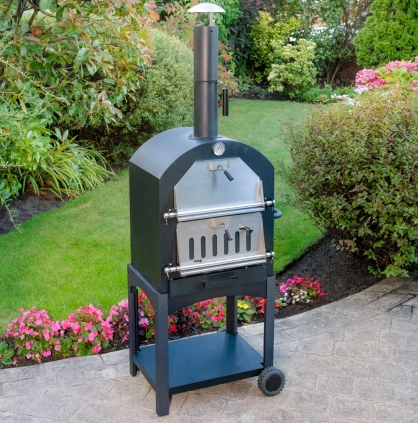 Okay let's get real, who doesn't like pizza? We are all for a cheeky two-for-Tuesdays Dominos, but who else craves that thin crust authentic Italian pizza after wolfing down that artery clogging Dominos? Is there anything worse than that post-pizza coma?
So how would you feel if you could make your own wood fired oven pizza within the comfort of your own home? Achieving that charcoaled taste that you just cannot beat from an Italian restaurant. Well fear not my friends, our pal B&M has pulled through for us once again. Long gone are those nights in that centre around a greasy takeaway, get yourself one of these bad boys and you will feel like you're in Florence.
Standing at a price of £129.99 (RRP £200), this at first might seem quite steep. But if you think of how much you spend on a Dominos order, or on an Italian Meal out, this is an investment you cannot afford to miss.
Arabella Day Bed
I don't care what age you are, this bed is, or at least was, every single little girls dream. We would watch American TV programmes and fantasise about having a bed like this that we could sit on with our friends during sleepovers, reading magazines, eating chocolate and gossiping about boys.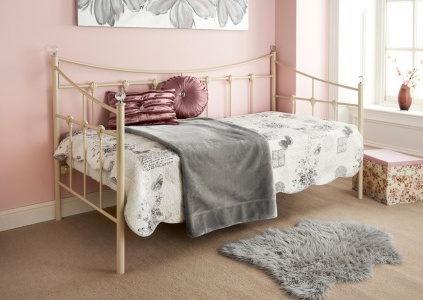 I know what you're thinking…"I'm in my late 20s I cannot buy a bed like this." YES you can. What about all of the nieces you're going to have in the future and all of the sleepovers you're going to have to host? This is perfect.
Failing that, who can deny that this bed is not a beaut accessory? We are all looking to achieve that vintage, chic look in our homes…and this hits the nail on the head! As it is currently down to £79.99 from £99.99, this is the perfect time to purchase this bed!
(As for the mums out there…if you haven't yet bought your daughter this bed – shame on you!).
Venice Hanging Egg Chair
As soon as the sun comes out, we love nothing more than sitting in the garden and enjoying a fruity fresh glass of Pimms.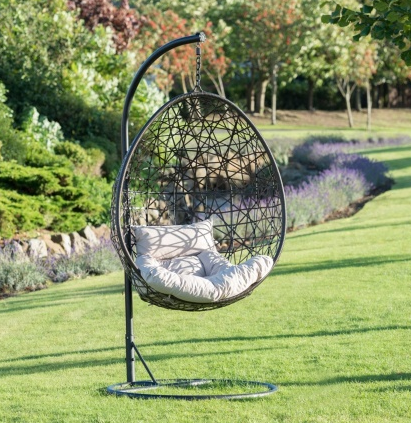 And what is more perfect than this cute little hanging chair which was originally £300, but B&M are selling for the bargain price of £125! It is the ideal summer BBQ accessory and would provide not only comfort for your guests but is also an aesthetically pleasing accessory that will be the envy of all of your friend's eye.
Venice Compact Bistro Set
At a first glance, this table and chair set is classy and chic and we could just imagine ourselves enjoying a Sunday Morning breakfast with a coffee and fresh Orange enjoying a moment with our loved one.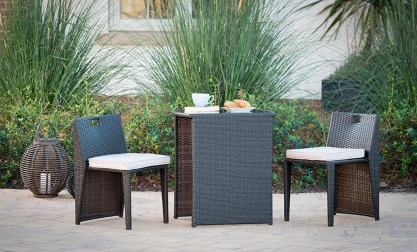 The colour is versatile and would match any garden, and the cream cushions not only add to its appeal but ensure it is practical and comfortable also for those lazy Sunday mornings.
The RRP price is £199.99, which is not surprising as we could see this table and chair set in a swanky Bistro. But you will fall off your chair (excuse the pun) when you see the price of this item…
B&M are offering this chic set at half of the RRP – £99.99!
The perks of this item does not stop there, have a look at the image below…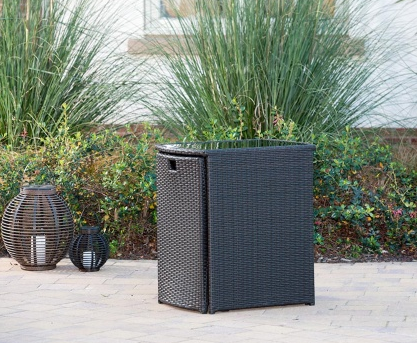 Why are they showing me a picture of a box? May be the thought running through your mind. Well, take another look. This is the chairs tucked INTO the table. What an invention. We are all guilty of avoiding buying garden furniture as the cushions often get soaked in the rain, but this compact little beauty solves that issue as well as making sure it does not take up lots of room when it is not being used. Seriously, we cannot get enough of this.
Venice Rattan Hooded Day Bed
Who doesn't love lying in the sun? Because I for one am never one to pass up on a day of lying in the sun relaxing. And what could be better than a day lying in the sun you may ask?
Look no further. This item is a DAY BED, yes you heard right. We have all had those days where we lie in bed all day watching films, and get slated by our family/house mates for being a lazy slob.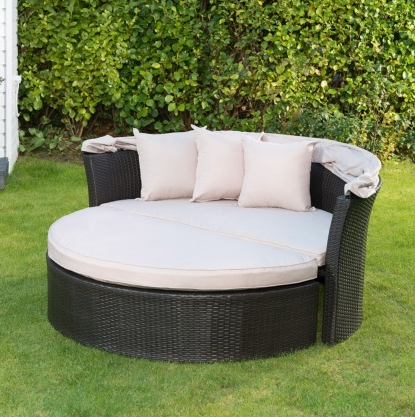 This day bed is the answer to your problems…you can totally get away with lying about all day in this without being labelled a lazy pig because you obviously need to make sure you get your £299.99 worth (RRP £399.99).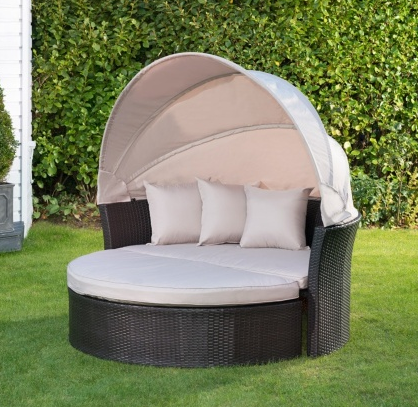 And as if this bed can't get any better, it also has a hood! Those rainy day probs solved.
AND it splits into two beds, got mates over? Your day bed is now a comfy sofa! Winner winner. We are SOLD.
Mosaic Fire Pit
Tell me truthfully, is there anything better than having your mates round for food and drinks, sitting in the garden, listening to music and getting drunk?
We aren't naive enough to pretend that we have many days of the year where we can do this in the UK due to our DIRE weather.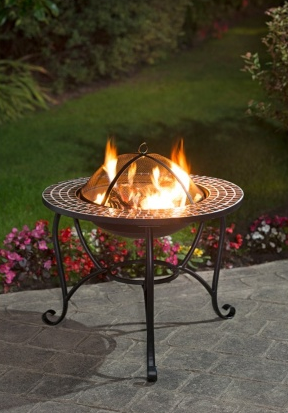 But..this mosaic fire burner solves this issue. Not only does it provide light for your late night sesh, but it also provides heat. It is also beautifully designed with mosaics! RRP £150, our good old B&M is flogging this ultimate garden accessory for £59.99! BARGAIN.
George Foreman Indoor – Outdoor BBQ Grill
Go on…tell me you aren't currently well into your pre holiday summer diet, prepping that beach bod for its annual appearance. But does that mean you can't enjoy your summer before jetting off to the sun? No.
At B&M BBQ accessories are on top form…and what is the latest of products to be released that we are DESPERATE to get our hands on…the George Forman BBQ.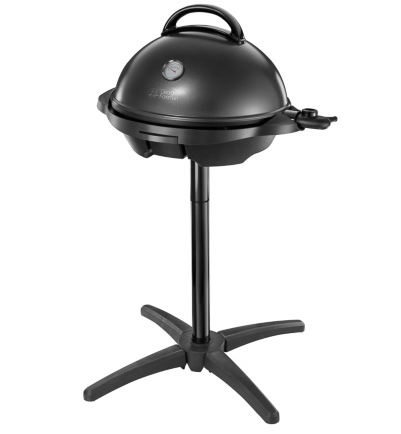 Making sure we don't miss out on those summer BBQ's without damaging our summer bods…this clever invention is a solution to making your BBQ's healthy!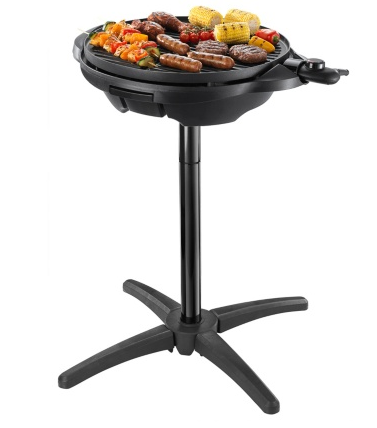 It can cook everything from steaks to corn on the cob!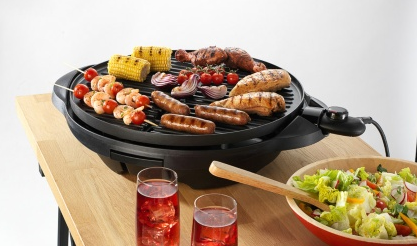 And for those occasions when the rain starts mid BBQ – no problem, this little fella can be transported inside to continue that BBQ indoors! (RRP – £89.99…B&M Price – £59.99).
Advertisment
Next Post