Advertisment
It really isn't hard to be able to spot a Brit when you're on holiday. We are no strangers to this because we are the Brits that you spot on holiday!
We can spot the broad accents and the general Britishness from a mile off! But, thank goodness we aren't the nation that wears speedos.
Advertisment
Here are 13 horrific things that every brit wear when they're on holiday. Enjoy.
1. Football shirt
This is every man's attire when they are on holiday. Some swim shorts and an England top.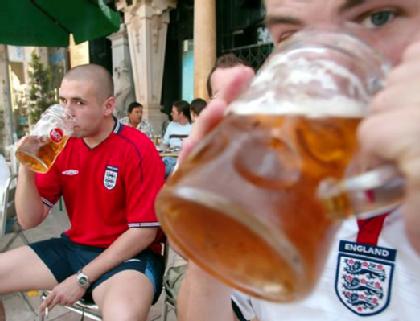 Just to show the word that yes, we are from the UK. Are you one of those that wears your England top on holiday?
2. England shorts
This is another one of those things every boy has to wear. A pair of swim shorts that just say England on them.
I will never understand why this is such a big thing for us brits to have, but like I said, you can spot a brit a mile off.
3. Ill-fitting swimming costume
This is one for the older ladies out there. Bikinis are a no go purely because they make you feel uncomfortable.
But, wearing a swimming costume that fits in all the wrong places is still never an okay look.
4. Hat
Every British woman thinks they are so exotic and 'with it' when they roll out in one of these.
It literally looks like something you would wear at a wedding. These are really over the top.
5. A t-shirt tan line
This is a mistake that dads typically make. They go out all day in the sun in their t-shirts.
Next thing you know they go in the pool, and they may as well still be wearing the t-shirt with the horrendous tan marks they have.
6. These sunglasses
Every British man wears these sunglasses. They usually don't fit around their bald head and make you look ridiculous.
But, either way, these are never a good look not on any single person. Tragic.
7. Kaftan
You know its a Brit when you see a woman walking down the beach in a neon coloured kaftan.
To be fair, these are actually a good invention but they are seriously lame when you see people in these.
8. Holidays tshirts
This is for the people who have just finished their A-levels and who decide to go on a big lads or girls holiday to let off some steam.
All they need now is a group t-shirt that they all wear and where they all have different names on the back.
9. Roman sandals
This is one of those mistakes loads of girls make. There is nothing worse than these sandals.
Who remembers when these suddenly became really popular a few years ago?
10. Flip flops and socks
This is another dad mistake. They were socks in the sun for some reason and then flip flops over the top.
These socks probably have an England flag imprinted on them and are just generally ugly.
11. This top
This top is worn by all those lads that go on their lads holiday to Napa or Zante.
This is one of those tops that needs to be banned from life itself. Such an horrendous item of clothing.
12. Girls wear shorts that do not exist
This is another mistake girls make. They were high waisted Topshop shorts that barely even exist.
Then they pair this with a crop top – usually a neon looking one and a pair of feather earrings.
13. Something exotic for the mum's
This is one for the mum's out there. Because they're on holiday they think they can get away with wearing something a bit more out there.
By this I mean weird hair pieces or wearing really really floaty things that seriously do not match. Then they get excited when a Spanish waiter flirts with them.
Advertisment
Next Post